2019 NHL Mascot Conference + Meet & Greet
August 12, 2019 @ 3:00 pm - 4:00 pm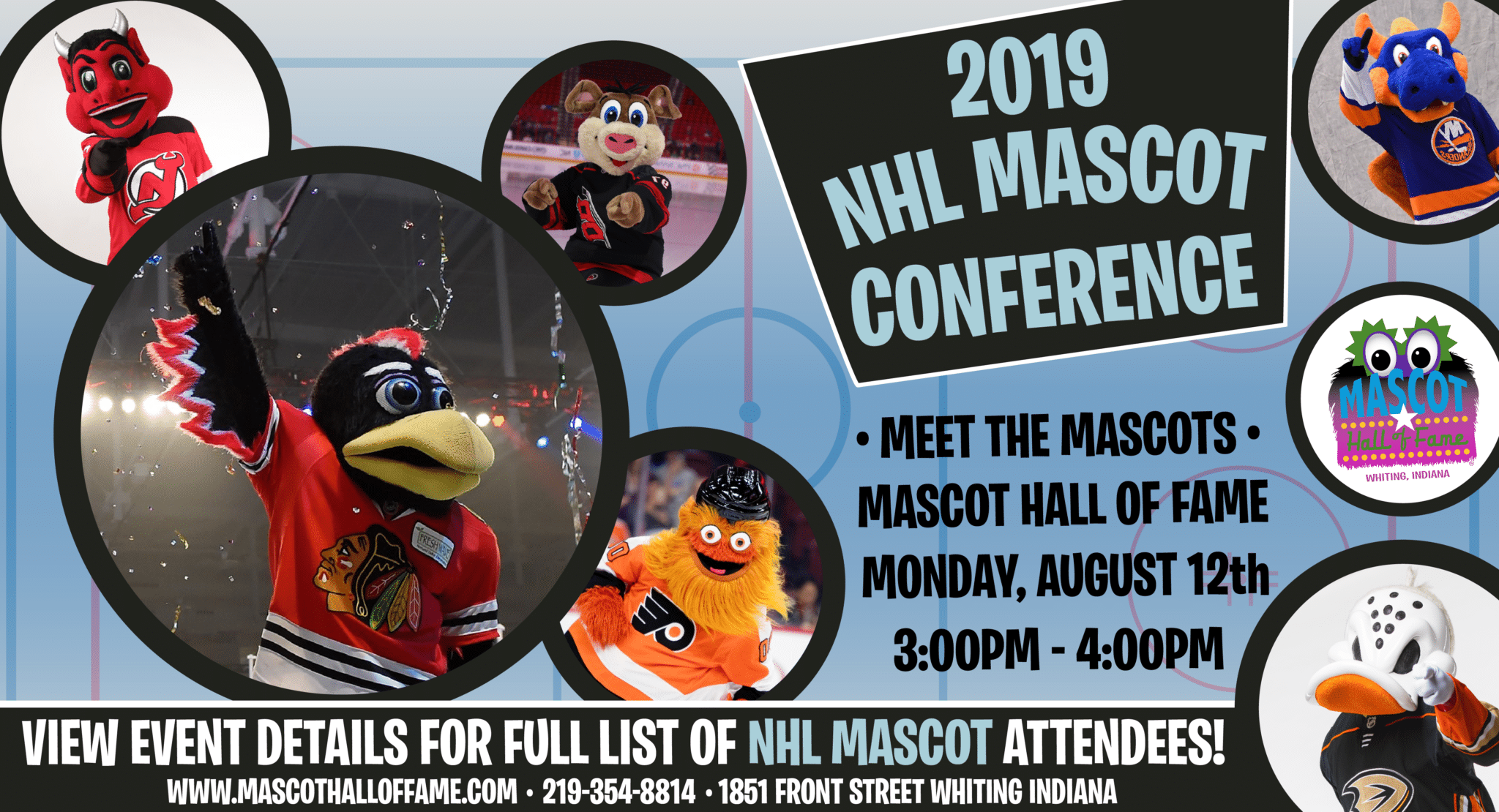 GOAL!!! The NHL mascots are holding their 2019 annual gathering for training in the Chicagoland area. This year, they have selected the Mascot Hall of Fame in Whiting, Indiana as their starting point. We are delighted to host this spectacular line-up of performers!
Event Host, Tommy Hawk of the Chicago Blackhawks®, and many of his closest NHL mascot friends will be making an appearance at the Mascot Hall of Fame at 3:00PM on Monday, August 12th. Don't miss your opportunity to come by to say hi to Tommy Hawk and the NHL's most famous mascots, right here at the Mascot Hall of Fame in Whiting, Indiana!
2019 NHL MASCOT CONFERENCE ATTENDEES:
• Chicago Blackhawks: Tommy Hawk
• Anaheim Ducks: Wild Wing
• Arizona Coyotes: Howler
• Carolina Hurricanes: Stormy
• Columbus Blue Jackets: Stinger
• Florida Panthers: Stanley C Panther
• Los Angeles Kings: Bailey
• Minnesota Wild: Nordy
• Nashville Predators: Gnash
• New Jersey Devils: NJ Devil
• New York Islanders: Sparky
• Philadelphia Flyers: Gritty
• St Louis Blues: Louie
• Tampa Bay Lightning: Thunderbug
• Vegas Golden Knights: Chance
• Washington Capitals: Slapshot
• Texas Stars: Ringo (AHL)
GROUP A & B APPEARANCE TIMES TBD!
*Stay tuned for more Mascot Meet & Greet details and photos of the 2019 NHL Mascot Conference attendees!*