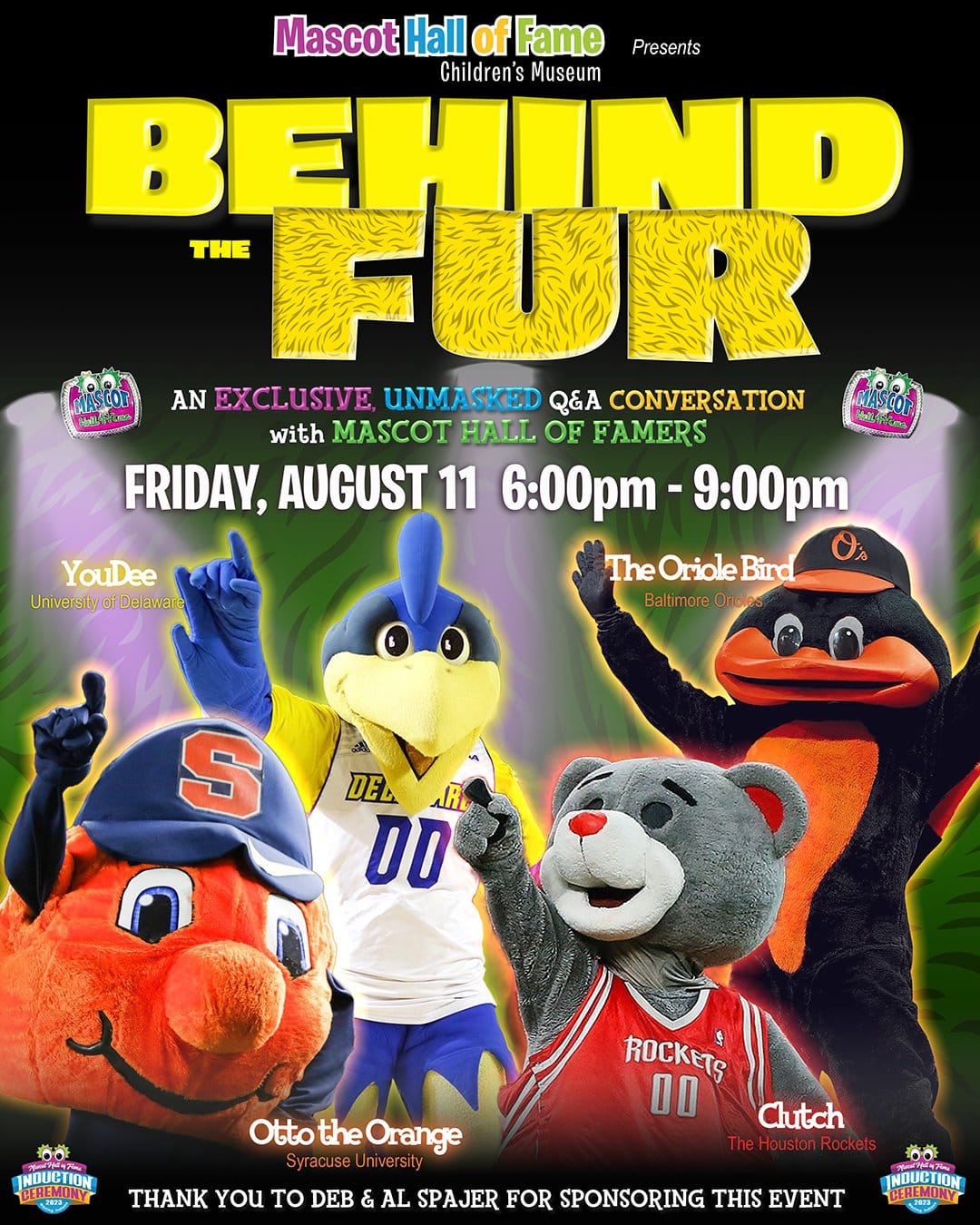 Behind the Fur: An Exclusive Encounter at the Mascot Hall of Fame
August 11 @ 6:00 pm

-

9:00 pm
Prepare to embark on an unforgettable journey into the hearts of mascot performers with "Behind the Fur," an extraordinary and exclusive event that promises to be a once-in-a-lifetime experience. This captivating gathering grants a rare opportunity to gain unique insights into the world of mascots and connect with the performers who bring these lovable characters to life.
With a limited allocation of just 100 tickets, this is a truly exclusive event, ensuring that each guest receives the utmost attention and interaction.
The highlight of "Behind the Fur" is the exhilarating panel discussion featuring esteemed performers, blending both past and present, who have enthralled audiences with their remarkable portrayals of mascots throughout the years. They will share anecdotes, secrets, and inspirations about how they inject life into these beloved characters. Prepare to be enthralled as these vibrant performers recount their adventures and experiences in the world of mascots.
To preserve the intimate atmosphere and ensure that the magic of "Behind the Fur" remains exclusive, the event will not be streamed online. This means that attendees will have the rare privilege of engaging in personal, face-to-face interactions with the panelists and fellow enthusiasts, creating lasting memories and forging new friendships.
As the event unfolds, guests will be treated to a delectable assortment of light snacks and refreshing soft drinks with a cash bar available.
"Behind the Fur" is more than just a gathering; it is an immersive exploration of the passion and dedication that bring mascots to life. Whether you're a devoted fan, an aspiring mascot performer, or simply curious about the world behind those furry masks, this event promises an unforgettable experience that will leave you with a newfound appreciation for the magic of mascots and the incredible performers who make it all possible.
Don't miss your chance to secure a ticket to this exclusive and enchanting event at the Mascot Hall of Fame.
Tickets are $60.00 for adults, $40.00 for children under 12. Members receive 25% off. Log into your account to receive the discount.