December 10, 2022 @ 10:00 am - 5:00 pm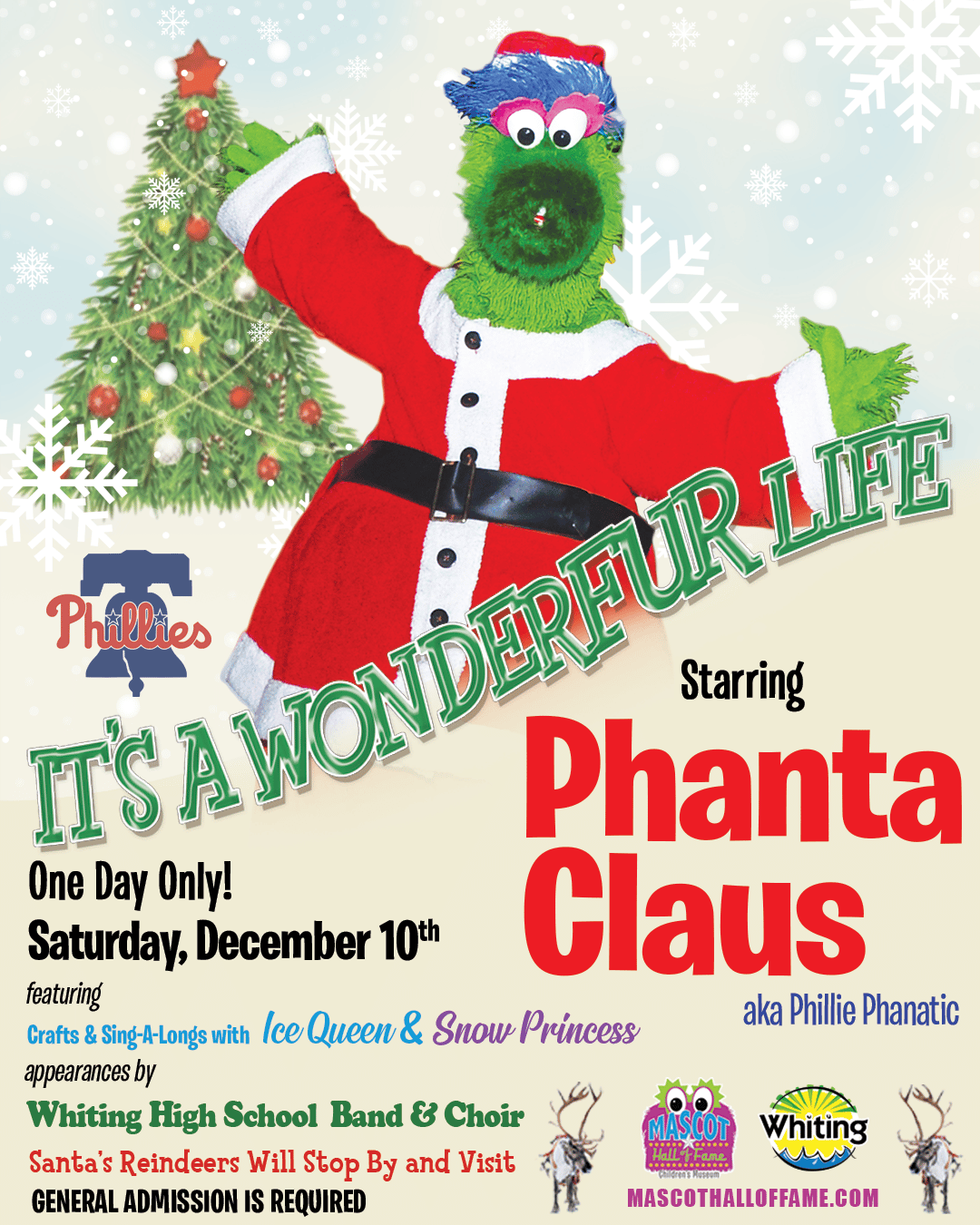 Join us for a FURnominal holiday celebration – MhoF style! There is simply something for everyone during this all day celebration!
Anyone can get their family photos with Santa Claus – but here at the Mascot Hall of Fame you can step right up for some unFURgettable holiday cheer and take your most unique Christmas card shot ever with Phanta Claus, aka the Phillie Phanatic. Won't that be a photo the neighbors will envy?
Join the Whiting High School band and choir as they Falalalala in the Holidays with pitch perfect voices and musical cheer. Parents and families of the Whiting High School Band and Choir (up to 4) are welcome at the museum at no cost for the day. Students – make sure that you get your voucher from your teacher!
We have live reindeer – yep, we said it. Visit with live reindeer right outside of the museum. The reindeer are free to enjoy and courtesy of our besties, the City of Whiting.
How about a hot chocolate bar? For $5.00 load up on some sugary goodness with a hot cup of comfort and an entire table full of toppings like peppermint, cinnamon sticks, marshmallows and more!
Let's round out the day with some crafts and a Princess sing along! Join our amazing special events team as they lead the kids in a FREE snowflake craft (while supplies last) in our Department of Furry Arts. Then stick around in Furry Arts for a sing along with the Snow Queen and Ice Princess! Do you want to build a snowman? The Ice Queen and Snow Princess will help do that following the sing along. Our second FREE snowman craft (while supplies last) will get started right after the show!
Here's the schedule of events:
Here's the schedule of events:
Here's the schedule of events:
10:00 AM                      Doors Open
11:00 AM                       Whiting High School Band & Choir singing Christmas Carols
11:30 AM                       Phillie Phanatic Phanta Claus Appearance
12- 2 PM                        Santa's Reindeer: MHOF Parking Lot
1 – 2 PM                         Craft 1: Snowflake Craft: While Supplies Last
2:00 PM                         The Ice Queen & Snow Princess Sing-Along
After Sing along           Craft 2: Snowman Craft: While Supplies Last
$5 Hot Chocolate Bar will be served all day