Magic Show! Free with general admission!
March 11 @ 12:00 pm - 1:00 pm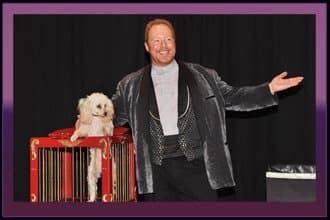 Every day should have a little magic! Join us for John Measner's Magic Show
On stage in the atrium, John returns for his second appearance at the Mascot Hall of Fame. Enjoy Magic at the MHOF a magic show filled with humor, intrigue, audience participation* and surprise! For children of all ages and their families.
FREE with the purchase of general admission tickets. Members are FREE!
About John: John Measner is a classically trained magician and skilled manipulator with many mystifying illusions. He is a graduate of the Chavez Studio of Magic and a member of several prestigious magic organizations. John has performed on Chicago's own "Bozo Show," cable TV talk shows and dazzled audiences at popular festivals. He will thrill you with everything from card-and-coin magic to illusions such as Houdini's famous Metamorphosis.
*The Mascot Hall of Fame is not responsible for injuries due to levitation, volunteers that do not reappear, or people silly enough to jump in a box to be sawed in half.