January 21 @ 11:00 am - 1:00 pm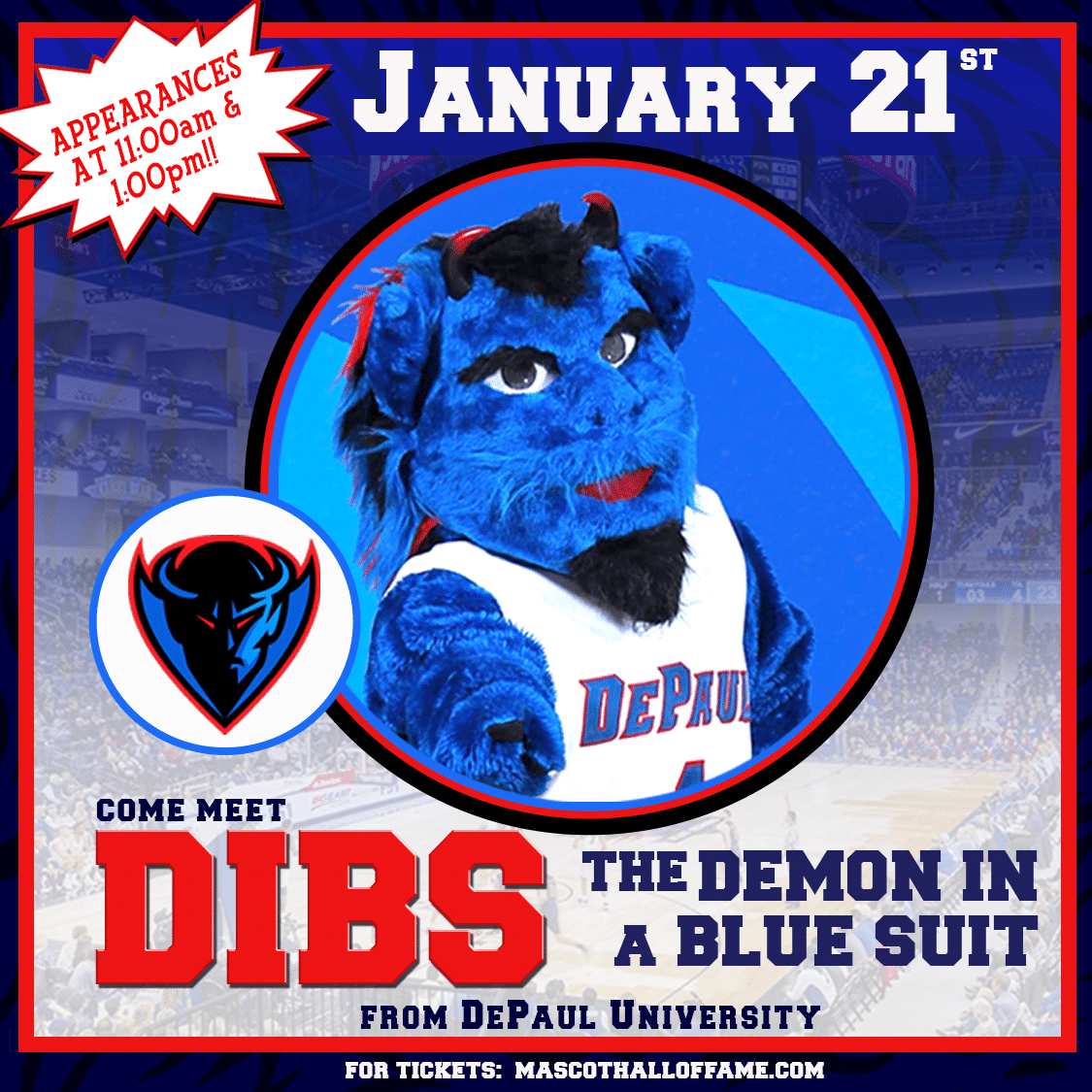 Free with paid general admission Purchase general admission tickets HERE.
Members enjoy the Museum and the appearance for free! Learn how to become a member HERE.
DIBS is the iconic spirit of DePaul University and its intercollegiate athletics program. As DePaul Athletics' biggest fan, DIBS can get a little too excited at games, but he's never too busy to mingle with fans and he's certainly not camera shy. He is loyal, faithful and the coolest shade of blue!
The Origin of the Blue Demons
In 1900 the monogram "D" was selected for the uniforms of the first athletic team to represent DePaul University. As a result the nickname "D-Men" originated which eventually evolved into "Demons." The "Blue" signifies loyalty and was chosen in 1901 by a vote of the student body to combine with "Demons." And that's how we became the DePaul Blue Demons.
What Does "DIBS" Mean?
The name DIBS may sound odd but there is a reason… DIBS stands for Demon In a Blue Suit. The Blue Demon mascot originally came to DePaul under the name Billy. After the logo was updated, he figured it was time for an update of his own.
AGE: A Demon never tells!
HEIGHT: Tall, and even taller with my stilts on.
WEIGHT: Yes, I lift them every day.
POSITION: Center of Attention.
FAVORITE PLACES: Wintrust Arena, McGrath-Phillips Arena, Wish Field, Cacciatore Stadium & The Ray.
FAVORITE FOOD: Healthy foods! It takes work to maintain my athletic physique!
BEST FEATURE: My irresistibly charming smile.
CAREER STATS:
4539.6 High Fives Per Game
153.2 Autographs Per Game
6.4 Opponent Diversions Per Game
18.7 Jumbotron Appearances Per Game
15 Pounds of Popcorn Consumed Per Game