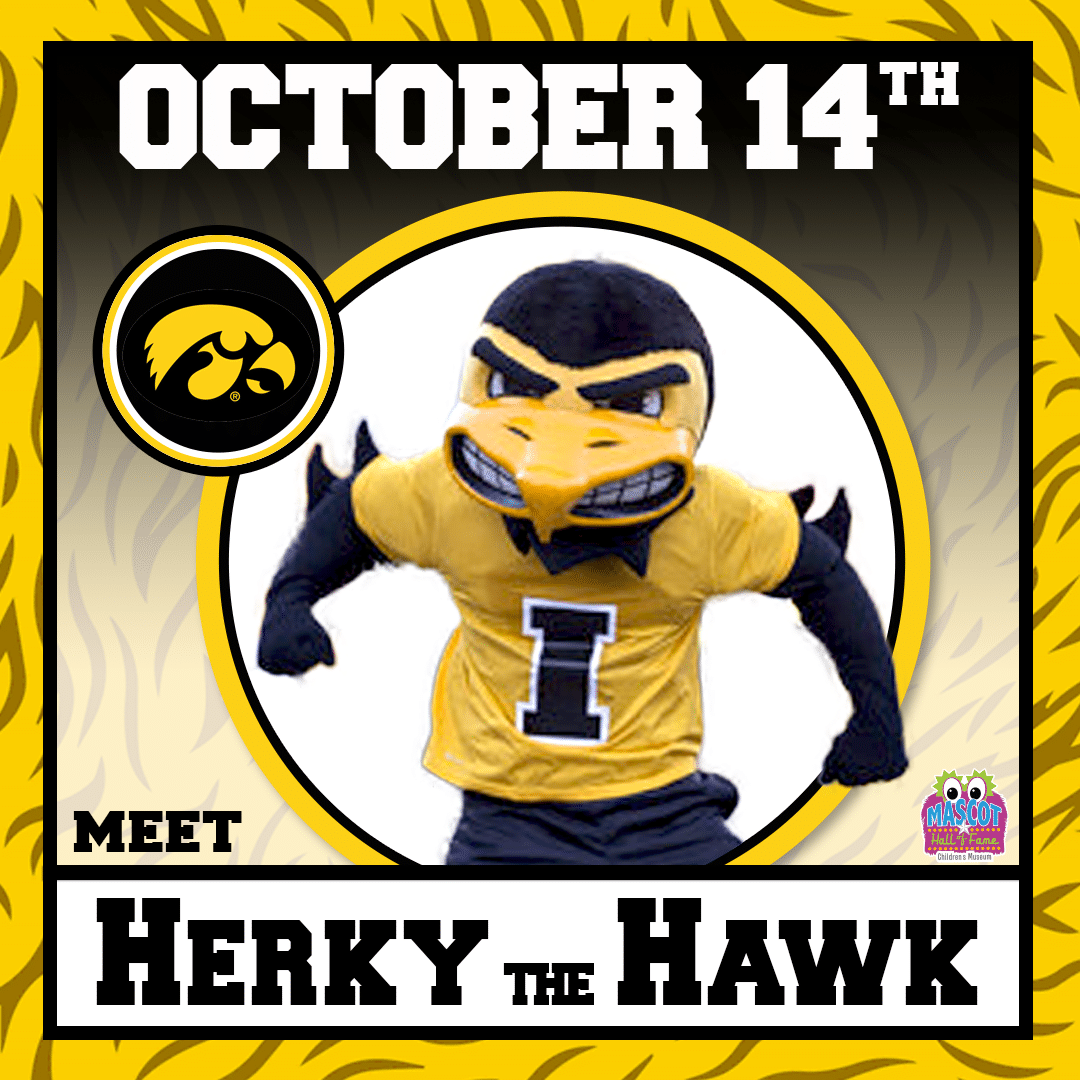 Meet the Mascots – Herky the Hawk!
October 14 @ 12:00 pm

-

1:00 pm
Herky the Hawk is at the forefront of the University of Iowa, providing the BLACK and GOLD at intercollegiate athletics and UI campus/community events staged annually at the University of Iowa, throughout the state and nationally. Herky attends over 500 hours of events during a year.
Herky the Hawk leads 70,000 Hawkeye fans inside Kinnick Stadium as they cheer for the nationally-ranked Iowa Football team.
Crowds of up to 15,500 who cheer on Iowa's men's and women's basketball, wrestling, gymnastics, and volleyball teams rely on the energy of Herky the Hawk at events staged inside Carver Hawkeye Arena and Extreme Arena.
Hawkeye Fans around Iowa Athletics can see Herky the Hawk at their events cheering on their favorite athletes, all while stopping for a picture or two or ten with his mass of fans at each of the events.
Herky the Hawk is a full-time ambassador for the University of Iowa. The iconic mascot can be seen around campus, around the state, and even around the Nation, making Hawkeye Fans stand up for the Black and Gold and yell 'Let's Go Hawks!'. Herky The Hawk also represents Iowa at UCA College Nationals.
STATS:
Iconic mascot of the University of Iowa since 1948
Made into a public art display with the 2004 & 2014 Herkys On Parade Campaign around Iowa City, IA
Placed 4th at UCA College Nationals in 2015
Appearance is at 12 noon, included with general admission!
Members are FREE!