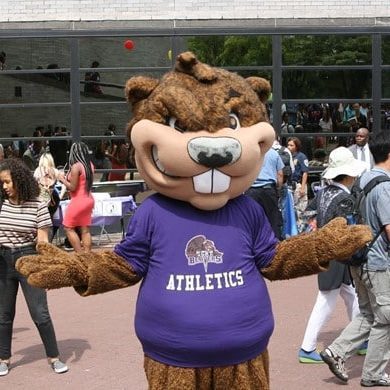 Team:
City College of New York
The beaver was chosen in a student contest in 1934 conducted by The Campus, the college's undergradu9te newspaper. The contest stemmed from an effort to publicize the school's athletic teams.
According to Prof. Irving Rosenthal, a member of the English department who was then director of publicity, the college had just invited Benny Friedman, former all America quarterback at the University of Michigan, to coach the football team. Mr. Friedman began several years as coach that fall.
The college's team had previously been called the St. Nicks, after St. Nicholas Terrace, a street bordering the college.
Dr. Frederick B. Robinson, college president at the time, approved the new symbol because of the beaver's reputation for intelligence and its presence on the city seal. Longtime residents near the college recalled that beaver dams were found on the 139th Street construction site when the uptown campus was built in 1907.
In 1957 a 1½‐ton, five‐foot limestone statue of a beaver, the gift of the class of 1956, was placed on a lawn behind the Finley Student Center. It was carved by Robert I. Russian, an alumnus of the college and a professor of art at the University of Wyoming.
"Benny" was the winning entry in a contest to name the statue.