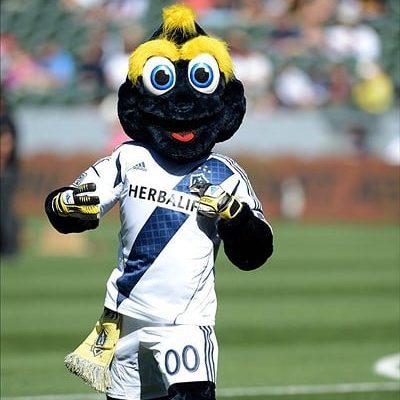 While on the search for the perfect Galaxy, Cozmo landed in Carson CA. ON June 7th, 2003. After finding out Cozmo could not play for the club, he received a millennium contract and has been the mascot of the team ever since. Cozmo has since become a member of the community and has made himself right at home in Southern California. Cozmo has become a huge hockey fan after becoming friends with his close buddy Bailey. Cozmo enjoys wrestling, the beach, skateboarding, and more than anything, tacos.
Cozmo has been the mascot for the LA Galaxy since 2003 and is now a 4-time MLS cup champion. Cozmo has been ranked in the top 5 MLS mascots and was voted top mascot by Fox sports in 2014. Cozmo has been featured in "SportsCenter" commercials, has received community awards, and been recognized by partners for his dedication to the over 100 public appearances annually.
The Cozmo program was created in 2003, and since then he has been recognized not only in the community, and with local partners, but by the MLS, other professional sports leagues, and teams worldwide with and without association of the LA Galaxy.
Cozmo has become a staple in the community with over 100 public appearances annually both with partners, and non-affiliated associations. The program is involved with the Galaxy's 25-50 annual youth programs throughout the extended region with kids ages 5 to 15. The LA Galaxy is partnered with Dignity Health and are involved in continued support including hospital visits, clinics, and donation programs with schools, and camps. Cozmo was heavily involved with food, and clothing donations to people in need during the COVID-19 pandemic with some of our local partners, and with the club itself. Our program has recently started working with the "MLS Greener Goals" program which visits local schools in Carson assisting with the design, building, and installing of outdoor gardens on school campuses. The Cozmo program has been the gold standard in MLS and has been the blueprint for other mascot programs coming into the league.
Cozmo is a four-time MLS Cup champion with the LA Galaxy and continues to strive to improve every season in every aspect of the program within the organization, and communities throughout California on a regular basis.
on the 2023 Mascot Hall of Fame ballot.