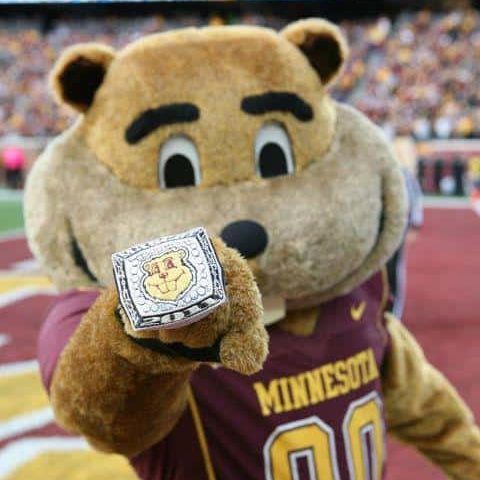 Team:
University of Minnesota
The University of Minnesota's four-time Mascot National Champion Goldy Gopher was "born" in 1952 but has never come close to growing up. He's a fun-loving child at heart – one reason he interacts so well with kids. Of his 600-plus appearances each year, nearly all involve children, from kids at the Minnesota State Fair to regular time spent with families at charities, such as Hope Day with Masonic Children's Hospital patients and families for bouncy houses, games and more.
This 5'-13" gopher is always eager to show off his ability to spin his head 360 degrees, especially when students or children chant for him to. Goldy is all about improvising and playing with what's around, whether turning his long, bushy tail into a guitar or a hockey stick into a horse – setting an excellent example for kids to use their imaginations 24/7. His silly antics, ability to poke fun at himself and "fail" or be "scared" in a variety of circumstances – yet still be happy and eager to try again – imparts an important lesson for kids of all ages. As does his eagerness to cheer on people no matter what they're doing, whether students walking to class, adults riding a bus or children attempting an obstacle course. He celebrates snow. He celebrates sun. He celebrates rain. He's willing to try anything, from water skiing to riding a scooter with his head turned backward.
On those rare moments Goldy takes a nap, UMN has two permanent statues of Goldy that people flock to. He maintains a Facebook page and Twitter and Instagram feeds so Gopher students, alumni and Gophers-to-be (or just Goldy fans around the world) can find cheer year-round. He not only represents the University of Minnesota but is a symbol of and inspiration for the entire state.
UCA National Champion Mascot in 2011, 2013, 2017, and 2018
Capital One All American Mascot Team: 2004, 2007, 2010
Most credits completed in UMN history
Most credits failed in UMN history
Star Tribune Best Minnesota Mascot 2016 
Wears pants in public
Voted least likely to fall asleep during nap time
300x the size of a regular, non-golden, gopher
Aspirations to be first to achieve one million head spins
Never been seen in the same room as Batman
on the 2023 Mascot Hall of Fame ballot.