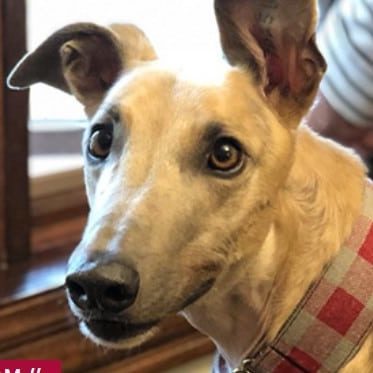 Team:
University of Indianapolis
After nearly 40 years, the University of Indianapolis reinstated its live mascot program, and Grady the Greyhound became the third live mascot in school history. Formerly known as Boss Ring Toss, Grady is a four-year-old retired racing greyhound from Daytona, Florida. He may have given up racing, but he made his way to Indianapolis, a city that appreciates life in the fast lane and is considered the racing capital of the world. Grady arrived at the University of Indianapolis in the fall of 2019 and has been a campus spirit ambassador ever since.
Grady is unique because he is one of the few adopted live mascots in the country. The University of Indianapolis decided to work with the Indianapolis chapter of Greyhound Pets of America to adopt him from a race track in Florida that was closing.
The University of Indianapolis worked with Greyhound Pets of America – Indianapolis to adopt Grady from a greyhound race track in Daytona, Florida. Grady was chosen based on his temperament and personality.