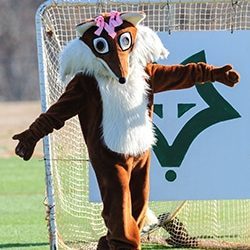 Team:
Sweet Briar College
Introducing Indiana Vixen. A campus-wide campaign began in early September for suggestions to give the College's beloved mascot a name. Votes submitted during Homecoming Weekend were then tallied and approved by members of the senior staff. The "Name the Vixen" campaign culminated with Indiana's introduction before the volleyball game as the theme music from "Raiders of the Lost Ark" played, a play on the 1981 movie's lead character, archaeology professor Indiana Jones.
Indiana the vixen charged onto the court, where the Avenging Angels of Meredith College waited with an enthusiastic crowd for the start of the game. With an athletic sprint followed by a double-knee slide toward the Vixen volleyball squad, Indiana greeted her fans sporting a No. 10 Vixen T-shirt with her name on her back. Arms raised like a champion, she strutted her stuff while the volleyball team members threw No. 10 Indiana T-shirts into the crowd.
The new name was deemed appropriate for the Sweet Briar vixen for a few reasons. Indiana Fletcher Williams was the founder of Sweet Briar College. And because the word's literal meaning is "land of the Indians," it pays homage to the many Native American tribes that call Virginia home, including the Chickahominy, Mattaponi and Monacans, to name a few. It's a name that represents what Sweet Briar Athletics teams strive to represent — strength, intelligence, a sense of history and pride in its athletic endeavors.