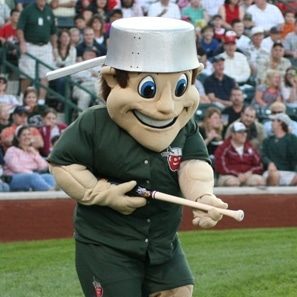 Were the Fort Wayne Wizards
Johnny hails from Fort Wayne and joined the TinCaps in April of 2009 to help jumpstart the move to downtown Parkview Field.
Since arriving at Parkview Field, Johnny has shown that he has extensive experience entertaining large crowds. Whether it is helping with different on-field promotions or breaking out the newest dance moves, Johnny loves to put smiles on the faces of everyone who comes through the gates of Parkview Field.
In addition to his work during TinCaps games, Johnny takes pride in being the face of the Fort Wayne baseball franchise. In his time with the TinCaps, Johnny has ventured all over Northeast Indiana, Northwest Ohio, and Southern Michigan, spreading his excitement for TinCaps baseball.
Johnny's interests include but aren't limited to: TinCaps Baseball, apples, birthday parties, planting apple trees in the grass at Parkview Field, parades and Arbor Day. Johnny's short list of dislikes include loggers, worms and the off-season.
https://www.milb.com/fort-wayne/community/community-appearances