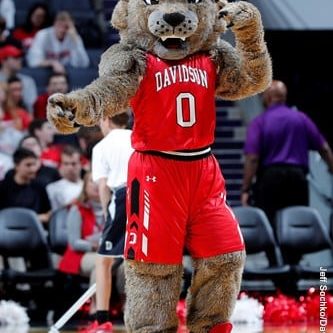 On November 10, 1917, a small cohort of 22 football players traveled to Atlanta to represent Davidson College against Auburn, one of the most formidable teams in the South. The Plainsmen had massacred their first four opponents, outscoring teams, 141-6.
According to one account, they were "big, quick, and undefeated" and heavily favored in the day's matchup. Davidson was 2-4 and started a line averaging 20 pounds less.
Not surprisingly, Auburn dominated the game, outgaining the "Red and Black" 240 yards to Davidson's 91 yards. Astoundingly, Davidson pulled together an offensive attack through the efforts of running back A.R. "Buck" Flowers and quarterback Henry Spann, delivering a "bewildering array of forward passes."
Davidson defeated one of the most powerful teams in the South that day, 21-7, with scrappiness that captured the awe and respect of Atlanta sportswriters. They wrote of the "Wildcats" from Davidson College, whose small stature and ferocious style proved overwhelming.
The Davidsonian picked up on the nickname, and it has been used ever since, replacing former, milder references such as "Red and Black," "Presbyterians" and "Preachers."