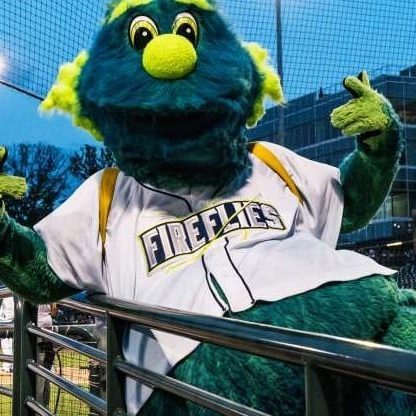 On the outskirts of Columbia, South Carolina, a furry creature of the Whatsit family, wandered through the forest cold and alone. Late at night, he arrived at Congaree National Park. What he encountered there amazed him. He saw a synchronized pulsating glow of separate lights that seemed to beckon him. When he approached one, he realized what he was seeing. He was in the middle of a large group of synchronized Fireflies. Surrounded by their warm glow, he knew immediately that this was where he belonged.
The Fireflies adopted him as one of their own and over time he earned his wings. The Fireflies called him Mason, because just as so many of them had found a home in Mason Jars, he had found a home with them.
When the Columbia Fireflies came to town in 2016, Mason emerged from his forest home to help bring the joy he found with the Fireflies to the entire Midlands region. Mason loves to have fun and share laughs with Fireflies fans everywhere. He's a lover, not a fighter, and he considers everyone to be a part of his Fireflies family.