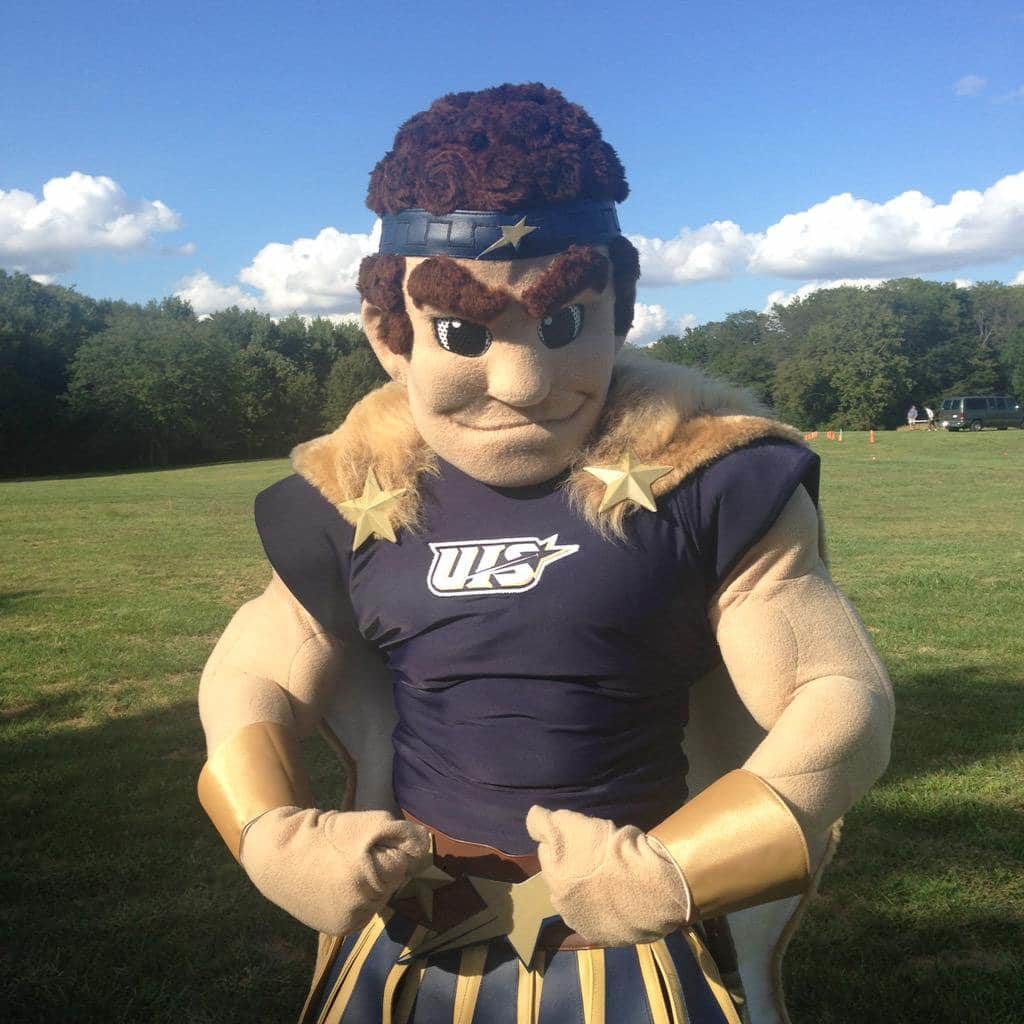 Team:
University of Illinois at Springfield
SPRINGFIELD, Ill. – The University of Illinois Springfield Department of Athletics announced that "Orion" would be the new Prairie Star mascot. Orion replaces Cozmo who was retired.
"I am excited to introduce Orion as the new Prairie Stars mascot," said Director of Athletics Kim Pate. "He brings an element of strength, offers creative opportunities and is synonymous with the Prairie Stars nickname. It is my hope that Orion will continue to help us strengthen our athletics identity while energizing student, campus, and community pride."
The Prairie Star nickname dates to 1977 and is the brainchild of John Watts, godfather of soccer in Springfield. When Sangamon State University, as it was known then, decided to field sports teams, soccer was first. An athletic committee was formed to take suggestions for nicknames. In total 120 suggestions came in and the committee narrowed down to six finalists and put them up for a vote and Prairie Stars won. The name was meant to signify athletic excellence – "stars – on the flat, prairie-side fields of the southeastern part of Springfield.
In spring 2015, UIS embarked on a process to identify a new mascot that would resemble strength, provide creative opportunities, and would be relevant to the nickname "Prairie Stars". As a result of campus engagement and feedback, a mascot committee made of up of broad student representation recommended strong consideration of Orion, the "great hunter" to be selected as the new mascot.
Orion, the son of Neptune, is noted in Greek history and mythology as the greatest hunter to have ever lived. Tales of his physical stature and hunting skill preceded him wherever he traveled. Some thought him mortal, some thought him a gift from the Gods, and others believed he must be born of the Gods themselves. With his lion cloak and star tipped mace he traveled the world besting both beast and man. For his prowess he was immortalized in the stars and remains one of the most prominent and recognizable constellations around the world. Orion can be seen looking down on UIS from the prairie sky poised to attack any foe that should dare enter his hunting grounds.
http://www.uisprairiestars.com/news/2015/8/29/GEN_0829151529.aspx?path=general