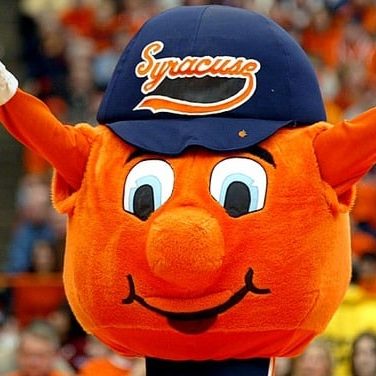 League:
Atlantic Coast Conference - ACC
Mascot Type:
Costumed Character
Meet Otto the Orange, the beloved mascot of Syracuse University. With their bright orange exterior and contagious energy, Otto has been the pride and joy of Syracuse fans since the early 1980s. Since Otto's debut, more than 100 team members have taken on the role of Otto, with the goal of "bringing joy to the orange community every day."
Here are a few key aspects of Otto's character:
Energetic and enthusiastic – Otto is a ball of energy, always bouncing around and getting fans fired up. Whether doing their signature dance moves, leading the crowd in chants, or just generally being silly, Otto's enthusiasm is infectious and helps create an electric atmosphere at Syracuse games and events.
Friendly and approachable – Otto is always happy to interact with fans, whether it's taking photos, signing autographs, or just giving high-fives. Otto's known for being particularly popular with kids, who love their playful personality and goofy antics.
Mischievous and curious – Otto has a mischievous streak and loves to play practical jokes and pull silly stunts. Whether they're sneaking up on unsuspecting fans or goofing around with fellow mascots, Otto's playful side adds an element of fun and unpredictability to interactions.
Passionate and dedicated – Behind all the fun and games, Otto is a dedicated and passionate representative of Syracuse University. Otto takes their role as ambassador seriously, and is always eager to promote the university, connect with fans, and support the community in every interaction.
Overall, Otto's character is a perfect reflection of Syracuse University's spirit – zesty, zany, and full of heart.
In recent years, Otto has even become a social media sensation, with fans across the country tuning in to his hilarious videos and witty tweets, always striving to bring a smile and draw a connection virtually or in person.