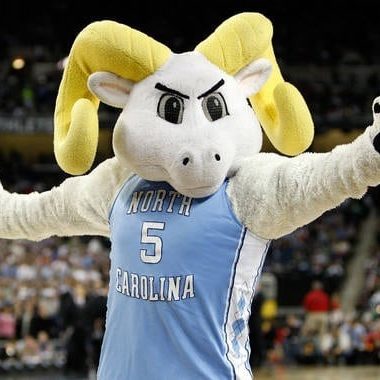 Team:
University of North Carolina at Chapel Hill
Our main man, the leading ram, Rameses came to Carolina to cheer on the Tar Heels over 35 years ago and never left! He supports the Carolina Family, across a whopping 28 varsity teams by exemplifying strong character, sportsmanship, and care for those in his community. He is a buff, overconfident ram, that primarily focuses on 2 things; cheering on the Heels and working out. Rameses values fair competition and success on and off the court. He is involved with a number of continuous service opportunities and is always enthusiastic to give back, especially to his home state of North Carolina! Each year he attends hundreds of sporting, charity, school, university, community, and private events to spread Carolina cheer and goodwill. It is a North Carolina tradition for Rameses to lead the basketball teams out of the tunnel, as well as open every football game with his guitar solo, playing the alma mater in front of a packed crowd in Kenan Stadium. Fans always look forward to his collaborations with the Marching Tar Heels band and Carolina Girls dance team.
Rameses is the BIGGEST advocate for the Jason Ray Foundation—an organization dedicated to education, community service, and raising awareness for organ donation. The Jason Ray Foundation is named in honor of a former Rameses performer, who sadly passed away while attending the NCAA basketball tournament in 2007. Rameses partakes in foundation charity dinners and golf tournaments, as well as wears a commemorative "JR" patch on his uniforms to raise awareness. Rameses is proud that he is one of the only mascots in the country that donate 100% of his charity and school appearances. Two of Rameses' other favorite organizations to cheer on are the Carolina Red Cross and UNC Children's Hospital.
Rameses is the first and one of only 3 mascots nationally to wear Jordan-brand sneakers (Rameses Jr., Hugo the Hornet). Rameses can most easily be recognized in one of his many annual national commercials. He has been a featured guest on The Tonight Show, twice (2017 and 2022). He is consistently regarded as one of the most iconic college mascots in the country (USA Today, 2021). Rameses has traveled to 12 Men's Final Fours with the UNC Basketball team, most of any mascot in that time, and has been a part of the National Championship Celebration 4 times. Rameses works nearly 400 appearances each year, the most in the state.
** Appeared on the 2023 Ballot