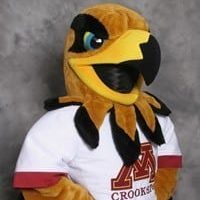 Team:
University of Minnesota Crookston
When the University of Minnesota, Crookston changed its mission to offer baccalaureate level degree programs in 1993, the campus entered a new chapter in its history. Many among the campus community believed a new team name and mascot should be chosen to signify that important change. A campus-wide discussion began. Students, staff, faculty, and alumni shared their thoughts and ideas for names. Some suggested names included the Pride, Northstars, Trailblazers, the Storm, and the Phoenix among others. Faculty within the Natural Resources Program suggested the name Golden Eagles, and that name resonated with the campus community.
On November 27, 1995, at a Teambackers Banquet, the University of Minnesota, Crookston announced that a new name had been chosen for its athletics teams. The original design of the logo and mascot image was done by Del Wright, who worked in Media Services at that time. Soon after, a contest to name the Golden Eagle took place, and students, faculty, and staff submitted 66 different names for consideration. From those names a committee selected the name Regal, meaning "of great magnificence, splendid." And so Regal the Golden Eagle was born. The winning name was submitted by Trevor Brekken, a plant industries management major from Crookston. The new Golden Eagles name, logo, and mascot were launched for all teams beginning in the fall of 1996.
In 2001, Regal received a facelift when University Relations began work with AdMonkeys, a regional graphics and advertising agency. The various athletics teams, the Crookston Student Association, and other student groups, along with faculty and staff, all played a role in refining the look of the official logo. Several revisions later, the current look of the logo of the Golden Eagles was adopted. As soon after, Regal the Golden Eagle mascot began appearing at games and across campus on Maroon and Gold Fridays. Regal proudly stands with Goldy Gopher from the Twin Cities campus; Pounce, the Morris Cougar; and Champ, the Duluth Bulldog.
http://www.goldeneaglesports.com/sports/2011/1/23/regal.aspx