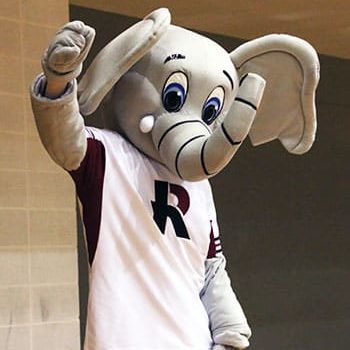 Team:
Rose-Hulman Institute of Technology
Elephants are renowned for their long memories, but, unfortunately, the precise origin of how the large pachyderm became Rose-Hulman's mascot seems long forgotten.
For more than a century, the elephant has symbolized the determination, strength and courage of Rose-Hulman athletics. Early in the 20th century, the institute's students occasionally searched the countryside around their school, then located near downtown Terre Haute, for useful elephant images. In one memorable case in 1902, recorded by an Indianapolis newspaper, two Rose Polytechnic students were arrested in connection with the theft of an elephant sign they later used as a scoreboard on campus.
The large image of an elephant made another memorable appearance at a 1911 baseball game between Rose-Hulman and Indiana State Normal School (now Indiana State University). "Stick to the elephant" was the reported cry after the game as "Tech" fans and players found themselves in a scuffle with disappointed "Normalites," according to one account.
The elephant mascot, eventually nicknamed "Rosie," continued to represent Rose-Hulman after the school's campus moved east of Terre Haute in the 1920s. Since then, Rosie has remained an evolving and important symbol for Rose-Hulman's Fightin' Engineers.