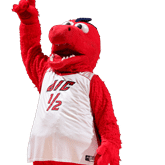 Team:
University of Illinois at Chicago
Born from the embers of the Great Chicago Fire, Sparky is no ordinary dragon.
As UIC's proudest ambassador, he uses his immense powers only for good and puts a smile on everyone's face while competing for victories in and out of competition. A true Chicagoan at heart, Sparky is all about grit, hard work, and rising to meet the challenge even when the odds seem stacked against him. Although relatively young for a dragon, he is wise beyond his years, and focused on continual growth and success, just like his beloved UIC Flames.
Sparky is vibrant, loyal, confident and dependable. He is engaging, playful and bursting with energy. The spirited grin Sparky maintains represents friendliness, determination and a winning attitude. He welcomes all to UIC and helps create a fun and boisterous environment for the Flames.
Sparky was born from a collaboration between UIC Athletics and the Chicago Mascot Company, a family-owned local business with more than 50 years of experience. Business development specialist Barry Anderson worked with the Chicago Bulls for 12 seasons and helped make the franchise's Benny The Bull mascot among the most popular in all of sports. His creative team used feedback from dozens of interviews with students, staff, alumni and other UIC stakeholders to design and produce Sparky.
With his Fire Engine Red fur, Navy Pier Blue head spikes, and a Champions Gold flame on the tip of his tail, Sparky fully embodies the UIC Flames spirit. His number '0' jersey pays homage to our roots as the Chicago Circle campus. Chicago Blue accents and custom sneakers featuring UIC's unique perspective of Chicago's iconic skyline firmly ground Sparky in his hometown. Beyond his refreshed appearance, Sparky's suit provides for increased mobility to enhance his performances and engagement with fans.
Sparky is under the direction of the UIC Spirit Coordinator Lindsey Lococo and is fully operated by current UIC students. Mascot tryouts are held on campus prior to each academic year.
Sparky is the mascot for the entire University of Illinois Chicago community and will participate in more campus, alumni and community events than ever before. His increased presence will help introduce the UIC brand to prospective students, engaged alumni and people throughout Chicagoland and beyond.