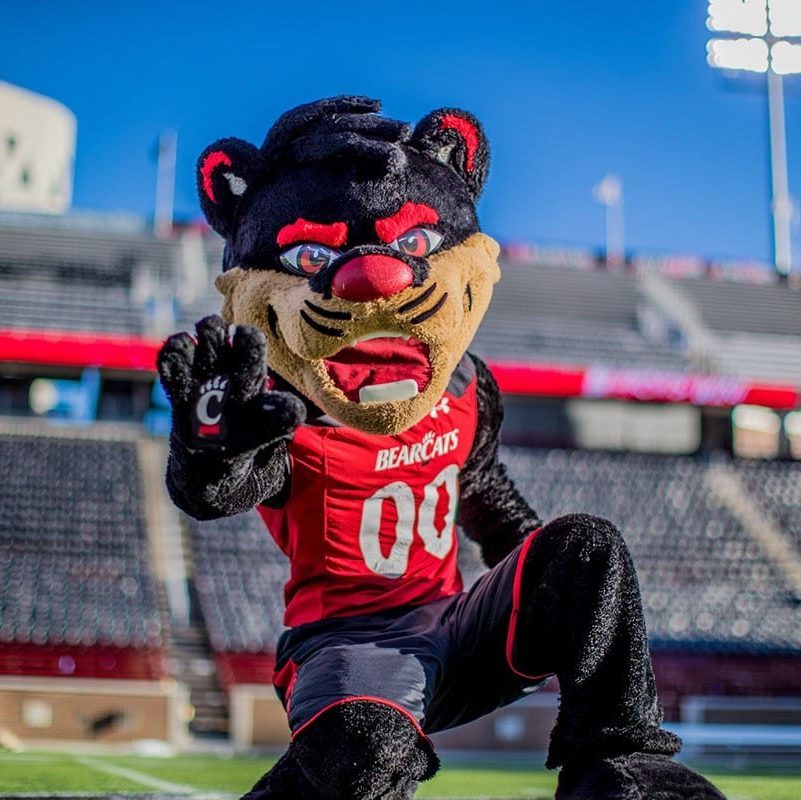 Team:
University of Cincinnati
Bearcat not only represents the University of Cincinnati but a very passionate fan base all over the country. Completing over 400 appearances on a yearly basis including football games, basketball games, swim meets, volleyball games, baseball games, soccer matches, Baby Bearcats at Children's Hospital NICU, community service events, and all other university-related functions, you'll find Bearcat all over Cincinnati representing the RED & BLACK. Can't find Bearcat? No worries, follow The Cincy Bearcat on social media platforms including Twitter, Instagram, Facebook and Tik-Tok to keep up with all things Bearcat! Outside of a busy appearance schedule, Bearcat loves creating new and fun ways to get fans involved! The 1st official Bearcat Mascot Calendar was launched for 2023 and had everyone apart from #BearcatsNation smiling. Bearcat has been very dedicated to making sure everyone feels loved on Valentine's Day with Bearcats Valentine's Day Delivery Service!
Coming off remarkable back-to-back 1st place UCA National Championships the Bearcat has also won three UCA Gameday National Championships alongside the UC Cheerleading team! In 2009 Bearcat brought home the title of Capital One Mascot of the Year. It has been one hundred and eight years since the Bearcat name was introduced and our Bearcat started making regular appearances in 1950. Bearcat has certainly made some physical appearance changes over the years but that hasn't stopped him from continuing the traditions of the University of Cincinnati on a daily basis! The evolution of our Bearcat Mascot program has taken major steps, becoming one of the most recognized collegiate mascots in the country. Next stop: Big 12 Conference. With much anticipation, Bearcat is extremely excited to represent the Big 12 Conference and introduce new fanbases to what being a Bearcat is all about! Go Bearcats!
1996 – 3rd Place NCA Nationals
2009 – Capital One Mascot of the Year
2018 – UCA Game Day National Champion
2022 & 2023 – UCA Game Day National Champion
2022 &2023 – UCA Mascot National Champion
** Appeared on the 2023 Ballot