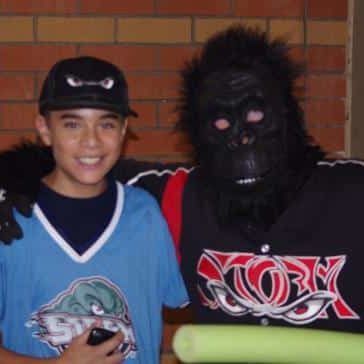 Team:
Lake Elsinore Storm
An ominous and elusive figure at the ballpark, The Grounds Crew Gorilla appears when mischief and mascot antagonization is called for. The Gorilla has been a member of the Storm mascot family since 2008 and has been entertaining fans with his vast array of entertaining and chaotic acts. The best part of the Grounds Crew Gorilla is that you never know what you are going to get. The Gorilla has many alter ego's including:
Lady Ga Garilla, Fat Gorilla, Motorcycle Gorilla, , Robo-Gorilla, Wrestler Gorilla, Katy Hairy, Visitor Team Beat Down Gorilla, Storm Player Gorilla, Flasher Gorilla and many more…
In the 2009 season the Gorilla had an ongoing feud with Inland Empire 66ers' Trayvon "Gorilla Killa" Robinson. The feud was never officially settled and may be reopened at any time.
In 2011 the Grounds Crew Gorilla was honored at the Minor League Baseball Promotional Seminars with a "Golden Bobble Head" for the Best In-Game Promotion in Minor League Baseball.