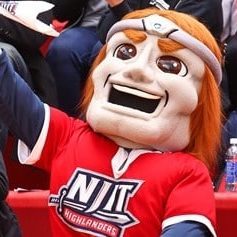 Team:
New Jersey Institute of Technology
On May 26, 1949, a vote was made at the Newark College of Engineering (NCE). The school paper was called "The Technician", and the NJIT campus we know today was a distant dream. There were only 700 students at NCE, and 333 of those students voted for naming the athletics teams. They chose THE HIGHLANDERS, a name created by Robert Skettini. Other possible names included the "WESTONIANS", the "RED DEVILS", and the "RED ROCKETS". This was chosen because NCE was located on the Highlands of Newark, where 19th and 20th centuries homes on High Street looked east upon the rivers and watched as boats came in from all over the world. With the school's transition to Division I, the first mascot's time had finally come to end. The Athletic Director Lenny Kaplan had to find a replacement. In the Winter of 2008, the new highlander was unveiled. Our mascot shows his bravery at all home event and appears at many University events. He always walks around in his signature kilt and NJIT gear. He wields his sword and a shield at all times, revealing the vigor and readiness of the Highlander athletes.
Beneath his charisma and power, the Highlander is very friendly. He always enjoys meeting people, and gives high fives, handshakes and hugs to those who want them.