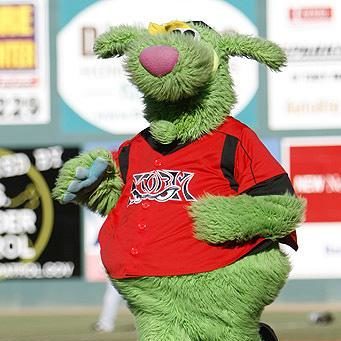 Team:
Lake Elsinore Storm
When it comes to fun in the Inland Valley, you have to mention Thunder The Dog. Thunder or "The Big Green Dog" as many call him. The official mascot of the Lake Elsinore Storm professional baseball, Thunder is the larger-than-life bright-green fur-covered pooch that always loves to be the life of the party.
Thunder is the self-proclaimed California League Mascot of the Year, 19 seasons running, and 2010 & 2011 GameOps.com Mascot of the Year. A very special hound, Thunder is one of only a few members of the "Canis Thunderus" family. He is known for his ability to stand upright, walk on the tops of chairs, dance, drive quads, and generally just act a fool. He has a beautiful coat of green fur and wears one of the world's largest pair of shoes. As anyone can see he loves his food, just look at his belly.
Thunder first debuted as the primary mascot for the Storm in 2001, taking the place of former Storm mascot Hamlet. And has been a crowd favorite in Lake Elsinore since. Hamlet still comes out for special occasions from time-to-time, but Thunder is the star of the show nowadays. You can find the lovable canine at all Storm home games in the stands and on the field sharing his antics with fans, players and umpires alike. When he's not at the Diamond you can find Thunder all around the Inland Empire spreading the Storm spirit as he makes over 300 community appearances every year. Some of Thunder's favorite appearances include birthday parties, holiday parades, grand openings and school assemblies. Thunder will go just about anywhere if bribed with food.
One of his greatest achievements is spreading the word about staying positive everyday to the youth of the Inland Empire. Thunder has a message every day, "Get your rest, then do your best and be positive, the Thunder Way!" With his book "PAWSitivity With Thunder" and the Storm Reading for Rewards program, he has been able to share the importance of keeping a Positive Attitude With a Smile with close to 55,000 children in 15 cities and 66 elementary schools this year alone.
Keep a look out for the big green dog; you never know where you'll see him next. If you want to see Thunder shake his belly at your next event, contact the Storm at 951-245-4487.
https://www.milb.com/lake-elsinore/community/thunder-appearances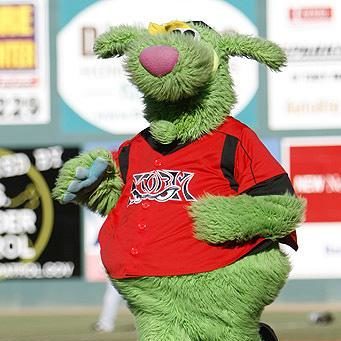 Learn More About
Thunder the Dog