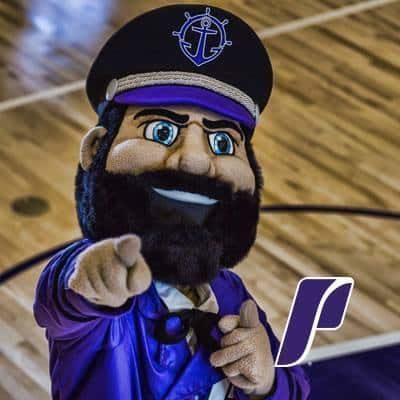 Team:
University of Portland
Wally's Story…
After a five year sabbatical, Wally, the beloved University of Portland mascot, finally made his return to The Bluff in the summer of 2009. His first official game will be on August 28, 2009 at the Pilot women's soccer home opener versus Cal. Since his last appearance, Wally has made several improvements to his physique in order to keep up with the other mascots around the nation (see the below photo gallery and video). However, not all this time was spent in the weight room. Wally, a Riverboat Pilot himself, took this opportunity to visit many of the hometowns of our student-athletes from around the world. Stay tuned and check below for Wally's postcard series about his adventures abroad over the coming months.
Why the Pilots?
In 1935, with University administrators tired of being confused with New York's Columbia University, chose to rename the school the University of Portland. Other names considered at the time: Christie University (after the school's founder, Portland Archbishop Alexander Christie), Multnomah University (after the Chinookan name for the Willamette River) and McLoughlin University (after great Oregon Catholic pioneer, Dr. John McLoughlin).
According to Bluff legend, though the original nickname that students chose in a 1935 contest resulted in "Chinooks" (after the Indian tribe that inhabited the area, and the largest of the salmon species in the Willamette River), the "Pilots" was chosen by presidential fiat. From that day forward, the Bluff had a new mascot, and he was Wally Pilot.
When the University changed its name from Columbia University (its earliest sports teams were known as the Cliffdwellers or the Columbias), to the University of Portland, the name and University had already begun to adapt a more "nautical motif," suitable for a campus site overlooking the Willamette River. At the same time, the Pilot athletic teams became associated with Wally (a stylized riverboat pilot), and the pilot's wheel became the logical logo. The many student associations and publications on campus followed the nautical theme, from the student newspaper – The Beacon – to the recently renovated restaurant and pub on campus, The Pilot House.
The school colors of purple and white originated in the late 19th century when the short-lived Methodist college called Portland University's athletic teams were known as the Webfoots or Portlands, and its colors were gold and purple.
So, what is a "Pilot"? Common to rivers and the large vessels which must negotiate their waters, riverboat pilots are charged with safely escorting large ships, barges and other river traffic through the unfamiliar waters, in order to get the vessels to port. Primarily through the use of tugboats, riverboat pilots are as vital to boat and barge captains, as air traffic controllers are to airplane pilots.
Today, the University of Portland is the only NCAA-affiliated university which uses the "Pilots" nickname. Two NAIA-affiliated colleges – Louisiana State University-Shreveport, and Bethel College in Indiana – also are "Pilots" by nickname.