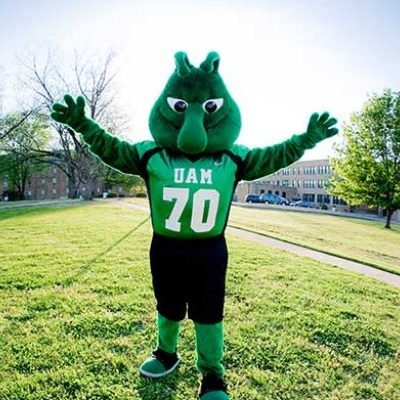 Team:
University of Arkansas at Monticello
Any cotton farmer will tell you that the Boll Weevil, a cotton-eating beetle, is nothing to be messed with. Native to central Mexico, the beetle made its way to the southern United States in the late 1800s and by 1920 was wreaking havoc on cotton farms across the U.S. The beetle is devastating and infestation can happen quickly. That's exactly the message UAM's President Horsfall was trying to send when he announced the mascot at a pep rally in 1925.
UAM was gearing up to play Magnolia A&M, a southern farm school later know as Southern Arkansas University. Horsfall wanted to send a message that UAM meant business. He told students "The only gosh-darned thing that ever licked the South was the boll weevil. Boll weevils! That's what you are – Boll Weevils!"
The Boll Weevil has been picked on over the years and has made many lists of strange and unusual mascots. Boll Weevil pride runs strong at UAM and even the rivals have to smile a little at that first sighting of Weezie the Weevil.