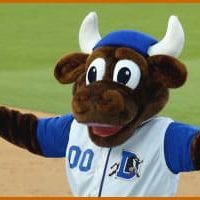 Born in July, 1992, Wool E. Bull met his team and his community with that big goofy smile on his face. He quickly learned that his middle name, Education, had been selected from a pool of over 500 names. Over the years, Wool E. Bull grew to become a staple of the Durham Bulls Operation. His antics and dancing are known throughout the Triangle. People from all over the world come to see Wool E. dance, shoot t-shirts out of his Bright Leaf Hot Dog Launcher, throw softy baseballs to the crowd in his Go Kart, and dance on the field.
2016 Baseball America MiLB Mascot of the Year
Since joining the Bulls in 1992, Wool E. Bull got his name on July 17th after a naming contest, he has quickly become one of the most popular mascots in MiLB. Since joining the "storied franchise" of the Durham Bulls, shortly after the widely known "Bull Durham," movie based on the team in 1988. During the season, you can find him entertaining fans on and off the field, speeding around the warning track on his famous Go Kart, and pranking opposing team players during pregame. In the off-season, Wool E. spends his time in the community doing hundreds of appearances, in schools teaching the importance of anti-bullying and reading, or even online on social media!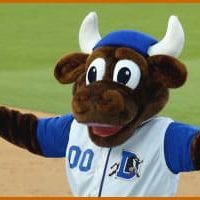 Learn More About
Wool E. Bull