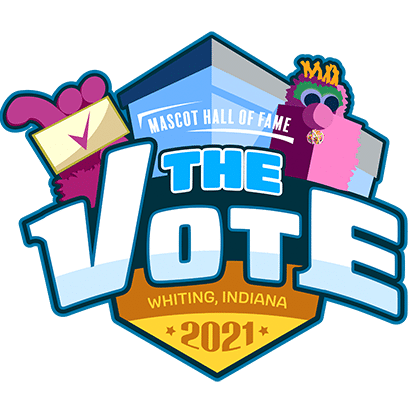 The MHOF Executive Committee has selected these mascots for consideration to the National Mascot Hall of Fame. CHOOSE UP TO 8 MASCOTS who you believe are worthy of moving on to the Final Ballot.
The public may vote once per day with the same email. General Public votes count 1:1. Members of the Mascot HOF votes count 3:1. Click here for membership info. 
First Round of THE VOTE takes place October 3 - 9, 2021. THE VOTE Final Ballot Voting will take place October 17 - 23. 
Ballot is currently closed. Thanks for voting!
Introduced 1989- 1990
The hardest cheering, best dancing, fun-loving, fashionable, flamboyant, friendliest mascot and only flame in the NBA!
Burnie Has been the spirit leader of the Miami Heat franchise for 32 years! Firing up fans with his fun and loving personality, Burnie on and off the court is loved all over South Florida.  His fiery orange fur and green basketball nose allow him to be unique and standout from other mascots.
Burnie's accomplishments and milestones include:
3- Time NBA Champion
Over 10 NBA All-Star appearances
Twitter Award for viral flip stunt
Certificates of appreciation for his support/involvement with special needs children/Special Olympics
Introduced – 1979
From the day Fredbird hatched in April of 1979 he loved the noise of the crowd, the action on the field and of course the ballpark food!  One day he got up on the dugout and started dancing and cheering on the team in between innings.  The fans loved his energy and cheered right along with him. The Cardinals noticed this and gave him a life-long contract as the teams mascot.
Fredbird's accomplishments and milestones include:
Fredbird's performed at around 34,000 regular season games
Has been to the World Series in '82, '85, '87, '04, '06, '11 and '13
Has been a part of World Series Championships in '82, '06, '11.
Inducted into the St.Louis Sports Hall of Fame in 2018.
Is a co-host to Cardinals Kids, a 30 minute TV show on Bally Sports.
Introduced - 1993
The adorable court jester, Globie, first joined the team in 1993. He's entertained over 50 million fans worldwide and has become the most traveled mascot in professional sports, having visited 6 continents.
Globie's accomplishments and milestones include:
Most traveled mascot that has visited 6 continents
Known as The World's Most Famous Mascot
Mascot Hall of Fame Nominee 2020
Has been an ambassador of Goodwill supporting many community outreach programs through the years.
Introduced 1998
Gnash is a blue saber-tooth tiger.  The saber-tooth tiger was chosen because remains of a saber-tooth tiger were found in  1971 during a dig in downtown Nashville near the current Arena and Gnash was introduced in 1998.
He makes between 600-900 appearances a year at birthday parties, classroom visits, retail promotions, school fundraisers, corporate events, parades and weddings. Gnash is the best seller in the pro shop and considered the face of the franchise.
Gnash's accomplishments and milestones include:
Gnash has been selected the best mascot in Tennessee by the Nashville Scene for the last 12 years
Gnash was the first ever recipient of the NHL Mascot of the Year in 2018.
Won Skit of the Year in 2019
Hockey New has named Gnash the best in the NHL twice
Gnash has performed in 4 different countries and 3 different continents
Gnash has 6 playgrounds with his likeness in Nashville
NAME: HARVEY THE HOUND
POSITION: Centre (of attention)
HEIGHT: 6'6"
WEIGHT: 200 lbs.
SHOOTS (marks his territory): Right
ACQUIRED: Flames First Pound Draft choice in 1983. He was the NHL's very FIRST Mascot!!!!!
NHL's very first mascot
Over 500 school, hospital and charity visits
Attended over 1,500 NHL games
Recovered from tongue removal on January 20th, 2003
Recently name 3rd most obnoxious mascot in the NHL
Attended and helped promote the 2018 NHL China Games
Homer the Dragon is the mascot for the Charlotte Knights who play in Charlotte, North Carolina. The team plays in the Triple-A East League, in the Southeast Division. The Knights are an affiliate of the Chicago White Sox and play at Truist field, located in Uptown Charlotte. Homer the Dragon is the most famous and loved dragon in baseball! While he's never surfed, he certainly enjoys a good wave. Homer is known for playfully biting the heads of his best friends and giving the most amazing high fives.
He does over 200 appearances a year that span from visits to the Levine Children's Hospital in Uptown Charlotte, to television interviews, to Miracle League games and various corporate functions. His nemesis is the Royalty Racing character, Jerry the Jester. Homer does whatever it takes to make sure that only the King, Queen, and Knight win races.
While at the ballpark, Homer loves to interact with fans and mess with the opposing team to make people laugh. He is known not only for being full of energy but also for having great dance moves. Homer performs his school show, Dragon Strong, in local schools and addresses resiliency and mental toughness in today's youth.
For more information about Homer the Dragon, visit www.HomertheDragon.com!
Homer's accomplishments and milestones include:
While he may not own many titles or have much hardware in the ole trophy case, Homer's biggest accomplishment is winning over the hearts of Charlotteans for the last 30+ years. Being the longest running mascot in the city of Charlotte, means the world to both Homer and the Charlotte Knights. It's pretty unbelievable how often Homer is told that he is someone's favorite mascot in the Charlotte community. Homer the Dragon is more than a character on the field or in the stands, he is a legitimate member of the local community and the people of Charlotte definitely see him as such. About once a homestand, a fan will approach Homer and let him know how they have a picture with him from when they were just a little kid. It's moments like that and the smiles that Homer puts on peoples' faces that are his biggest reward.
I suppose an accomplishment can be that previous "best friends of Homer" have gone on to the big leagues and one has even become a board member of the Mascot Hall of Fame! With such a tight knit group, I would say that it is an honor, milestone, and accomplishment that one of Homer's best buds now gives back to the mascot world in such a major way.
Sure, winning the 2017 Bojangles' Summer Shootout Mascot Mania Go-Kart Race meant a lot to Homer at the time! But what is most important to the big green lovable dragon is the lives he's impacted both in and outside of the gates at Truist Field. From countless monthly visits to Levine Children's Hospital to the hundreds of community appearances at non-profits he does each year, to the hundreds of holiday deliveries he spreads cheer at multiple times a year all around this great Charlotte area, to the hundreds of thousands of people he reaches through his social media – Homer the Dragon is so well deserving of a nomination into the Mascot Hall of Fame.
Introduced 1992
Iceburgh's accomplishments are simple.
Iceburgh has represented the Pittsburgh Penguins for the past 30 years, bringing joy, happiness, and laughter to all that have been in the character's presence since 1992.  Appearing at every Penguins home game and countless franchise, community, and philanthropic events, Iceburgh has consistently displayed an unwavering level of athleticism and passion for his hometown team, as well as the entire city of Pittsburgh and western Pennsylvania.  A friend to all on and off the ice, Iceburgh has helped lift local and global charitable events to their utmost potential not only through promotional visibility, but more importantly, through compassion, empathy, and understanding - all without ever saying a word.
Iceburgh is honored to be considered for acceptance into the Mascot Hall of Fame.
Iceburgh's accomplishments and milestones include:
Celebrating 30th Anniversary as the NHL's Pittsburgh Penguins Mascot
Mascot for the "2009', "2016", & "2017" Stanley Cup Champions Pittsburgh Penguins
Featured in the 1995 Hollywood Movie "Sudden Death" starring Jean-Claude Van Damme
Performed in Russia & Japan
Featured in several ESPN commercials
A regular participant in annual Orlando, FL Mascot Games
Performed at the 2017 NHL Award Show in Las Vegas
Performed at the Mascot Hall of Fame on 08/28/2021
Performed at 2011 Winter Classic Game in Pittsburgh
Performed at the 2014 and 2016 Stadium Series Games in Chicago and Pittsburgh
Countless community and philanthropic appearances throughout western Pennsylvania. My regular visits to the Children's Hospital in Pittsburgh are a personal favorite.
Introduced in 1996
For 26 years I have held the title of Self Proclaimed Greatest Mascot to Ever Breathe Air.
It's science, you can't argue with it!
Jaxson's accomplishments and milestones include:
SEE ABOVE
Introduced 1997
CAREER
Born Luigi Francisco Seal, Lou Seal debuted in 1997. Since then, he has been a regular part of all Giants home games, as well as numerous events in San Francsico and around the United States. Like a fish out of water, Lou's flip-flopping mystique and crazy sense of humor contribute high-powered enthusiasm to the roster. Known for his "Let's see what I can get away with next" philosophy, Lou has accomplished many daring feats ... 25 attempts of unsuccessfully kicking the umpire in the seat of his pants ... actually stole home plate five times ... 19 headstands behind home plate ... placed 2.5 banana peels in the path of the opposing team ... Five-time champion of "Act Crazy Behind The Fox Newscaster Without Getting Caught!" ... has given 2,562 nuggies, polished 843 bald heads, directed more than 12 major name pregame music bands ... won the 1998 Easter Seal Mascot Baseball Game as a member of S.J. Sharkie's Heroes ... caught 13 "fowl" balls with his mouth.
GIANT IN THE COMMUNITY
Participates in visiting hospitals, youth organization and civic groups throughout Northern California and San Francisco.
PERSONAL
Graduated from Pier 39 Flipper Academy, majoring in Beach Ball Balancing and Shark Avoidance ... started own crab-leg restaurant at Fisherman's Wharf, where he invented Clam Chowder in a Bread Bowl ... won the San Francisco Tuna Eating Contest flippers-down from 1997-98 ... once grew his whiskers so long, he was mistaken for an octopus ... someday aspires to be a special guest on "Baywatch."
Lou Seal's accomplishments and milestones include:
Lou Seal has displayed tremendous longevity, making 1,784 consecutive home-game appearances without missing a game (1,790 by season's end), and appearing at 21 Major League Baseball All-Star games.
He has won three World Series championships.
He was one of the four subjects followed in the second season of the Hulu series Behind the Mask, and has made numerous other TV appearance, including cameos on Fuller House, Storage Wars, Yard Crashers, and the Amazing Race season 30 finale. Other media includes Batkid Begins, and various viral YouTube videos.
Introduced 1956
The idea for Purdue Pete first came about as the logo for the University Bookstore, with his design based on Purdue guard Carl Verplank. Pete made his first on field appearance in 1956 helping students cheer at a pep rally. Since then, Pete has been a staple in West Lafayette, IN, as the official athletics mascot, helping the Purdue fans support their teams as they face Big ten opposition. Pete makes appearances at all home football, basketball, and volleyball games for Purdue, as well as several of other sports and community events. The appearance of Purdue Pete has changed several times over the years until settling on his current look in 1989. Pete's look is meant to represent the ultimate boilermaker; strong, hardworking, determined, and always supporting his team. Purdue Pete is never found without his hammer nearby, always ready to put in work and hammer down his opponents. Pete is best friends with Bucky Badger from Wisconsin and Goldy Gopher from Minnesota.
Purdue Pete's accomplishments and milestones include:
13th in UCA Nationals Ranking 2018,2019
Best Calves on Campus (voted by Purdue student body)
World Record for Longest Hammer Twirl (unofficial)
Introduced 1994
Slugger the Sea Dog was introduced as the Portland Sea Dogs' mascot on May 7th, 1994. Slugger, a grey harbor seal, hails from the cold waters of Casco Bay. He loves baseball and the Boston Red Sox. As the Sea Dogs' Director of Entertainment, Slugger has entertained more than 10 million fans; has gained national attention for his on-field antics; and is one of the most followed MiLB mascots on social media. He adds a special element to every Portland Sea Dogs game with skits that include dancing, flips, stunts, interactions with the umpires and fans, and general tom-foolery. When he's not busy entertaining the crowd, Slugger can be found parading around the cities and towns of Maine, visiting his friends at the Barbara Bush Children's Hospital, local schools, and being the "Life of the Party" at over 200 community appearances each year. Slugger loves giving back to his community and leads several programs including Strike Out Cancer in Kids, Slugger's Reading Challenge, the Slugger Open, and the Mini Slugger Open.
Favorite Movies: "The Sandlot", "The Natural", "Field of Dreams", "Fever Pitch", and "Andre".
Favorite Food: Sea Dog Biscuits    Favorite Song: YMCA    Weight: Healthy    Born: May 7th, 1994 in Casco Bay, Maine    Resides: Hadlock Field
Race Around the Bases Record: 0-1853* * Was robbed of the win on at least two occasions.
Ran under protest.
Slugger's accomplishments and milestones include:
Slugger has been featured on ESPN SportsCenter Top 10, MLB Network, NESN, Inside Edition, Access Hollywood, and many other news stations across the country.
In 2018, Slugger was a finalist for the MiLB Golden Bobblehead Award for "On-Field Promotion of the Year."
In 2019, Slugger was a finalist for the MiLBY Award for "Best In-Game Fun."
He has also received honorable mention for "Mascot of the Year" by Gameops.com ('18 & '19).
In 2019, Slugger was announced as a Nominee for the 2020 Class in the National Mascot Hall of Fame
Introduced 2004
Southpaw, the official mascot of the Chicago White Sox, made his major league debut on June 13, 2004. He has been entertaining fans all over Illinois, at 17 MLB All-Star Games, the 2009 Presidential Inauguration of former president Barack Obama, in over 27 states and even the Cayman Islands. This Fuzzy Green Dude performs at over 300 appearances a year as well as every home Chicago White Sox game where has entertained millions of fans. Southpaw has visited fans at Camelback Ranch, AZ while cheering on the White Sox at their Spring Training facility. He has joined in on celebrating with 13 of his MLB mascot friends for their birthday parties around the league. Everyone's favorite Fuzzy Green Dude offers an educational assembly geared towards elementary aged students called Southpaw Strikes out Bullying. This show identifies actions that are considered bullying and how to help prevent those actions.Southpaw's favorite activities include dancing, high fives, and his signature arm wave. He is also known for his silly antics, hip-swinging dance moves, and fan experiences by giving autographs and taking photos, as well as out of this world game day costumes.
Southpaw's accomplishments and milestones include:
17 Time MLB All-star
2015-2016 Chicago/Midwest Regional Award winner in Outstanding Achievement for Sports Programs
Over 1,300 Chicago White Sox Home Games
2020 MLB Network Radio Best Mascot in Baseball
2009 Washington D.C. Performance for Former President Barack Obama's inauguration
Introduced 1954-55
One of the most famous mascots in college sports, the Saint Joseph's Hawk has flapped its wings for 63 seasons. The Hawk is best known for staying in constant motion by flapping its wings throughout every basketball game and representing the Saint Joseph's motto, "The Hawk Will Never Die."
Jim Brennan originated the idea for a hawk as mascot during the 1954-55 season. Brennan, an ex-Marine and SJU cheerleader, at first wanted to secure an actual hawk, but later switched to the costume idea. The student government raised the 120 dollars needed to buy the initial costume, which Brennan donned for three years.
He made his debut as the Hawk on December 3, 1955, a 84-72 win over Rhode Island at the Palestra. Since then, and including this season, a total of 40 SJU students, have donned the costume. The Hawk has not missed a men's basketball game since that first season.
The Hawk's accomplishments and milestones include:
The Hawk has garnered numerous accolades in its more than 60-year history. The Sporting News, Sports Illustrated, Sports Illustrated for Kids, Street & Smith's Basketball Yearbook and ESPN College Basketball magazine have selected it as the nation's top mascot. Eastern Basketball tabbed The Hawk as the Atlantic 10 Conference's best mascot, while The Hawk won a "Best of Philly" award from Philadelphia Magazine in 2003-04. In 2014, The Hawk was named as the "Best College Basketball Tradition" by NCAA.com, and was also previously nominated for induction into the Mascot Hall of Fame in 2008. Additionally, The Hawk led Saint Joseph's University in setting a Guinness World Record for most people flapping for five minutes consecutively.
Introduced 2003
In addition to games, Staley has consistently performed at over 325 events/year since becoming the Chicago Bears official mascot in 2003. These appearances include not only paid private events (birthday parties, weddings, parades, etc…), but also over 100 structured school shows/year (Bear Down on Bullies, Tales to Tackle, First and Goal, Staley's Dance Express, Back to School Kickoff, and State Testing). Staley also offers a bi-lingual Spanish version of his Bear Down on Bullies assembly.
Most recently due to Covid-19, Staley has remained active within the school community by offering prerecorded options for his three main platforms (Bear Down on Bullies, First and Goal, and Tackle Reading). Each virtual show contains a 45-minute lesson plan complete with a teacher's guide to promote further classroom discussion on various elements within each video. Additionally, Staley has been offering virtual live zoom 15-minute classroom micro-presentations, shout outs, and other customized content-specific videos to schools and organizations seeking altered content during the pandemic.
Staley works closely with his Community Relations department on their numerous endeavors. These projects include neighborhood led initiatives (My Block My Hood My City, Peace House), as well as team led projects (Back to School Fair, Mini-Monsters, Fuel Up to Play 60, Mask/vaccination campaign, etc..) He is heavily involved with the Chicago Bears "Bear Hugs" program visiting sick children at multiple hospitals throughout the Chicagoland area. While put on hold since Covid-19, Staley is looking forward to resuming his 2 hospital/month Bear Hugs rotation soon.
Known for his jet setting, Staley has performed in the UK on three separate occasions, participated in Hong Kong's Chinese New Years Parade, and has visited active duty service members in Hawaii, Alaska, Kwajalein Atoll, and Guam.
Staley's accomplishments and milestones include
9 Time Pro Bowl Mascot
2016 NFL Mascot Summit Video of the Year award
2017 NFL Mascot Summit Social Media Post of the Year award
2019 NFL Mascot Summit Social Media Post of the Year award
World traveler having performed in Alaska, Hawaii, Canada, The UK, Marshall Islands, Hong Kong and Guam.
Introduced 1995
On November 3rd 1995, the entertainment industry changed forever. As his dino egg hatched at center court in Toronto in front of 33,000+ fans on opening night – a legend was born. Twenty-seven seasons later, the one and only Raptor is not only an icon on the hardwood in Canada but in communities and people's hearts around the world. A dynamic and feisty red velociraptor, The Raptor is a pioneer and master of his craft on and off the court. A triple threat in the ball, fashion and social media worlds, he is no stranger to the spotlight. When he's not dazzling fans with his dance moves or dunks, The Raptor finds ways to make everyone smile. Whether you cheer for his team or the bad guys, or whether you are laughing with him or at him, making people laugh is what he does best. With more than 1130 games and 6300 appearances thus far in his career, the 5'9" 170lb dinosaur deserves to take his legacy to the next level - into the Hall of Fame.
The Raptor's accomplishments and milestones include
6300+ Appearances Worldwide (5 continents. 13 countries)
1130+ games
82,478 autographs signed
183lbs of popcorn eaten (& not one kernel stuck in his teeth!)
25 Million + views on YouTube
.959 successful dunking percentage
Rookie Mascot of the Year (NBA, 1996)
Mascot of the Year (GameOps.Com, 2006)
The NBA's Most Annoying Mascot (Robin Lopez, 2014)
Best Mascot in The NBA (Sports Illustrated, 2016)
Viral Moment of The Year Award (NBA, 2018)
NBA Champion (2019)
Introduced 2000
In 2000, representatives in the University Relations department convinced Butler officials to adopt an English bulldog to serve as the official mascot.  Butler Blue I was the first young lineage of English Bulldogs bred by Frank and Jeane King of Kong King Kennels.  The name "Butler Blue
was selected in a University-wide naming contest, and Blue I made her debut as Butler's official mascot at a men's basketball game in February 2000 to a standing ovation in historic Hinkle Fieldhouse.  Blue II made his campus debut in 2004 as a puppy of less than 8 weeks old. He immediately captured the hearts of Butler students, faculty, staff, alumni and fans.  He went on to capture the heart of the nation during Butler Men's Basketball's back to back trips to the Final Four.
Butler Blue III, also known as "Trip" was born December 23, 2011 Blue III worked closely with Blue II to learn the true art of being "America's Dog" on and off the campus of Butler University for two years before taking on the mantle himself.  Trip retired from active duty at the age of 8 on May 31, 2020 and took on an active role of Mascot Emeritus as chronicled in the hit Neflix series "DOGS".  Butler Blue IV was introduced to the world on January 22, 2020, and attended his first Butler Men's Basketball game on Friday, January 24 at Hinkle Fieldhouse versus Marquette.
Butler Blue's accomplishments and milestones include:
The Butler Blue Live Mascot Program serves as a national benchmark among all collegiate mascots.  All 4 of the bulldogs have had their unique successes during their time as the official mascot for Butler University.  During his tenure, Blue II met the likes of Colin Powell, Peyton Manning and even former President George H.W. Bush. He appeared on Late Night with Jimmy Fallon, and of course, captured the hearts of the Nation with two consecutives NCAA men's basketball Final Four appearances, thus earning Blue II the title f "Butler's mascot, America's dog." The dogs have a children's book about their mascot journey. Penned by Michael "Pops" Kaltenmark, Good Boy, Blue! is an adorable book about Butler Blue and his quest to become a good boy during his first day on the job.
In 2014, Butler Blue III aka "Trip" was named a Top 10 Mascot by ESPN. During the 2021 March Madness Tournament, Blue IV was officially named Mayor of March.  Most recently. Trip and Blue IV appeared in their own episode of "DOGS" on Netflix, which followed the two on their emotional journey of passing the collar from Trip to Blue IV back in 2020. Currently, Blue IV has a combined social following of almost 80K across 4 platforms making him one of the top 2 most followed live mascots in the country.
Introduced 1987
Rameses is an anthropomorphic ram that studies at UNC. He came to Carolina to cheer on the Tar Heels and has never left!  He supports the Carolina Family by exemplifying strong character, sportsmanship and care for those in his community. He is regarded as a buff, often-overconfident fanatic that focus primarily on 2 things; the Heels and working out. Rameses values fair competition and success on and off the court. He is involved with a number of continuous service opportunities and is always enthusiastic to give back, especially to his home state of North Carolina.
Rameses' accomplishments and milestones include:
Rameses is looking forward to celebrating both his 35th anniversary at UNC as well as his 15th anniversary supporting the Jason Roy Foundation this upcoming year. He is proud to be known as the first and one of only 3 mascots nationally to wear the Jordan-brand sneakers (Rameses Jr., Hugo the Hornet).  Rameses can most recently be recognized in his national commercials for brands like Rocket Mortgage, Audi and Buffalo Wild Wings.  He is consistently regarded and voted as one of the best college mascots (2021, USA Today.)
Introduced September 1998
Since the introduction of BLITZ he has been a staple in the community appearing at over 500+ appearances a year, not just in the Seattle community, but all over the country and the even the world.  BLITZ has been a part of numerous military tours over the past 15 years all over the world performing with the Seahawk dancers, entertaining military families on bases world wide.  BLITZ is a staple in the Seattle community attending more than 200 school based events per year.  BLITZ is so highly thought of and respected by Seahawk fans that our head coach named BLITZ a team captain in 2020 and again in 2021. BLITZ is constantly representing the organization at community events year round.
BLITZ'S accomplishments and milestones include:
One of the biggest accomplishments of BLITZ was being named team captain by head coach Pete Carroll in 2020 and will adding him to the captains list again in 2021. This was earned by his hard work in the BLITZ just completed his scooter ride across the state of Washington 376 total miles.  He did this scooter run to raise funds for purchasing back-to-school shoes for kids in need. In the inaugural year of this event we will be donating more than 2,500 pairs of shoes to kids in need.
Introduced in March 2020
YoJo is an independent mascot character that performs "Hilariously Educational" assembly programs to elementary schools or any venue with a large group of children. He made his debut on March 2, 2000, when he and his crew performed their first assembly program titled CHOOSE TO READ at a local school in Beltsville, Maryland. 4,400 shows later, 'The YoJo Show' has become the most successful and prosperous mascot-based school assembly program in history.
YoJo's creator & performer, Bromley Lowe, was at that time, a Major League Baseball and NFL football mascot for the Baltimore Orioles and Baltimore Ravens. The purpose of YoJo's creation was not to be a sideshow at sporting events – Instead, he was created to be the star of an original production that combines the art of sports-style 'mascotting' with additional on-stage talent and the use of custom-made audio/video equipment. The result was a unique hybrid of mascotting and theater elements that greatly appeals to children.
Unlike sports mascots, his 40-45 minute performances are carefully scripted to be comical while stressing important educational themes for an elementary audience. YoJo's show themes include reading motivation, test-taking strategies, health & fitness, and anti-bullying. All YoJo's scripts have been co-created with professional educators to ensure that instructional content is appropriate for school curriculum. Shows are typically performed for groups of 50-1,000 children in attendance.
YoJo is a significant character in the history of mascots for two important reasons: #1) YoJo's success proves that an independent mascot program can thrive without the support of a team or corporation, and #2) The performance art of sports-style mascotting can be creatively adapted in a traditional on-stage theater setting.
YoJo's accomplishments and milestones include:
The YoJo Show is the most successful mascot-based school assembly program in history. From March, 2000 to March, 2020 (When COVID hit) The YoJo Show performed over 4,400 shows nationwide. All of the YoJo shows were original productions and completely self-promoted by the producing company, Bromley Productions, LLC.
YoJo's script for his CHOOSE TO READ assembly program won a grant and an award for excellence in children's playwrighting by the Maryland State Arts Council.
The YoJo show has had sponsorships with corporations such as the Baltimore Sun, Target and various local companies to perform assemblies at elementary schools in economically disadvantaged areas.
During YoJo's busiest times of the school year, the YoJo show would sometimes be doubled or even triplicated. This required supplying and training 3 talented teams of "YoJo Troupes" which would be performing simultaneously to fulfill the demand of his programs. Quite often during these busy periods, these YoJo show troupes would collectively perform over 30 shows in a given week. In one of YoJo's most prosperous months, these troupes collectively performed 119 school shows.
Introduced 1952
The University of Minnesota's four-time Mascot National Champion Goldy Gopher was "born" in 1952, but has never come close to growing up. He's a fun-loving child at heart – one reason he interacts so well with kids. Of his 500-plus appearances each year, 95% involve children, such as playing with kids at the Minnesota State Fair, and regular time spent with families at charities, such as Hope Day with Masonic Children's Hospital.
He's always eager to show off his ability to spin his head 360 degrees, especially when students or children chant for it. Goldy loves to improvise and play with anything that's around. He'll turn his long, bushy tail into a guitar, or a hockey stick into a horse; always setting an excellent example for kids to use their imaginations 24/7. His silly antics, ability to poke fun at himself, and "fail" or be "scared" in a variety of circumstances – yet still be happy and eager to try again – imparts an important lesson for kids of all ages. His eagerness to cheer everyone on no matter what they're doing, whether students walking to class, adults riding a bus, or children attempting an obstacle course spreads joy, laughter, and smiles throughout the community . He celebrates snow. He celebrates sun. He celebrates rain. He's willing to try anything (sometimes more than once!), from water skiing to riding a scooter with his head turned backward.
On those rare moments Goldy takes a nap, UMN has two permanent statues of Goldy that people flock to. He maintains a Facebook page, Twitter, TikTok and Instagram so Gopher students, alumni, Gophers-to-be, and all Goldy fans around the world can find cheer year-round. He not only represents the University of Minnesota, but is a symbol of and inspiration for the entire state.
Goldy Gopher's accomplishments and milestones include:
UCA Mascot National Champion: 2011, 2013, 2017, 2018
Capital One All American Mascot Team: 2004, 2007, 2010
Introduced 1948
In 1948 Herky was introduced to the University of Iowa as comic character.  This design was then taken and used to create the costumed character, who first appeared at a football game in 1959. Traditionally the duties of the Herky the Hawk were the responsibility of the Delta Tau Delta, until 1999 when the fraternity lost their charter. In 1999 the duties of Herky then fell under the umbrella of the athletics department where Herky became part of the Universities' Spirit Squads. In the modern era of Herky the Hawk has become the charismatic jokester that is the symbol of the University of Iowa.  Herky continues to entertain fans on and off the field to spread the Hawkeye spirit wherever he goes as he has done since 1959, as well as performing in his own national mascot competitions where he made it to the finals in 2006, 2008, 2015 and 2018.
Herky's accomplishments and milestones include:
The character was introduced in 1948 and first appeared on the football field in 1959
Placed 6th in UCA Mascot Nationals in 2006
Qualified for UCA Mascot Nationals in 2008
Placed 4th in UCA Mascot Nationals in 2015
Received the Disney Spirit award for the new football tradition "The Wave" in 2017
Placed 9th in UCA Mascot Nationals in 2018
Introduced: 1998
Hugo the Hornet was introduced in 1998, during the first year of the new NBA expansion franchise in Charlotte, NC.  Hugo's name was selected from a 6,000-entry fan vote, however contrary to popular belief, he was not named after Hurricane Hugo that swept through the Carolinas in 1989.
The original mascot was designed by Cheryl Henson, daughter of Jim Henson (creator of the Muppets.)  Alongside Hugo, was the spandex-wearing, acrobatic, slam dunking Super Hugo who was the first of its kind alter-ego dunking character.  Super Hugo was one of many NBA mascots that came from the National Champion Arizona State University Gymnastics team.  Super Hugo innovated cutting edge mini-trampoline dunks and never seen stunts such as the "Front Flip Dunk", "Helmet Dunk" and "Bug on A Windshield" were his most famous.
In 2002, the Hornets and Hugo moved to New Orleans where the team eventually became the Pelicans.  After 12 years, in 2014, Hugo the Hornet made is return to the Queen City reflecting the updated logo while sporting the ever popular purple and teal.
Hugo's accomplishment's and milestones include:
Hugo traveled the world performing in Australia, France, Spain, Mexico, South Africa, Nova Scotia, the Dominican Republic, China, Thailand, the Philippines and many more.  In the 90's, he frequently made appearances with Habitat for Humanity, DARE, and Read to Achieve. Currently, Hugo focusses on literacy with his Book Bus that travels over 5,000 miles a year, donates over 15,000 books and puts on reading shows at 200 schools a year for over 60,000 students.
Timeline:
1998: The Charlotte Hornets join the NBA as a new expansion team, Hugo was born.
1993: Super Hugo becomes 3-time NBA Mascot Slam Dunk Champion.
2002: The Charlotte Hornets leave for New Orleans and stay until 2013.
2014: The Hornets name return to Charlotte.
June 5th, 2014: The newly designed Hugo the Hornet returns to Charlotte.
2014: The new Super Hugo returns to dunk for the first time.
Introduced: 1927
The Mountaineer Mascot is the most beloved of all West Virginia University traditions and symbolizes the proud and rich heritage of the Mountain State and its people. Wearing the heavy custom buckskins and real coonskin cap, the Mountaineer carries not just the weight of the uniform, but the weight of West Virginia on his/her shoulders. The Mountaineer attends NCAA football, basketball, and baseball games, as well as gymnastics, soccer, volleyball and wrestling matches, cheering on the Mountaineers in all venues. He/she also makes appearances at other sporting events, including WVU Club Sports. Today, the Mountaineer attends more than 250 events per year outside the realm of athletic functions, appearing at schools, hospitals, civic organizations and more.
What makes the Mountaineer Mascot unique compared to others is the fact that every year a new individual will serve in the position. For other mascots, an individual changes his/her personality to portray that of the character. The Mountaineer Mascot position, however, allows any individual to let their unique personality shine as they carry on the responsibilities. For other schools, the person becomes the mascot; at WVU, the mascot becomes the person. This allows the Mountaineer to be well known throughout the fanbase, even after their term is over and they become a functioning member of society.
With West Virginia University being the major sports program in a state with no professional teams, the Mountaineer becomes an instant role model and idol for men and women of all ages. While other mascots perform routines for their fans, the Mountaineer gives various speeches throughout their appearances, making an impact and shaping the lives of all who listen. The Mountaineer Mascot, to West Virginians, is a symbol of ruggedness, freedom and strength while being the face of a deeply cherished state and university.
Mountaineer accomplishments and milestones include:
Ranked the best human college mascot by "Big Game Boomer" June 2021
Ranked 17th best all time mascot by "Saturday Blitz" January 2021
Ranked 4th coolest college football mascot by "Fansided" 2019
Ranked best Big 12 mascot by "ESPN" June 2016
Introduced: 1997
Wally is the friendly Fenway Monster and official mascot of the Boston Red Sox. In 1997 he made his way to the ballpark and emerged from the famous Green Monster at Fenway, his home. Since his major league debut, Wally has roamed the park and appeared across all of New England, numerous All-Star games, and continued to find ways to bring joy to fans around the world. You can find Wally ready to toss peanuts at every Red Sox home game for "Take Me Out to the Ballgame" or waving his signature flag on the field following each win. Wally is also the proud big brother of Tessie, who tags along for just about everything! During Red Sox Spring Training, Wally conveniently times his vacation in Fort Myers, Florida. He's been a part of 4 World Series Championship seasons with the organization, and has spread cheer to many children and adults through hospital visits, birthday and wedding appearances, his program "Wally's Making Books Come Alive," and more.

Wally's accomplishments and milestones include:
Wally is the host of a regional reading and literacy program, "Wally's Making Books Come Alive." For the last five years, he has traveled to area schools for a special interactive storytime presentation emphasizing the joy of reading.
Given health and safety concerns of the last two years, Wally has continued to spread joy to children in schools, hospitals, and more by sharing numerous video messages and joining/hosting multiple zooms each month.
Wally has cultivated an online community with over 50K Twitter followers, 24K Instagram followers, and 18K Facebook followers.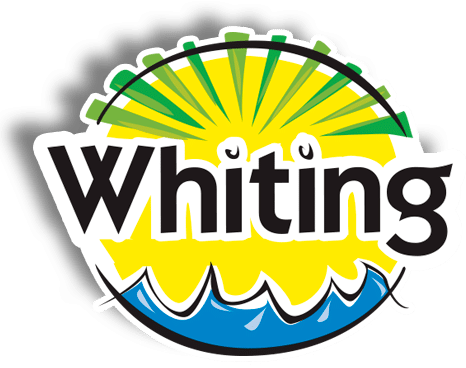 The City of Whiting is located on the south shore of Lake Michigan, with scenic lakefront views of downtown Chicago. Midway Airport, the South Side of Chicago, and Downtown Chicago are all located within a 30-minute drive of Whiting. For more information about the City of Whiting, please visit WhitingIndiana.com.