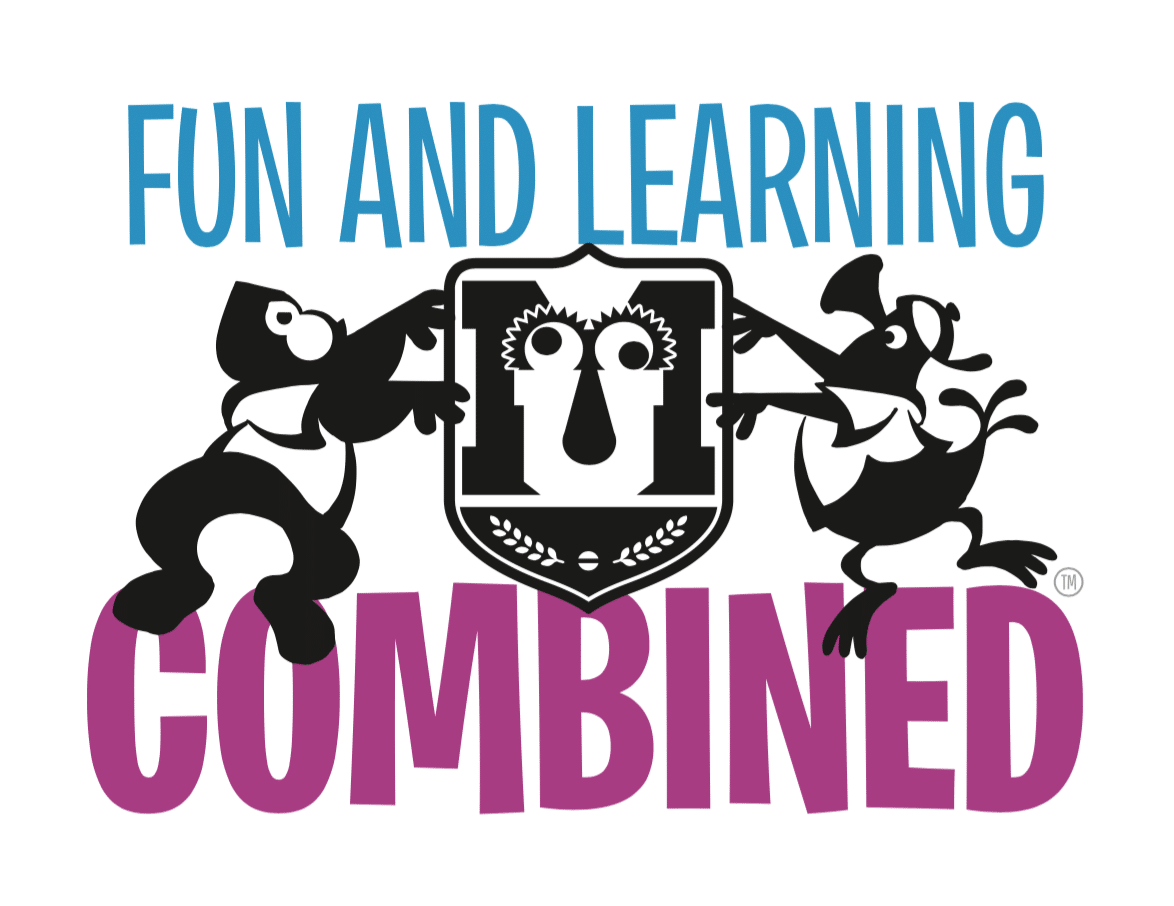 Take your students on a journey through Mascot University!
More than just a giant fun factory, the Mascot Hall of Fame features interactive, educational displays that incorporate S.T.E.A.M-based activities complimenting state and local curriculums. Our mascot-themed exhibits offer standards- embedded learning opportunities for students in grades K-8.
Pre, during, & post-visit
activities and lesson plans available
Plans for K-2, 3-5, and 6-8
Tied to Science, Math, Literacy, Art, and Engineering standards
Our curriculum was developed to educate and engage your students in the days prior to their field trip, during their visit, and upon returning to the classroom! These fun, curricular activities were designed to be open-ended, giving Educators the opportunity to augment instructions based on the specific needs of your students.
Cost per Student - $7.00
Cost per Chaperone (limit 1 per 5 students) - FREE
Cost per each additional Chaperone - $7.00
Self-guided interactive tours last approximately 2 hours
Coat room and sack lunch storage available at no cost
Eating area for sack lunches
*Concessions available for an additional cost*
Chaperones are greeted by a tour guide and provided with a timed agenda to help guide the exhibit experience
Shop the Mascot Mart (student store), offering a wide range of souvenirs from $2.00 to $60.00
Recharge with some lunch, and explore our Build-A-Bear® workshop, featuring one-of-a-kind mascot and Reggy bears!
What will your students learn?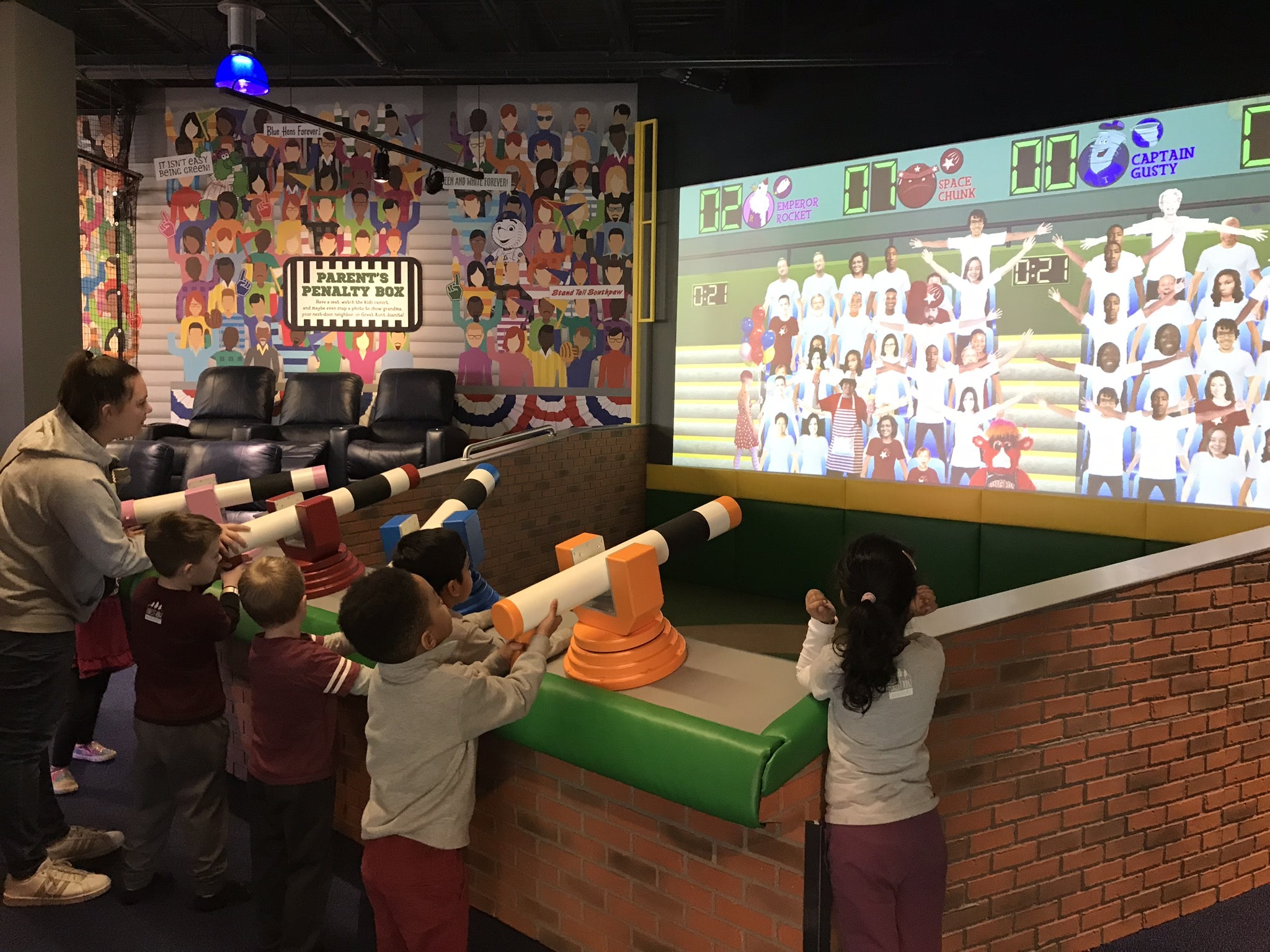 T-Shirt Shooter Stadium
Enter T-Shirt Shooter Stadium and compete with friends and family to launch the most t-shirts to the most fans waving in the crowd. Watch out for obstacles and bonus opportunities! Use your giant cannon and take aim with up to four players.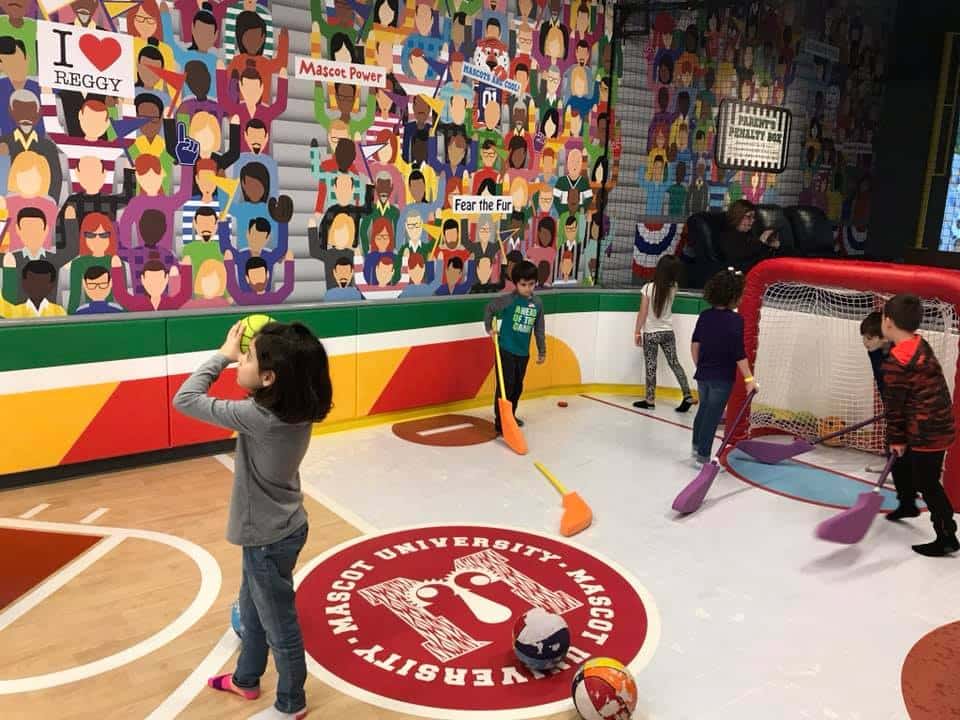 Centier Bank Sports Court
Experience a variety of sports challenges inside the MHOF Sports Court brought to you by our Founding Partner, Centier Bank! Here, guests can score a touchdown, make a basket, shoot a puck, and more!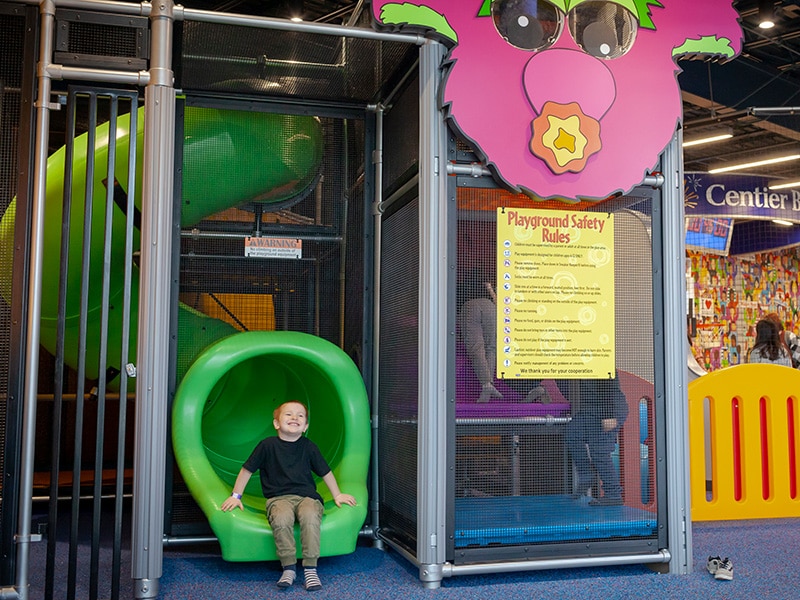 Basic Training Center
The Mascot Hall of Fame would not be an interactive, fun zone without the ultimate children's playground!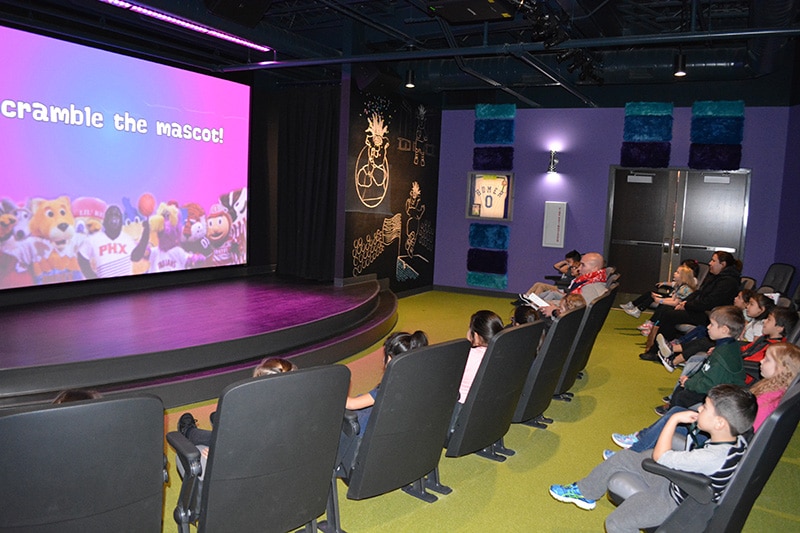 Fureshman Orientation Theater
Before beginning the journey through "Mascot U", students and museum guests are encouraged to stop inside the Fureshman Orientation Theater. Here, Reggy tells the story of mascots and his new home, the Mascot Hall of Fame in Whiting, Indiana! Don't miss the show!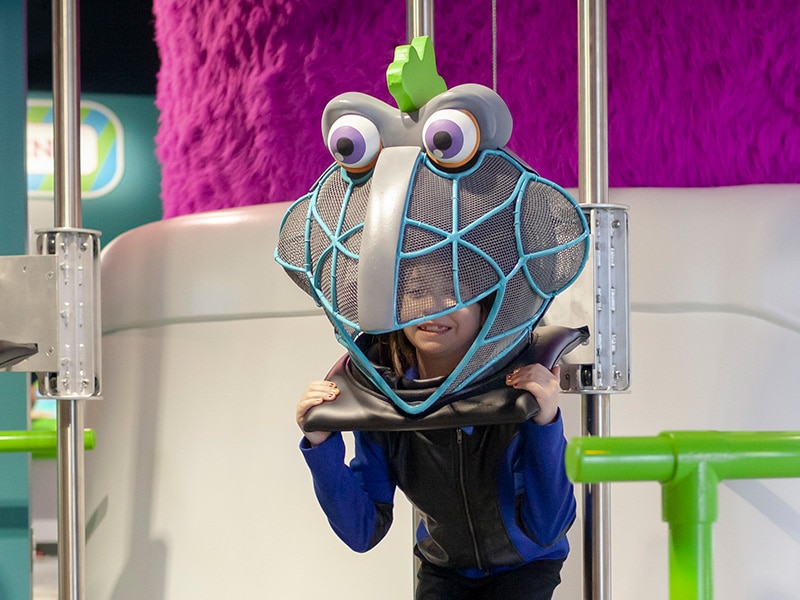 What Does it Weigh?
Experience for yourself how it feels to be a mascot! How much do you think it weighs? Here guests will learn more about the different shapes, sizes, and weight distribution of various mascots.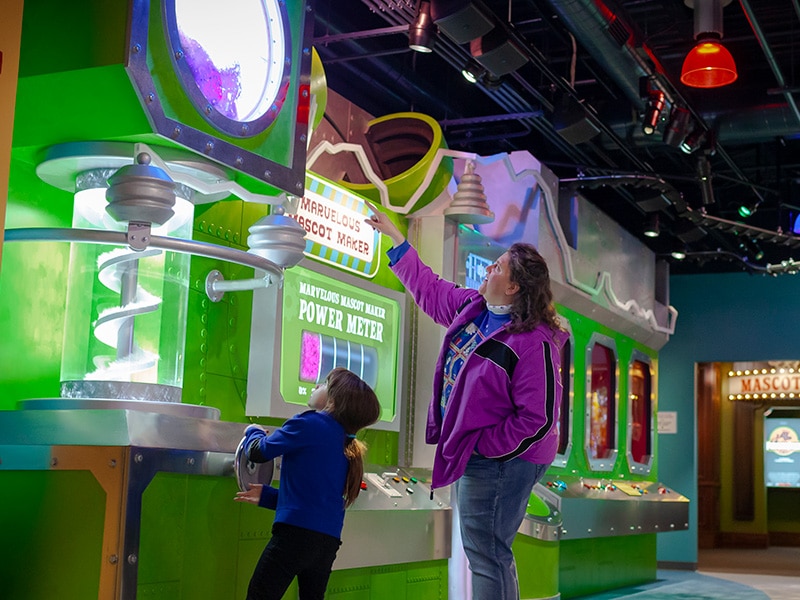 Marvelous Mascot Maker
Push buttons and pull levers to fuel the Marvelous Mascot Maker. Discover how your favorite mascots are made, right before your eyes!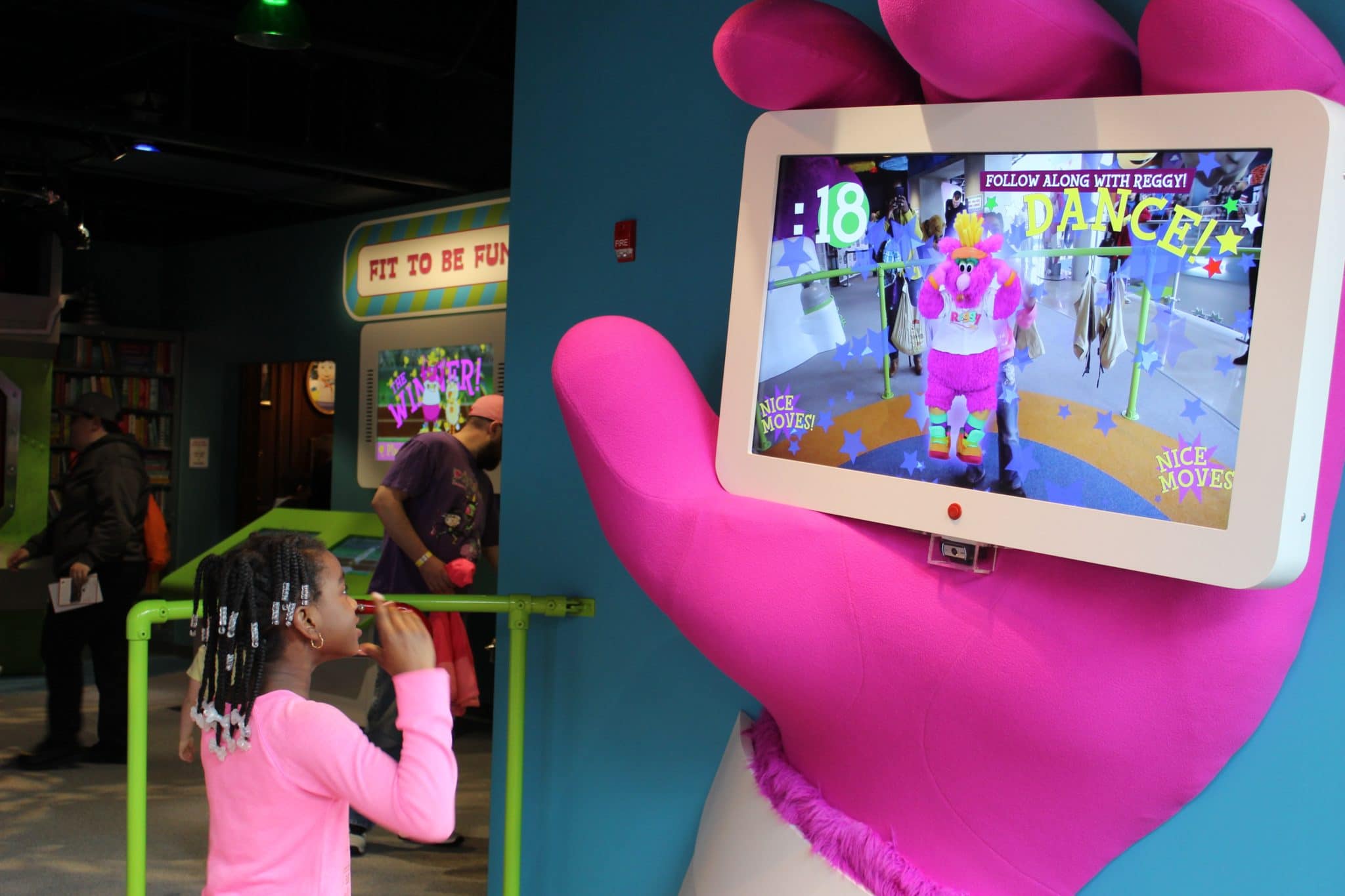 Lightheartedness is Heavy
Join Reggy for a fun workout routine! Try on a weighted vest to see how much harder it is to workout as a mascot! Take your pulse with the heart rate monitor before and after the workout to see how a simple dance routine can increase your heart rate.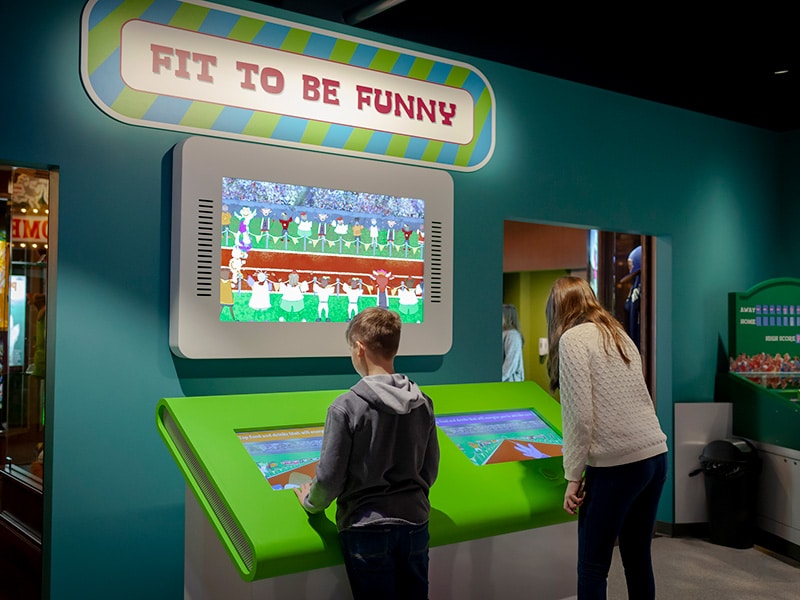 Fit To Be Funny
Players compete to see who is Fit to be Funny! Choose from 4 unique mascots and race against your friend to see who can complete the sprint first. Make the right food and drink choices that will get you to the finish line before your opponent. Watch out for sugar crashes!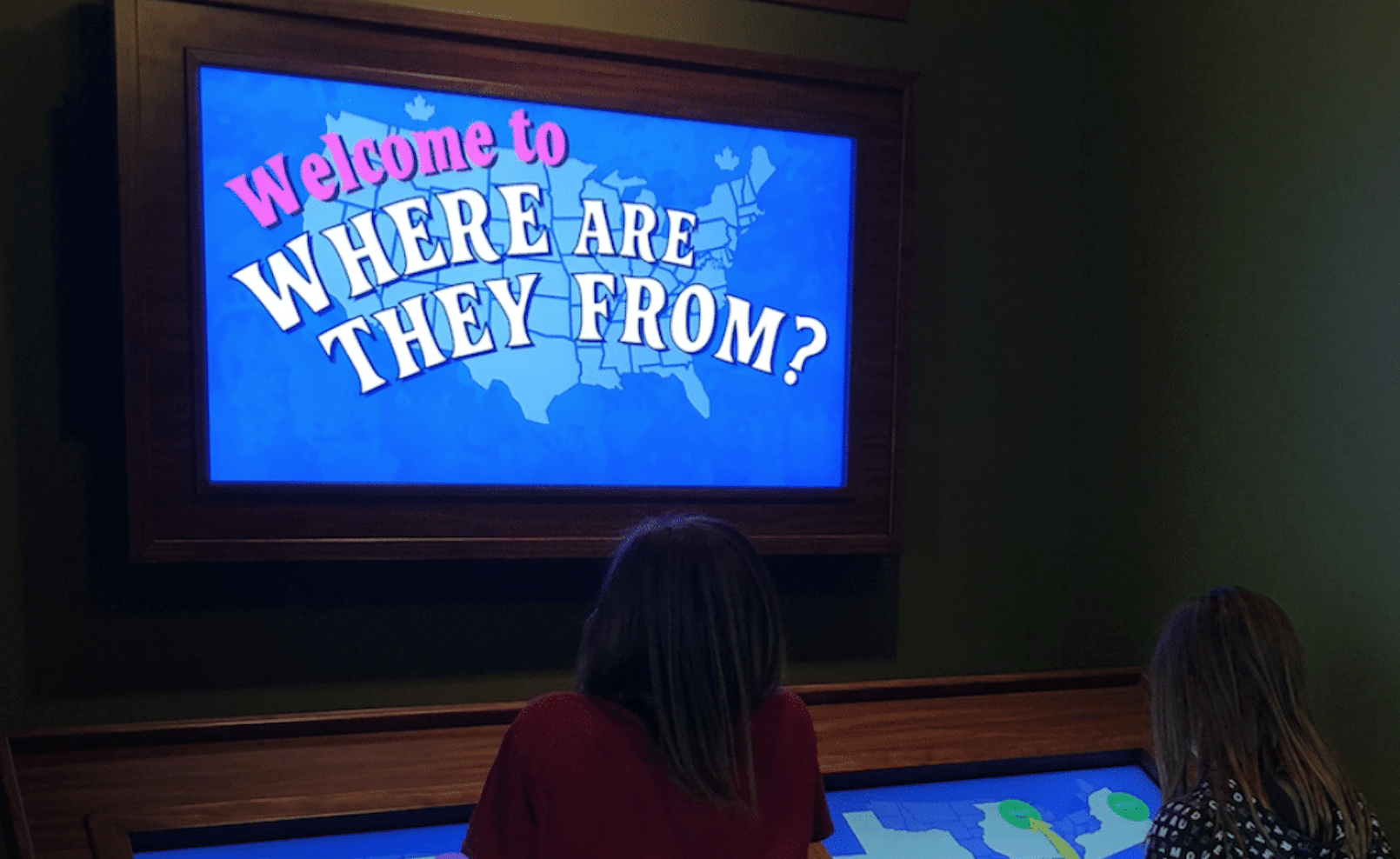 Where Are They From?
Compete against your friend to see who can match the most mascots to their hometown! Drag mascots onto their proper location on a U.S. map. With over 101 possible mascots, perhaps you'll spot some of your favorites!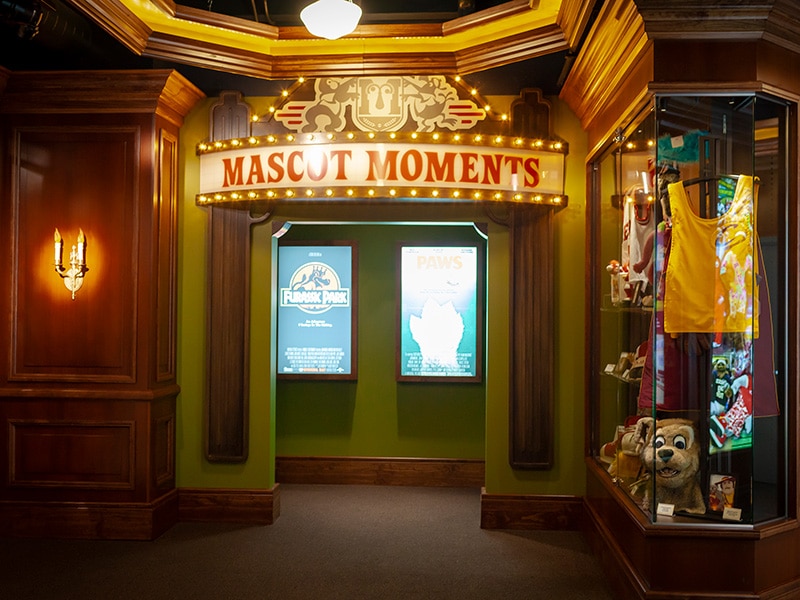 Mascot Moments
You may know your favorite mascots on the field, at the arena, or on the court, but do you know that many other special moments they've helped create? We've captured many of them for you! Watch for yourself inside the Mascot Moments Theater.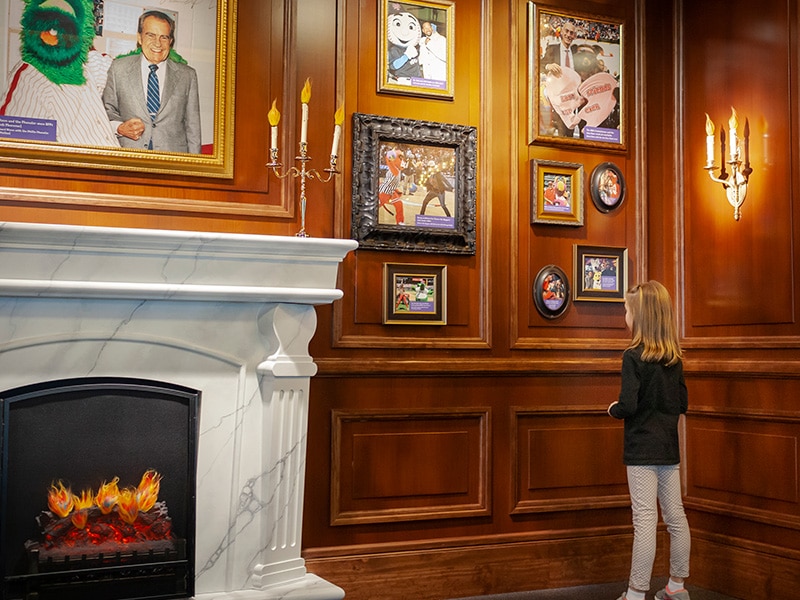 Brushes With Greatness
Interested in memorable mascot moments? You'll find them here in the Brushes with Greatness exhibit. Keep an eye out for everchanging, iconic moments created by the mascots we all know and love.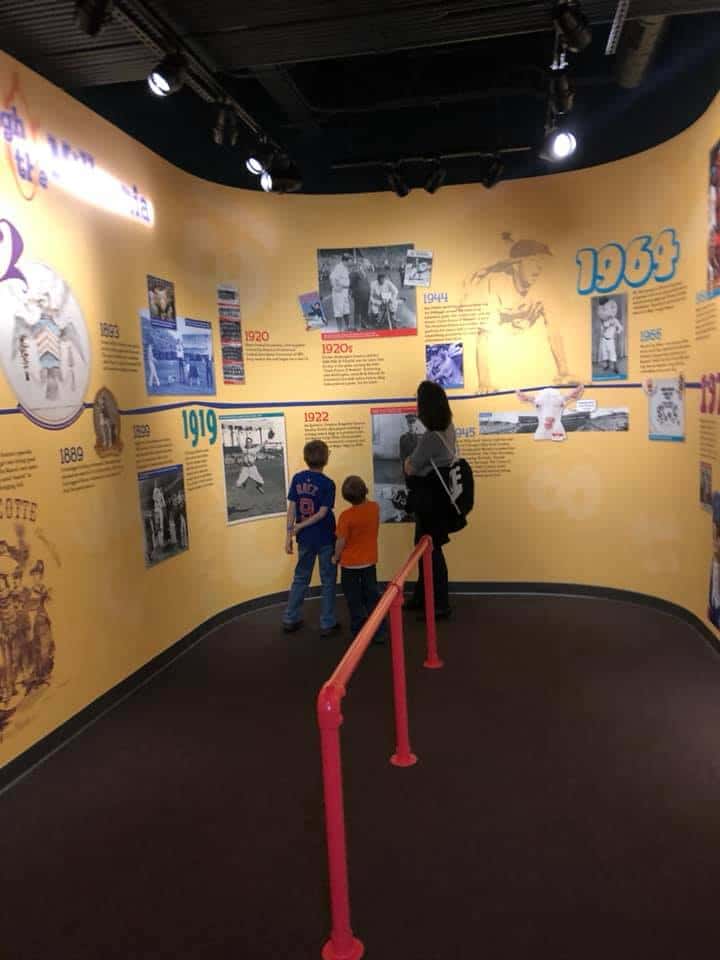 Through History
Take a journey through the history of mascots from the beginning of their time until now, and of course, all the furry-fun facts in between!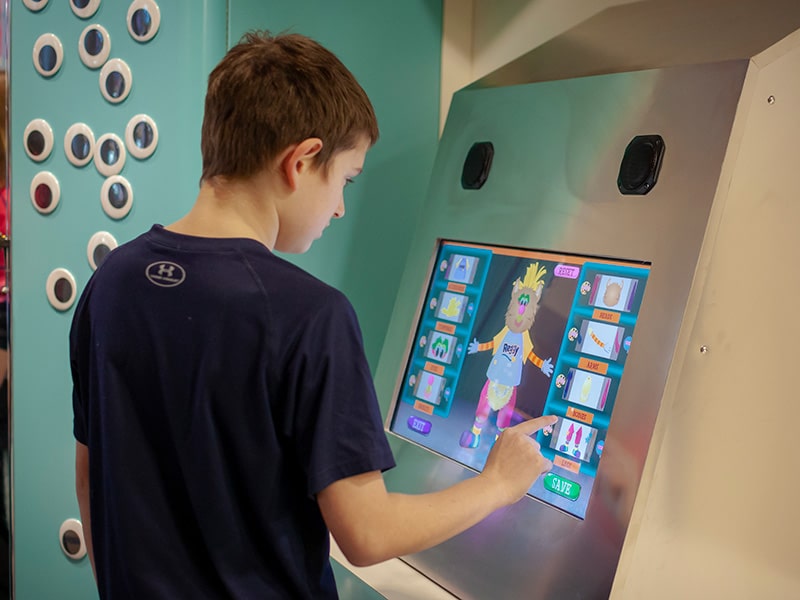 Become a Mascot
Design your very own unique mascot and send your creation home! Combine a variety of mascot parts and accessories to create a brand new mascot. With over a billion possible combinations, your mascot will truly be one of a kind!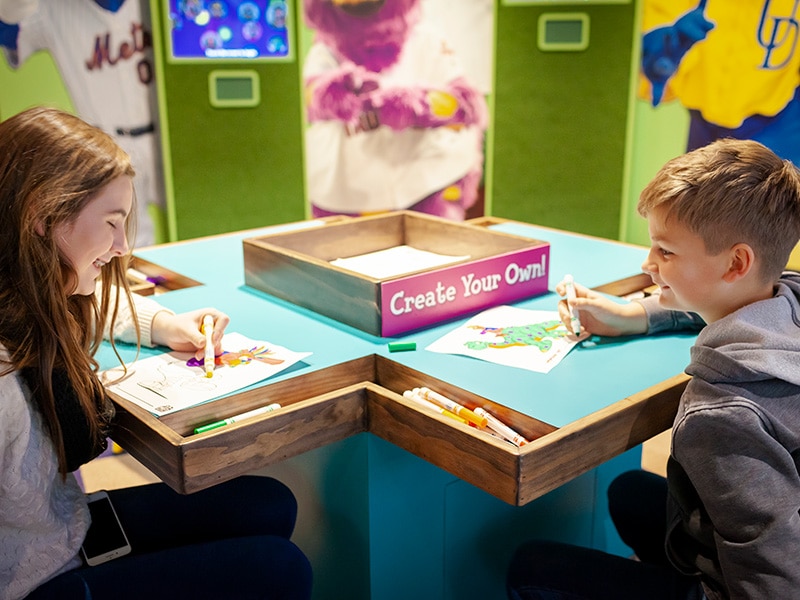 Design a Mascot
In the Design-A-Mascot area, YOU are the designer. Find your seat at one of the MHOF drawing stations and unleash your creativity! Perhaps your mascot will appear in the Hall one day.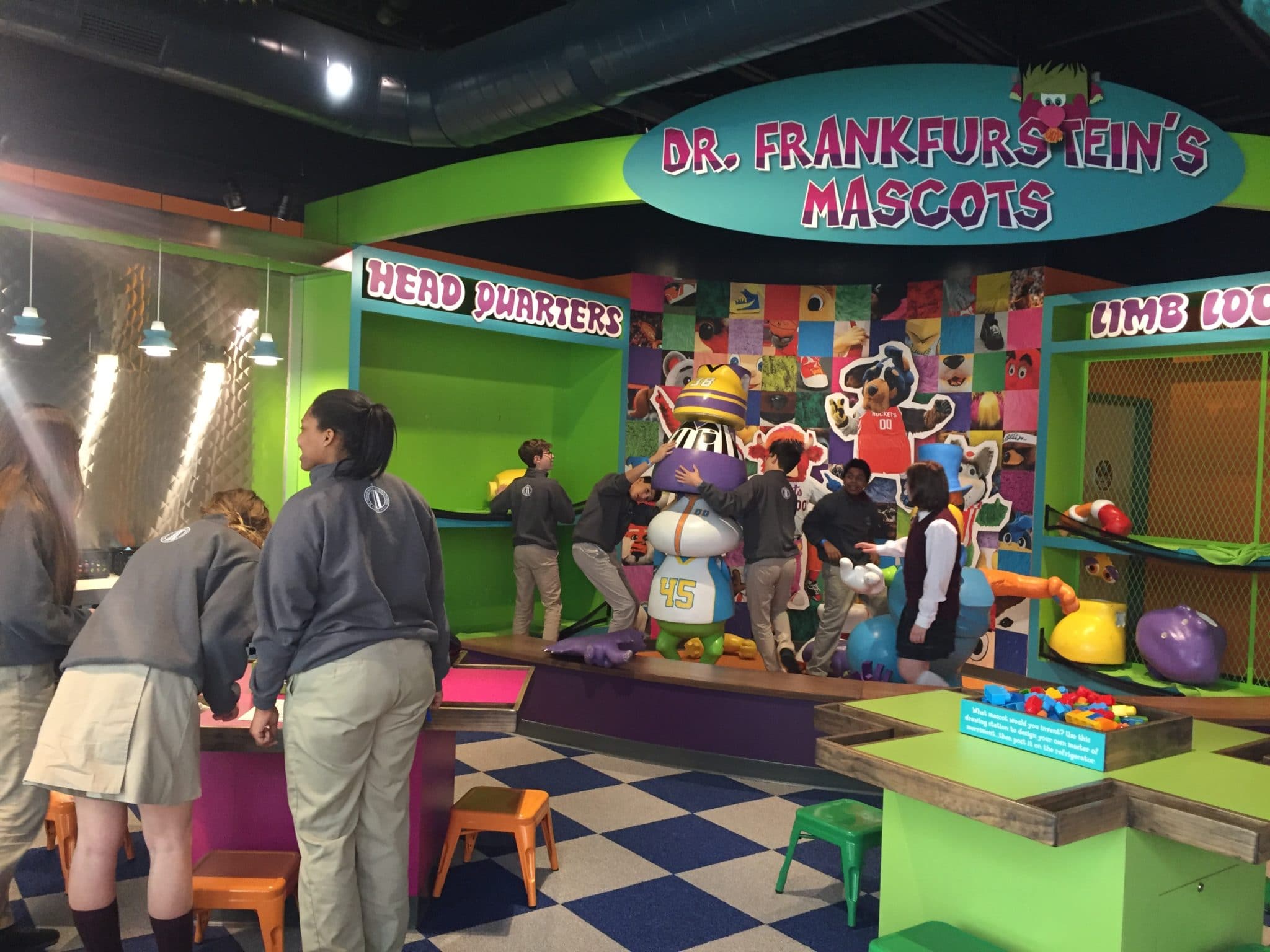 Design a Mascot
Heads up! Our mascot friends have been "frankfursteined". We will need your help to undo Dr. Frankfurstein's work. Choose from fur, eyes, heads, arms, and more parts to put the mascots back together properly!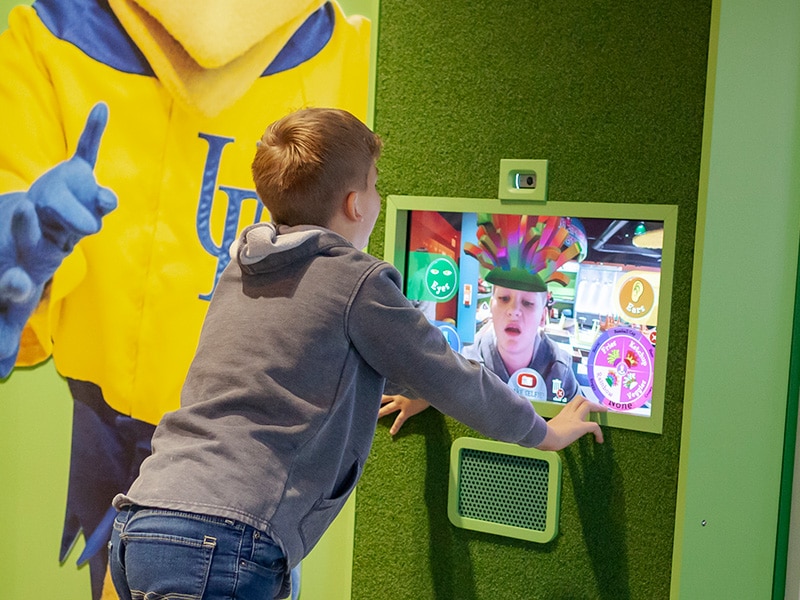 Mascot Lab
The Become A Mascot exhibit offers a 3d face-mapping experience where you can select wacky accessories to become your very own mascot. You can send your selfie home to share your mascot persona with your friends and family!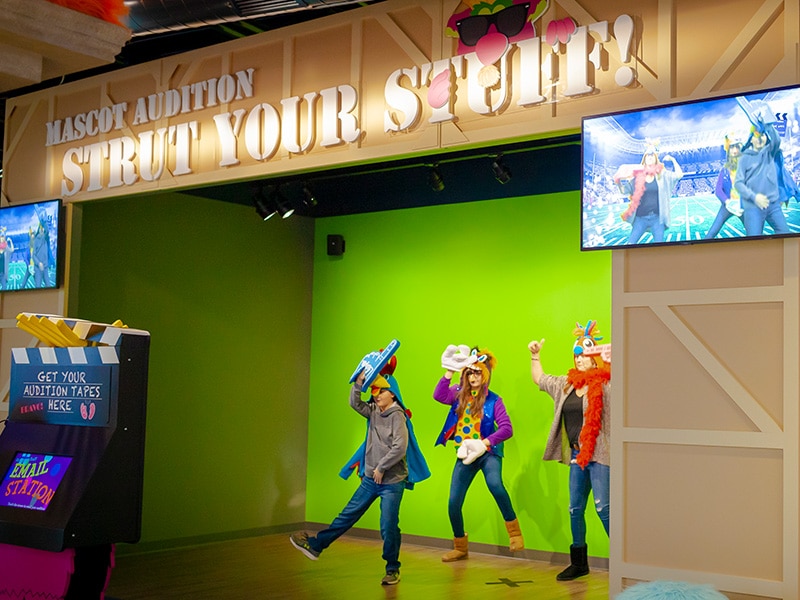 Strut Your Stuff - Mascot Audition
You may know your favorite mascots on the field, at the arena, or on the court, but do you know that many other special moments they've helped create? We've captured many of them for you! Watch for yourself inside the Mascot Moments Theater.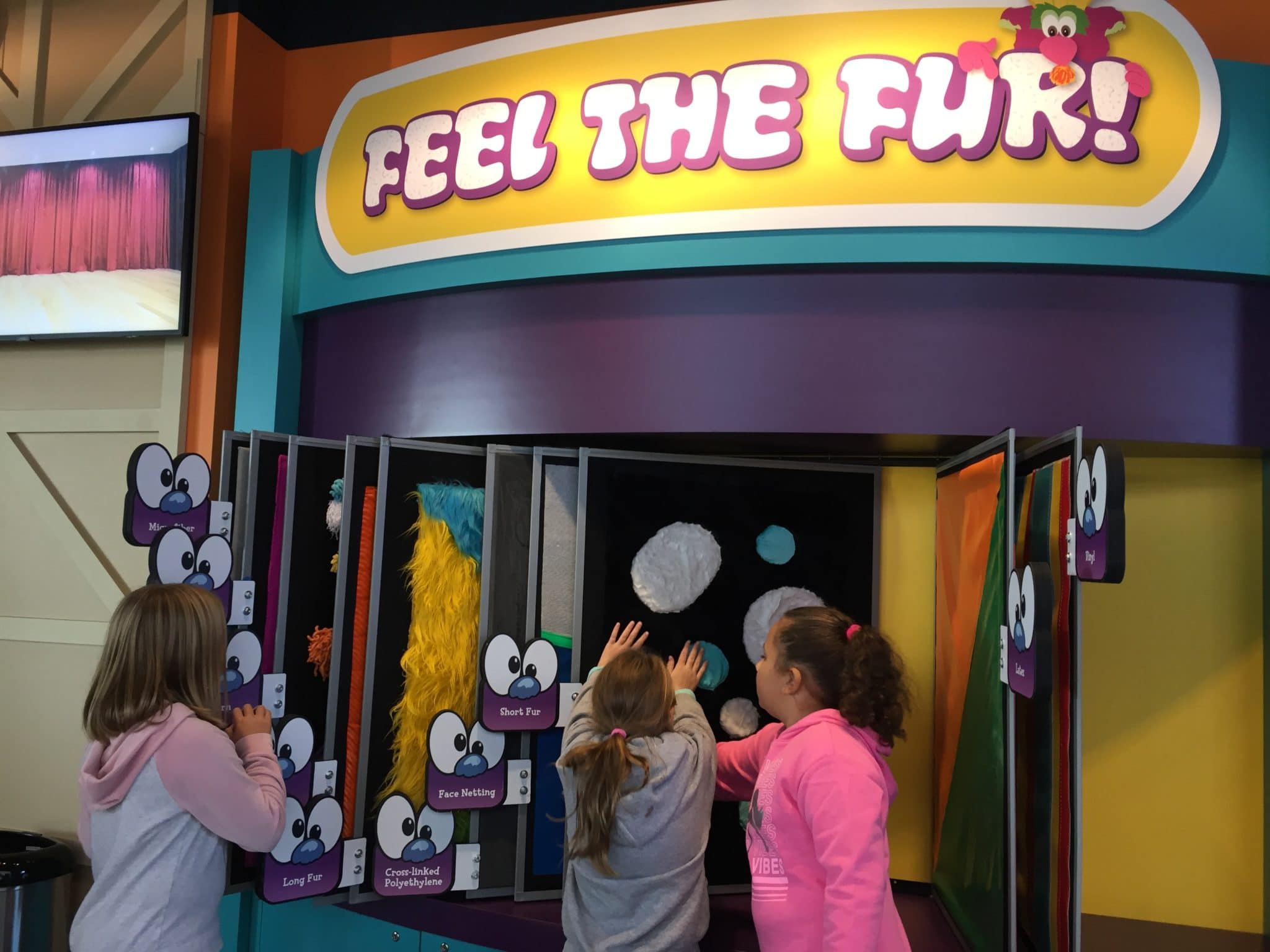 Strut Your Stuff - Mascot Audition
Experience the FEEL of a mascot. At the Textile Touch exhibit, guests will use the Fur Selector to get a better feel for what it's really like to be one of our furry friends.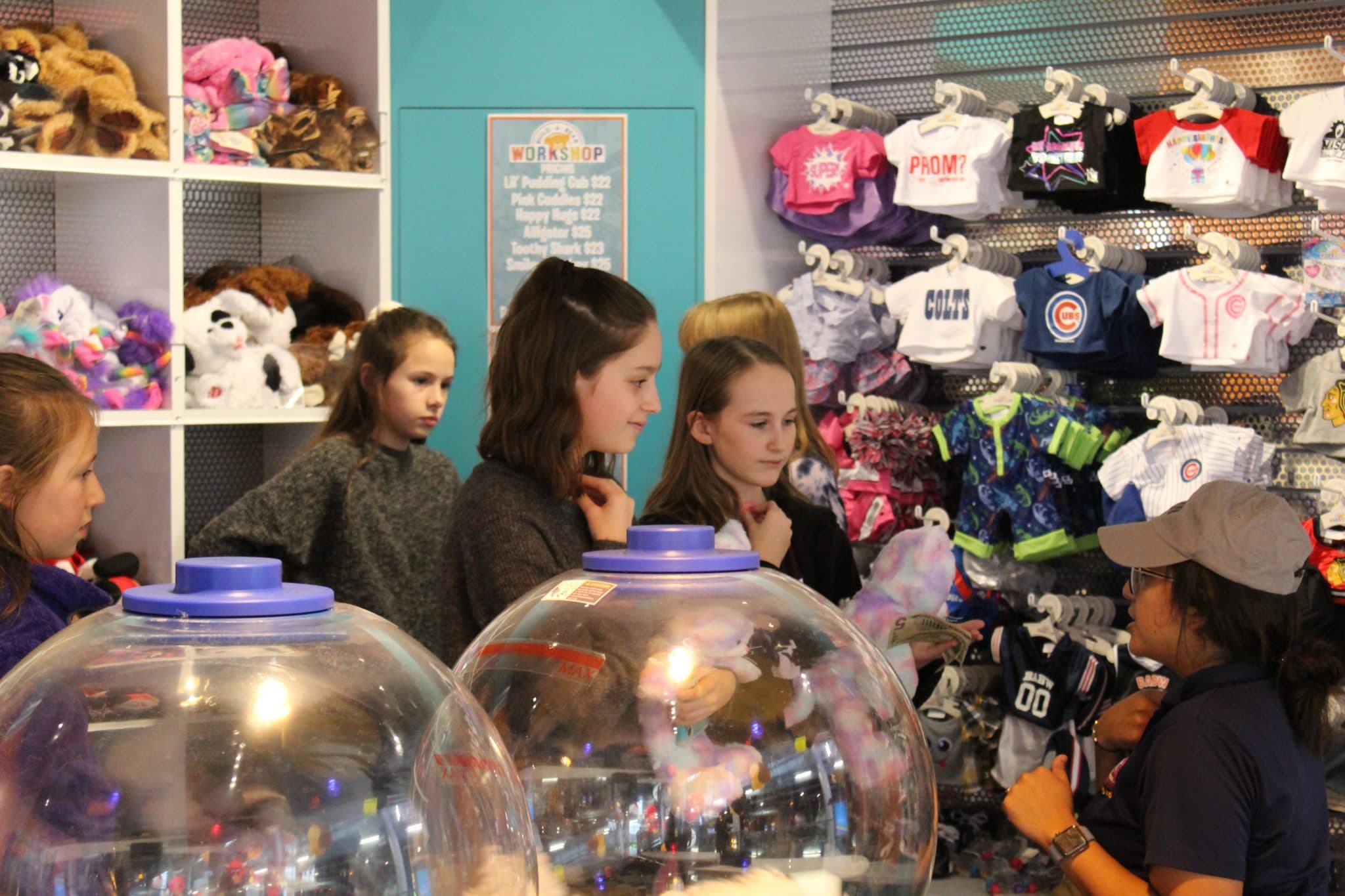 Build-A-Macot
Have you visited a Build-A-Bear Workshop®? Then, you will LOVE Build-A-Mascot! The MHOF has it's very own Build-A-Bear Workshop® on the 2nd floor, offering Build-A-Bear™ favorites and accessories to choose from. Create a furry friend to take home with you. You can even build your very own Reggy!
The MHOF's S.T.E.A.M. curriculum aligns with all of our interactive, mascot-themed exhibits. The fun, engaging, and unique academic material that we provide for your field trip visit as well as inside the classroom includes the following: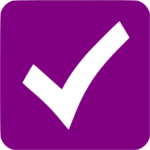 Common Core Standards Alignment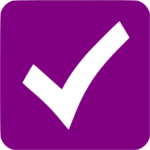 Materials needed to complete activities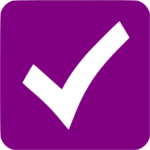 Cognitive framework for Teachers & Students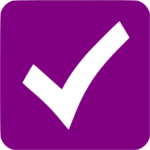 Step-by-step approach to help guide Teachers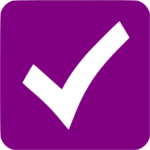 Quality learning practices and academic instruction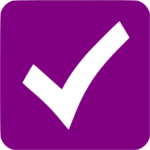 Comprehensive assessments to improve learning
All of the above activity components will include Grades K-2 developmentally appropriate activities and Grades 3-5 developmentally appropriate activities.
Interested in planning a field trip?
Fill out the form below and someone from our team will contact you!
Please Note: Coupons cannot be used for field trips. Field trips are available Tuesday-Friday with the exception of all Fri-Yay Free Days.
MHOF S.T.E.A.M Curriculum was developed by Trine University and Calumet College of St. Joseph.
Click to learn more about Trine University and Calumet College of St. Joseph: