2023 Mascot Award Nominees
Greatest Community Impact
A program within the organization's community that is spearheaded by the team or school's mascot which directly benefits the community. The program can be any type of effort which helps with specific needs within the community; Educational, fighting hunger, public safety, etc.
Blitz - Seattle Seahawks (NFL)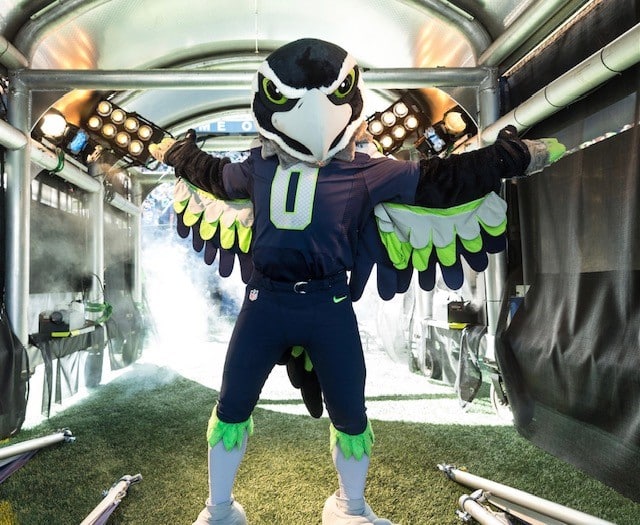 Kicks 4 Kids
Kicks 4 Kids is a charitable program started by the one and only best mascot in the NFL, Blitz! All net proceeds will go directly to organizations and communities in the Seattle/Tacoma area and across the country to support kids and families in need. This year Blitz will rally his friends and family of 12s near and far to help reach his goal of donating 5,000 pairs of shoes. Learn more at . . . https://www.seahawks.com/mascots/blitz/kicks-4-kids/
Blue - Indianapolis Colts (NFL)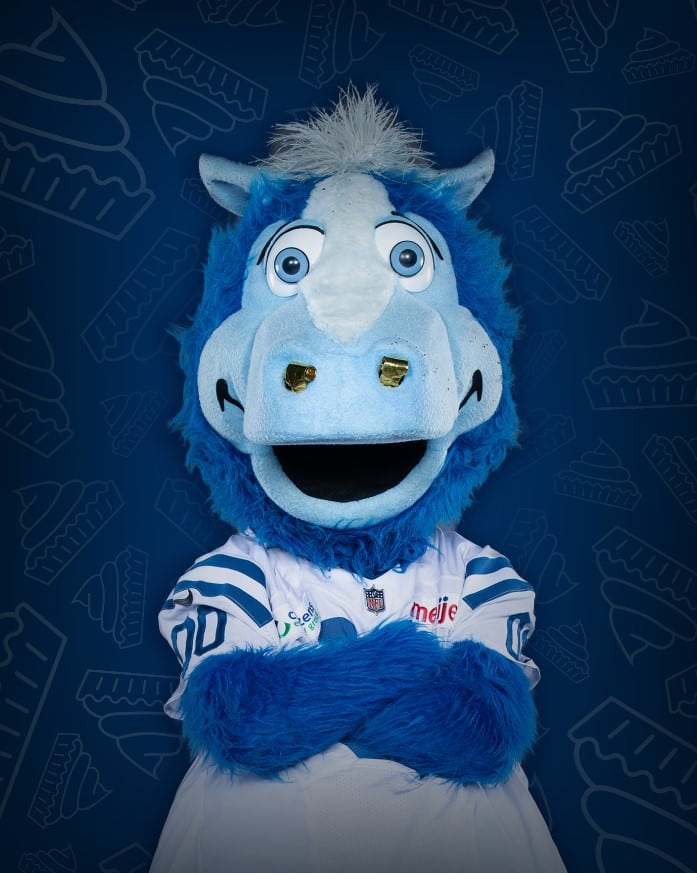 21 Days of Kindness
Description: 21 Days of Kindness is an initiative started by Blue and Vice Chairman/Owner Kalen Jackson (Irsay) that is partnered with the teams mental health initiative "Kicking the Stigma". The point of 21 Days of Kindness is to bring positivity to those in our community and show them that you are stronger than your darkest days.
Blue did things as big as surprising a Riley Children's Hospital patient with a Monster Truck/tickets to a show to giving out free hugs downtown. Both of which can have a huge impact on
someone's
life.
https://youtu.be/1zXmDsVAcTY
Stinger - Columbus Blue Jackets (NHL)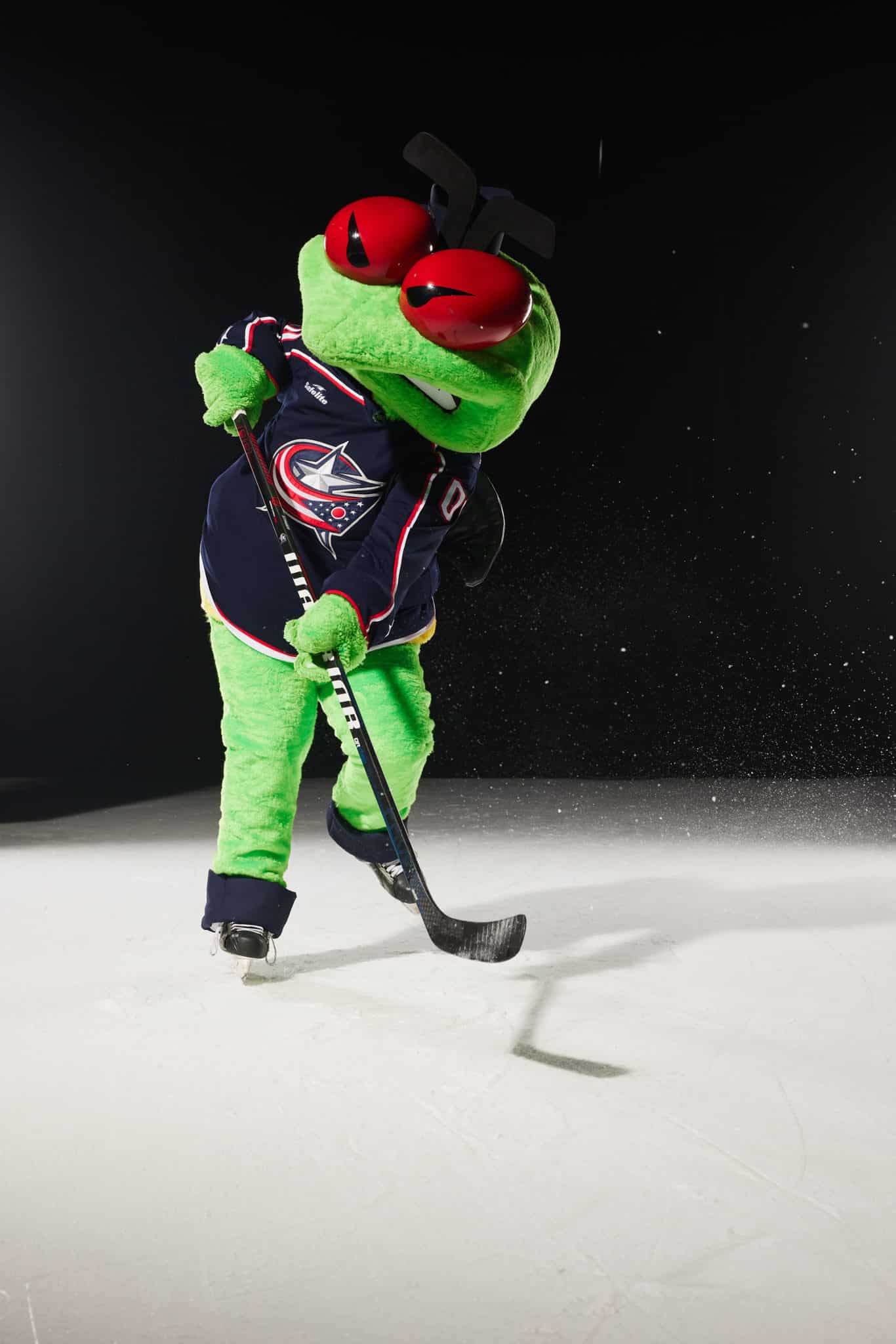 Columbus Blue Jackets Foundation
Stinger has been nominated for the award thanks to his extensive work within the Central Ohio community. Last year, Stinger made 232 appearances throughout Central Ohio to aid numerous charitable organizations in their fundraising efforts. Thanks to his In-Game Celebration Package, he was able to raise $27,430 for the Columbus Blue Jackets Foundation supporting children of Central Ohio through four main pillars – pediatric cancer, health and safety, education through literacy, and youth hockey.
Outside of his fundraising initiatives, Stinger is often found visiting schools, hospitals, and organizations with the community to put a smile on the faces of the young and old. When not making public appearances, Stinger uses social media and his celebrity status to help raise awareness for charities throughout the community.
Dunkson - Stockton Kings (NBA G League)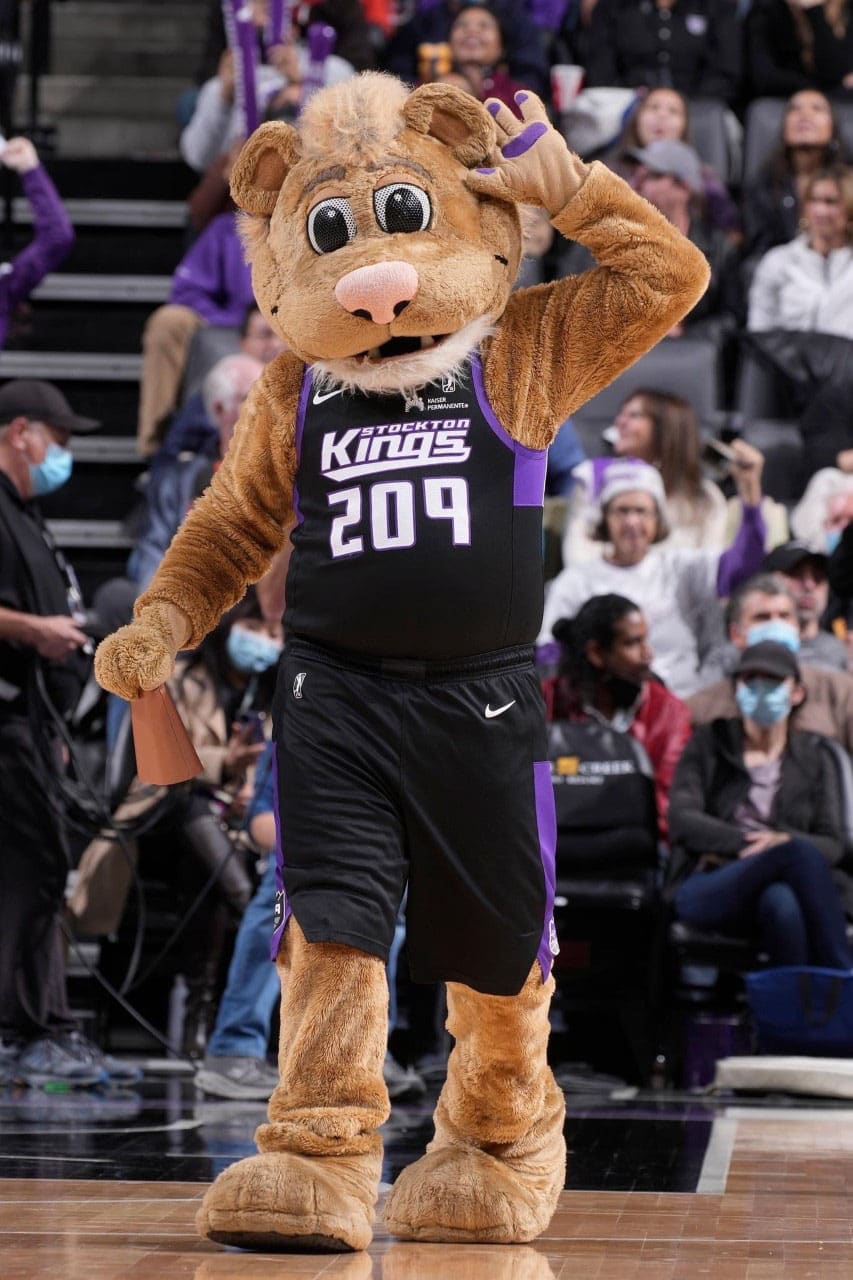 Fit Kids presented by Kaiser Permanente
The "Fit Kids" program, in partnership with Kaiser Permanente, and winner of the 2021-22 G League Social Responsibility Award, promotes the importance of health, wellness and education. The program is designed for third through fifth grade students with weekly interactive activities around nutrition, hydration, movement, and mindfulness. Eight elementary schools across the Stockton Unified School District participated in the program in 2023 aimed to teach students healthy habits to have a lasting impact. Dunkson, Stockton Kings players, Emcee and DJ, visit the elementary schools with a one hour, fun-filled presentation, creating a special memory for the students.
Dusty - Tucson Roadrunners (AHL)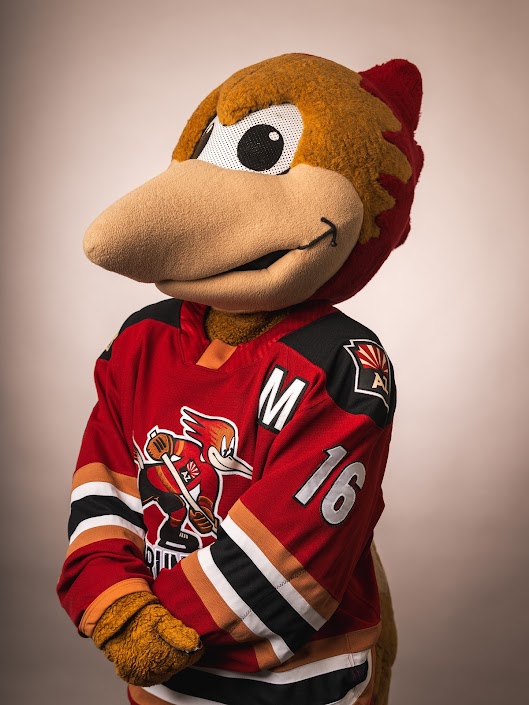 Dusty the Roadrunner, the AHL hockey mascot, has had an extraordinary impact on Southern Arizona's community, dedicating himself to improving the lives of children and students. He actively attends`1 school supply drives and fundraisers, ensuring students and teachers have the resources they need for success. Dusty's involvement in vital causes like breast cancer awareness, hunger relief, and events for people with special needs not only raises awareness but also garners support, making him a deserving nominee for the Greatest Community Impact Award.
Hornsby - Tulsa Drillers (MiLB)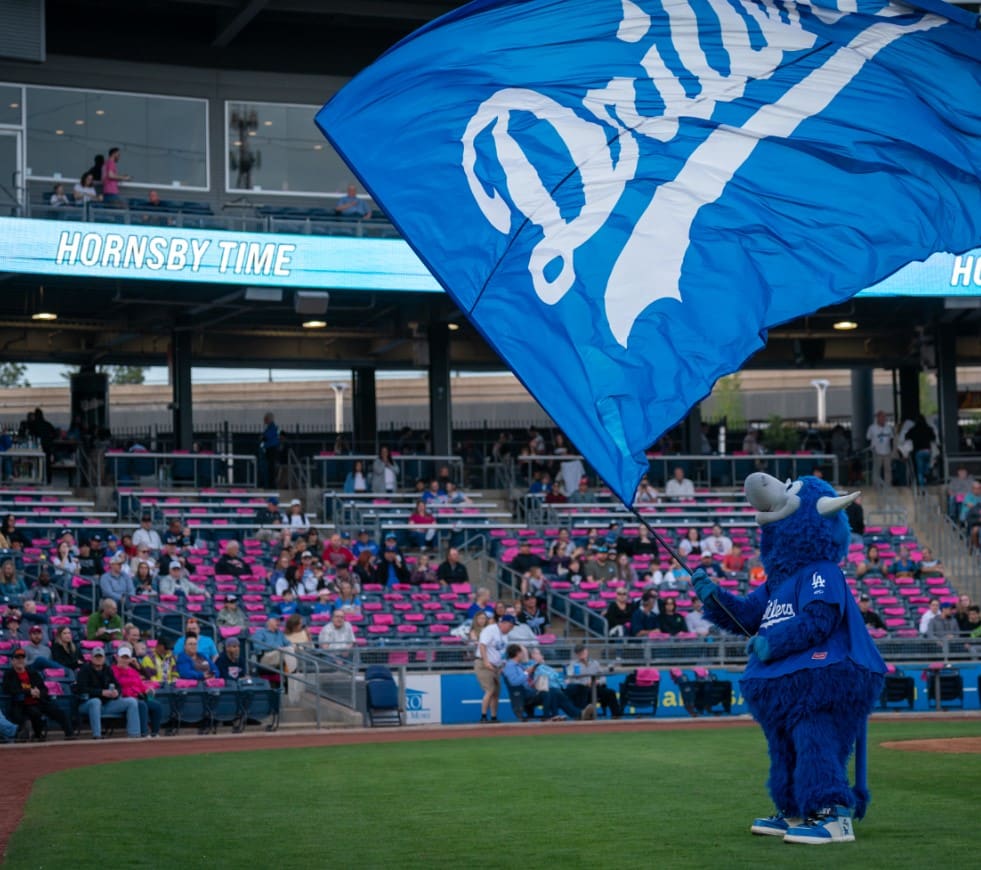 Hornsby's Bully Busters Club
Since 2016, Hornsby and the Tulsa Drillers have partnered with the Tulsa Health Department to present the Bully Buster Club. A club for all students in kindergarten to 2nd grade to stop bullies. A representative from both the Tulsa Drillers and the Tulsa Health Department engages with the kids giving them the knowledge of the 5 steps to be a bully buster while Hornsby acts out the 5 steps as well as providing the entertainment for the kids.
The 5 steps to be a bully buster are:
Say STOP
Walk Away
Ignore
Avoid/Stay Away
Report
During the 2022-2023 school year, Hornsby welcomed over 9,500 students into his Bully Buster Club. His in-person assemblies were preformed in 36 different schools across 8 school districts in Tulsa County. Other schools (outside Tulsa County or with scheduling issues) were able to utilize a digital video version of the program in either English or Spanish. The videos were originally distributed to schools during the COVID remote learning adjustment.
This program is an important part of the Tulsa community because it helps prevent bullying. It's been used as a resource for the Anti-Bullying Collaboration in Tulsa and every season, Hornsby hosts an Anti-Bullying Field Trip Game with the Tulsa Drillers. As Hornsby repeats the 5 steps over and over with the kids, the kids start to remember them. Many times, Hornsby has been in the community engaging with fans and kids will talk about how he was at their school and they remember the 5 steps. As the Tulsa Drillers (speaking) representative, Taylor feels that this program is incredibly important because while he was bullied as a kid, he had a friend in Hornsby. Now he gets to help his friend Hornsby inspire the next generation to be friends with each other.
Together we can make a difference, together we can all be Bully Busters.
Phinley - Clearwater Threshers (MiLB)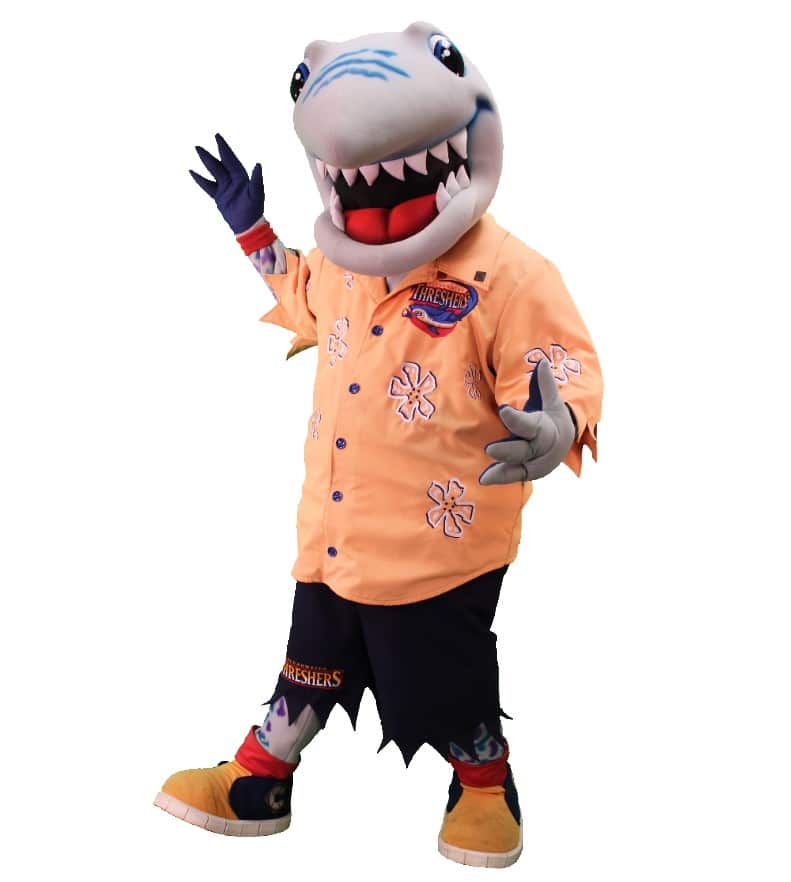 Our Threshers community came together over the Summer to help an inspirational boy and his family. Andy has cerebral palsy and is currently confined to a wheelchair but he doesn't let anything get in his way. He, along with his twin brother Liam, has become one of Phinley's biggest fans. One night Andy wanted to suprise Phinley by 'running' around the bases using his walker. On the concourse Phinley was taken aback by this momentous occasion. Afterwards the video of the two seeing eachother went viral and inspired our community to help with medical bills. Over $1200 was given to the family to help with Andy's much needed dental surgery. The video has been viewed over 400k times and continues to inspire all that see it.
Rocky Bluewinkle - Wilmington Blue Rocks (MiLB)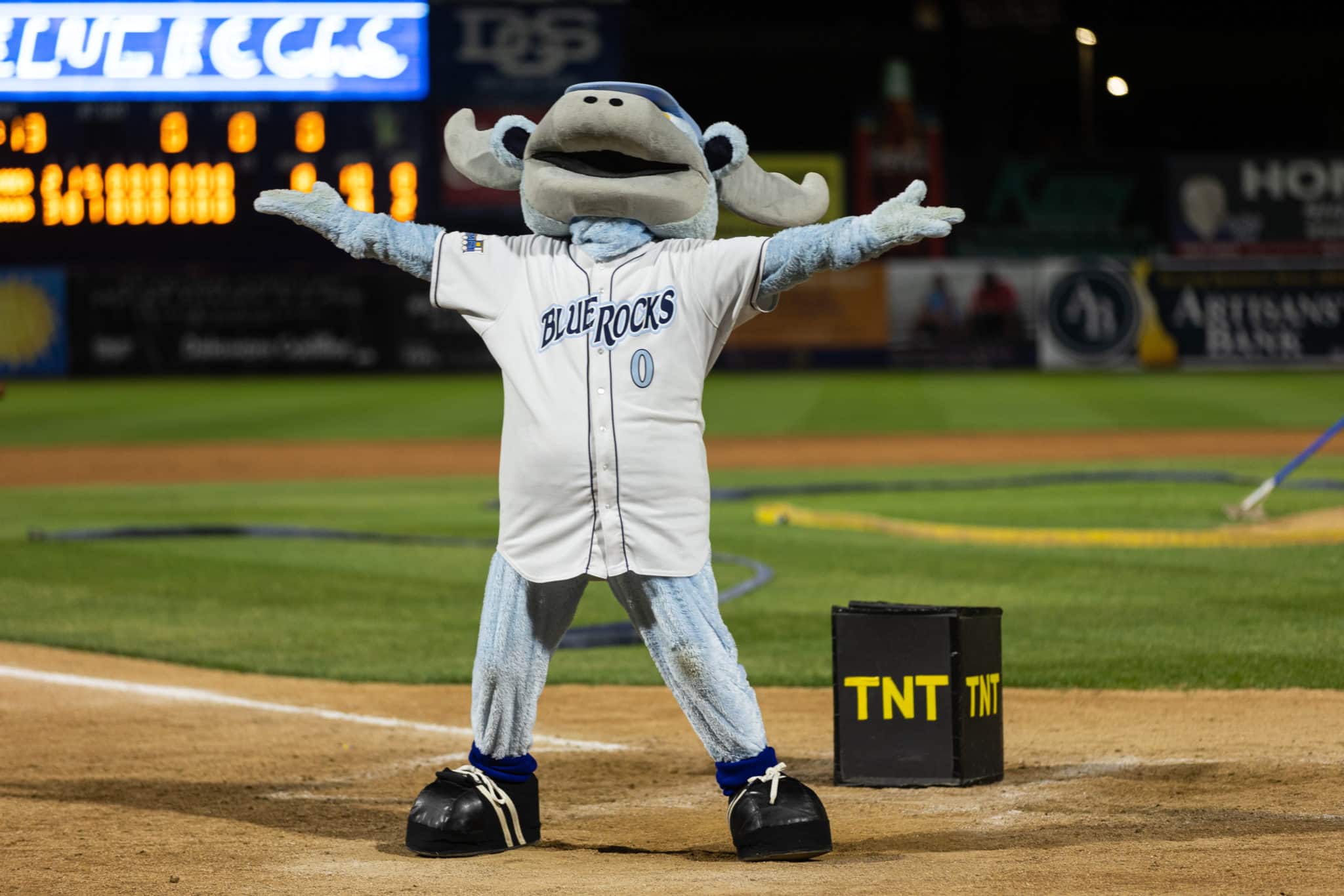 Rocky's Reading Challenge & Appearances
"The Blue Rocks' mascot, Rocky Bluewinkle, makes hundreds of appearances throughout the year at Blue Rocks home games, area schools, hospitals, and other community events. Community is always top of mind and the Blue Rocks strive to maintain a consistent presence within the local community.
The ever-popular Rocky's Reading Challenge is a community initiative that encourages and incentivizes students to enjoy reading and using their imagination to picture what they're reading! In this program, elementary school students are asked to read three different books and complete a two to three sentence synopsis of each book they read to earn two free Blue Rocks tickets to a future home game.
This program touches four states and defines how important education and reading literacy is to the Blue Rocks and our community. In 2023, over two thousand students who participated in Rocky's Reading Challenge!"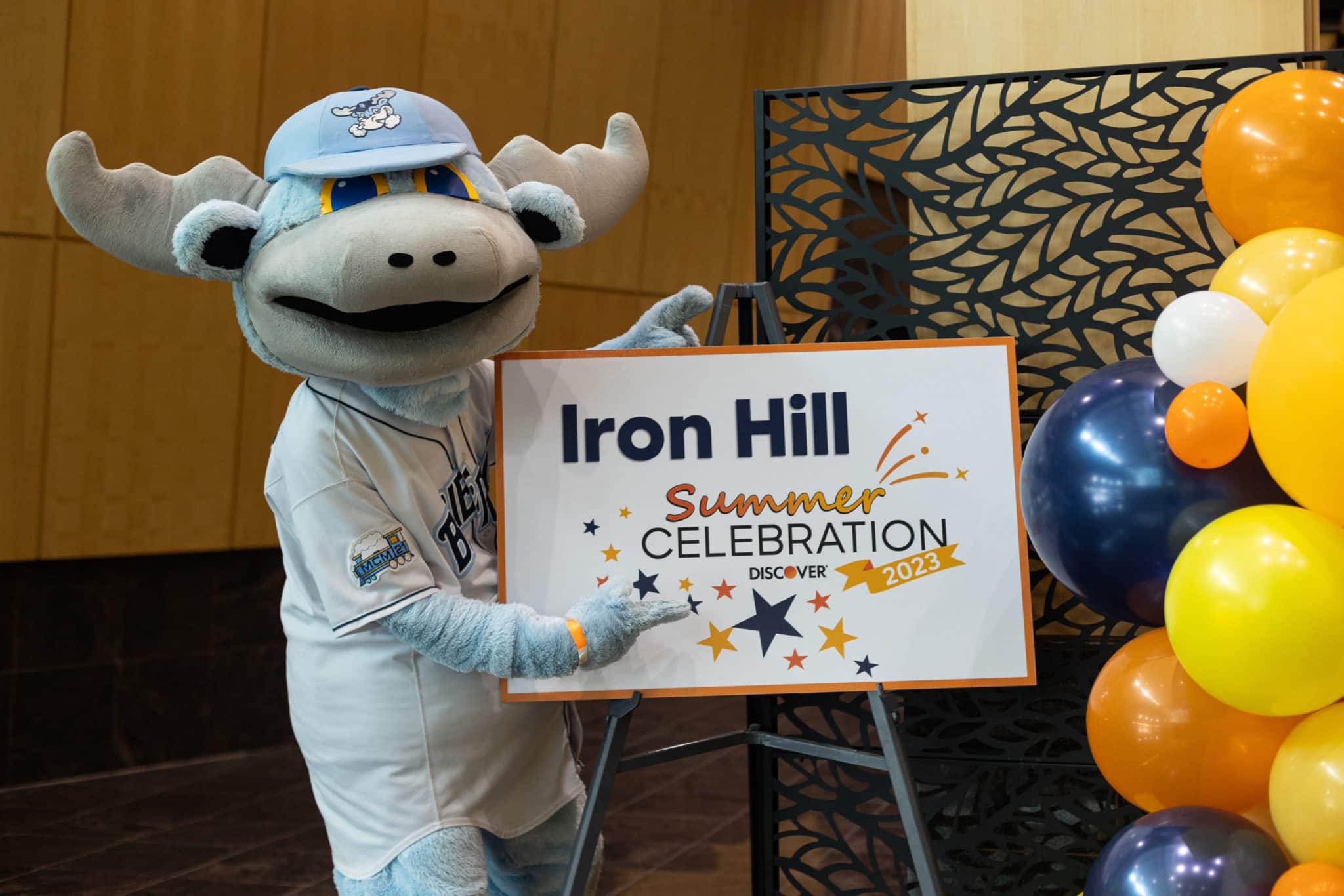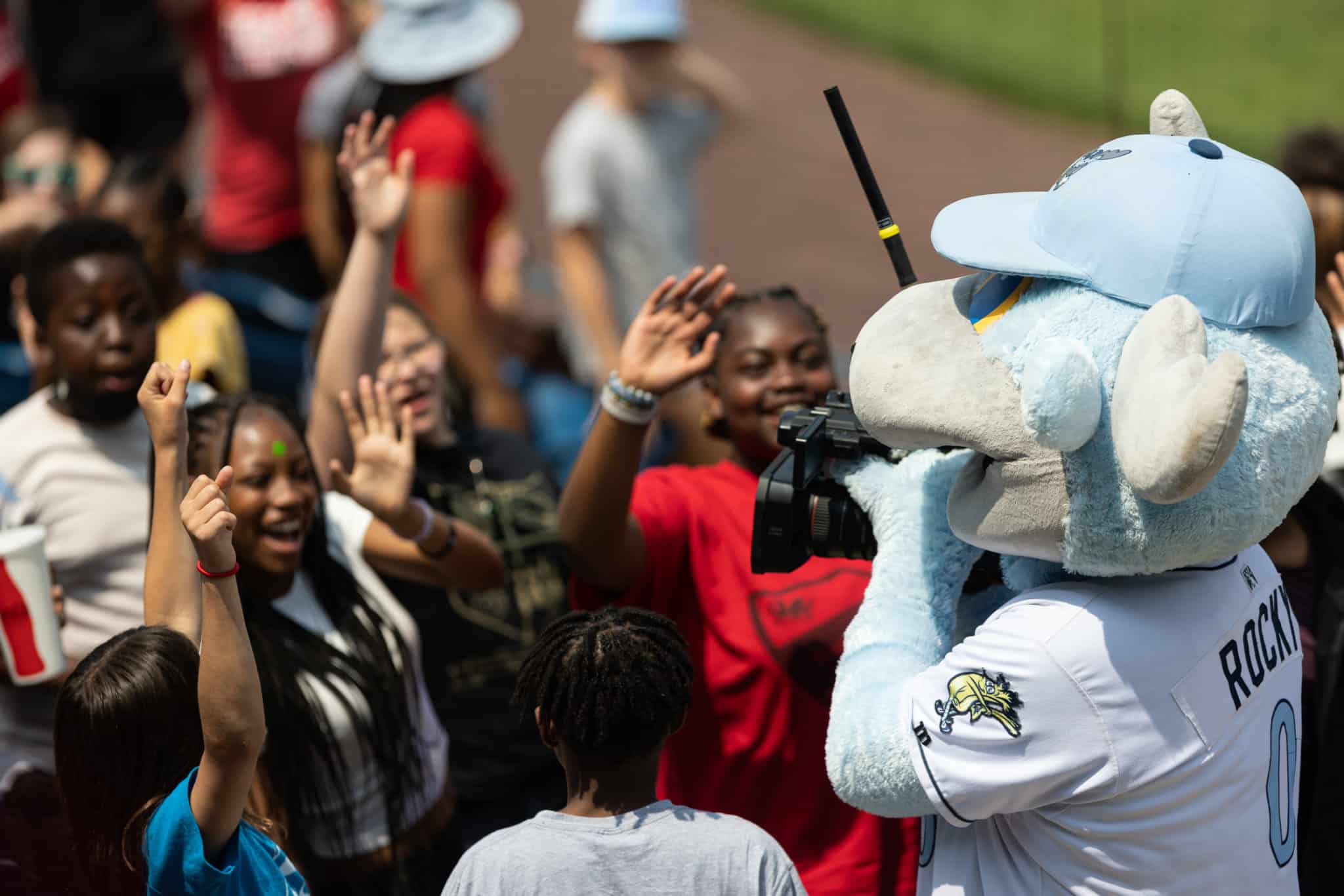 Slugger - Portland Sea Dogs (MiLB)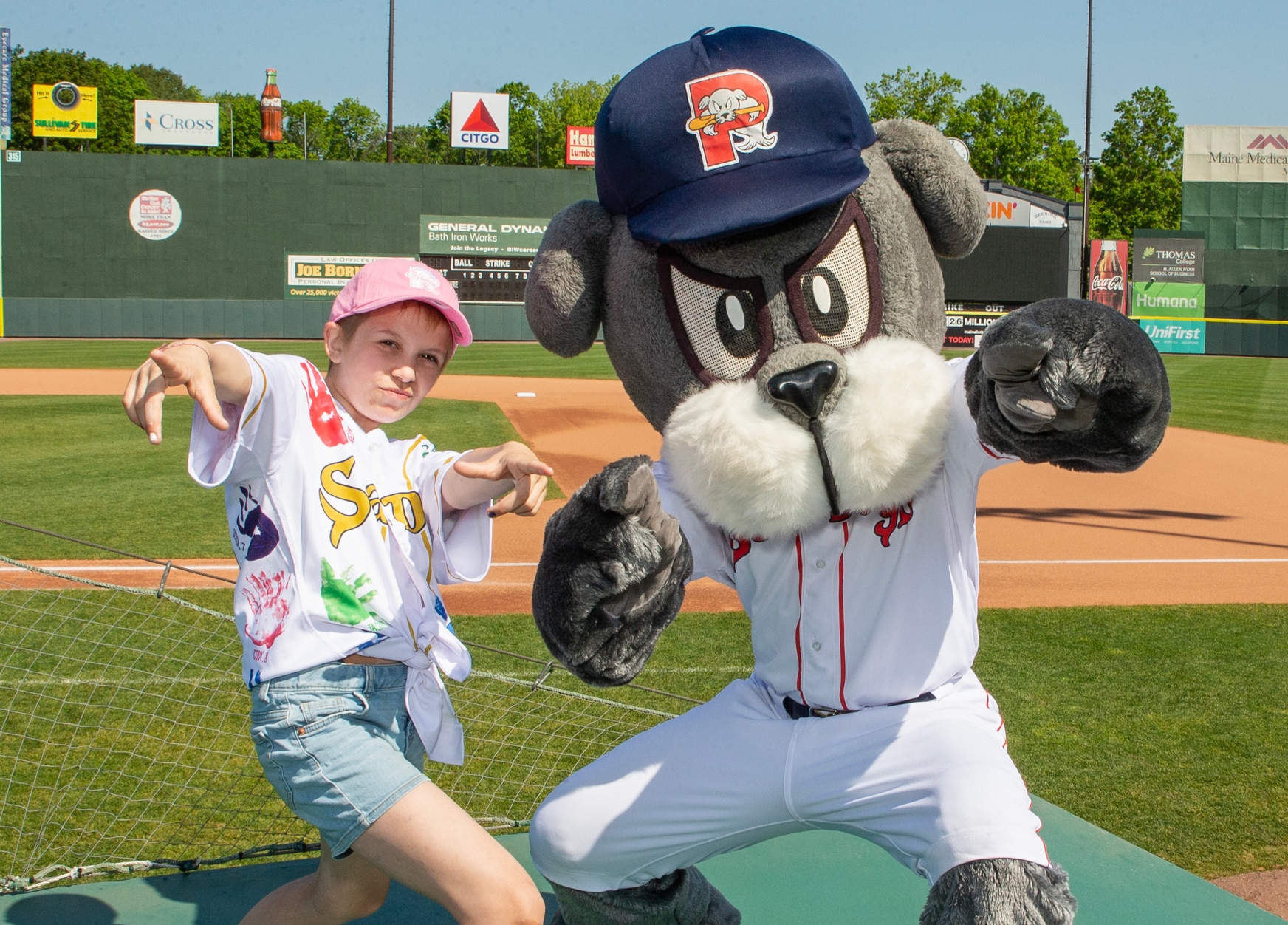 Every year Slugger and the Portland Sea Dogs team up with Maine Children's Cancer Program (MCCP) to "Strike Out Cancer in Kids" (SOCK). A kid from MCCP is chosen to act as a representative for all children receiving treatment and is given the title, the Slugger Kid. Over the season, Slugger forms a close bond with the Slugger Kid, and together, they work to raise funds for the SOCK campaign. Since its inception in 1995, Strike Out Cancer in Kids has raised over $5.25 million. Each season, 4 kids (current and former patients) are recognized as a "Hero at Hadlock" for a game. Shown in the video, this year's Slugger Kid is cheered on by fans as she runs the bases and receives high fives by players from both teams.
This year, the Sea Dogs wore a specialty jersey that was partly designed by one of the patients at MCCP. This patient unfortunately lost their fight a few years ago, but she was with the team that night in spirit through her artwork. The jerseys were actioned off after the game, raising over $5,000 for MCCP.
Slugger also makes many visits to see his friends at MCCP and those receiving treatment at the Barbara Bush Children's Hospital. A vote for Slugger is also a vote for all his friends at the Maine Children's Cancer Program, as he says, "They are the true heroes."
Stan the Oilman - Northwest Indiana Oilmen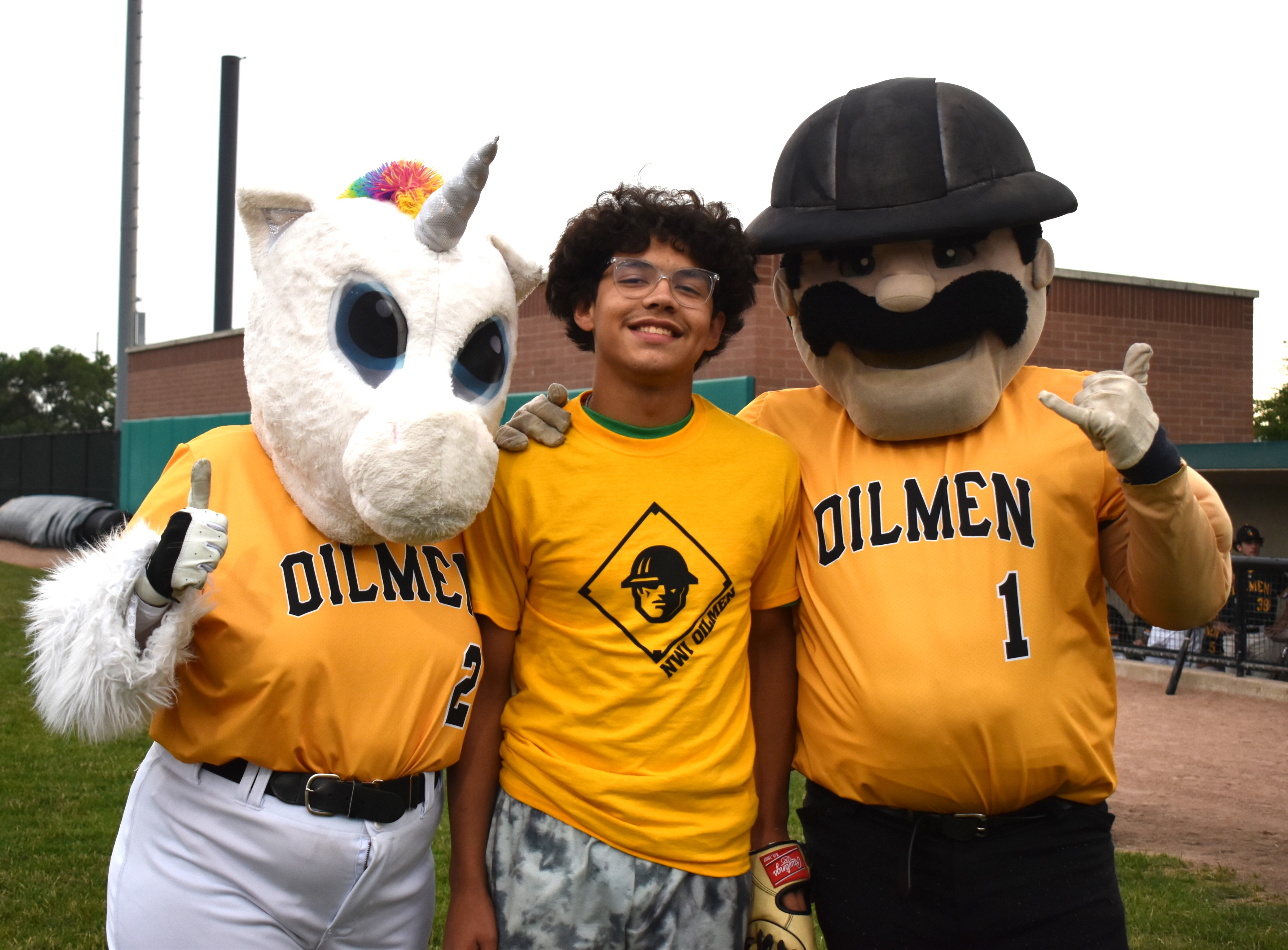 Stan is a loving and caring mascot. He does all of his appearance for free. He loves giving hugs and making people smile and laugh. He supports all of our players and fans. He supports all of the activities in our community. He will make an appearance at a moments notice no matter what the weather is. He does charity events and loves opening day parades for all of our little leagues. In 12 years he has become known and loved by our community.
Aubie - Auburn University (NCAA)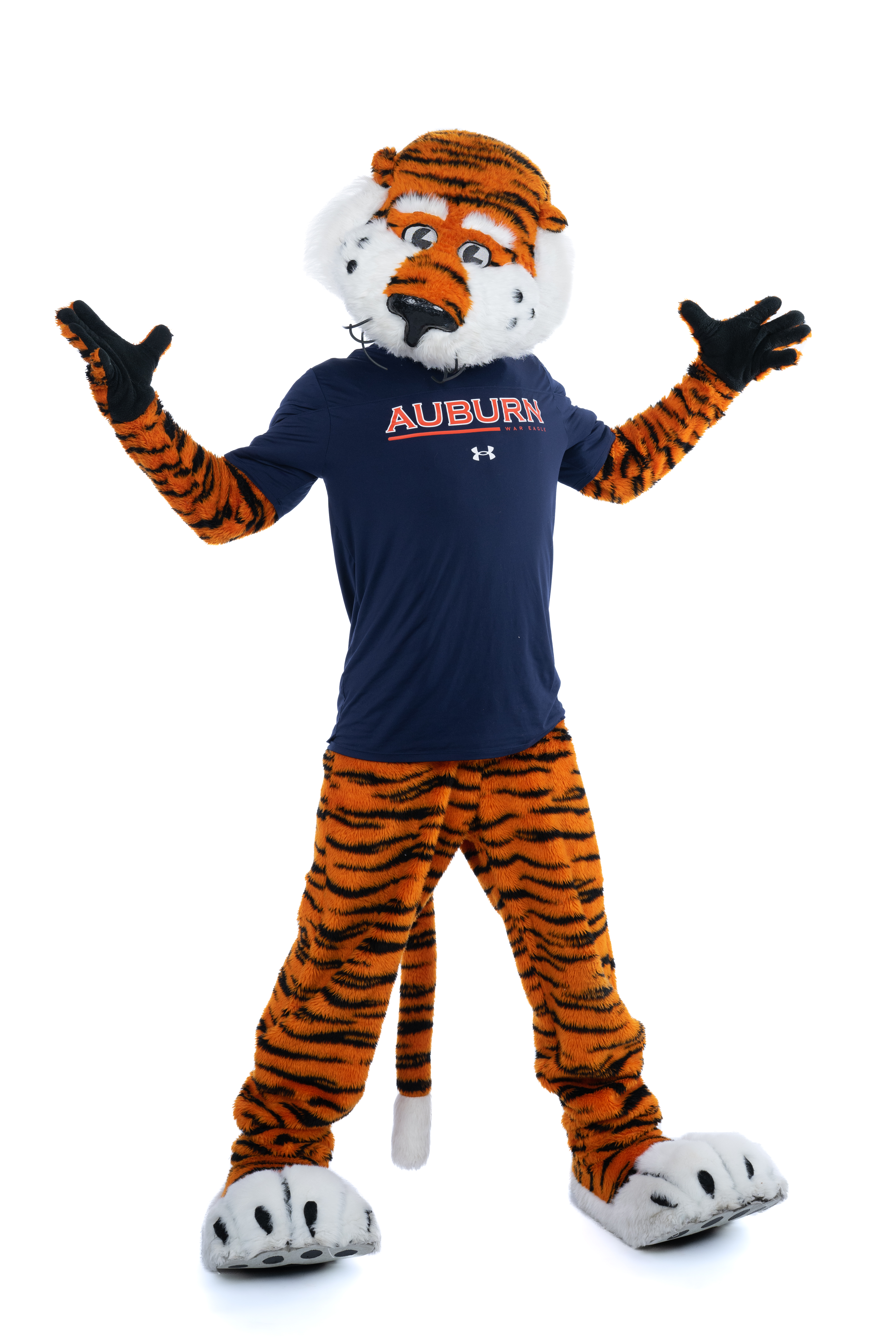 Aubie's visit to Camp Celebration
Aubie the Tiger LOVES his Auburn Family! He not only adores the university, but also the surrounding community. Aubie brings his infectious energy and enthusiasm to several hundred community events across the state of Alabama every year. Whether it's at a school, camp, senior living facility or a myriad of other community events, Aubie brings smiles to thousands of faces with his animated personality and love for others.
This video of Aubie's visit to Camp Celebration (a camp for children who have experienced loss of a loved one) provides a short glimpse into the joy Aubie creates for his community.
Aubie, Auburn University's tiger mascot, is in his 45th season as a spirit leader and goodwill ambassador for Auburn University. A popular character among Auburn fans and one of the most animated mascots in the country, Aubie is the living spirit of Auburn.
https://www.youtube.com/watch?v=zonVcHImrNU
Hootie - Oregon Institute of Technology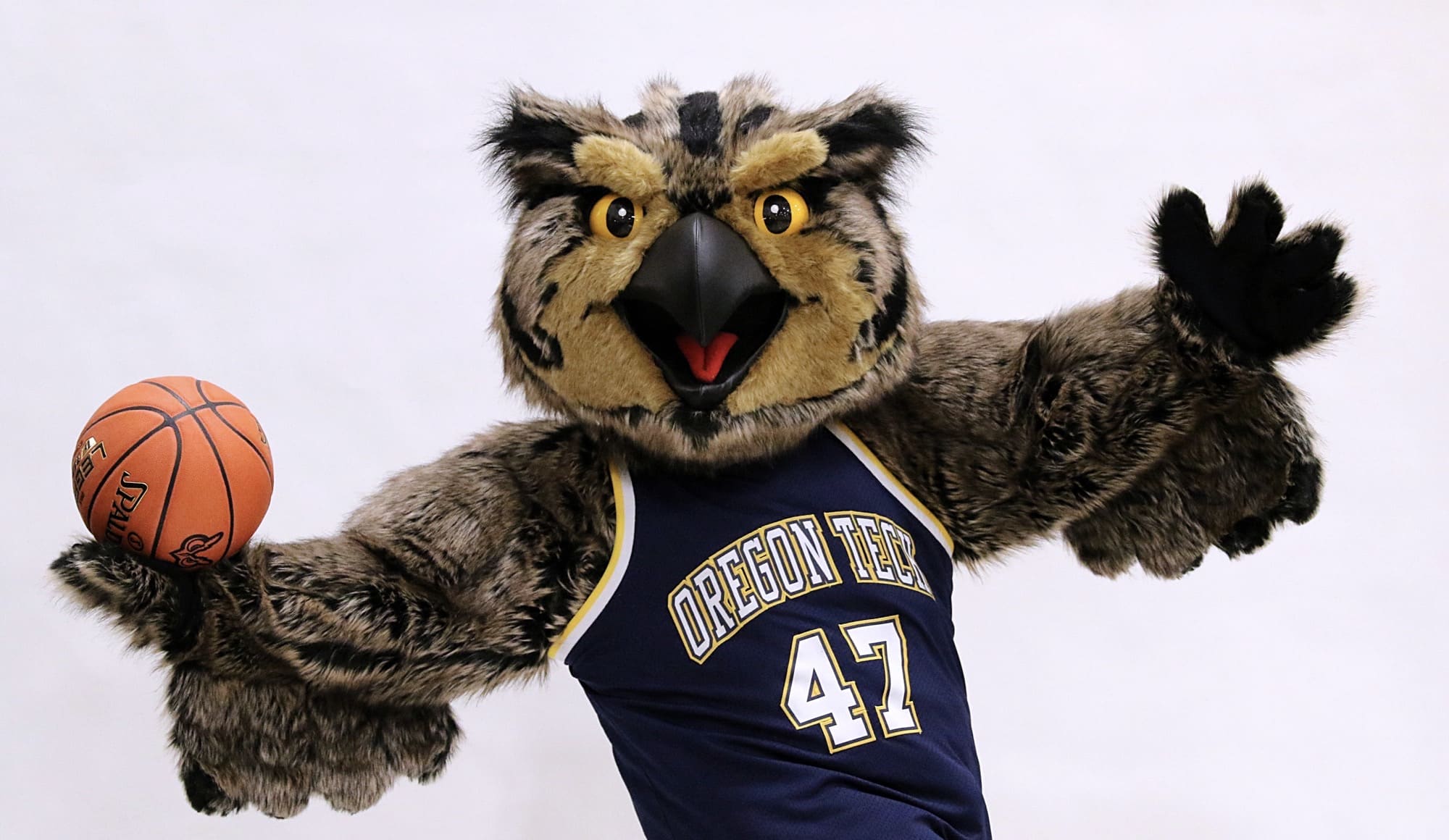 Klamath Reads 
Organized by the Rotary Club of Klamath County in 2001, Klamath Cares: Klamath Reads annually gathers over 800 first graders from the local Klamath Basin to celebrate the joys of reading through sing-along performances, special guest appearances such as former Miss America and Hootie the Owl, and most importantly, receiving brand new free copies of age-appropriate children's books.
With many students in the rural Klamath Basin living below the poverty level, providing free resources and encouraging literacy is crucial to ensuring that from a young age students are given an opportunity to succeed. 
The Mountaineer - West Virginia University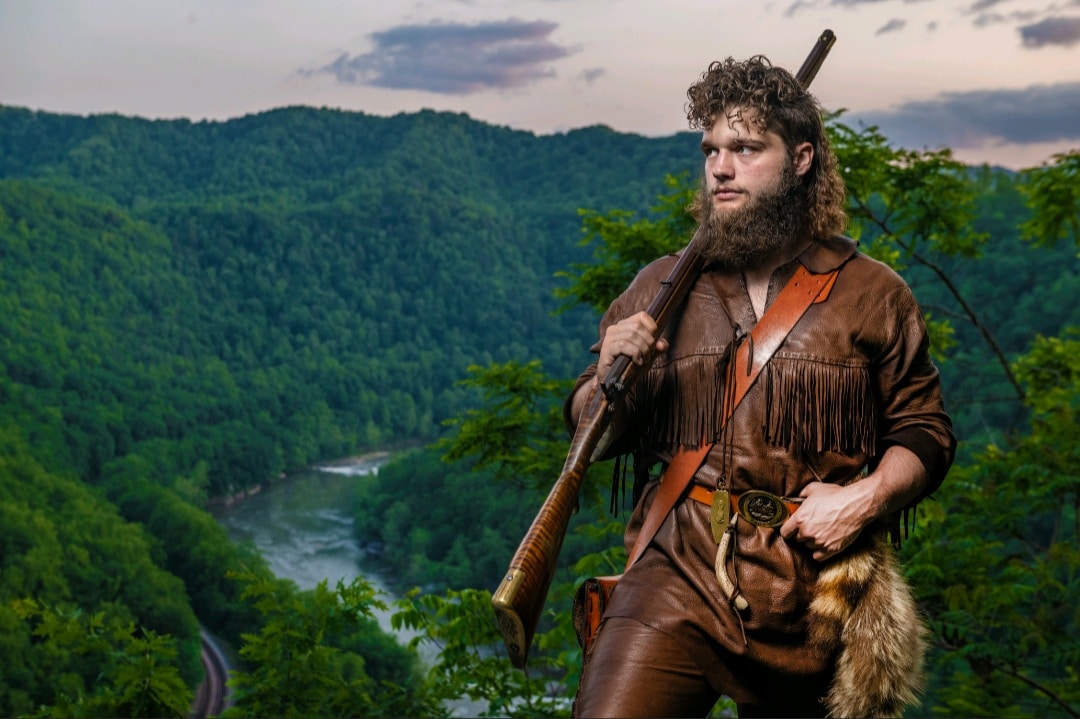 What makes the Mountaineer Mascot unique compared to other mascots is each and every appearance, outside of athletic functions, serves as a way for the Mountaineer to give back to our community and state. The Mountaineer attends various golf tournaments to help raise funds for college scholarships for deserving students. The Mountaineer attends The National Crab Feast, Mountaineer Parents Club functions, and various alumni activities, all while serving others.
In keeping with the mission of West Virginia University as a land-grant institution, our Mountaineer commits to creating a diverse and inclusive culture that advances education, healthcare, and prosperity by visiting and engaging with children in schools across rural West Virginia that may have never been to a WVU sporting event or seen our flagship university mascot. One highlighted program, among many, is the Mountaineer Mascot Blood Drive Program, implemented in 2019 as a means to give back to our community. What better way to give back to your community than by helping to save lives? These blood drives, in partnership with the American Red Cross, involve the Mountaineer advertising the event through his social media platforms. The Mountaineer also attends each blood drive to thank the donors and donate blood himself. The Mountaineer hosts three blood drives annually, helping to collect hundreds of units of blood and ultimately helping to save hundreds of lives in our community. To date, our Mountaineer Mascot Program has held 20 blood drives since 2019, collected 774 pints of blood, and ultimately saved 2,322 lives through our efforts.
If one were to condense this legacy of service into a single vision, the Mountaineer has come to symbolize serving not only the West Virginia University community, the Morgantown community, but also the entire state of West Virginia and its people. The Mountaineer Mascot's unique personality shines as he carries on his responsibilities. For other schools, the person becomes the mascot; at WVU, the mascot is the person.
Dugout - Little League International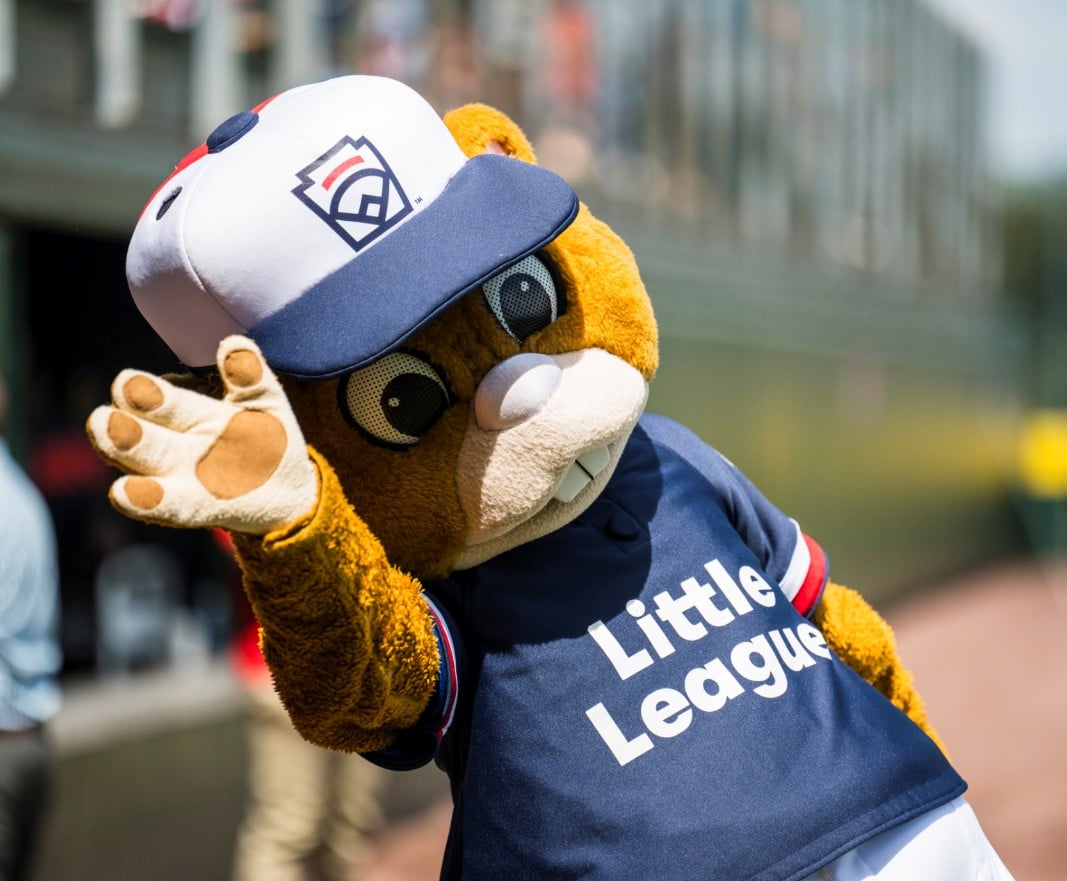 Dugout is the official mascot of Little League Baseball and Softball and can be found wandering the complex each year during the Little League Baseball World Series to bring smiles to the faces of fans of every age. A fan favorite, Dugout is more than just a mascot, but is a symbol of the values of Little League Baseball and Softball. It represents the fun, sportsmanship, and community that are at the heart of the game. Dugout is a role model for Little Leaguers everywhere, and it teaches them the importance of hard work, dedication, and teamwork. From its on-field antics and highly anticipated hugs and high-fives in the stands, Dugout is a fan favorite for visitors from all over the world at the Little League World Series each year.
https://www.littleleague.org/videos/having-fun-at-the-2023-little-league-baseball-world-series/
Olly the Otter - Kid's Day of Lexington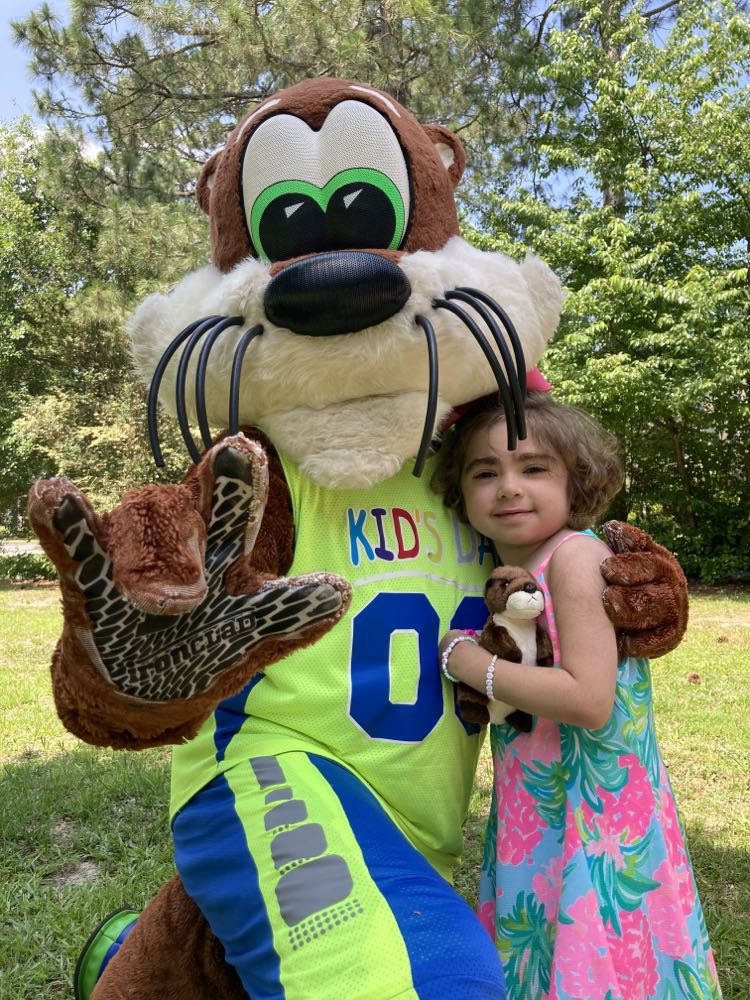 Meaningful Play
Olly Otter is the official mascot of Kid's Day of Lexington, a non profit that exists to educate families on issues surrounding health, safety, and environmental awareness with lots of love and laughter!
Olly oversees Kid's Day of Lexington's program; Meaningful Play. Through play, Olly motivates and aids in his Warriors healing! Olly's Warriors are children who are battling cancer or other serious, long-term illnesses. Olly visits them at their homes whenever they need a pick me up and hosts 4 major holiday events. Through short Ollygrams or longer Heal-Through-Play dates, Olly brings much needed laughter and joy to motivate them to keep battling hard and heal their mind, heart, and spirits! The events form a community of support and play among the families. Meaningful Play is 3 years old and currently serves over 60 families.
This past year we've made an impact on these families in multiple ways. What we hear most from parents is, "we haven't seen our child this active in a long time!" Olly has provided a lot of happiness in these families' darkest times, celebrations at mile stones or bell ringings, and motivation to be a strong Warrior.
Sly Fox -
Wisconsin Operation Lifesaver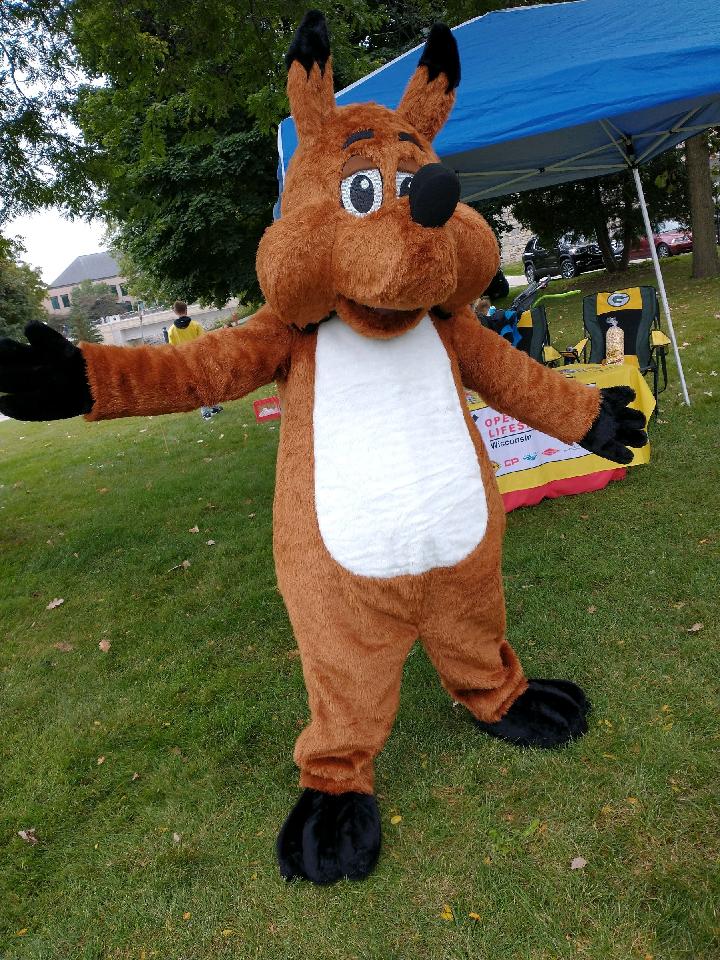 Wisconsin Operation Lifesaver Rail Safety Education
Sly Fox works with Wisconsin Operation Lifesaver to educate the importance of being safe around railroad crossings. He does this through community presentations at local events across the state of Wisconsin. Plus sharing his very own coloring book with others that shares his adventures about being safe around railroad tracks. Sly Fox also uses social media to share the message of rail safety. His past life as a trouble maker around the train tracks helps tell the story of what not to do. Plus his new found knowledge of rail safety shows a good example of how we all should behave around railroad crossing. Sly Fox is a fun and energetic fox who has his naughty moments when interacting with the crowd but is always safe around those railroad tracks.
Kanga - Killeen High School - Killeen, TX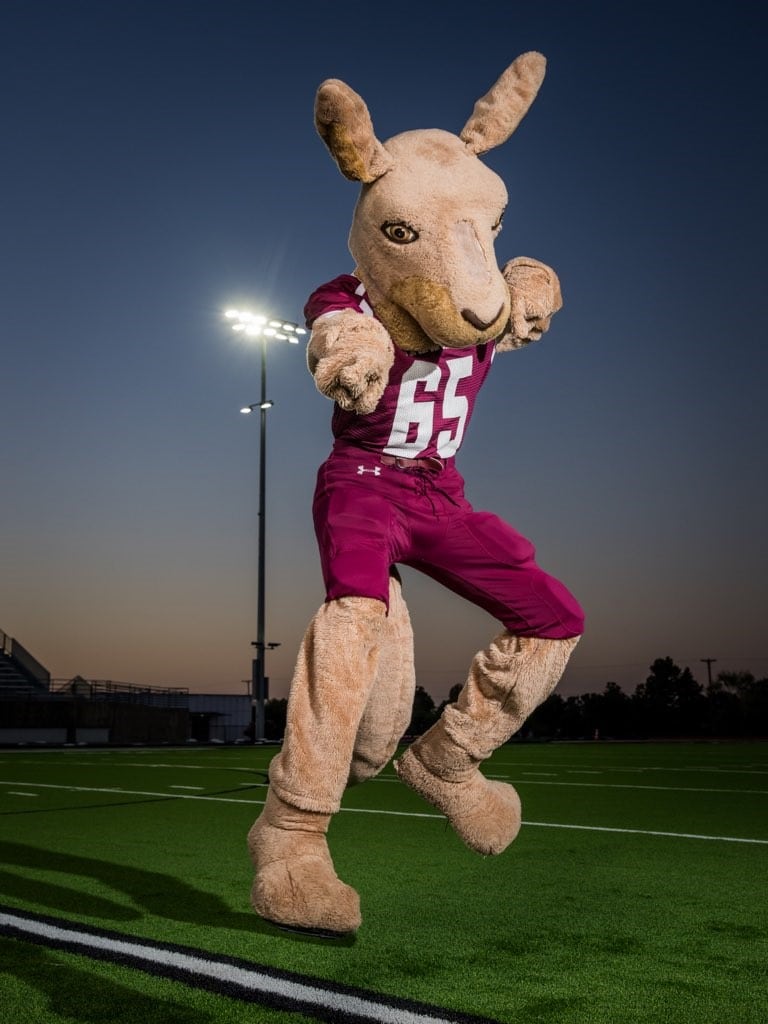 Connecting Students Through KANGA Social Media
Finding ways to get information to young people is increasingly difficult in school environments.  Knowing that, the Mascot at Killeen High School in Killeen, Texas, wanted to get students connected to the school, as well as the community. Kanga began a student-run Instagram account to engage the students at Killeen High School socially and connect them to school activities. The account on Instagram, @kangatheroo_, focuses on promoting school events and activities, highlighting opponent mascots, supporting the band at marching competition, creating visually appealing posts to focus attention on that week's opponent and #ThrowbackThursdays where stories highlight alumni mascots. Kanga supports all student organizations on campus and through this account the students are getting plugged into school and the community is taking notice. There has been an influx of student attendance at sporting events, band concerts, and alumni support.
The account encourages respectful and positive interactions as well as promoting inclusivity and diversity within the Killeen High School community. Using social media, Kanga has connected members of the local community back to the campus and activities.  Engaging with students on social media has been a fantastic way to build a sense of community and school pride.
aRBie - River Bluff High School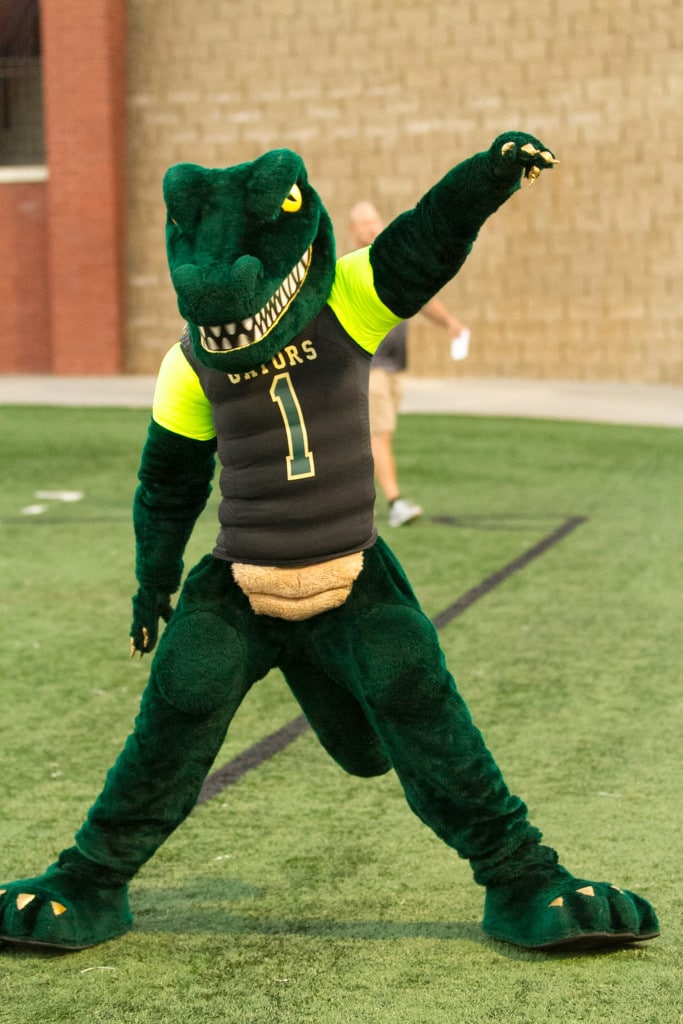 aRBie Gator participates in Kids' Day of Lexington
aRBie has a booth that supports different programs for the community each year. Kids' Day of Lexington is a family friendly festival celebrating children that is held in downtown Lexington. The appearance is one of aRBie's favorite events that draws thousands of people from Lexington and gives away free food and supplies to children. He enjoys passing out school supplies, dancing, and playing games with children. He also competes that day at the Icehouse Amphitheater in games against other mascots for the charity fundraiser of the year. 
Benjamin Beaver - Beaver Dam High School - Beaver Dam, WI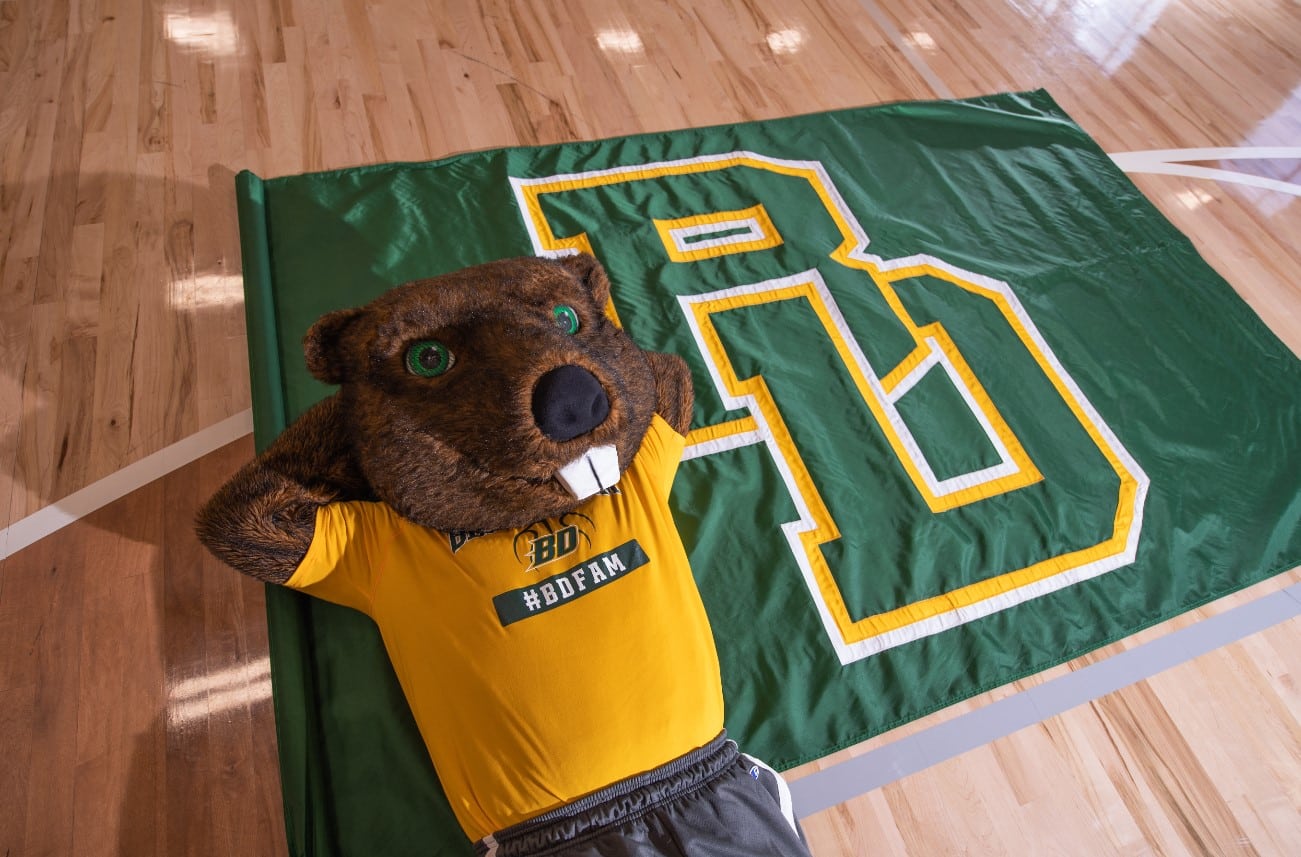 Santa's Hometown Holiday Adventure
Holiday Giveaways and the Holiday Parade on Dec 3, 2022. Benjamin Beaver worked in conjunction with the Beaver Dam Police and Fire Departments to distribute toys to children and families of the community. Later that same night, Benjamin served as Grand Marshal of the Holiday Parade and helped to spread holiday cheer in his elf suit.
Buzz Jacket - Fort Mill High School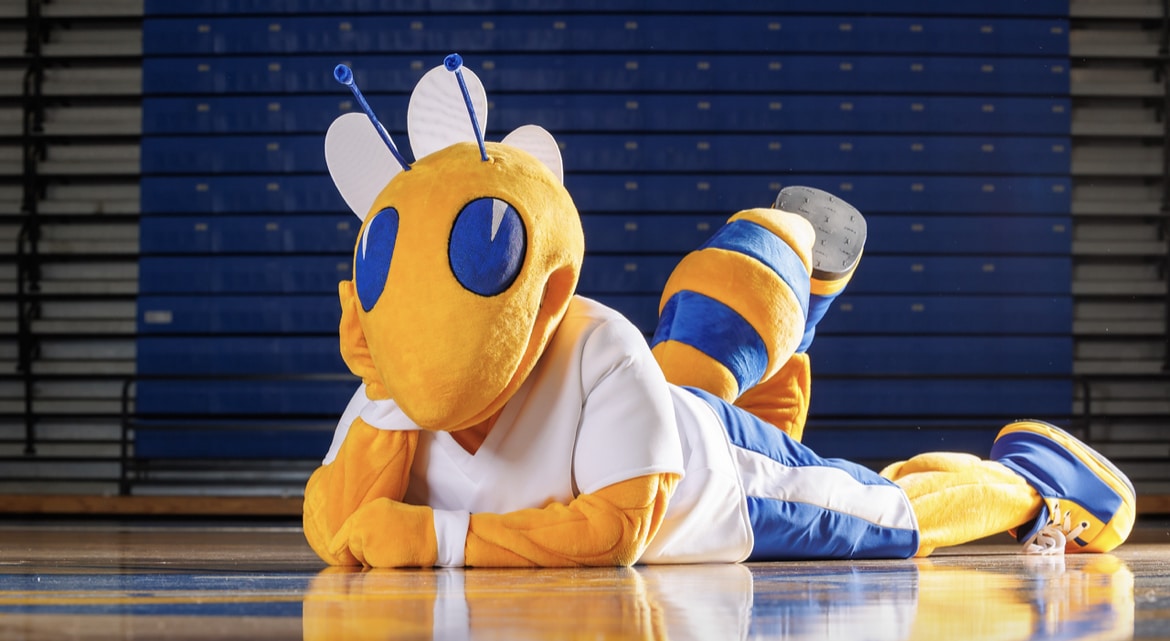 Teddy Bear Toss
After multiple years of helping promote the Special Olympics Polar Plunge including taking the plunge and helping Fort Mill High School lead the state in High School fundraising Buzz started the his Teddy Bear Toss to raise funds and collect stuffed animals for Hugaroo, Inc. A nonprofit which gives stuffed animals to kids in need suffering from a traumatic event. In the inaugural year, Buzz raised almost $500 and collected over 160 animals. Buzz still continues promoting the Special Olympics Polar Plunge and has his 2nd annual Teddy Bear Toss scheduled for January 2024.
Best In-Game Routine or Skit
An in-game routine or skit that the mascot performs during the sporting event for the team or school. It could be a single routine/skit or a series of the same routine/skit that is performed all season long.
TORO - Houston Texans (NFL)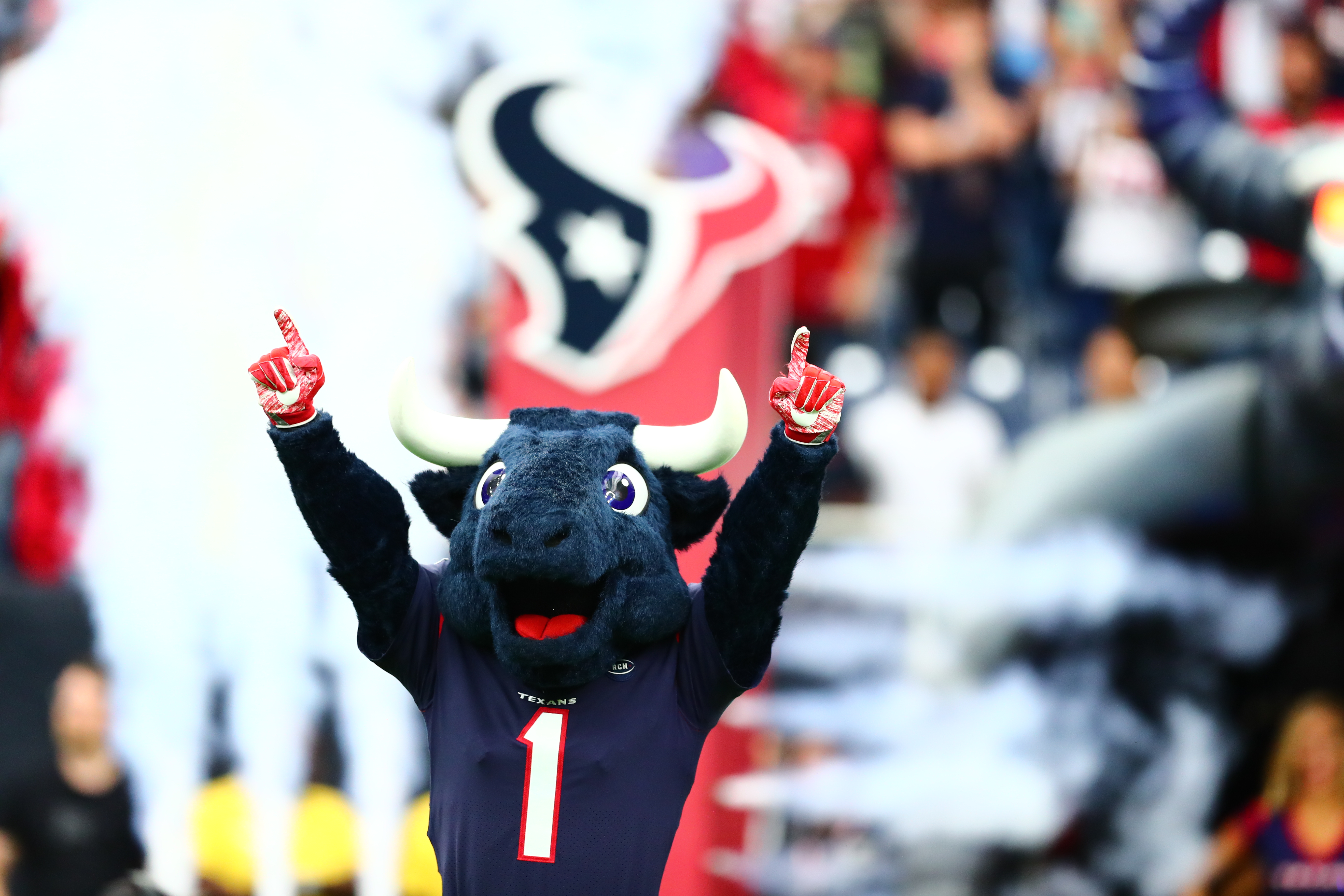 TORO's New Years Resolutions
TORO asks four kids what their 2023 new years resolutions are and helps the final child with their resolution through a huge surprise that left the entire crowd in awe. This skit has a little bit of everything: cuteness, comedy, and empathetic happiness.
https://youtu.be/T9clzNKsduk?si=Dj4Z00qZnqdjMkbf
Jaxson de Ville - Jacksonville Jaguars (NFL)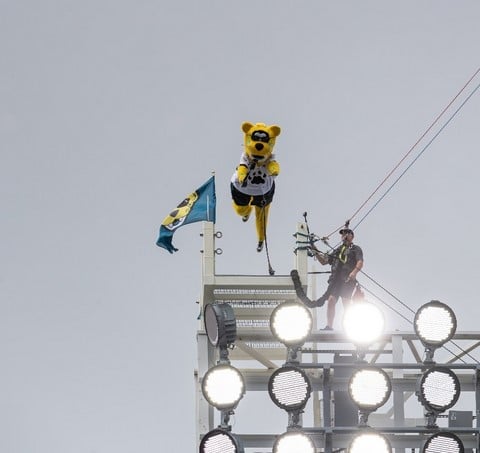 Jaxson's Leap
Jaxson's pre-game stunt off the light towers at TIAA Bank Field is the most unique and incredible way to get Jaguars' fans hyped up and excited for kickoff. Standing nearly 200 feet above the field, the first time fans catch a glimpse of Jaxson is moments before this iconic stunt where you may see a giant swan dive, a double backflip, or gainer into an unbelievable bungie / zipline ride high above the crowd. Not only does Jaxson perform this at home games in Jacksonville, but also had the opportunity to be the only mascot to replicate it at the iconic Wembley and Tottenham Hotspur Stadium in London, England. A vote for Jaxson's stunt as the best "In-Game Routine or Skit" is a no brainer as it is a tradition that has been around for nearly a decade that even opposing team fans make the trip to Jacksonville just to see it in person.   
https://youtube.com/shorts/wTzgEN3tVqM?si=kzqPqLeoOpO8gRsh
Ace - Greenville Flyboys (MiLB)

Rocky Top Dance
The name, the brand, the swagger, the music, choreography, and the dance moves…Ace checks all of the boxes when it comes to his Rocky Top Dance routine! Fans wait every night in anticipation as the "Take Me Out to the Ballgame" fades out, and a crowd favorite "Rocky Top" comes blasting through the loudspeakers! Ace the bear comes out like a ball of fire and breaks out dance moves that would put Dancing with the Stars and the Jabbawockeez to shame.
There is no other mascot that moves quite like Ace, and ending this routine with a split on the dugout top sets him above the rest!
Chico - El Paso Chihuahuas (MiLB)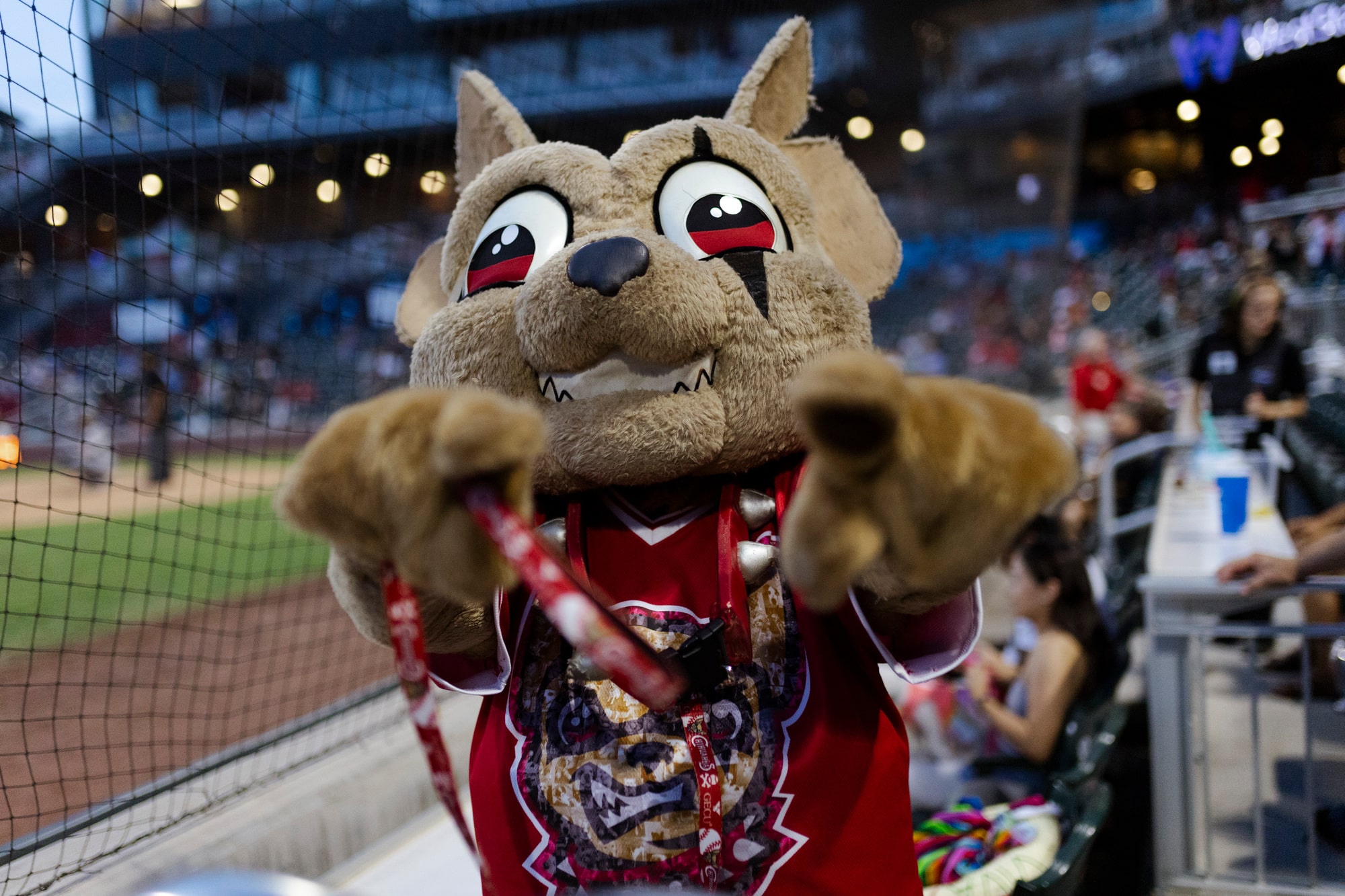 Chaos in the Ballpark: Dog vs Squirrel
The legendary battle between dog and squirrel are the stories of pet lore. Picture this: our star, Chico, the 7-foot Chihuahua, entering a grand pursuit during our Bark at the Park game. The plan was simple but oh-so-effective: squirrel-chasing madness! Chico dashed across the outfield grass ready for a confrontation. Alas, little did our canine hero know, this squirrel was practically the Usain Bolt of the rodent world, zigzagging like a caffeinated cheetah. The chase was a rollercoaster of emotions, with Chico's ego taking a tumble as he stumbled over his own paws. Yet, against all odds, in the end, Chico emerged victorious, claiming his throne atop the triumphant squirrel. The moral of the story? In the world of in-game skits, you just have to stick to the classics like dogs versus squirrels. It's a "tail" as old as time! 
Homer the Dragon - Charlotte Knights (MiLB)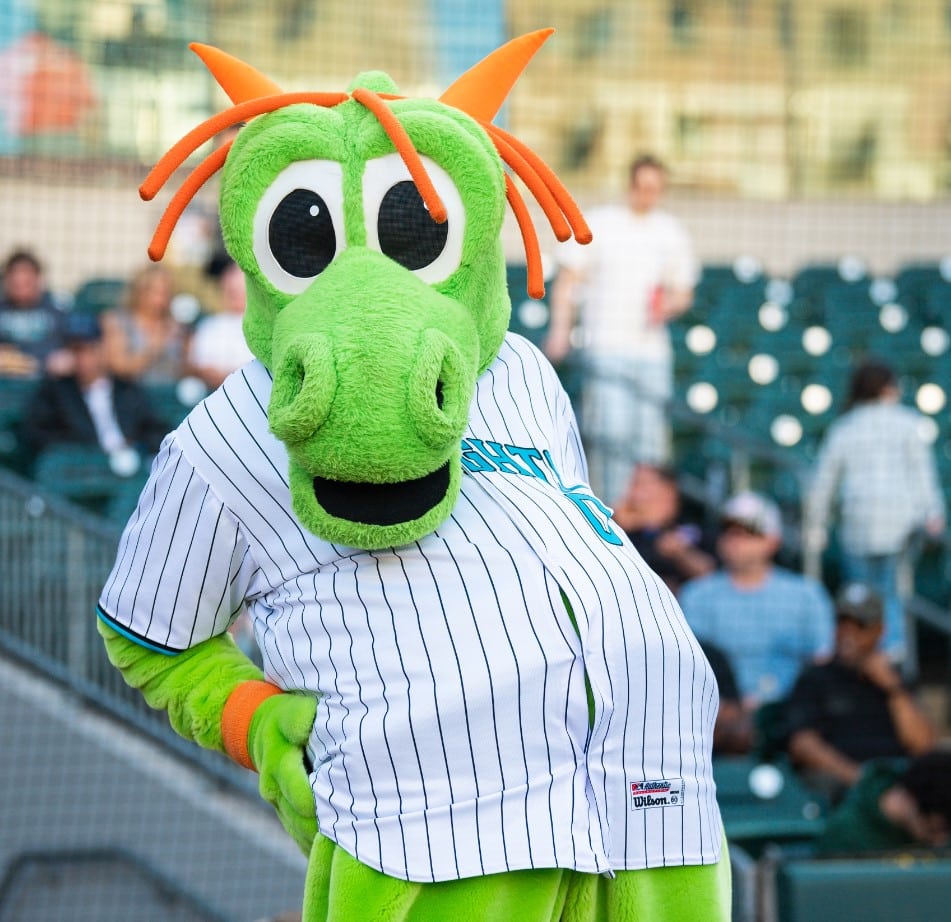 Singles Knight
Homer the Dragon sets out into the crowd in search for love. He's come prepared with an all out date night, complete with flowers, a candle-lit dinner, and a pick-up line! Will Homer's quest for love be successful?
Who knows! But a Golden Reggy would look great on his dating profile!
Lil' King - Corvallis Knights (West Coast League)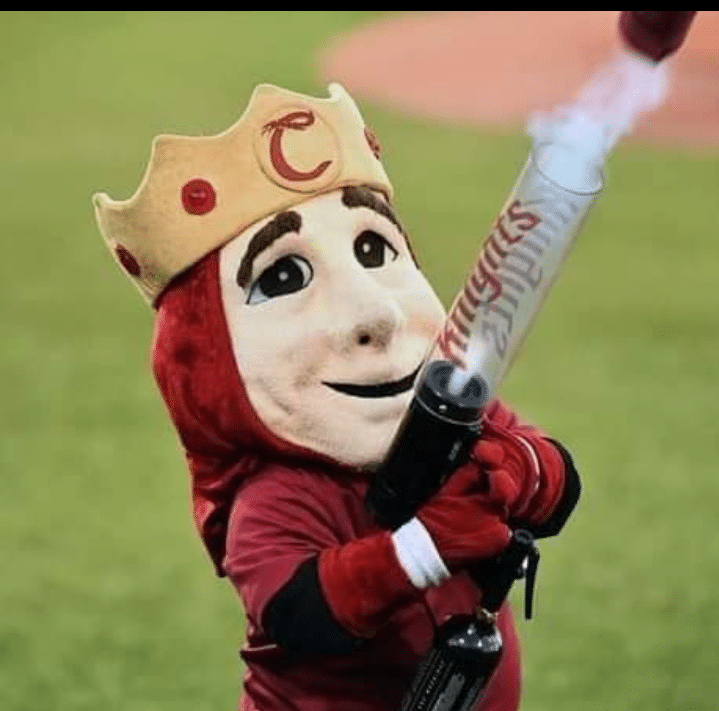 Big human ball vs. Lil' King
Loco - Altoona Curve (MiLB)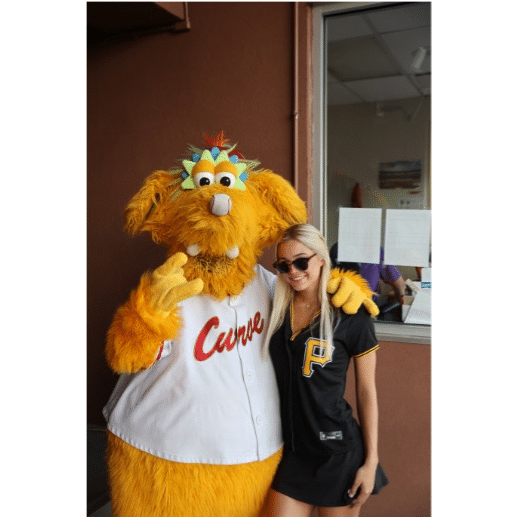 The SUGAR RUSH
It's the hardest 45 seconds in professional baseball and is something that you can't see at any other ballpark. The fans go loco for this and is the most requested skit that LOCO does, in and out of the ballpark…. even at weddings!
Peep - Sioux Falls Canaries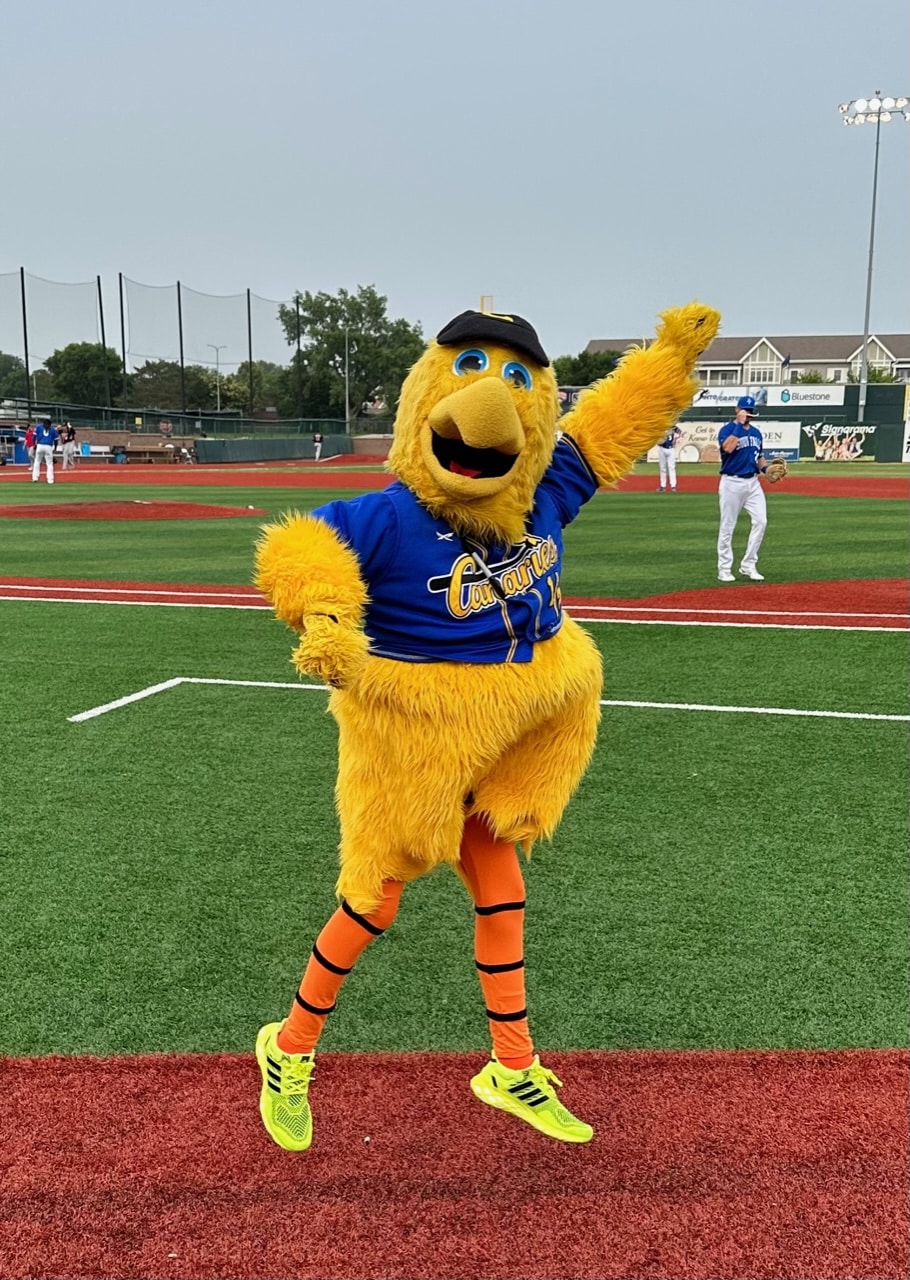 Dancing to the YMCA with Peep!
The YMCA is an oldie – but boy, what a goodie! Peep and the kids that root for the Canaries love to go on the field and shake their tail feathers to the YMCA. It has been a fan favorite – in the 8th inning of every single game – for years and years! They line up to go on the field to show off their new dance moves from game to game. Everybody trying to beat Peep doing the worm!
Slugger - Portland Sea Dogs (MiLB)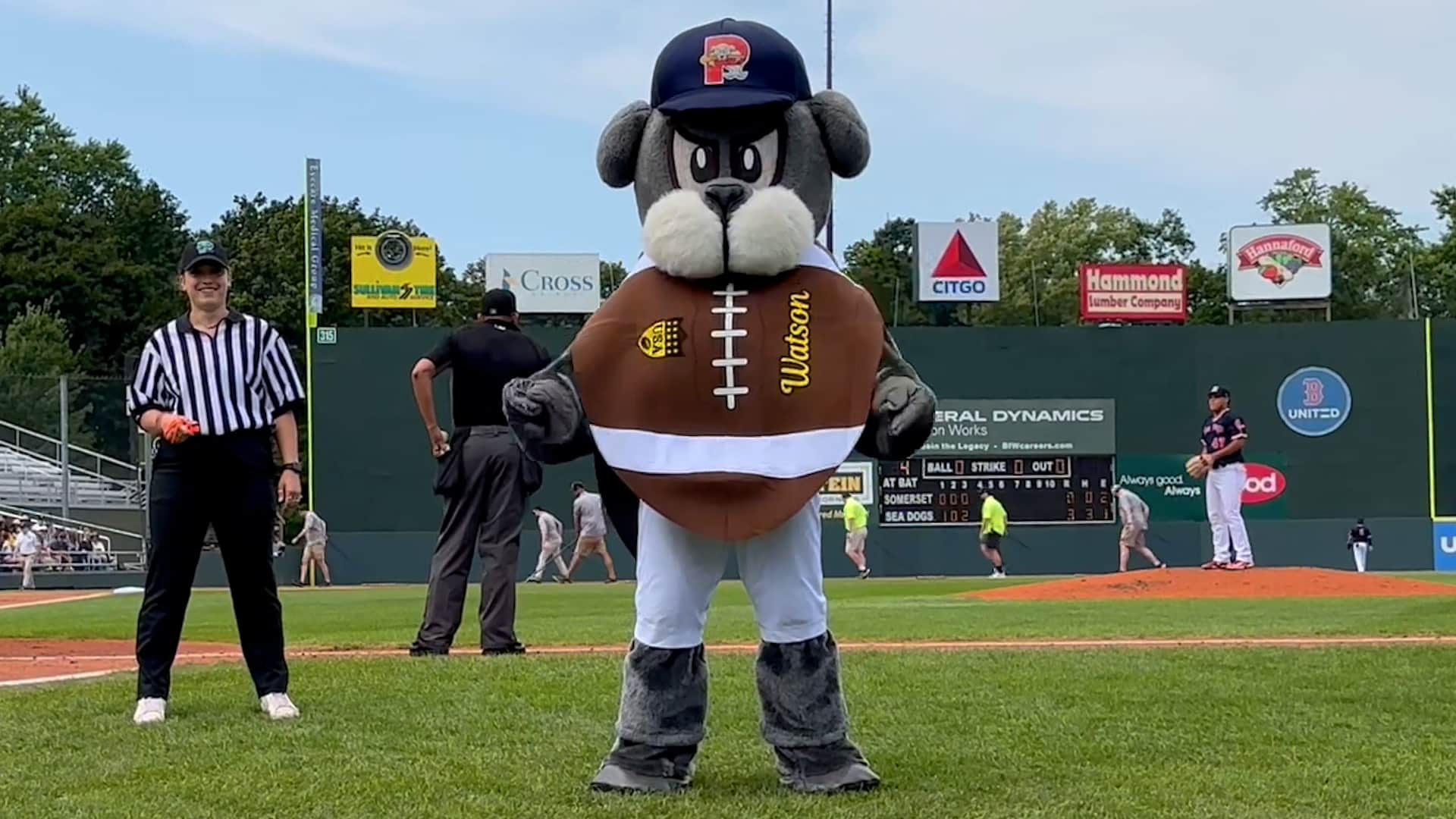 Slugger's Field Goal
Have you ever seen a field goal kicked at a baseball game?! Well, now you have!!! Slugger, with the help of his friend, sailed through the uprights this year to give the Sea Dogs an extra 3 points! …. But not really.
Twister - Worcester Bravehearts (MiLB)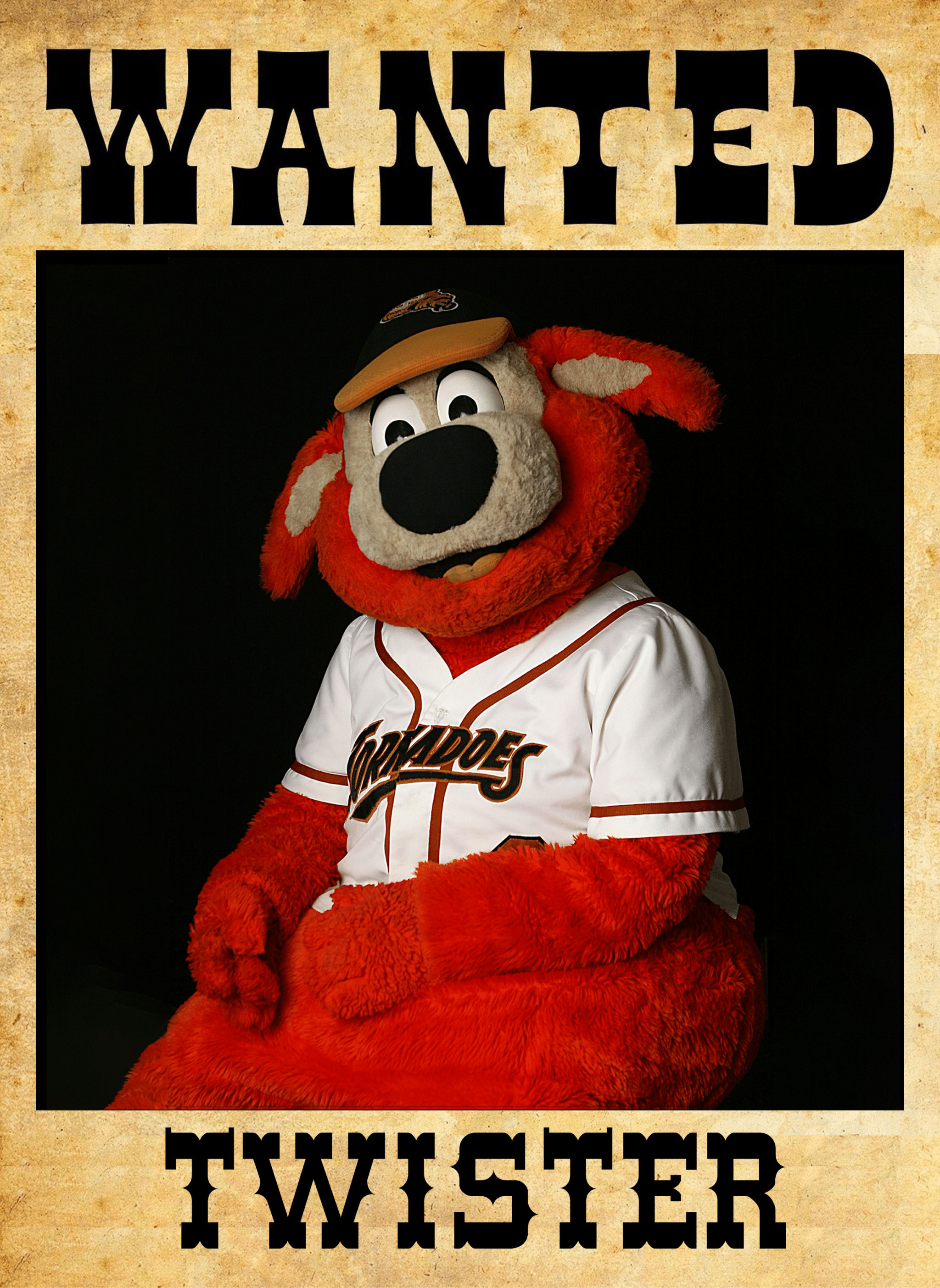 If you love to see a sports cross over, let the Worcester Bravehearts introduce WWE-type storylines to baseball entertainment. Twister the Tornado was the mascot of the Worcester Tornadoes, the Independent professional team that played in Worcester from 2005-2012. The team fell out of favor with the city in the late years after they couldn't pay their bills and cost some local businesses a good amount of money. However, we had access to the old mascot suit, and the fans still enjoyed when we occasionally brought him out in previous years. I mean, who can ever hate a mascot right? 
On Opening Night in 2023, we drove a cop car on to the middle of the field in the first inning with a Worcester Police officer on the mic saying that Twister's "10 year sentence" was up, and he wasn't their problem anymore. The cop opened up the backseat, and out stepped a handcuffed Twister Tornado, who originally received a few cheers. That was until he tossed a Bravehearts jersey on the ground, stomped on it, and ran across the field while being chased by Bravehearts players. We officially had introduced an evil mascot whose main objective was to "terrorize" the team.  
Aubie - Auburn University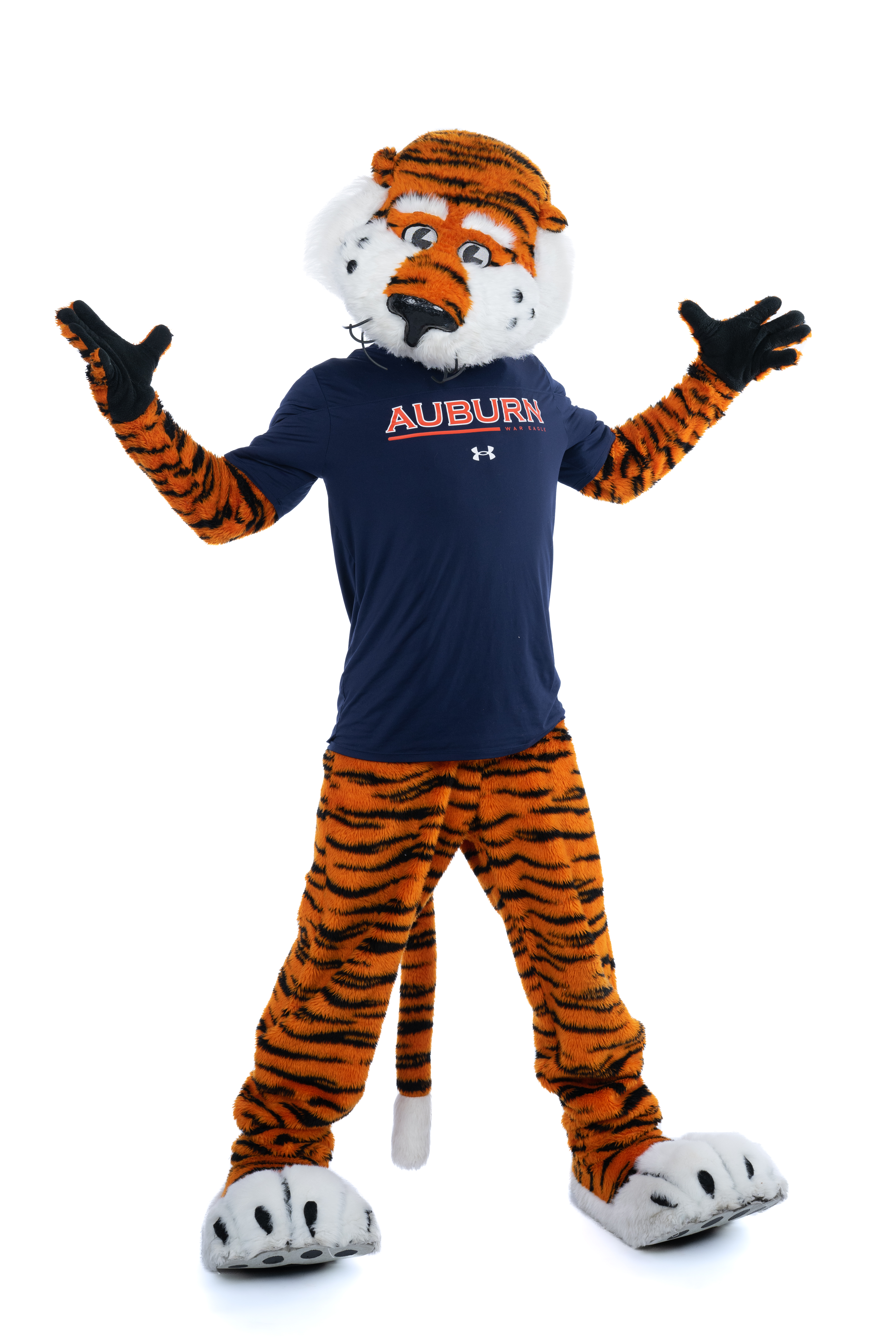 Every Auburn Football game day, Aubie provides entertainment for thousands of fans with his in-game skits. He is constantly coming up with fresh ideas to engage and captivate the audience. With his goofy antics, hilarious costumes, and "Aubie-sized" props, Aubie often draws more attention than the game itself. He has even been known to win over the hearts of the opposing team's fans. Aubie strives to provide fans with an elevated game day experience. For this skit, Aubie channeled his inner Panda to teach some fans about the art of Kung Fu.
Aubie, Auburn University's tiger mascot, is in his 45th season as a spirit leader and goodwill ambassador for Auburn University. A popular character among Auburn fans and one of the most animated mascots in the country, Aubie is the living spirit of Auburn.
Sparky - Arizona State University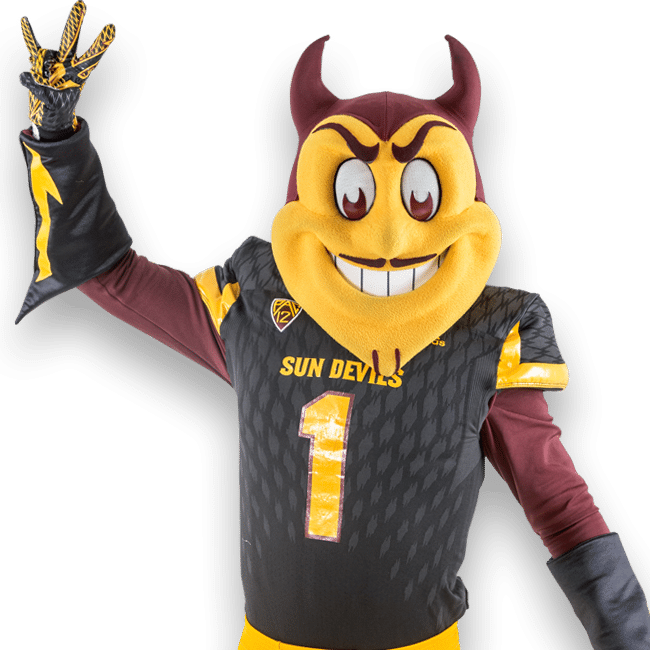 Stomp the Bus
Debuting in 2004, the Stomp The Bus video has been played 125 times before ASU games! Sparky starts off in the end zone and crawls underneath a flag before revealing himself when the larger than life video Sparky stomps the bus! He then slams his pitchfork in the 50 yard line, setting off fireworks and welcoming the team to the field!
The Governor - Austin Peay State University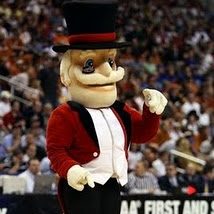 If there is any one thing which has created a sense of pride and excitement for Austin Peay State University, it's certainly our Governor Mascot! He is at every event at Austin Peay, not just athletic events. He can dance, act and totally interact with the crowd! He gets things stirred up. I catch myself looking at him instead of concentrating on the ballgames. What I really like about him is the way he treats kids. So many kids are so afraid of mascots. That is not the way with our Governor…… they love him!
The Oregon Duck - University of Oregon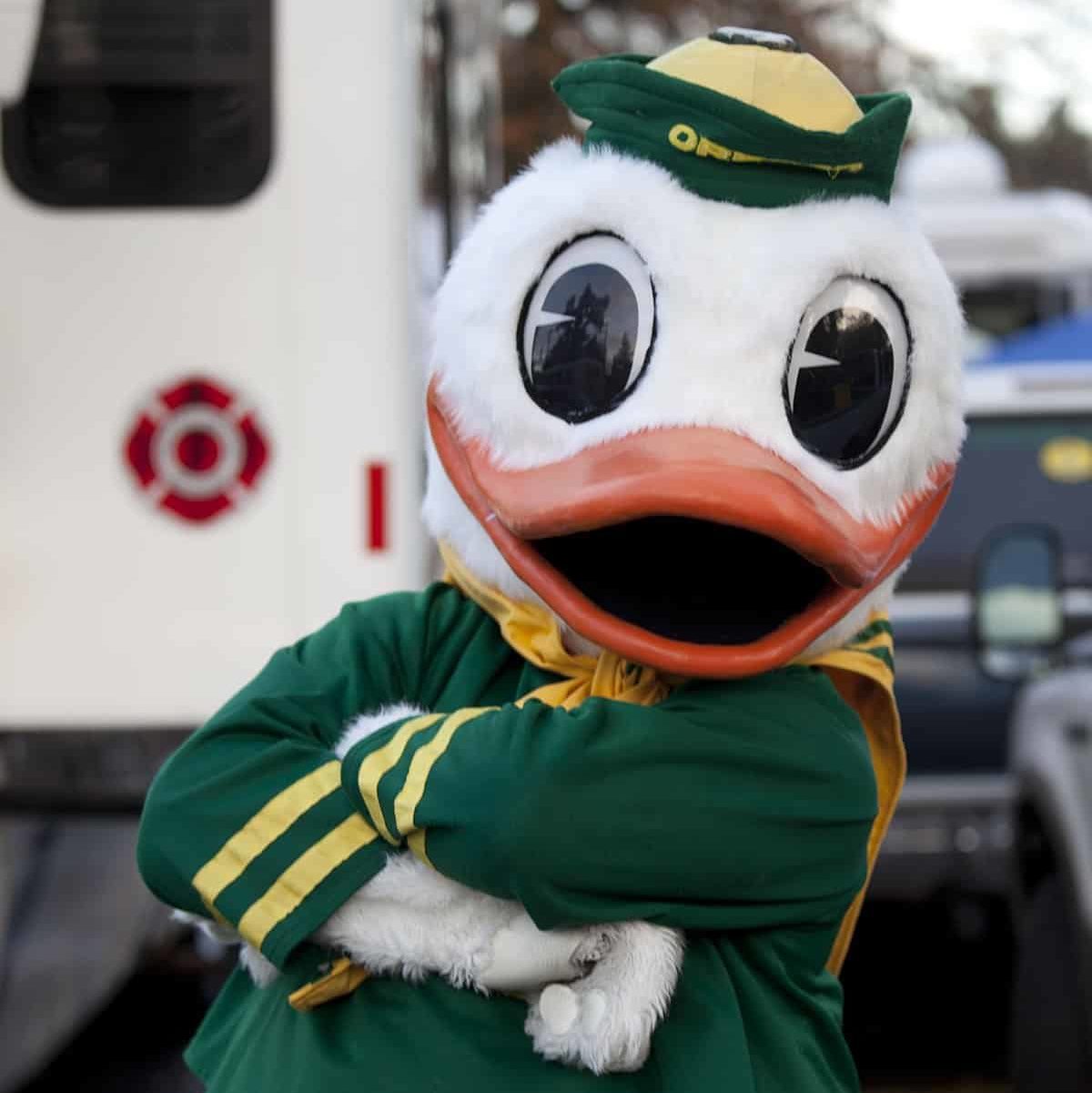 When your mascot sets an NCAA record for pushups . . . you get on the ballot!
Benjamin Beaver - Beaver Dam High School, Beaver Dam WI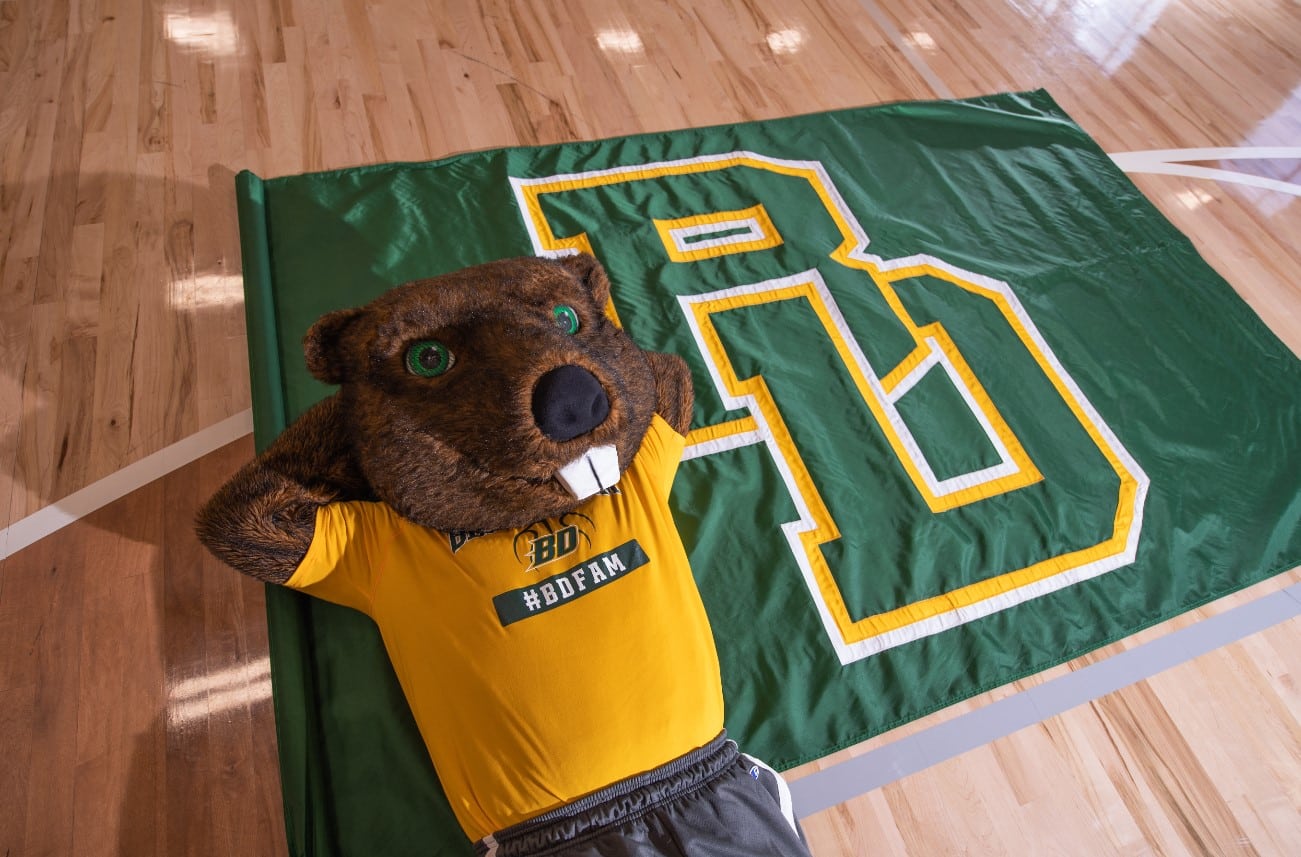 A Speedy Suspect
Benjamin Beaver has a great relationship with the staff and security who work at the home games. He uses props and playful interaction during time-outs to not distract but to enhance the experience. In this skit, Officer Tony Karel gets a rousing response from the student body as he deals with a "speedy suspect".
Buzz Jacket - Fort Mill High School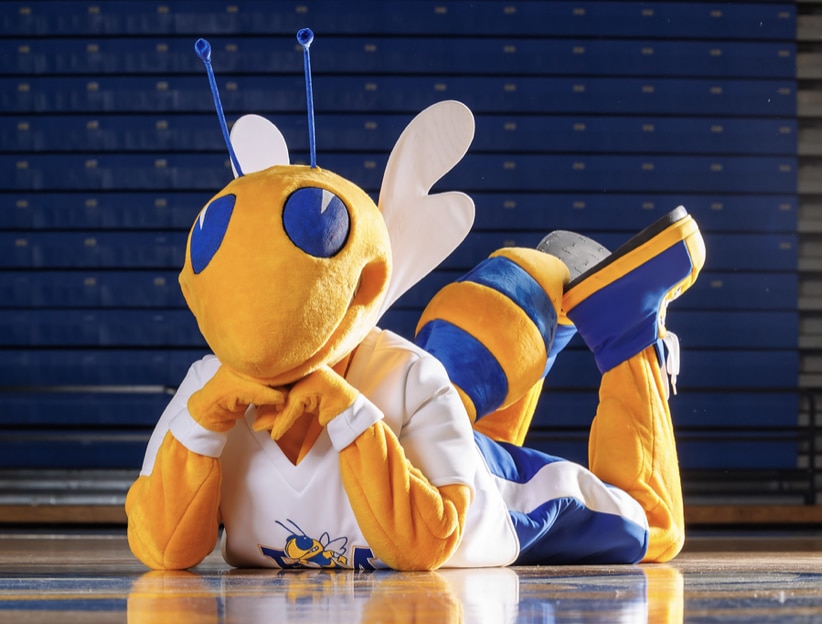 Push ups for points Scored!
Buzz leads the way with the UDP (Under Dawg Pound) every game for every score dropping push ups for every point!
He was even featured on Charlotte's Football Friday Night.
Terry the Terror - Appleton West High School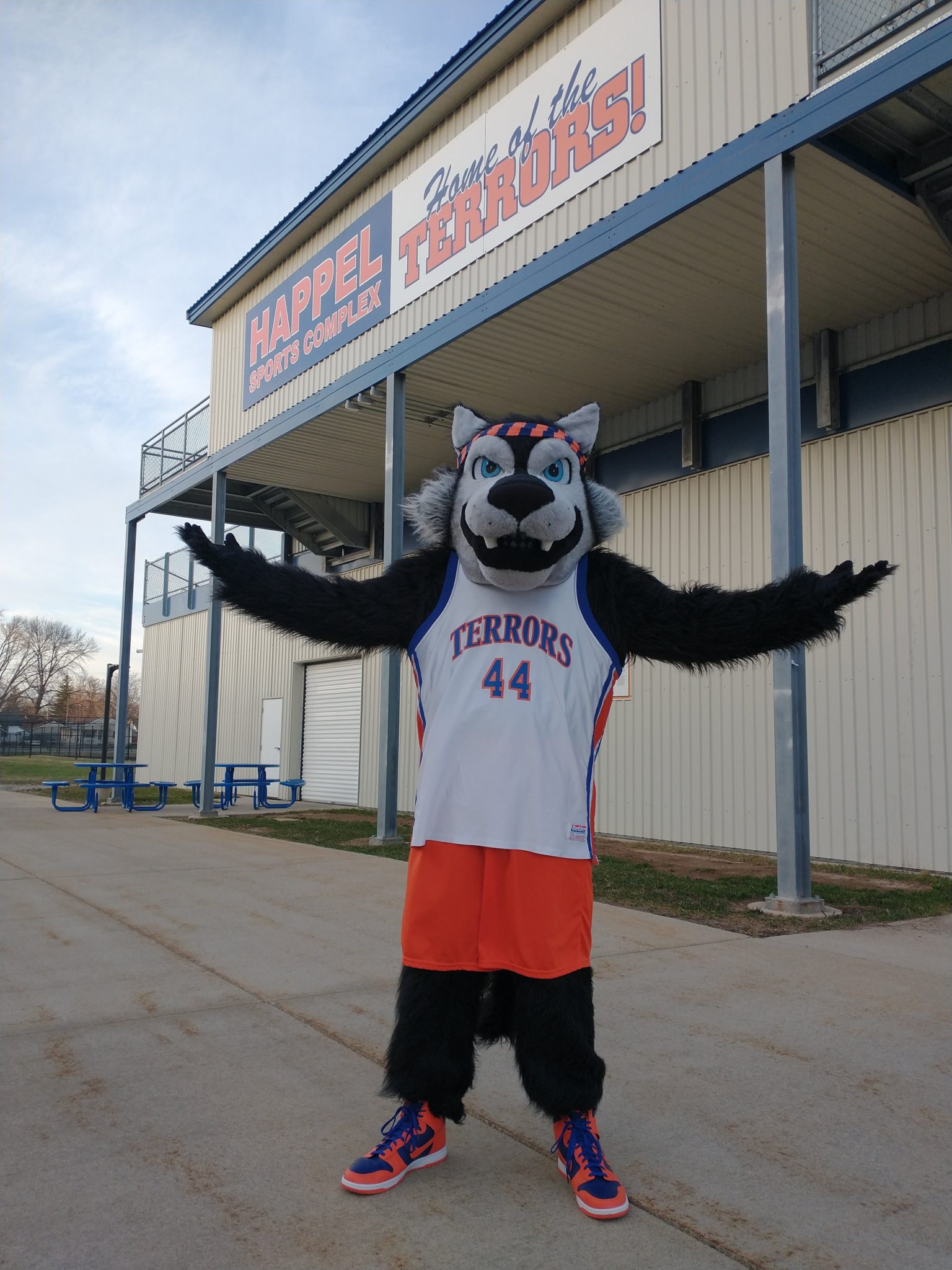 Terry's Workout Routine
Terry the Terror pumped up the homecoming crowd along with his friends from the band by sharing how he works out. A little kickboxing combo and some weight lifting gets Terry the Terror ready for the game!
A produced video featuring the mascot. This video could be used online, on social, or at a live event. Videos should be judged on originality, creativity, and entertainment value. Does not have to be sport related.
Miles - Denver Broncos (NFL)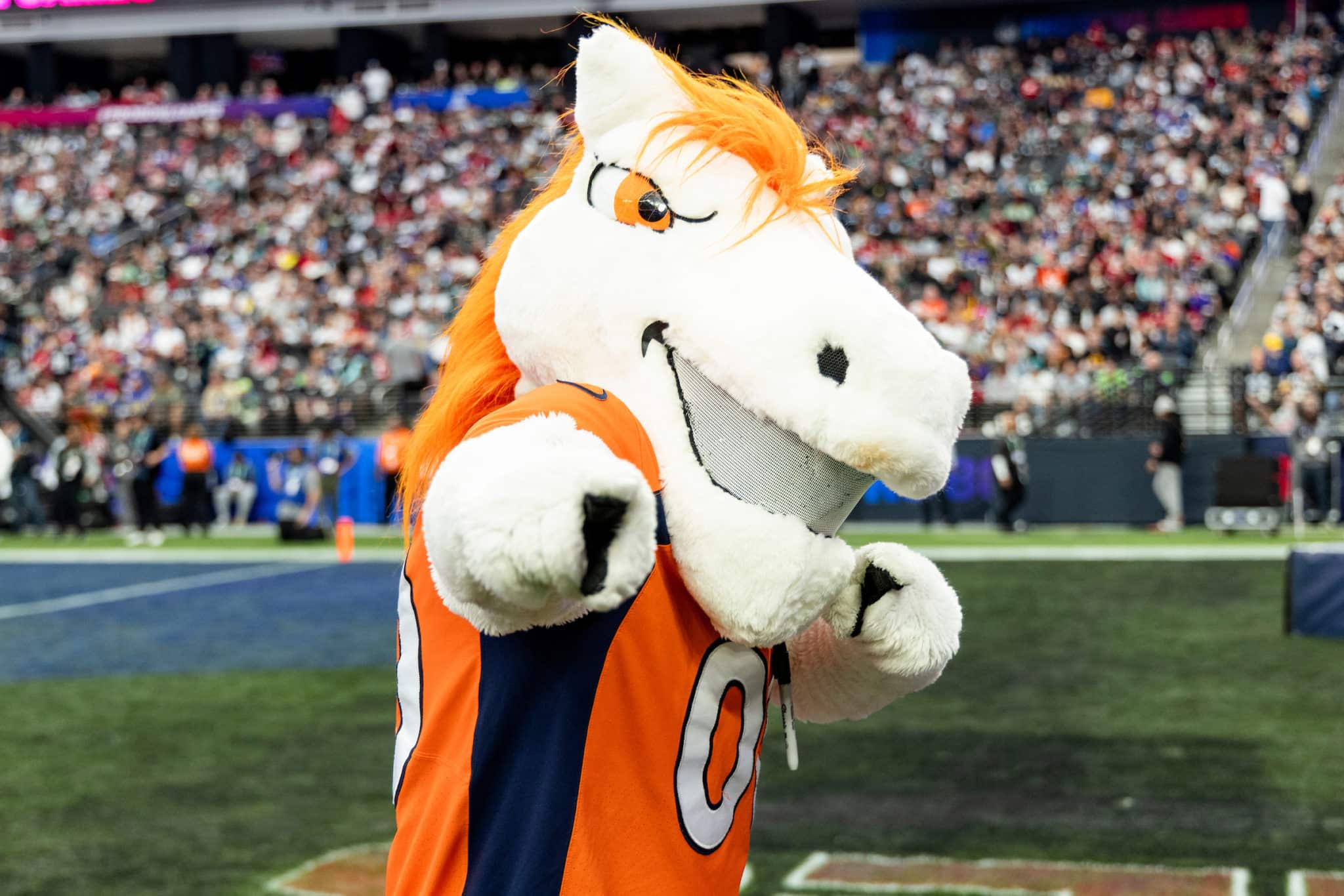 Miles and CMLL Luche Libre
Miles went to Mexico City to train with the CMLL Luchedores.  The Broncos entered into a first of it's kind partnership with the CMLL (The Luche Libre League) and invited 5 other NFL mascots to train then put on an exhibition in Arena Mexico with several CMLL Luchedores.
Slapshot - Washington Capitals (NHL)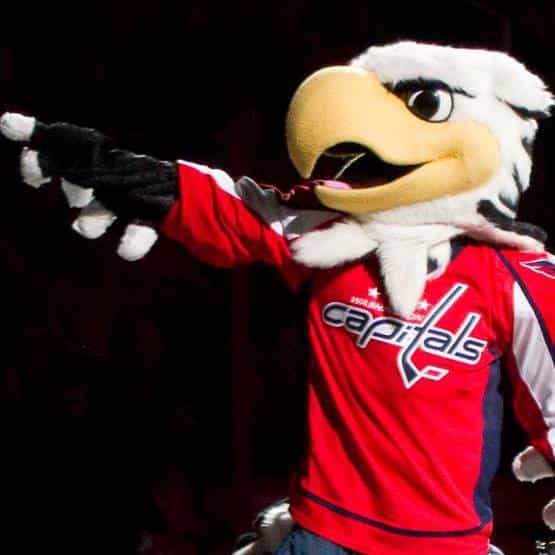 Slapshot's National Treasure
Slapshot makes a daring visit to the National Archives in Washington DC to "borrow" a treasured American document because it contains a secret message Capitals fans need to see ahead of the game. This action-packed adventure, that would make Nicolas Cage proud, aired along with a live performance at select Capitals home games during the 2022-23 NHL season and will continue to be on display during the 2023-24 season when the Capitals don their alternate "Blue W" Jerseys.
Tommy Hawk - Chicago Blackhawks (NHL)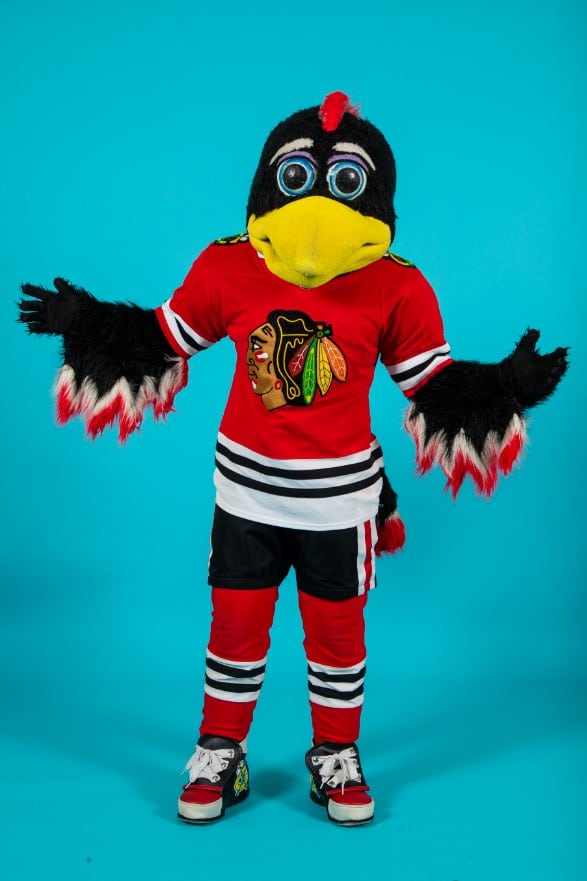 Security Breach 
Tommy Hawk and in-arena host Genna Rose arrive to the United Center for Tommy Hawk's April Fools Extravaganza until Tommy Hawk is flagged by security for unusual activity... 
TORO - Houston Texans (NFL)
The Wedding Planner
This video was part of a skit from a game last season with Simone Biles and former player Jonathan Owens as they prepared for their upcoming wedding!
Southpaw - Chicago White Sox (MLB)
­

Southpaw learns about Yacht Rock
This video was shown on the stadium video board to promote the unique Yacht Rock theme night. This is a masterpiece filled with terribly great jokes, abundant amounts of green fur, one of the greatest saxophone solos of all time and danger. Enjoy this tasty treat featuring the one and only, Southpaw!
Ballapeño the Jalapeno - San Antonio Missions (MiLB)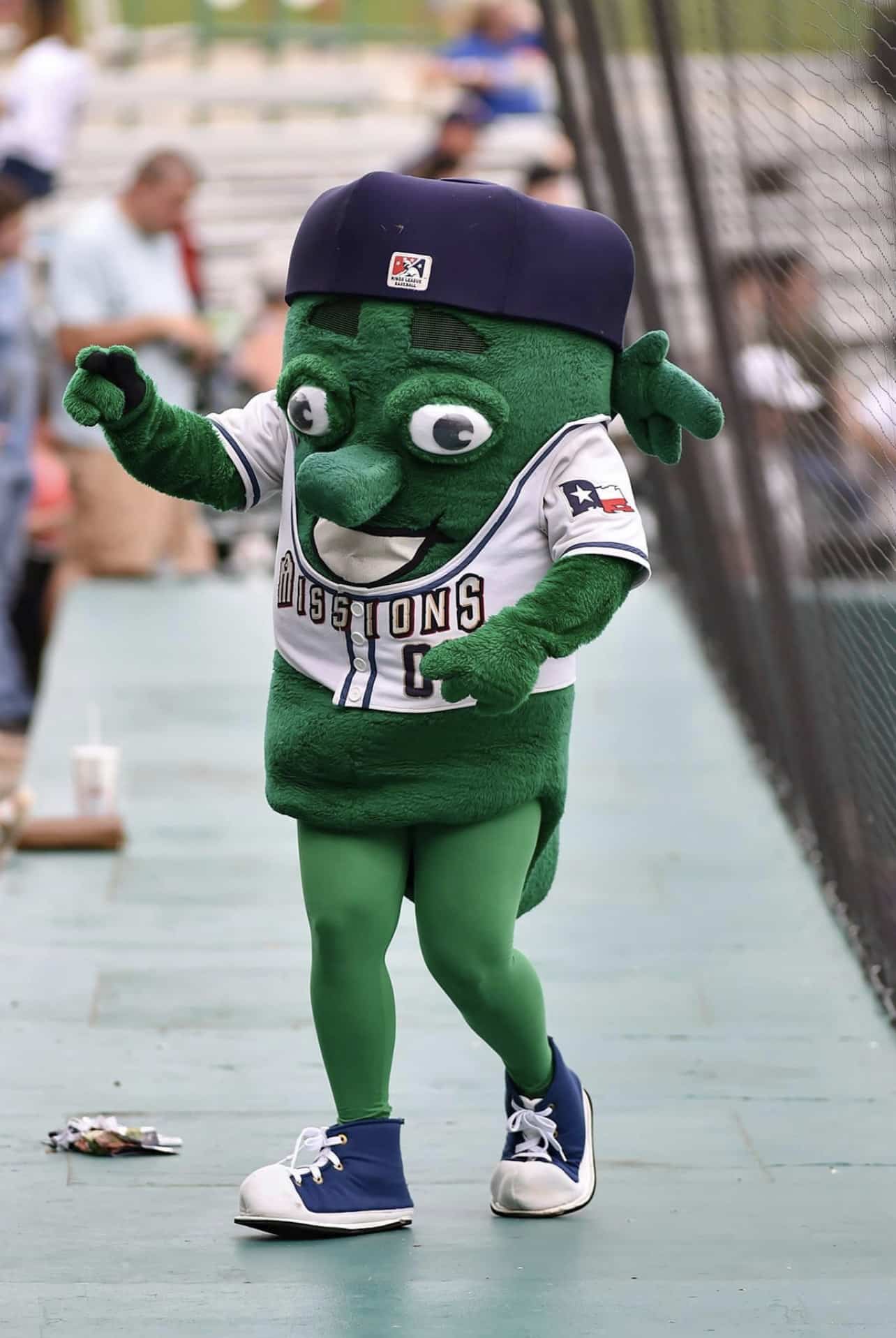 Mother's Day Love 
A Mother's love is unconditional! Ballapeño's mom, Mamapeño, is always making sure he has everything he needs on game nights.
Mama thinks he doesn't appreciate, but he surprises her with the biggest Mother's Day card! 
https://youtu.be/CRmX1sCE5gQ?si=9frThpL5k_Y6JluZ
Big Lug - Lansing Lugnuts (MiLB)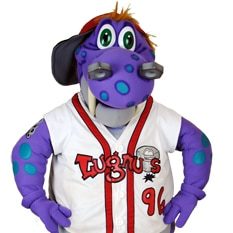 Big Lug's Farewell to 2023
Big Lug says goodbye to all Lugnuts fans and the 2023 season in this special video. He is reminiscent on the new friends/celebrities he's met, meeting Joey Chestnut was on his bucket list! He looked back on the season record of 9 specialty jerseys he rocked all season, he was the star feature in a great set of bobble-heads, and absolutely loved watching fans #GoNuts in on-field promotions all season long! Big Lug doesn't want his fans to forget him this off-season so he reminds them all that we will see you in 2024!
Chico - El Paso Chihuahuas (MiLB)
Chico Brings Holiday Joy To The Office
Holiday spirit is in the air! While you're not yet cozied up by the fire with a mug of hot cocoa, the Chihuahuas have an exciting treat in store. Chihuahuas baseball had an unexpected surprise – gift-giving in the heart of July! Chico, a jolly, giant chihuahua, was filled with excitement and spread holiday spirit while gifting each employee in the Chihuahuas office his favorite toy – tennis balls. While these tennis balls may not be the most practical gift, they surely brought radiant smiles to every recipient, perfectly capturing the true essence of Christmas. This video set the stage for a night filled with Christmas music and a stadium full of holiday joy!
Dusty - Tucson Roadrunners (AHL)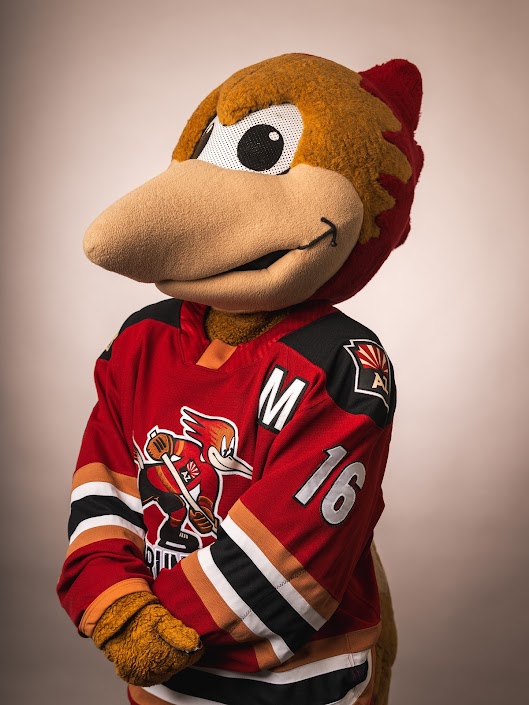 Rock, Paper, Dusty
Dusty hit Downtown Tucson to play Rock, Paper Scissors on the national day honoring the timeless game and its detailed strategy. Vote for Dusty, our feathered sensation, because he's got dance moves that put the 'icing' on the cake. With Dusty, our games are a riot – the Calder Cup needs a little more feathered fun!
Hornsby - Tulsa Drillers (MiLB)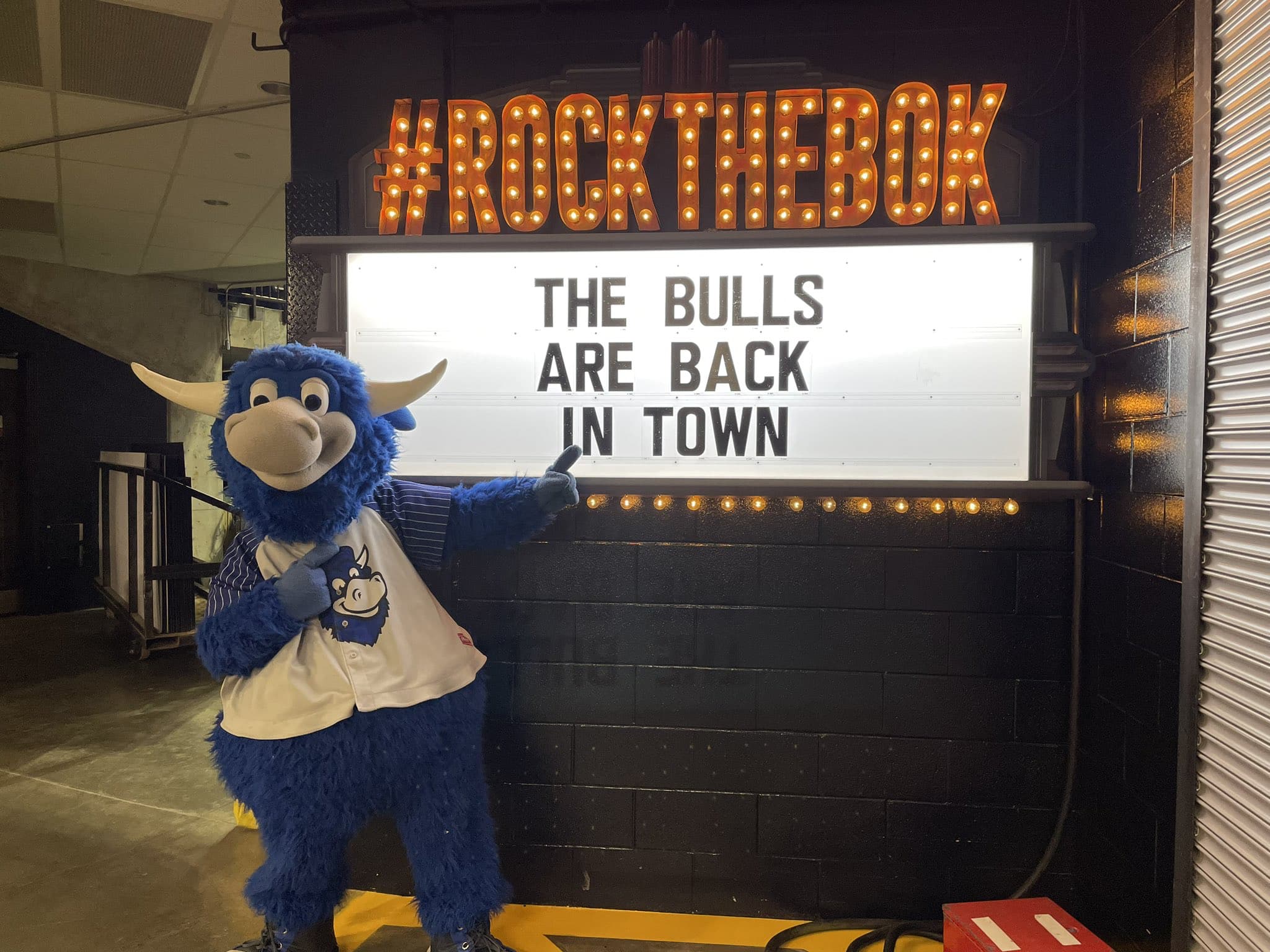 Hornsby visits the PBR
The Professional Bull Riders (PBR) were back in T-Town. As Tulsa's only Big Blue Bull, Hornsby had to go check it out. What happens when the bull wranglers see a loose bull?
This video was a one-day production from the Tulsa Drillers and the Professional Bull Riders. It was shown during a commercial break during the event that evening with a live appearance promoting the upcoming baseball season. The event (2/11/23) set a new single-day PBR attendance record of 9,494 in Tulsa.
Orion - Sugar Land Space Cowboys (MiLB)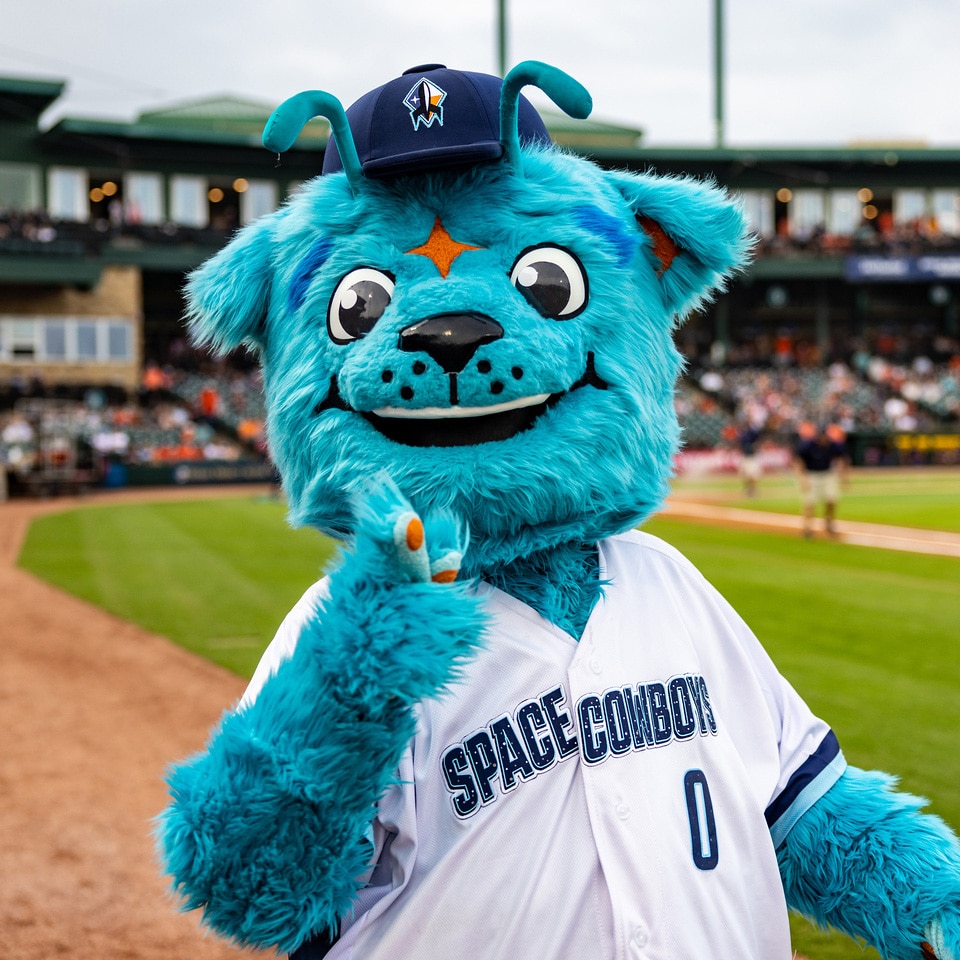 Orion's Spooky Story
Orion shares what he thinks is the scariest story of all with his friends.
Orion debuted with the Space Cowboys in 2022 and has quickly become a fan and community favorite. Since his arrival on Earth, he has tirelessly promoted the importance of reading and good character traits to local elementary schools and been an active member of the community. His antics at games, big heart, and loveable demeanor have endeared him to the Space Cowboys community and helped to create a fun fan experience at Constellation Field.
Peep - Sioux Falls Canaries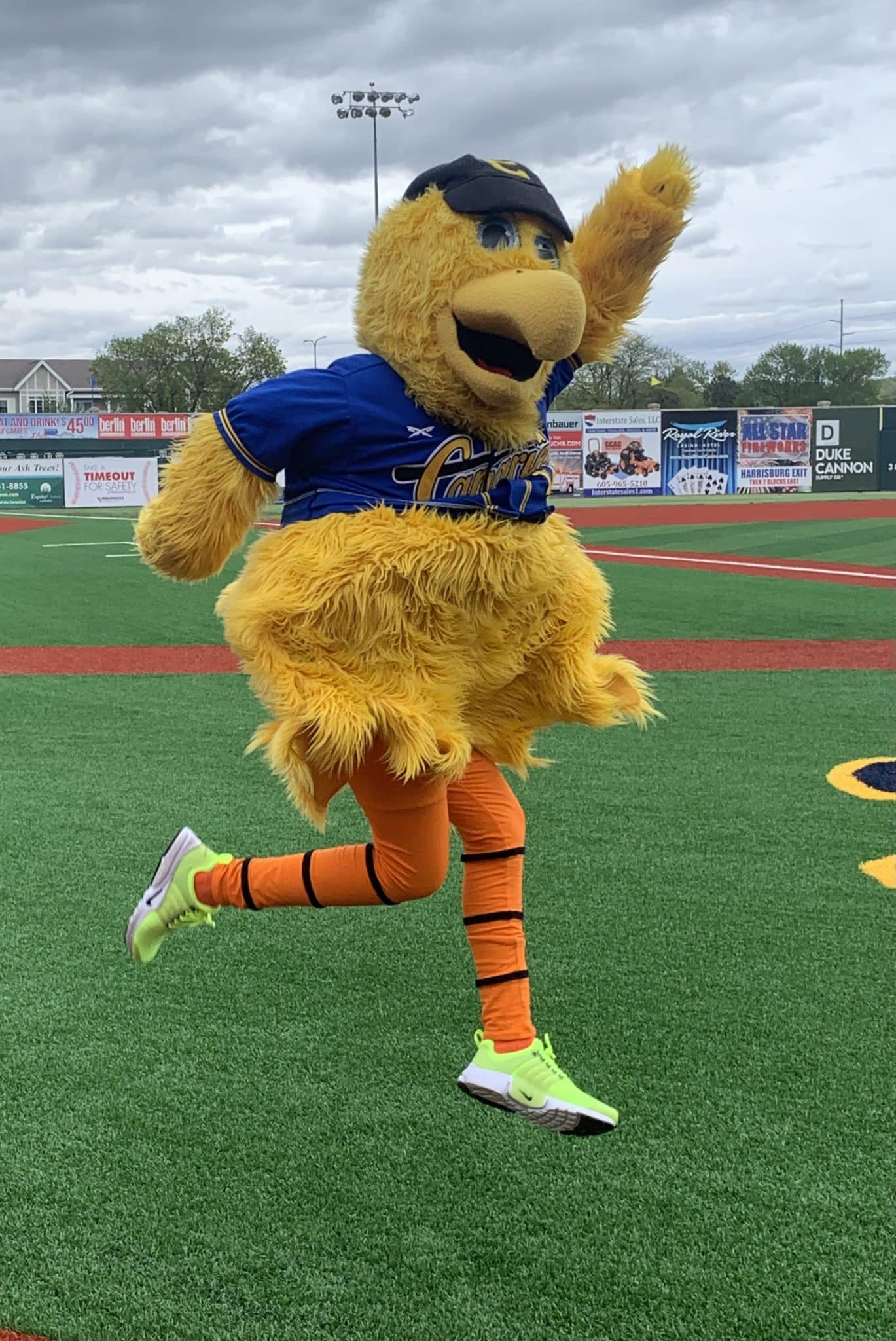 Happy Halloween & Remember to Brush!
Peep wants to wish the baseball fans he is already missing a Happy Halloween and encourage them to do fun tricks – to get lots of yummy treats!  
The better the tricks, the better the treats! But, always remember to brush!
Slugger - Portland Sea Dogs (MiLB)

Slugger Gives Thanks
Thanksgiving is the time to give thanks for all the blessings in life. Slugger and his friends have a lot to be thankful for… especially Slugger.
"Give thanks" to Slugger by giving him your vote!!!
Sprocket - Rocket City Trash Pandas (MiLB)

Sprocket's Vacation Home
Sprocket enjoyed a wonderful offseason full of rest and relaxation, but now it was time to get back to work! This was a video we ran as a commercial and on social media in the couple of weeks leading up to our opening homestand to give the fans a glimpse into Sprocket's life behind-the-scenes and get them excited for the season to begin! Of course, he loves to hang out in a trash can as all Trash Pandas do!
Aubie - Auburn University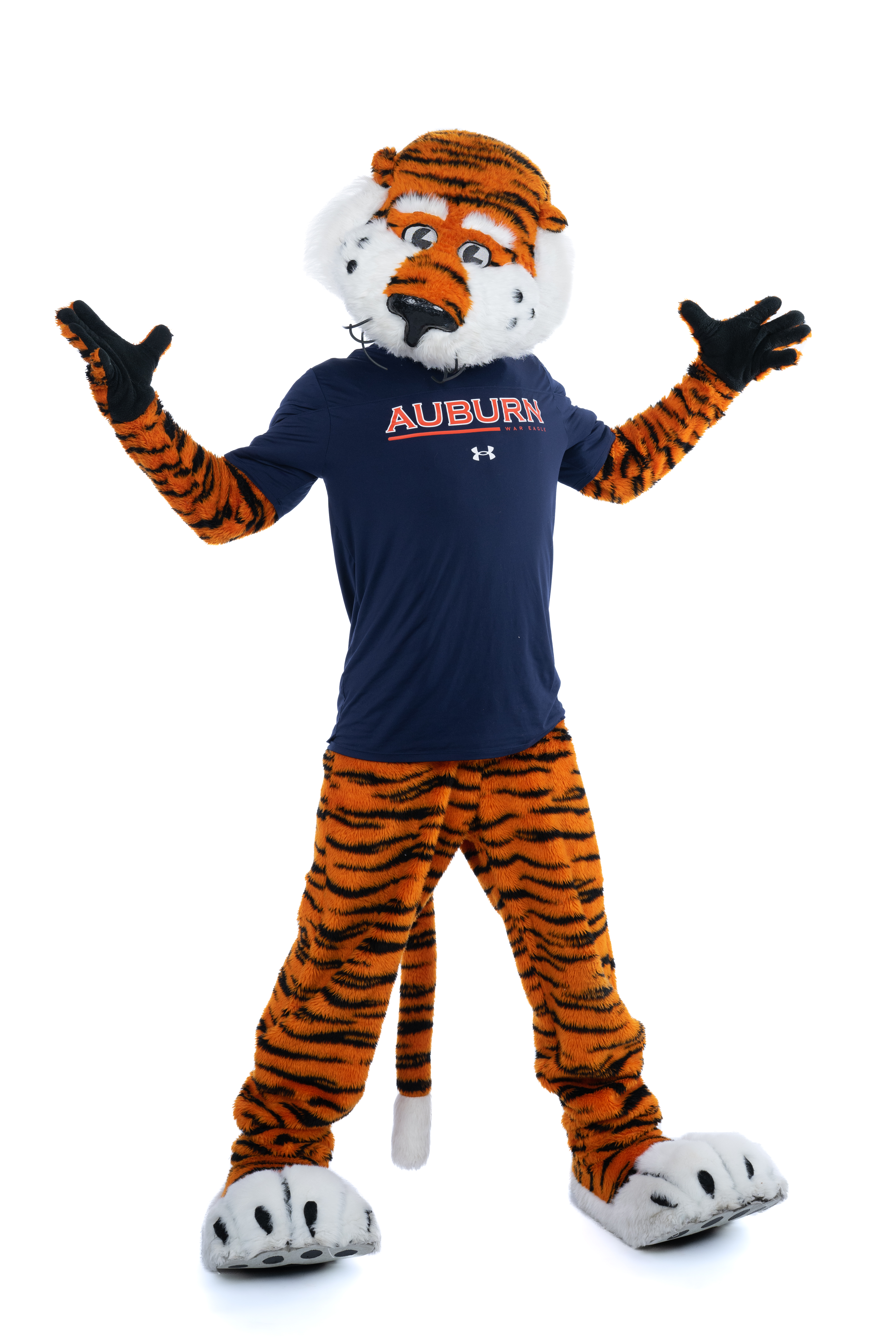 Rolling Toomer's Corner
The Auburn Family loves keeping up with their favorite tiger – Aubie! Aubie stays connected with his fans across the world and in the community through multiple social media platforms. He loves to share his fun and mischievous personality with over 300,000 followers through engaging videos and skits.
For this video, Aubie shared his love and passion for one of Auburn's most well-known traditions - rolling Toomer's Corner. Toomer's Corner is famous for its big oak trees that are rolled with toilet paper after Auburn victories! Preparing for the season ahead, Aubie shared with his fans how he stocks up on an abundance of toilet paper, making sure he has enough to go around for everyone.
Aubie, Auburn University's tiger mascot, is in his 45th season as a spirit leader and goodwill ambassador for Auburn University. A popular character among Auburn fans and one of the most animated mascots in the country, Aubie is the living spirit of Auburn.
Freddie the Falcon - Bowling Green State University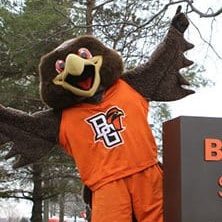 Spring is here and the BGSU Birds want to play outside, but they also want President Rodney Rogers to join them!
Hootie - Oregon Institute of Technology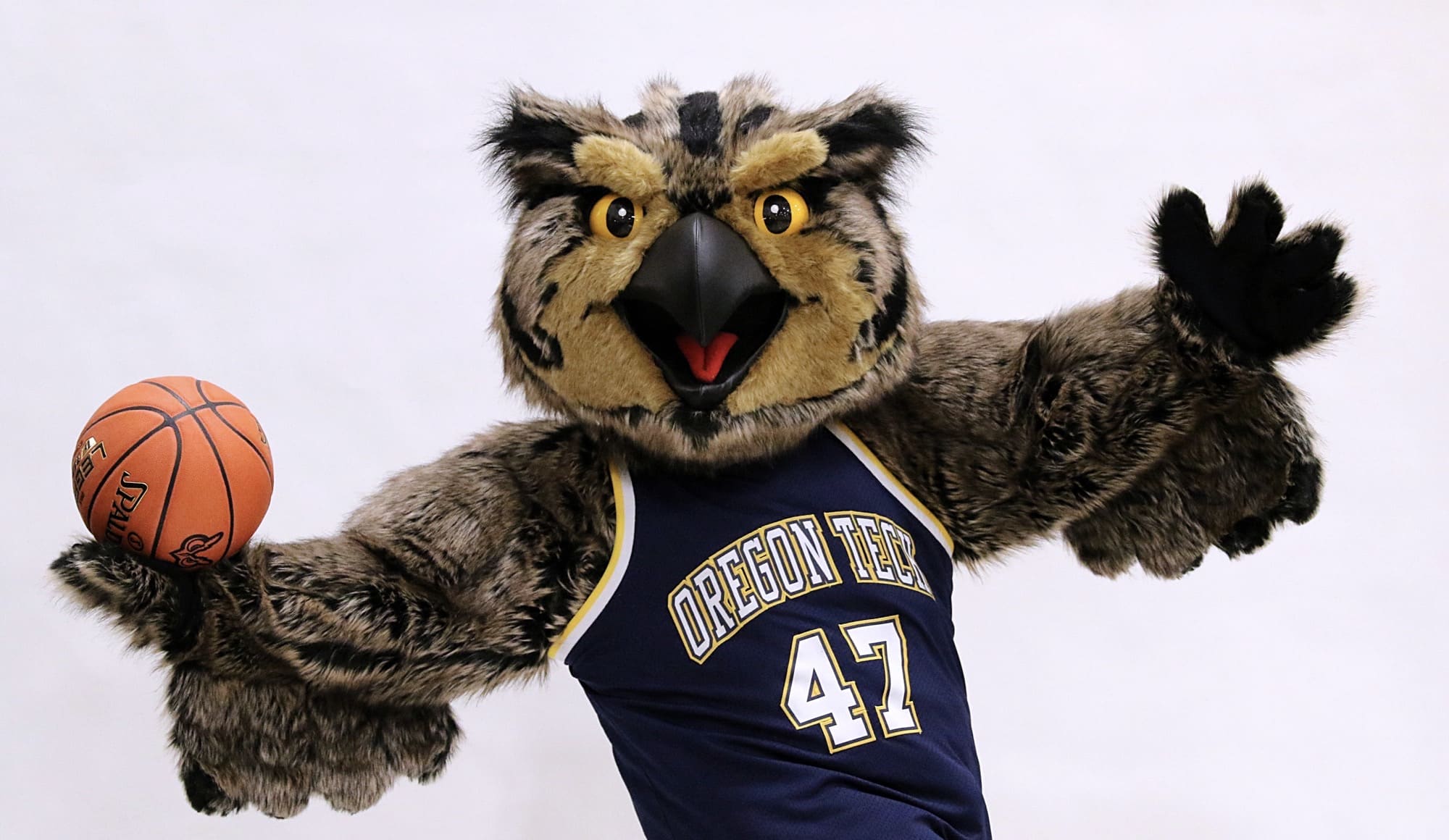 Hootie's New Look Reveal
Joe Bear - Lenoir-Rhyne University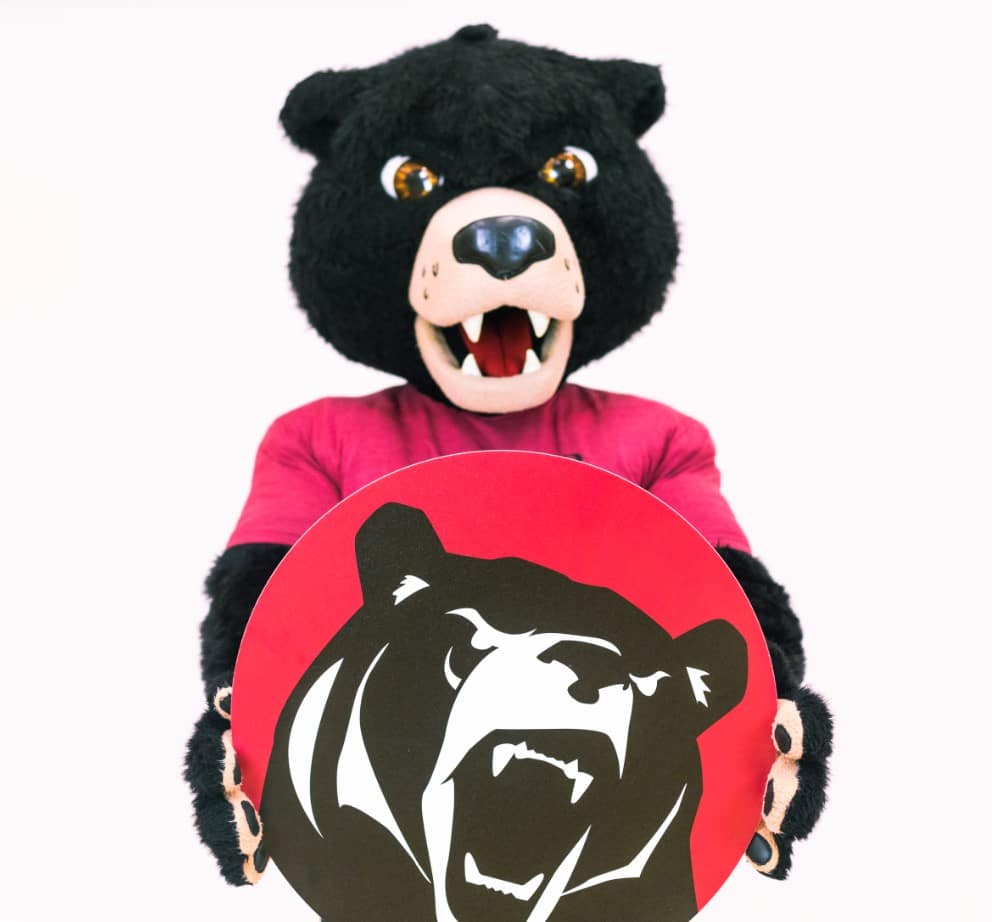 Lenoir-Rhyne University's beloved mascot Joe Bear is left behind on campus while students scatter to spend the holidays at home with their loved ones. In this parody of the classic film "Home Alone," Joe enjoys some time to himself on campus until he realizes how much he misses all of Bear Nation. Luckily Bear Nation is there for him when he needs them the most.
The video was developed by digital media producer Mikeala Skelton of the LR Marketing and Communications team as the university's annual holiday greeting to students, faculty, staff and alumni.
The Troll -
Trinity Christian College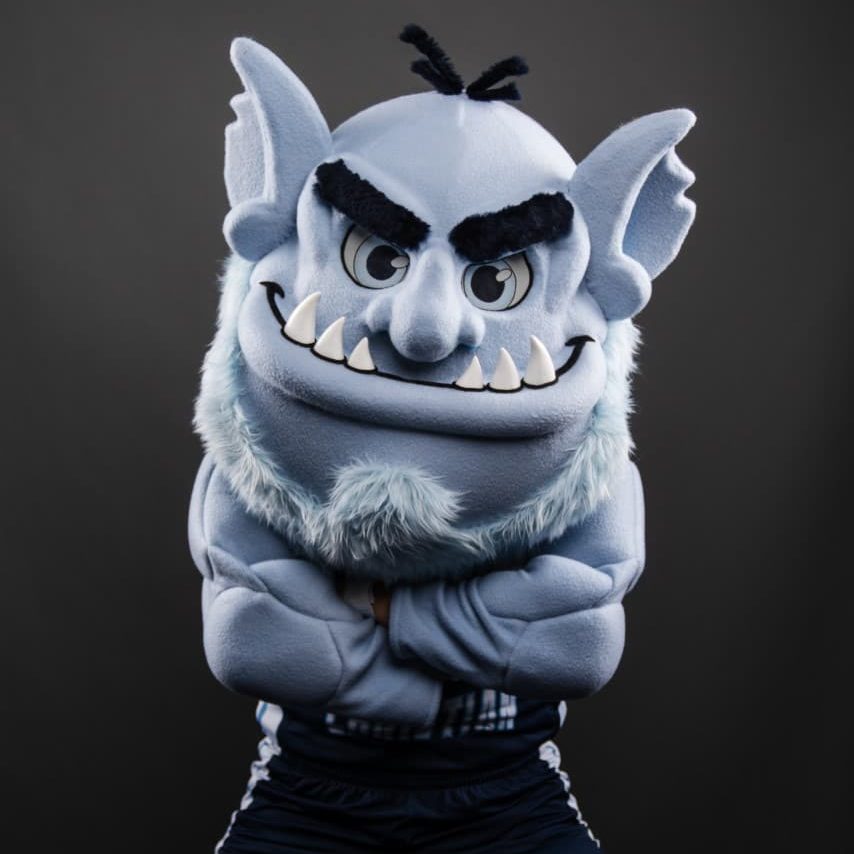 The 21st of September
Every year, the Trinity Troll can't let the 21st of September pass without celebrating the special day with a video tribute to Earth, Wind, and Fire.
How many hidden "21" can you find?
Benjamin Beaver - Beaver Dam High School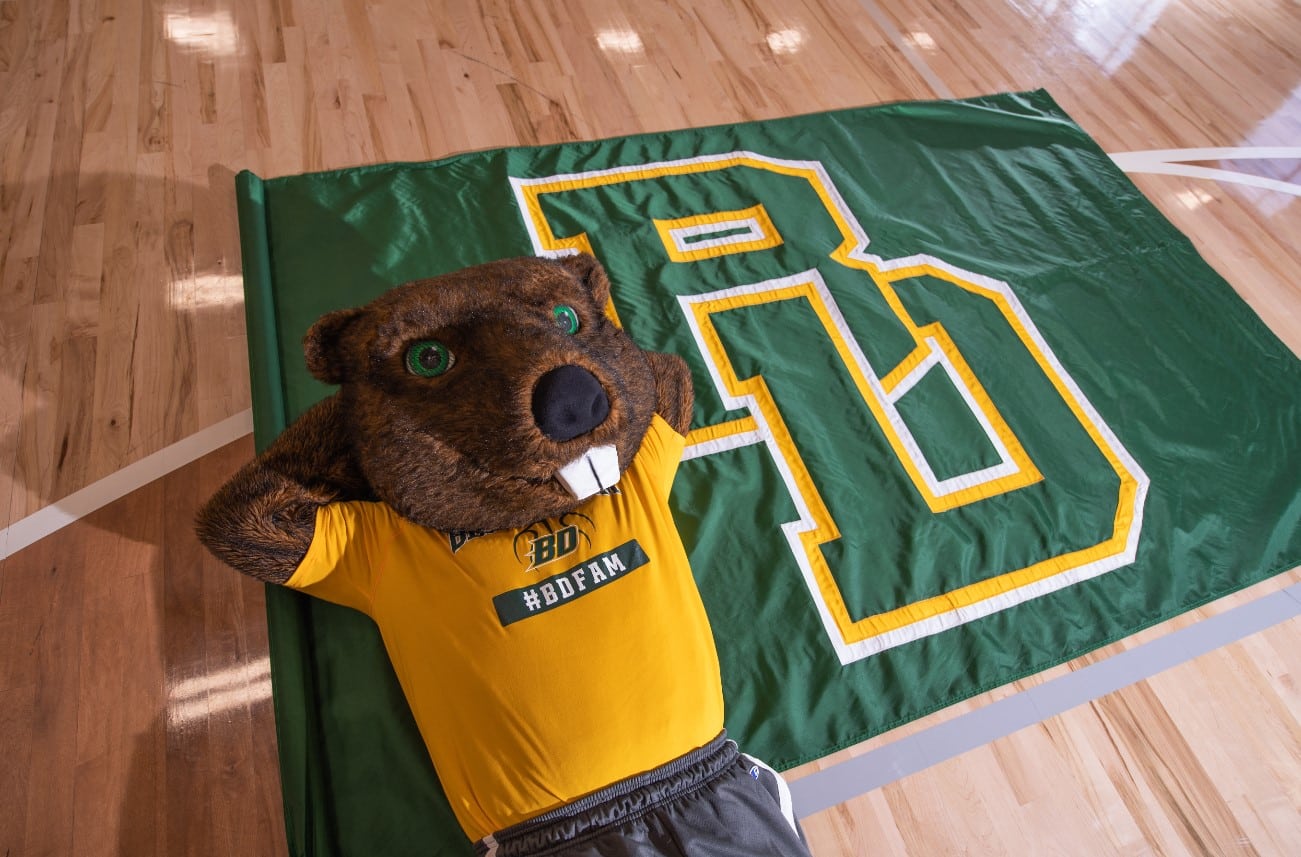 2022-2023 Benjamin Beaver Basketball Highlights
Benjamin Beaver is always entertaining on the basketball court. He engages the crowd, encourages fan participation, and welcomes the crowd from the opposing team. He has become a feature at the home games and some kids come just to see his antics!
Buzz Jacket - Fort Mill High School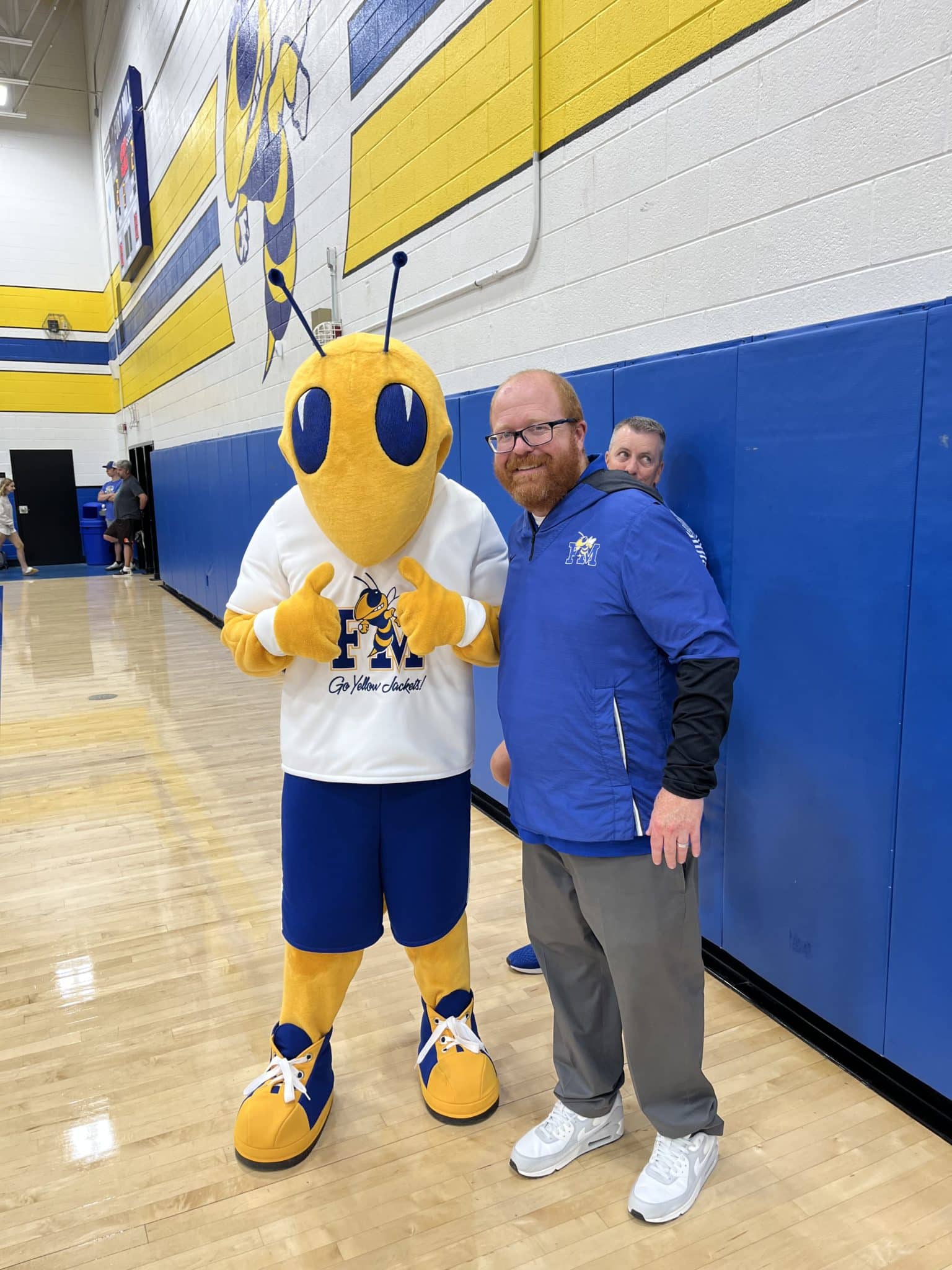 I'm back and better than ever!"
Our mascot suffered an "injury" over the summer which required surgery, it was all part of his transition from our old mascot to our new mascot. This video short shows the transition to our new Buzz Jacket.
The Crusader - Bishop Gorman Catholic School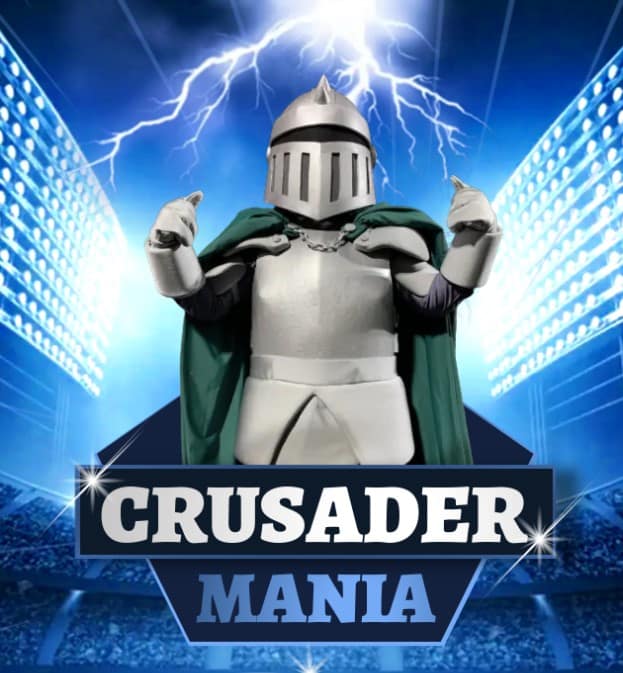 Crusader Mania is a compilation of the greatest moments of Spirit History for the Bishop Gorman Crusader Mascot. From camp, to pep rallies, to the sidelines, the Crusader is EVERYWHERE building school spirit!
Monty Tech - Montachusett Regional Vocational Technical School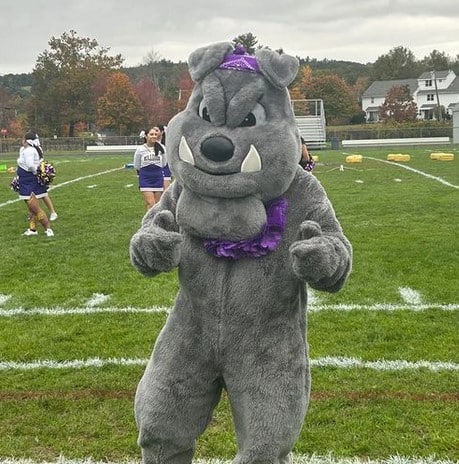 What a great way to get high school students ready to come back to school.
Staggy - Berkeley High School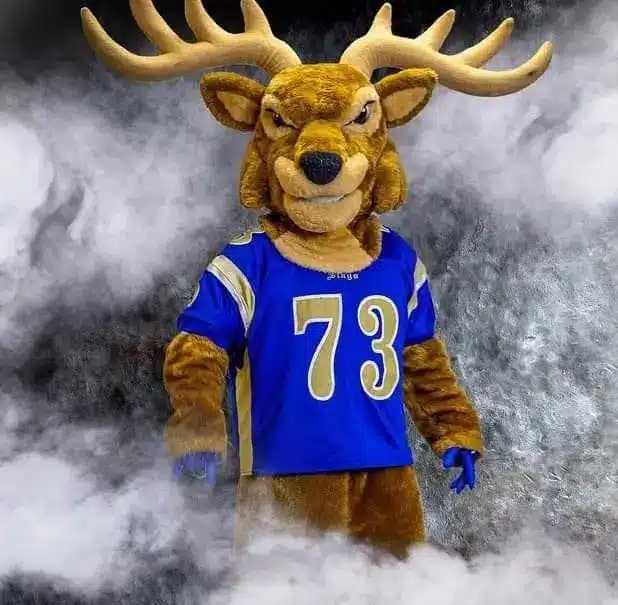 Berkeley Lady Stags Golf 2022 | HYPE VIDEO
Staggy is just the best!!! He/she is always at every event for school and makes appearance at other community gatherings. You can tell he/she loves our community.
Best College Live Animal Program
Specific to live animal mascot programs at the collegiate levels, including all NCAA Divisions and NAIA programs. The program that best embodies its university or school and positively enhances the institutions mission.
Handsome Dan XIX - Yale University
First University Mascot in USA
The tradition was established by a young gentleman from Victorian England, who attended Yale in the 1890's. The line now numbers 19, and the original successors have been the intimates of deans, directors, and coaches. One was tended by a head cheerleader who went on to become the Secretary of State. Another was featured on the cover of a national magazine. Yale was the first university in the United States to adopt a mascot, and to this date, none is better known than Handsome Dan.
** History of the Yale Bulldog "Handsome Dan" 1889 - Present
Jonathan the Husky (XV) - University of Conneticut

Jonathan XV
UConn's mascot-in-training Jonathan XV, was introduced to UConn Nation on June 30, 2023 and is learning the ropes from UConn's resident good boy, Jonathan XIV.
With his ocean-blue eyes and facial markings that mirror the Husky logo, UConn's 15th canine mascot arrived on campus earlier in June and has been happily settling in with his new de facto big brother.
He made his public debut at the UConn Board of Trustees meeting with handlers from the co-ed service fraternity Alpha Phi Omega. He's now a fixture walking on campus with Jonathan XIV, and eventually will attend University events as his training progresses and he is ready for the spotlight.
Jonathan XV was part of a six-puppy litter born in Atwood, Ontario, Canada on April 19, and was picked up by handlers on June 17 – which happens to be National Mascot Day -- and brought back to Connecticut.
** https://uconnhuskies.com/sports/2023/2/10/jonathan-the-husky
Ralphie - University of Colorado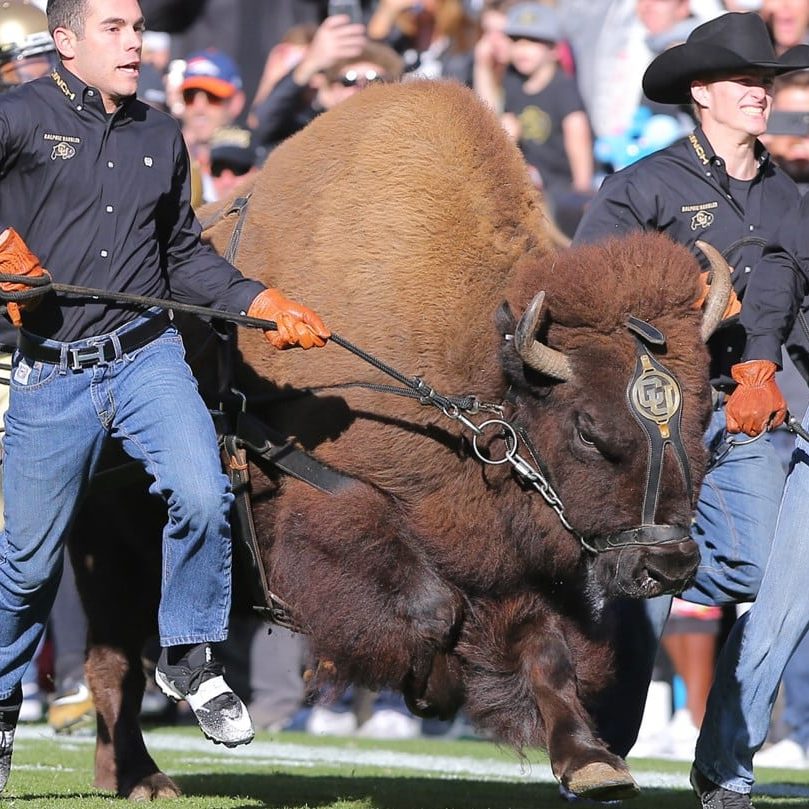 Watch video for a full report.
Tech XXII - Louisiana Tech University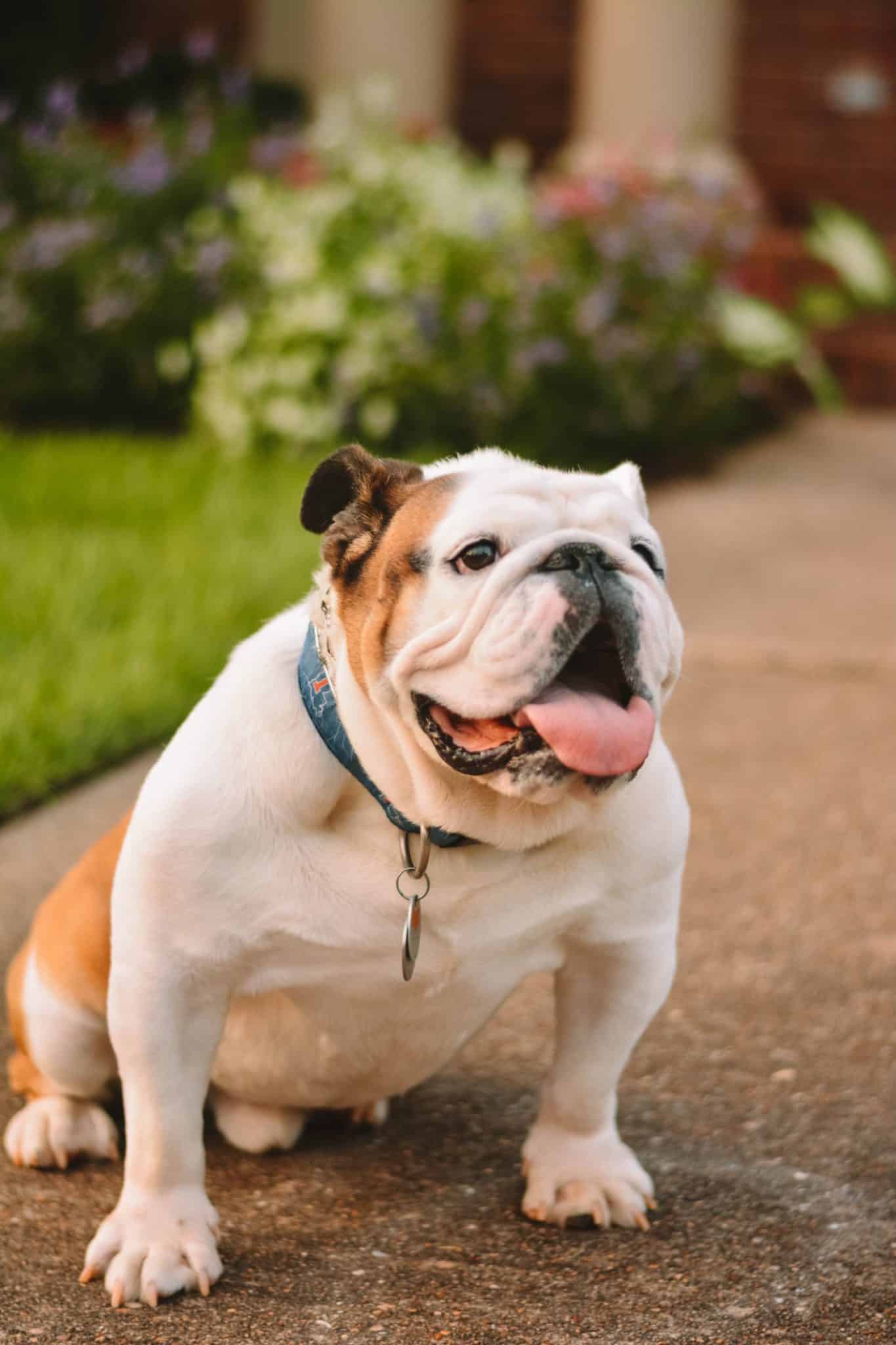 Legend of the Bulldog
The legend of the Louisiana Tech Bulldog dates back to fall 1899. The story involves five Tech students on their way home from class. When they reached the edge of campus, they noticed a quiet old bulldog sitting alone under a tree. Assuming the dog was a stray, they fed him all the food they had with them and continued on their way.
When the young men had reached the boarding house where they were living, one of them discovered that the bulldog had followed them. They all liked the bulldog and decided not to send him away. They received permission from the owner of the house to keep the dog and to let him sleep in the kitchen for the night. However, they would have to make other plans the next day.
During the night, a fire broke out in the house and the bulldog was the first to be awakened. The old dog became alarmed and ran from room to room tugging at the sheets of the bed to wake the students and the owner. Once the owner and the students had assembled outside, they were horrified to discover that one boy was still in the house. By this time, the house was almost completely full of smoke. Before the boys had time to react, they saw the bulldog run back into the burning house. Moments later, the final student ran out to safety. They all waited for the bulldog to come back out, but it never did.
By dawn the fire was out and the boys searched what remained of the house in hopes of finding the old bulldog alive. After a short time, they found the old dog lying in an unburned corner of the house. The smoke and heat had been too much, and the heroic dog just did not make it.
With tears in their eyes, the young men picked up the lifeless body, and without saying a word, began to walk back to the campus. When they reached the tree where they had met the bulldog only the day before, they began to dig a grave. Not wanting the bulldog to lie uncovered, two of the students took off their jackets and wrapped the bulldog. One jacket was red, the other blue.
Soon, the news of the stray old bulldog spread across the Tech campus. Everyone grieved and felt a closeness to the bulldog that most of them never knew. A loving old bulldog had become the first Tech hero.
A year after the death of the bulldog, Tech began making plans to start its first football team and needed a mascot and school colors. The students voted unanimously to become the Bulldogs in honor of Tech's first hero. The school colors were chosen to be red and blue in recognition of the colors the bulldog was buried in.
Today, no one is sure where the old bulldog is buried or of the names of the young men who saved it. However, one thing is certain. The spirit of the dog is still very much alive, and the love and loyalty it displayed has been a trademark of Tech people for many generations.
The Louisiana Tech University live mascot program has been in place since 1930 when the first bullpup was introduced as "Tech". Since that time a long line of bulldogs have served the university. Tech XXII was introduced in January of 2018 and continues the legacy and represents the best qualities of current students and alumni.
UGA XI (Boom) - University of Georgia
BOOM!
The University of Georgia introduced their new Live Animal mascot last April with the collaring ceremony of UVA XI, otherwise known as BOOM!
Best College Live Human Program
Specific to live human mascot programs at the collegiate levels, including all NCAA Divisions and NAIA programs. The program that best embodies its university or school and positively enhances the institutions mission.
The Mountaineer - West Virginia University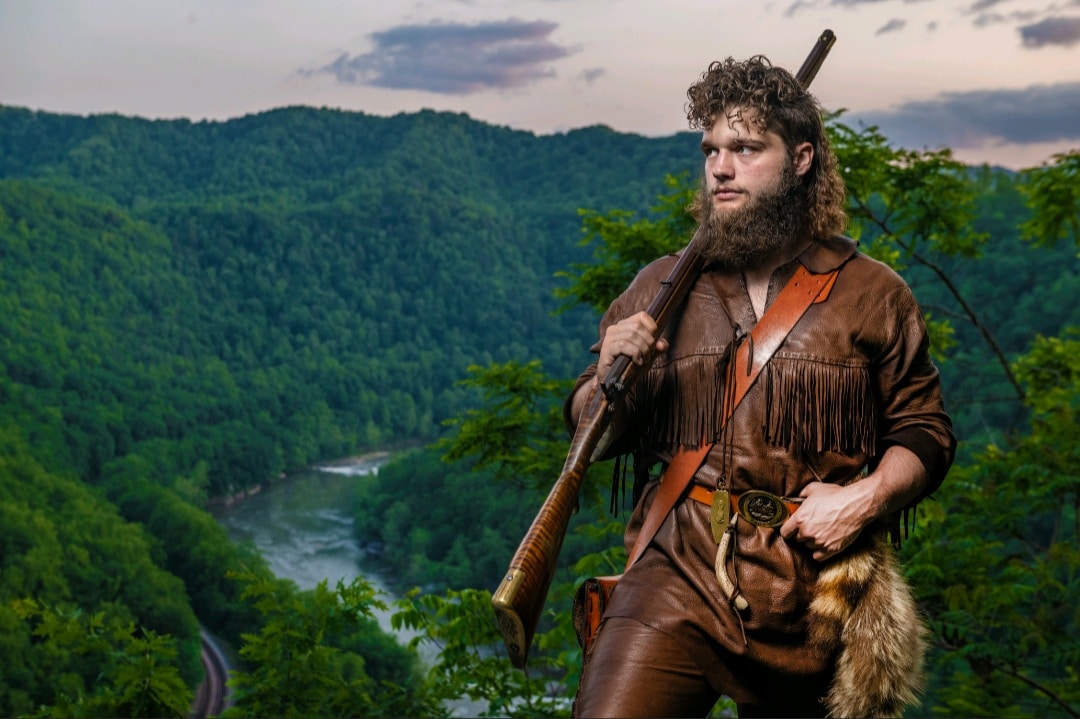 Wearing the heavy custom buckskins and real coonskin cap, the Mountaineer carries not just the weight of the uniform, but the weight of West Virginia on his/her shoulders. The Mountaineer attends NCAA football, basketball, and baseball games, as well as gymnastics, soccer, volleyball and wrestling matches, cheering on the Mountaineers in all venues. He/she also makes appearances at other sporting events, including WVU Club Sports. Today, the Mountaineer attends more than 400 events per year outside the realm of athletic functions, appearing at schools, hospitals, civic organizations and more.
What makes the Mountaineer Mascot unique compared to other NCAA Mascots is the fact that our Mountaineer literally speaks.  For the over 400 appearances outside the realm of athletic functions, ALL appearances require the Mountaineer to speak at events such as:  entire school assemblies tailoring the speech to the age of the audience; keynote address speeches at high-level state-wide functions; or public service announcements to the WVU community on topics such as fan etquitte, holidays, and other pressing topics at hand.  For other mascots, an individual changes his/her personality to portray that of the character. The Mountaineer Mascot position, however, allows any individual to let their unique personality shine as they carry on the responsibilities. For other schools, the person becomes the mascot; at WVU, the mascot becomes the person. This allows the Mountaineer to be well known throughout the fanbase, even after their term is over and they become a functioning member of society. 
A constant objective of West Virginia University is to increase the pride of West Virginians in themselves and in our Mountain State. We are constantly reminded of the strength and courage of the people in our state and our Mountaineer Mascot position has preserved this tradition for future generations.
The Leprechaun - Notre Dame University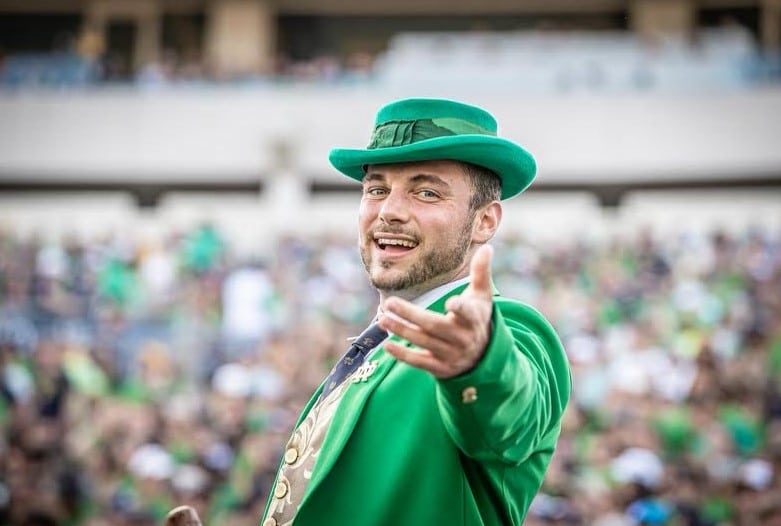 The Notre Dame Leprechaun became recognized as the official mascot of the University of Notre Dame in 1966, six years after it was introduced as a complement to its equally mischievous predecessor, the Irish Terrier. Until nearly a decade ago, those who portrayed the clever green character were required to grow a chinstrap beard and be under a certain height, which limited the role to male students for most of the Leprechaun's history. Now, the position is open to any student who exhibits the ideals they are called to represent: zeal and passion for the University of Notre Dame and all that it stands for. Considered an arm of the Notre Dame Cheerleading Team, the Leprechaun is unique compared to other live human mascots in that those who portray it also define the character in doing so. Typically, there are four students in any given year chosen to don the infamous green suit, and each Leprechaun is distinct from the next: Leprechaun Colin is much more intense than Leprechaun Ryan, similar to how Leprechaun Kylee is often more mischievous than Leprechaun McKenna. Those who portray the Leprechaun role are called to embody a unique Irish spirit with an authentic history and a meaning rooted deeper than race alone. For these reasons, the Leprechaun possesses an unparalleled sense of humanity which allows the role to serve a higher purpose – that of the University's mission – in every game, event, and appearance.
Voters should consider casting their ballot for the Leprechaun as both an appreciation of this authenticity and as a means of advancing the mission of the University of Notre Dame. Upon his arrival in 1842 to this place which we now call home, school founder Fr. Edward R. Sorin, C.S.C. wrote to his Congregation of Holy Cross brothers in France remarking, "This college cannot fail to succeed… It will be one of the most powerful means for good in this country." The Leprechaun program strives to be a "powerful means for good" in the fulfillment of every responsibility associated with the role. As the present day ambassadors for this vision, the Leprechaun is entrusted with seeing to its fruition, not only within the confines of campus, but even more importantly, out in the world. The Leprechaun leverages its unique capabilities as a live human mascot to maintain a special relationship with the Notre Dame community. This connection is evident through means as small as the bonds formed every game with the volleyball season ticket holders in Section 10 of Purcell Pavilion or the smiles from the 2nd grade classroom on a surprise visit to their elementary school. Likewise, this connection is equally as evident through larger means such as the lifelong memories created from an appearance abroad in Ireland for the annual Notre Dame vs. Navy game or the roar of a thousand fans as Lee Corso, accompanied by the Leprechaun, walks onto the stage of College Gameday fully donning the infamous green suit and hat. Underlying all these experiences is a desire to build up the cohesive Notre Dame identity shared by all individuals who have had the blessing of interacting with this special place. The Leprechaun program continually works to strengthen the unique bond it shares with the Notre Dame community as both ambassadors of the University and stewards of its mission. It is the program's hope that it may use the Mascot Hall of Fame's platform to amplify these efforts and, in doing so, continue itself to be a "means of doing good" for our world. All Notre Dame Leprechauns, past, present, and future are incredibly appreciative of this opportunity and are thankful for the fans who make this possible through their votes and continued support. Go Irish!
Texan Rider - Tarleton State University
The Texan Rider
Although Tarleton's athletic history dates to 1904, no nickname for its athletic teams came until 1917 when the college joined The Texas A&M University System and were known as the "Junior Aggies." In 1925 legendary coach and athletic director W.J. Wisdom offered the attractive figure of $5 to any student who could come up with a sports moniker that he liked. The story has it that one day while walking across campus, Wisdom thought of "Plowboys" (many of Tarleton's athletes then were agricultural students with rural and farming backgrounds). Wisdom liked the name so much he kept the money.
In 1961, college officials sponsored a contest for a new athletic nickname to reflect Tarleton's new status as a four-year college. Top three vote-getters were "Texans," "Rockets" and "Packrats." "Texans" was chosen. All the men's athletic teams were referred to as the "Texans", and the women's teams slowly became known as the "TexAnns." Last year, the students agreed to refer to all teams as "Texans." The Texan Rider emerged in the 1970s as the university mascot.
** Traditions and History - Tarleton State University
The Pioneer - Glenville State College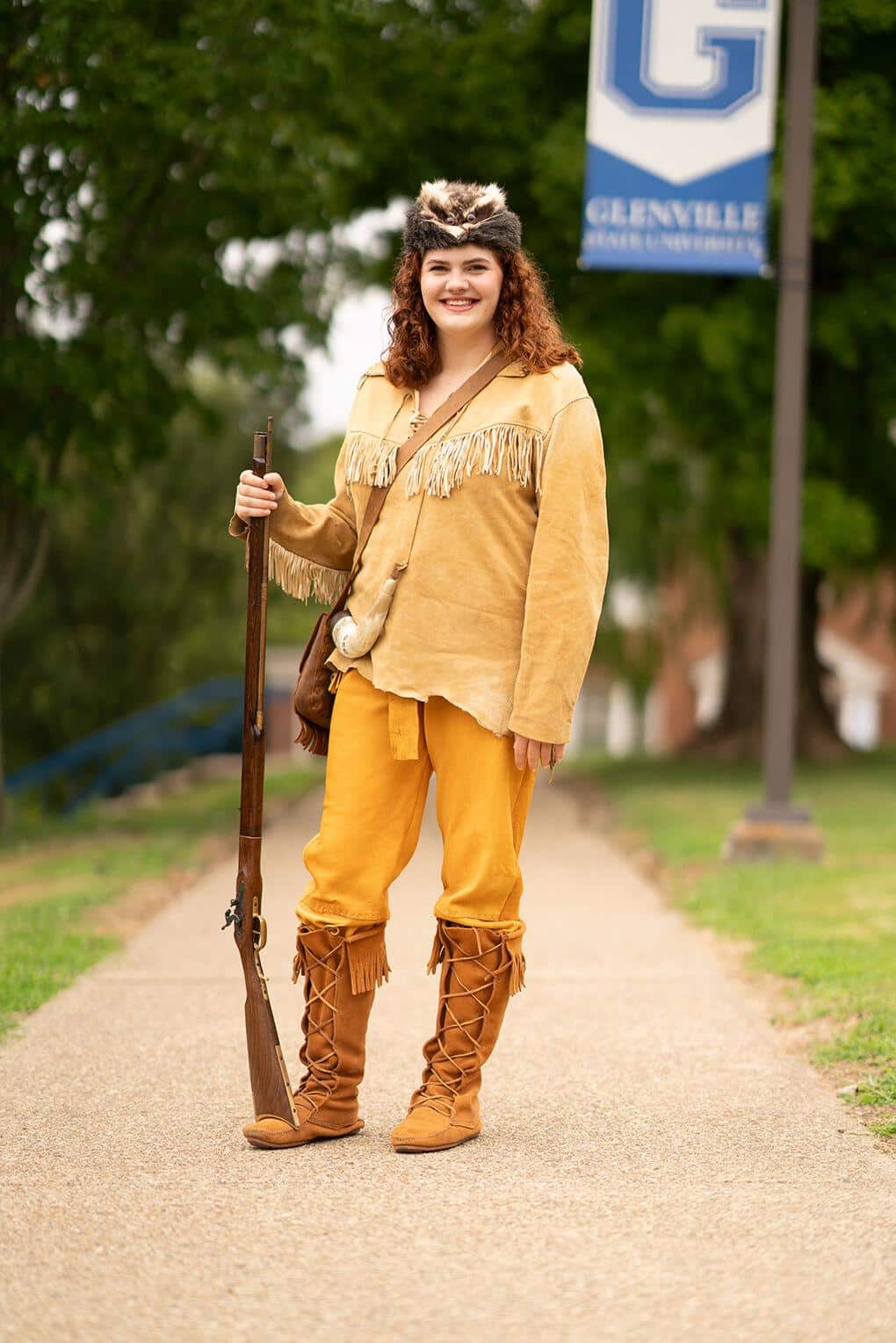 The Pioneer
Glenville State University is thrilled to introduce Kyla Lovejoy as the new Pioneer Mascot, embodying the spirit, energy, and pride of the university's vibrant community.  Selected after an extensive and competitive search process, Kyla Lovejoy, a native of Chloe, West Virginia, emerged as the perfect embodiment of the university's values and traditions. With a strong commitment to representing Glenville State University with enthusiasm, Kyla is poised to become an exceptional ambassador for the university, both on and off the field. 
Corporate Best Use of Brand
Specific to corporate mascots where corporations use their mascot to positively enhance their brand to the public.
Champ the Party Animal -  Party Movers of Chicago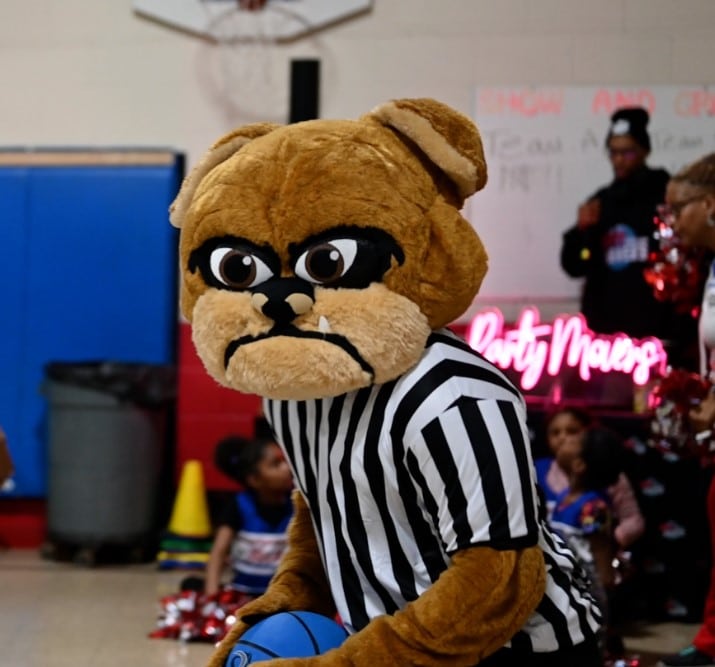 Champ the Party Animal is used to visit schools to encourage and motivate children. He also specializes in working people with special needs as he also is a representative of PARTYS FOUNDATION which is a non-profit organization that Promotes Autism Awareness & Recreation for Teens Youth & Seniors. Vote for Champ as he loves to crash parties!
Diamond - Diamond Pet Services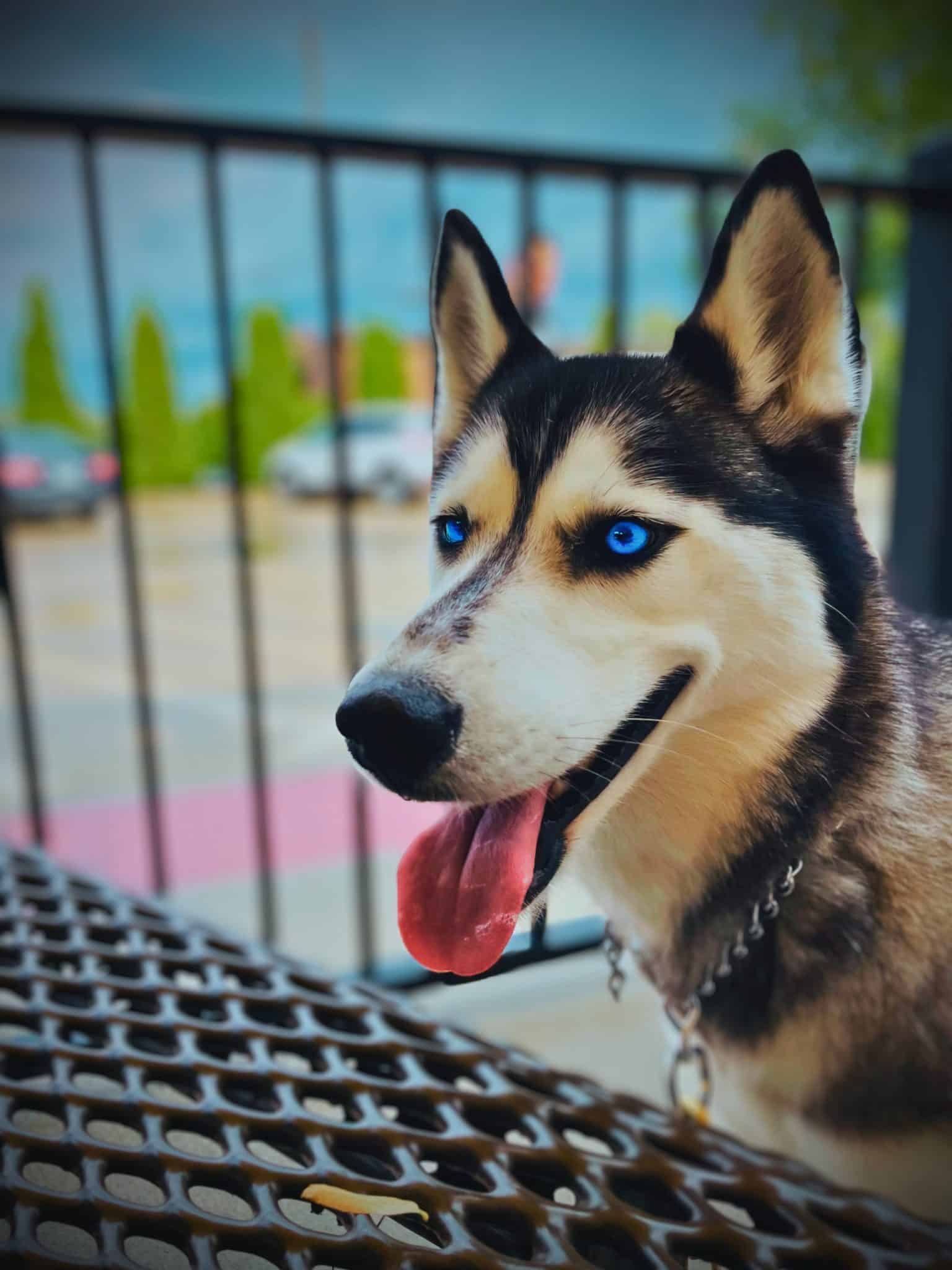 Diamond is our beloved mascot and inspiration behind opening up Diamond Pet Services this past year. She enhances our brand by spreading joy in creating unforgettable moments for both people and animals. 
With her playful, loving and friendly demeanor, she embodies the companies commitment to providing exceptional pet care services. Diamond's presence at events and in the community showcases the brands dedication to building meaningful connections and fostering, a positive pet-owner relationship.
Diamonds impact goes beyond, just being a mascot her resilience shines through even in the face of challenges like her seizures. Despite this, she continues to bring joy and comfort to countless lives.
Diamond's strength and unwavering spirit is displayed as she overcomes these obstacles. Let's rally together and give Diamond the recognition she deserves.
Vote for Diamond and experience the magic she brings to the world of pets! Let her light shine bright like a Diamond! 
Flurry - Great Bear Management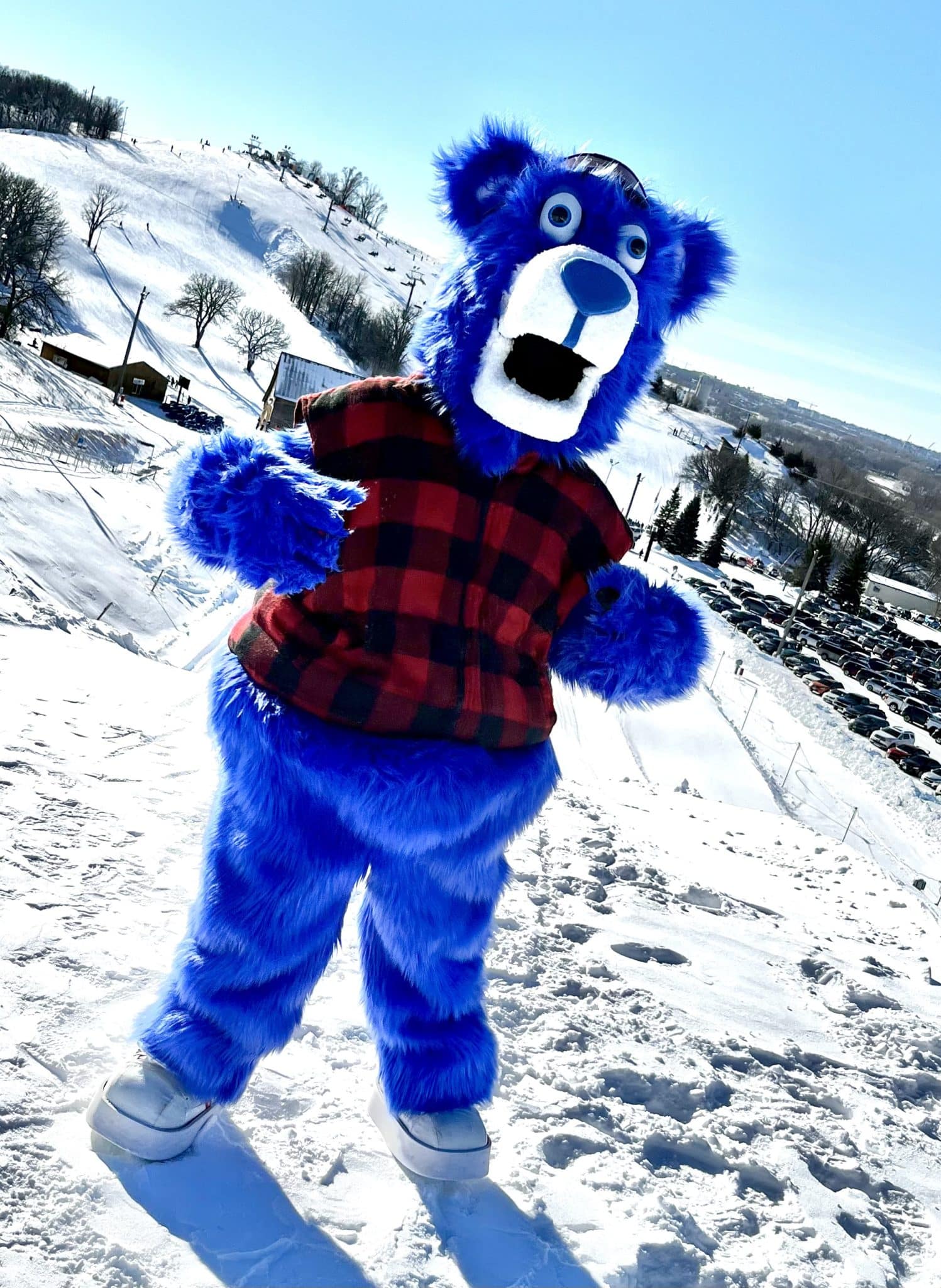 Flurry was created to appeal to all ages, to tell stories, to have fun with a sweet, yet spunky, personality and represent the spirit of Great Bear both at the ski mountain and at community events. Flurry is fantastic with the littlest of beginners on the Bunny Hill – pizza and French fries are his favorites – but in a very different way! He flies down the tubing hill with the speed demons and skis all over the hill with the best of them. Black Diamond? No sweat! Flurry has become an easily-recognizable representative of Great Bear. A great big blue bear — with spirit! We utilize Flurry in our social media and he spends time all winter at Great Bear and also appears at area community events, parades and more.
Jacker the Bear - Triple Crown Sports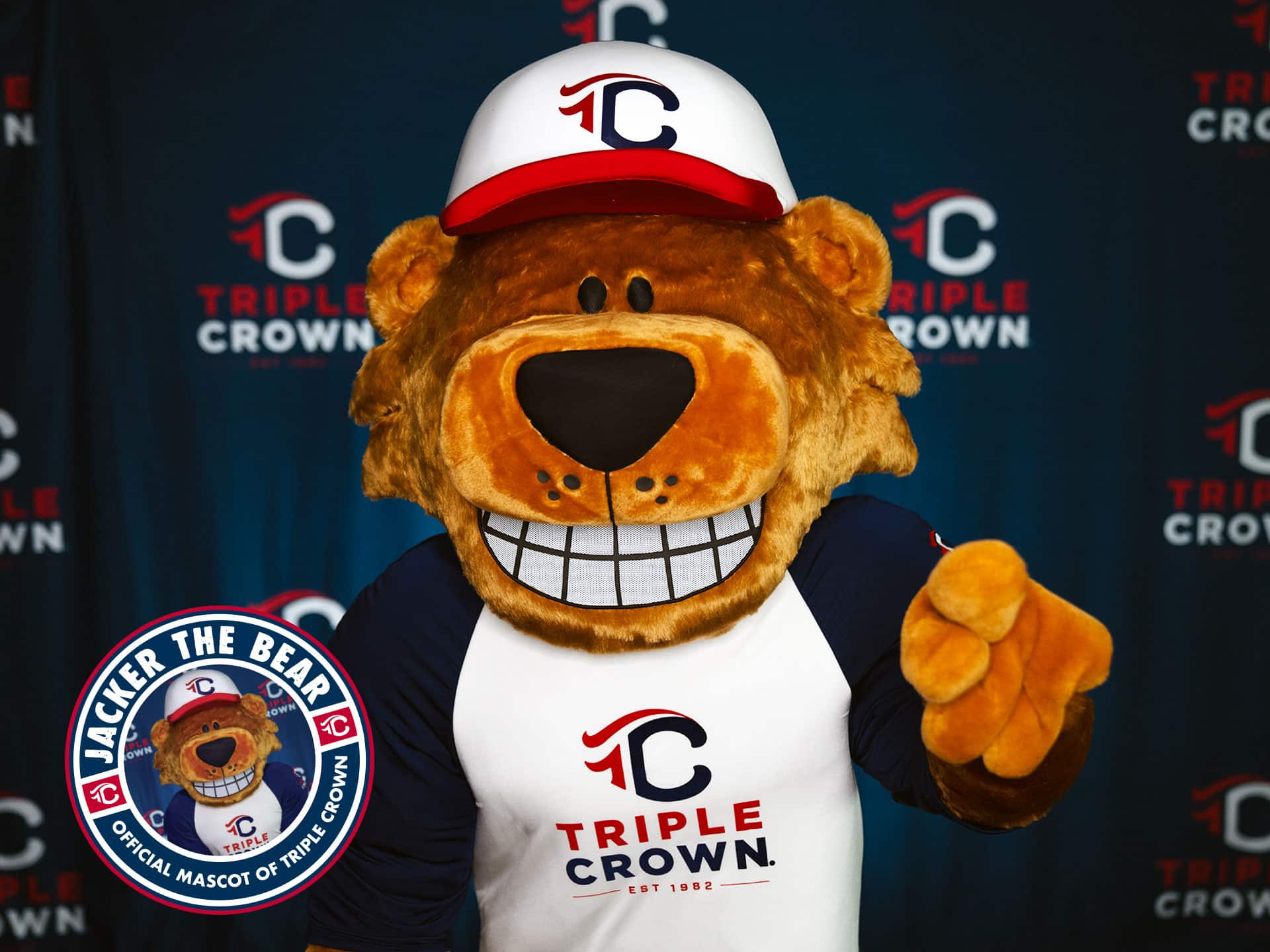 The Bear first appeared in the company's adult slowpitch softball promotional push back in the 1980's as a fearsome muscle-bound home-run hitting machine. Originally a cartoon drawing perfectly built to "jack" the ball over the fence, he continued to bulk up as the health-and-fitness boom captured the imagination in the 1990's.
After stepping away and enjoying decades of peaceful hibernation in the Colorado mountains, Jacker returned in 2023 to promote multiple TCS events in our youth baseball and softball divisions. He has been the featured talent in multiple videos produced by TCS, adding his somewhat pushy but humorously lovable personality to the mix of people in the office. An immediate hit with customers upon his return, Jacker then hit the road and appeared at events around the country, adding his spark and flair to TCS' festival and convergence moments in Omaha (the 650-team SlumpBuster youth baseball event) and Denver (the 1,100-team Colorado 4th of July softball event), among other locations.
Jacker reflects Triple Crown's energy and passion to connect with clients and helps us prioritize the sense of fun that is still a priority at events, even as intense competition is a fact of life in youth athletics. His videos also connect people to the human element found at Triple Crown Sports, allowing us to laugh at ourselves and with others as we go about our daily tasks. Jacker deserves your vote for "Best Mascot" because he embodies the company's desire to enjoy every moment as we work together to make youth sports as uplifting an experience as possible.
Specific to mascots not affiliated with a professional sports team, college, high school, or corporation. Mascot program that sets itself apart in all that it does as compared against its peers and other affiliated programs.
Chaz the Party Gorilla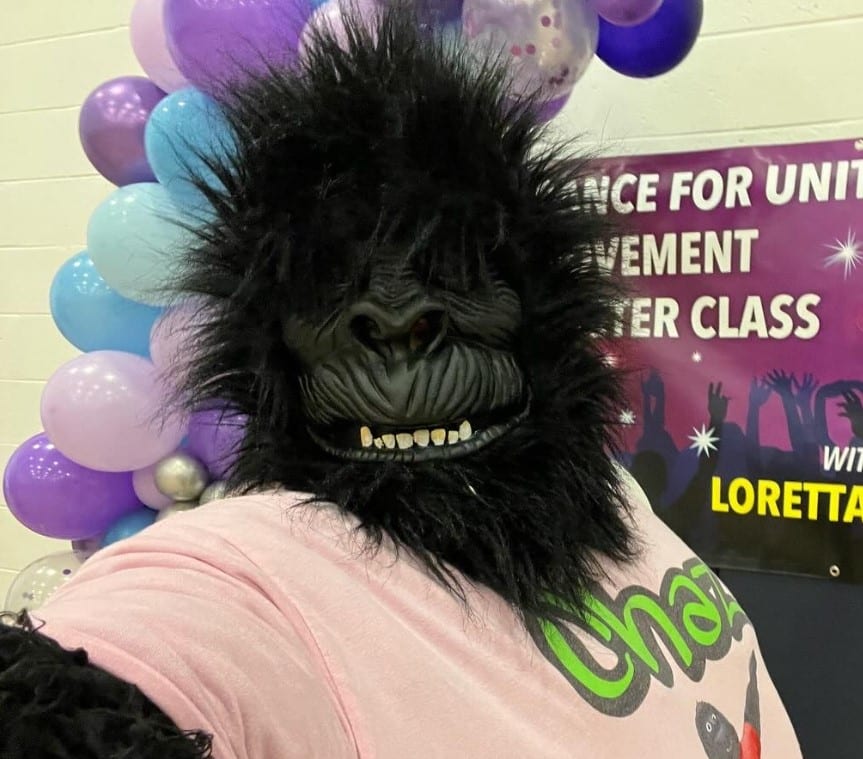 Chaz The Party Gorilla was created to promote a healthy lifestyle and help bridge the gap between young and older communities. 
He promotes dance fitness by attending fitness events, participating in various charity related fundraisers and going live on social media. 
Funkey Munkey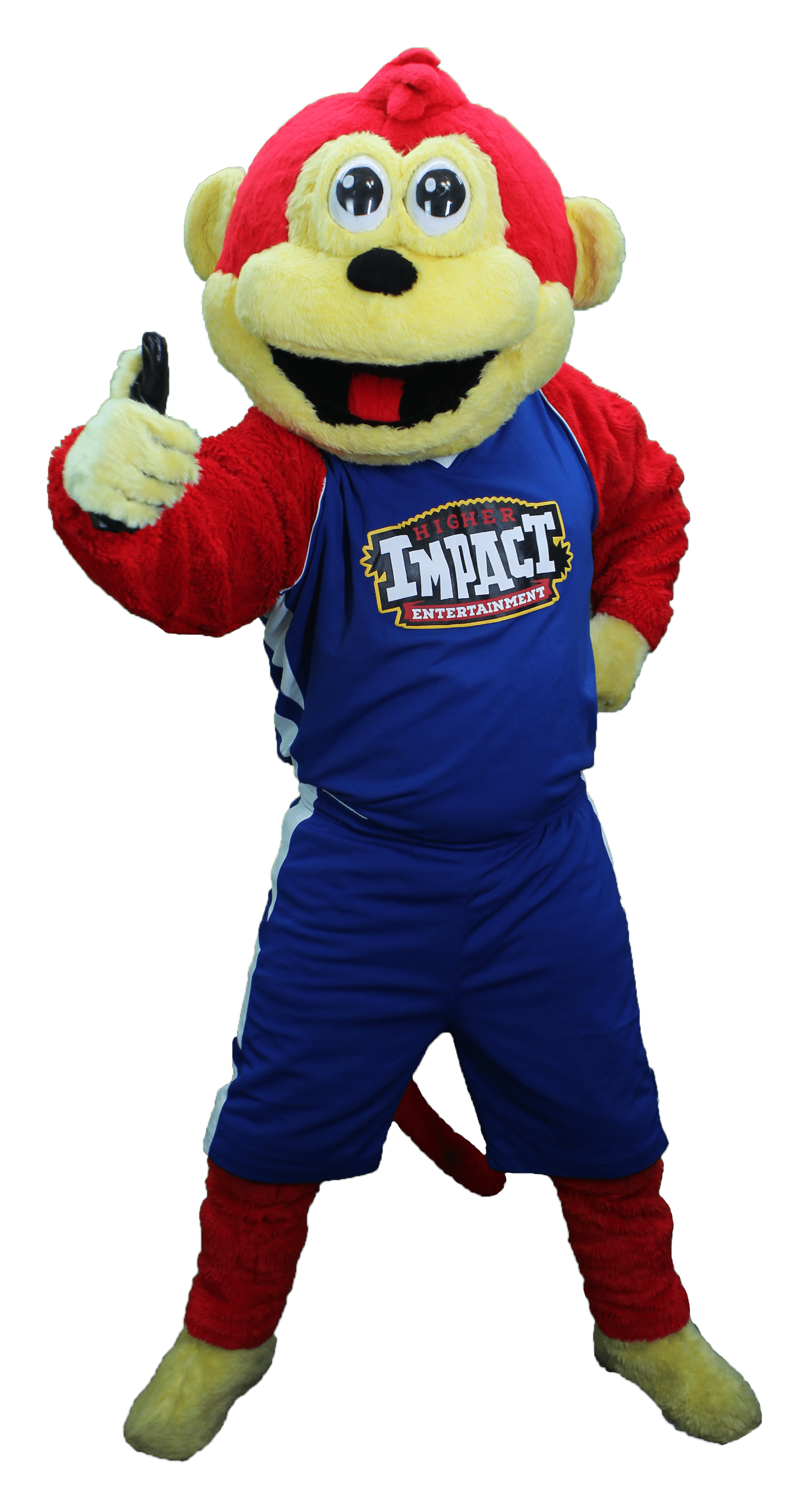 Funkey Munkey undoubtedly deserves to be nominated into the Mascot Hall of Fame for several compelling reasons. Since 2011, this lovable and vibrant mascot has consistently demonstrated its dedication to both entertaining and educating communities
YoJo!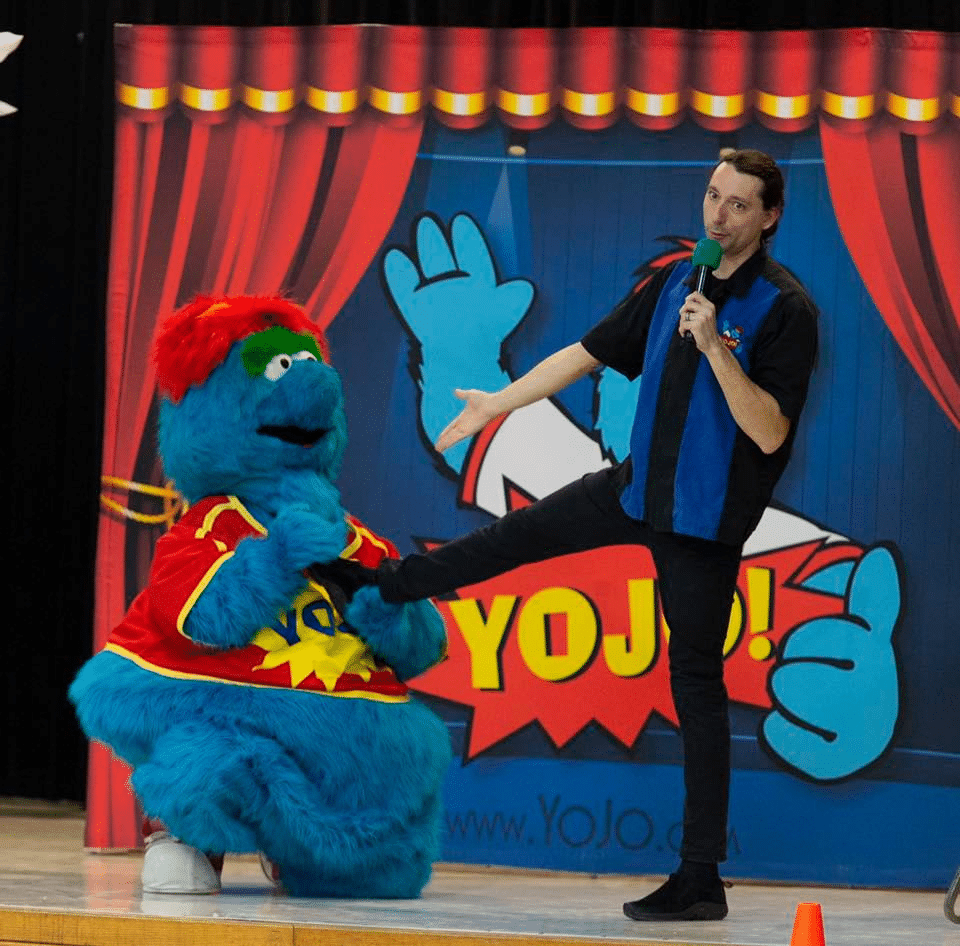 The YoJo Show!
YoJo's claim to fame is that he is the star of the most successful mascot-based school assembly program – Ever! He has performed over 4,700 "Hilariously Educational" assembly programs to students nationwide. (Over 50 shows just this past October!)
YoJo's enormous popularity among elementary schools is because he uses top-notch mascot comedy routines to teach important lessons on Reading, Health & Fitness, Test-taking strategies, and Anti-bullying skills.
Vote YoJo for best independent mascot and visit www.YoJo.com to learn more about this fuzzy phenom!