2023 Mascot Hall of Fame Nominees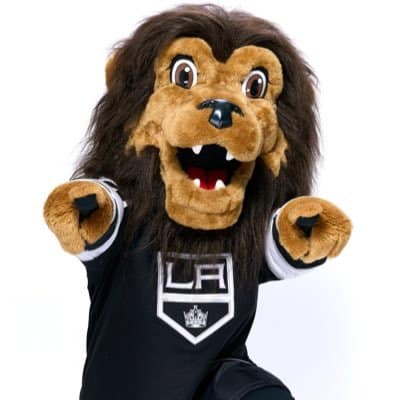 Bailey the Lion is the King of the NHL who is lively, energetic, and family friendly Mascot of the LA Kings. You can catch Bailey at all LA Kings games banging his drum starting our "Go Kings Go!" chant!
Bailey has a long history with the LA Kings, originally being introduced in 2007 and cheering the Kings on through their first two Stanley Cup championships. Bailey wears number 72, "because it's always 72 degrees in Los Angeles."
Bailey was named in honor of Garnet "Ace" Bailey, the team's Director of Pro Scouting who was aboard United Airlines Flight 175 from Boston's Logan Airport on September 11, 2001. Bailey wears an "AM" patch on the left side of his chest in honor of Ace and Mark Bavis, who were both a part of the LA Kings organization. Bailey the Lion continues to honor the legacy of "Ace" Bailey through his work with the community and the Kings Care Foundation. 
Bailey participates in over 200+ community events throughout the year including visits to  Children's Hospital of Los Angeles, Ronald McDonalds House, PanCAN, YMCA, and many other community events. Bailey also attends local schools and libraries year-round in Los Angeles County reading "B is for Bailey" a LA Kings children's book. 
2014 Awarded Most Awesome Mascot by Cartoon Network
2017-2018 ESPN ranked #1 Mascot of the NHL
2018-2019 ESPN ranked #1 Mascot of the NHL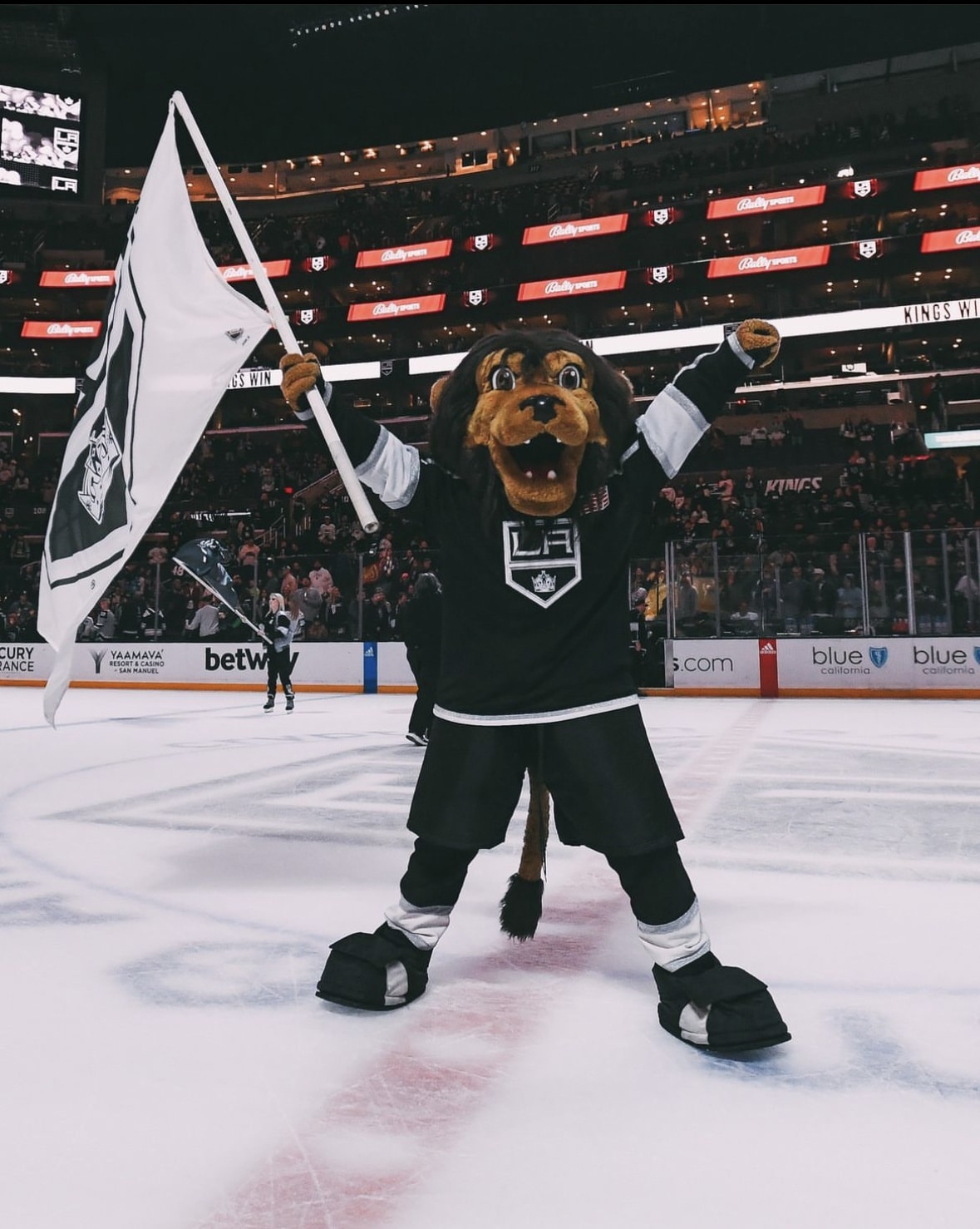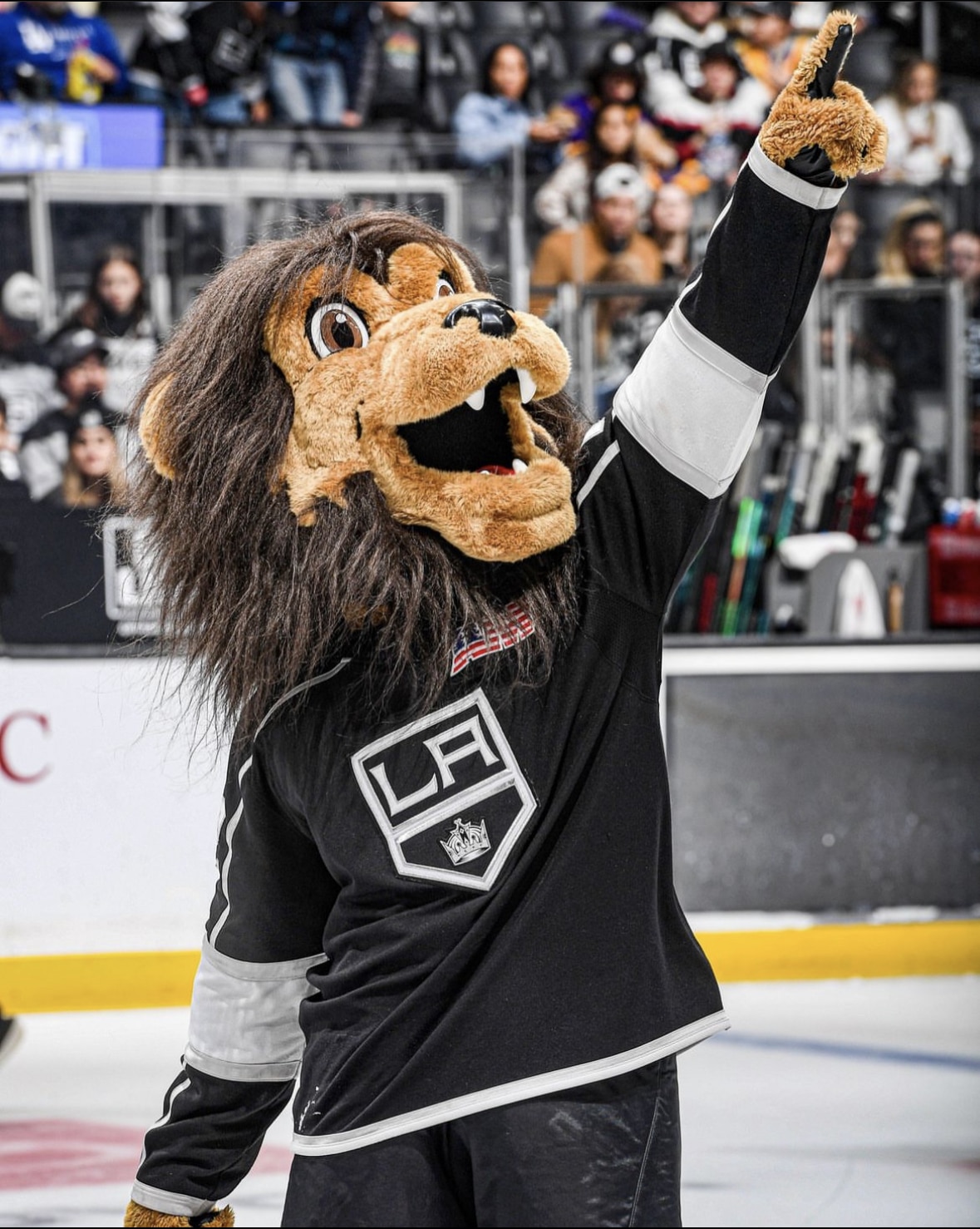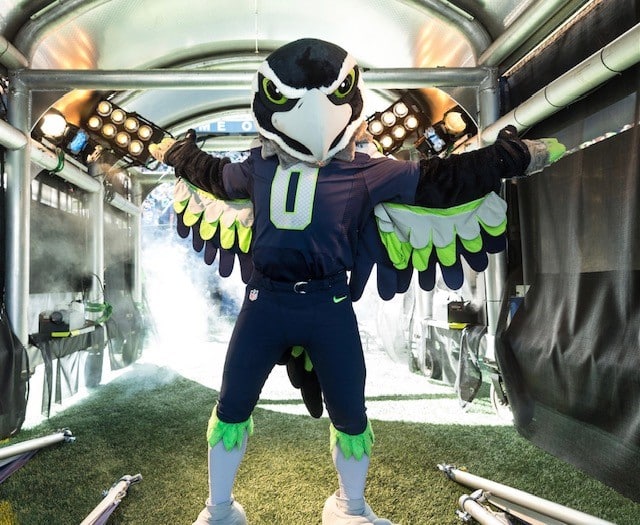 BLITZ has been a staple in the Seattle Seahawks organization for 25 years. He is imbedded in the community every year averaging more than 400 events per year. BLITZ is a vital part of Gameday when it comes to entertaining the fans as he is incorporated into skits, on-field presentations and general mascot shenanigans throughout the games. We take an immense amount of proud in creating memorable moments for many of our fans that may be having a difficult time in life and more often than not that is through interactions with BLITZ. BLITZ spends his time away from games visiting schools in community, hospital visits through out the area and 100's of other community events.
In 2020 BLITZ was made a Seahawks Team Captain by Coach Carroll and is now going into his 4th season as a captain of the Seahawks. Two years ago BLITZ launched his Kicks4kids campaign and through that campaign BLITZ has donated more than 5,000 pairs of shoes to kids in need throughout the Seahawks community. In 2022 BLITZ was awarded the NFL Mascot of the Year and the NFL Mascot Anchor in the Community Awards as voted on by the NFL mascots.
Buzz - Georgia Tech (NCAA)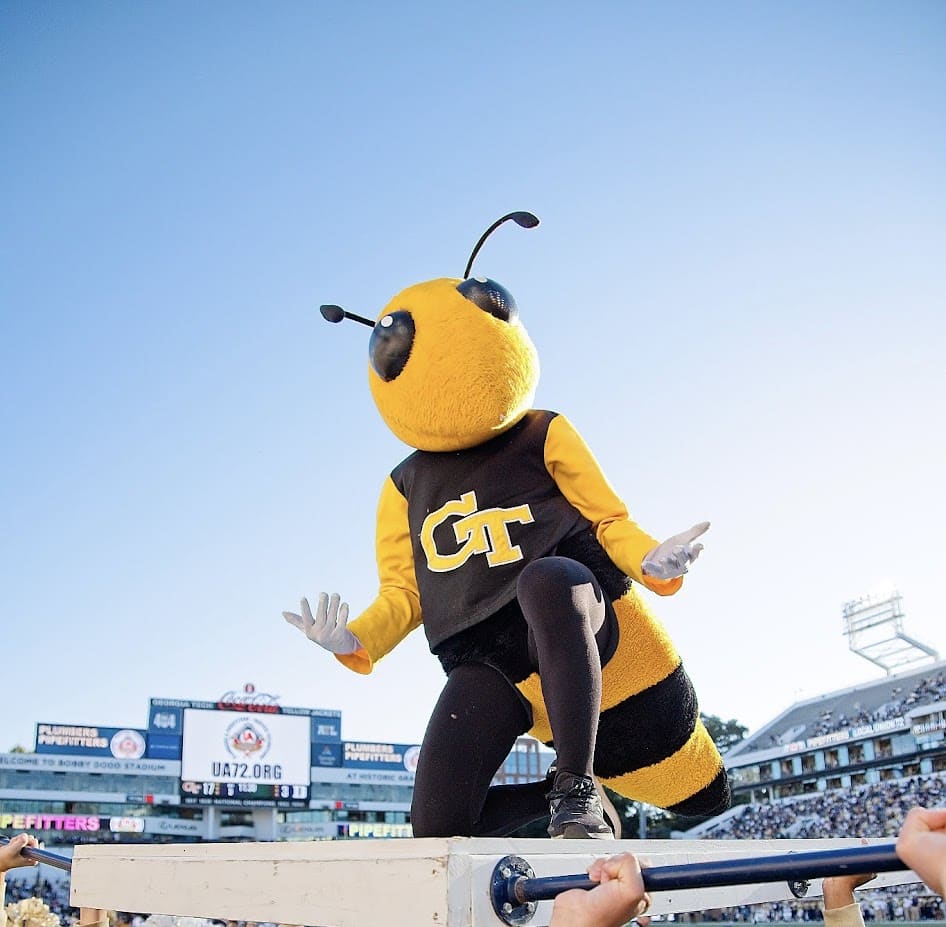 Buzz is a fixture of Georgia Tech and collegiate athletics. The idea of Buzz began in 1972 when Judi McNair constructed a Yellow Jacket costume, and in 1980, Buzz was made the official Georgia Tech mascot after Richie Bland ran onto the football field (without permission) during a pep rally. Since then, Buzz has been portrayed by dozens of students, and he remains an official student-athlete and member of the Georgia Tech cheer team. Buzz is an essential member of the Georgia Tech community for promoting school spirit, spreading positivity, and representing Georgia Tech to a national audience.
Buzz is athletic and fearless. From climbing over the stadium, stealing concessions, or crowd surfing, Buzz can do anything. Buzz is mischievous and likes to pull pranks, but he is extremely dedicated to his fans. He always stops for a photo, and he's constantly giving high fives, fist bumps, and hugs. He loves to dance and is known for his signature stinger shaking. Buzz is full of energy and never stops moving.
Buzz attends all campus sporting events and is central to many gameday traditions including conducting the band at every ¾ mark in a game, beginning pregame activities with a suicide front flip, and performing skits throughout gameday. Outside of athletics, Buzz is a very active member of the Georgia Tech community. Each year, Buzz attends around 300 events on and off campus in addition to GT athletics events. These include campus engagement events, alumni galas, corporate mixers, and charity events. Every April, Buzz competes in Daytona Beach, Florida in the National Cheerleading Association's mascot division (where he placed first this 2023 season).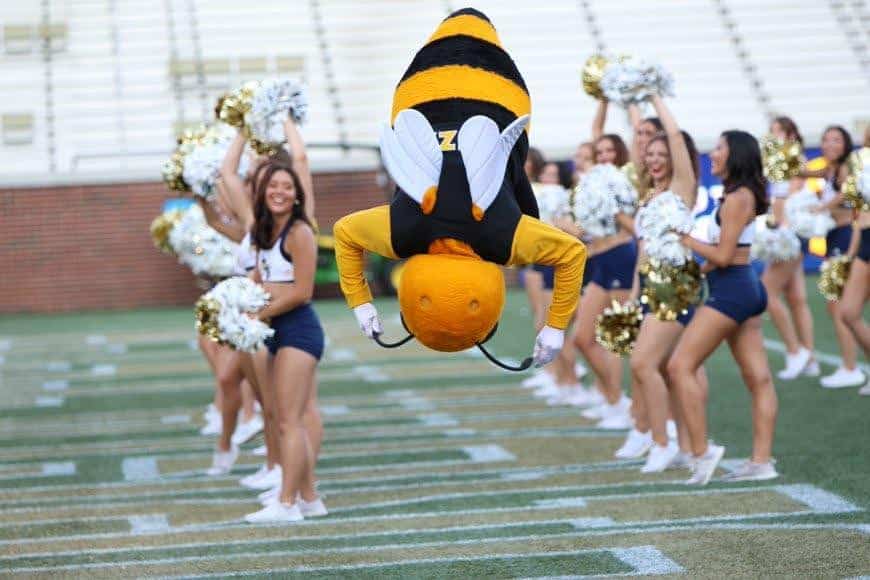 Cozmo - LA Galaxy (MLS)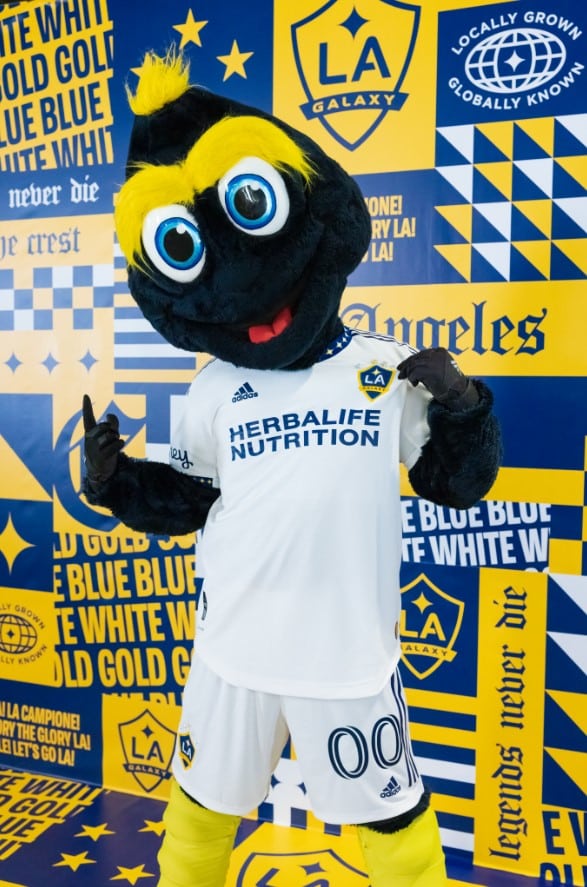 While on the search for the perfect Galaxy, Cozmo landed in Carson CA. ON June 7th, 2003. After finding out Cozmo could not play for the club, he received a millennium contract and has been the mascot of the team ever since. Cozmo has since become a member of the community and has made himself right at home in Southern California. Cozmo has become a huge hockey fan after becoming friends with his close buddy Bailey. Cozmo enjoys wrestling, the beach, skateboarding, and more than anything, tacos.
Cozmo has been the mascot for the LA Galaxy since 2003 and is now a 4-time MLS cup champion. Cozmo has been ranked in the top 5 MLS mascots and was voted top mascot by Fox sports in 2014. Cozmo has been featured in "SportsCenter" commercials, has received community awards, and been recognized by partners for his dedication to the over 100 public appearances annually.
The Cozmo program was created in 2003, and since then he has been recognized not only in the community, and with local partners, but by the MLS, other professional sports leagues, and teams worldwide with and without association of the LA Galaxy.
Cozmo has become a staple in the community with over 100 public appearances annually both with partners, and non-affiliated associations. The program is involved with the Galaxy's 25-50 annual youth programs throughout the extended region with kids ages 5 to 15. The LA Galaxy is partnered with Dignity Health and are involved in continued support including hospital visits, clinics, and donation programs with schools, and camps. Cozmo was heavily involved with food, and clothing donations to people in need during the COVID-19 pandemic with some of our local partners, and with the club itself. Our program has recently started working with the "MLS Greener Goals" program which visits local schools in Carson assisting with the design, building, and installing of outdoor gardens on school campuses. The Cozmo program has been the gold standard in MLS and has been the blueprint for other mascot programs coming into the league.
Cozmo is a four-time MLS Cup champion with the LA Galaxy and continues to strive to improve every season in every aspect of the program within the organization, and communities throughout California on a regular basis.
The Cozmo program is ready to add "Hall of Famer" to its title and continue to strive to the highest standard for years to come.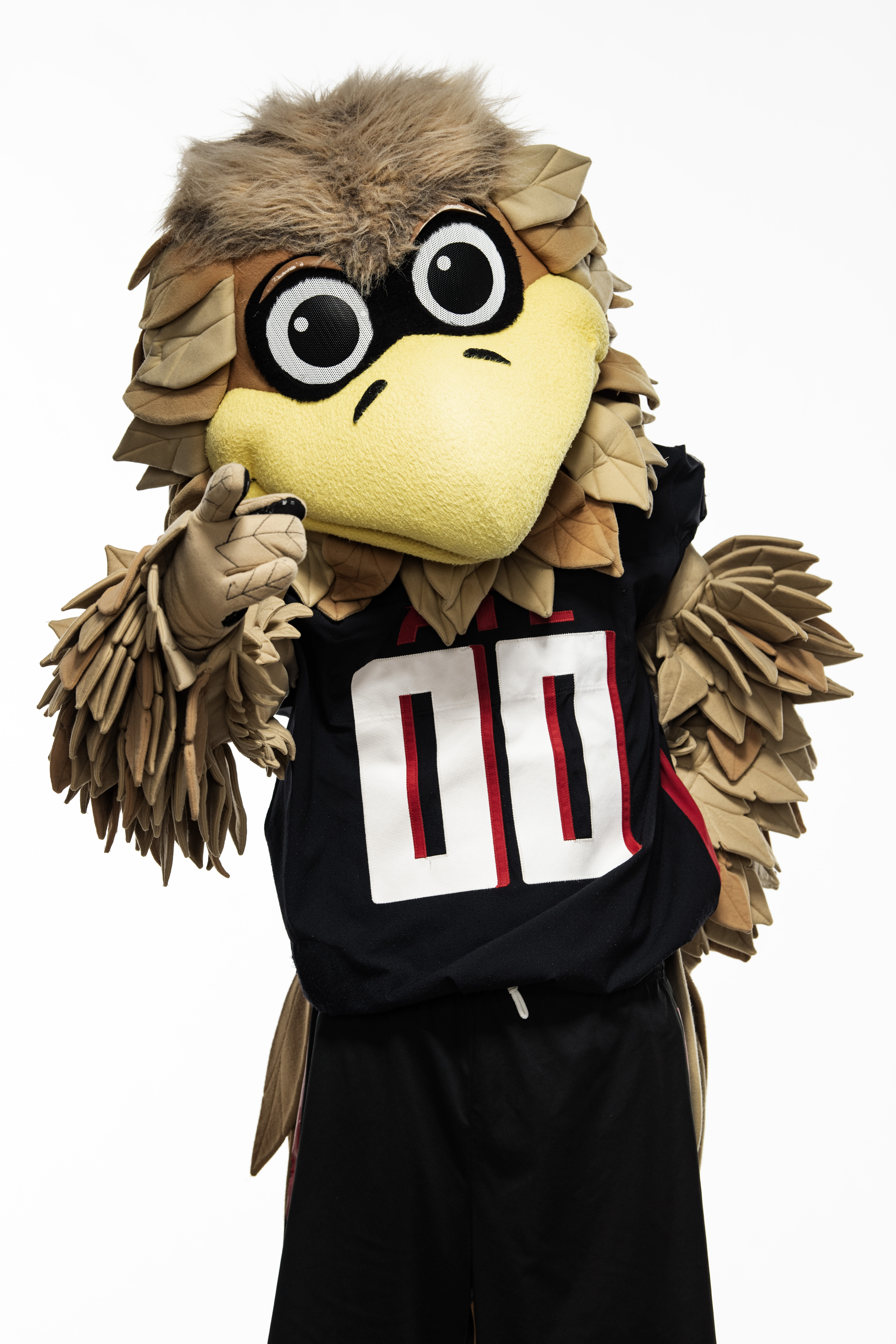 For over 45 years, Freddie has created fun and excitement around the world, and his antics have inspired, educated, and entertained millions. From Las Vegas to Alaska, Korea to Egypt, United Kingdom to Guam, Freddie can be found spreading good will with smiles, high fives, and hugs. Whether it be game day at Mercedes-Benz Stadium, on a military base with a USO Tour, or at a school show in Georgia, Freddie is the spark that ignites any event. Although Freddie's look has changed over the years, his spirit and character have remained a steadfast beacon in the community. As a true anchor in the community, Freddie has used his platform and status to help elevate and enrich the lives of thousands. When not on the road, Freddie's favorite place is performing in Mercedes-Benz stadium where he is a true rock star!
2017 NFL mascot of the Year
2017 NFL Video of the Year
20+ Pro Bowl Selections
17 USO Tours
Opened 2 Stadiums
Hosted a Super Bowl, attended 2 Super Bowls
Bungee jumped from the top pf Mercedes-Benz Stadium
Dozens of commercial over 49 years
100K followers across social media
Over 1 million in audiences every year
1000+ schools shows
2011 Key Tweet of Atlanta
Check Out Freddie's own website here.
Goldy Gopher - University of Minnesota (NCAA)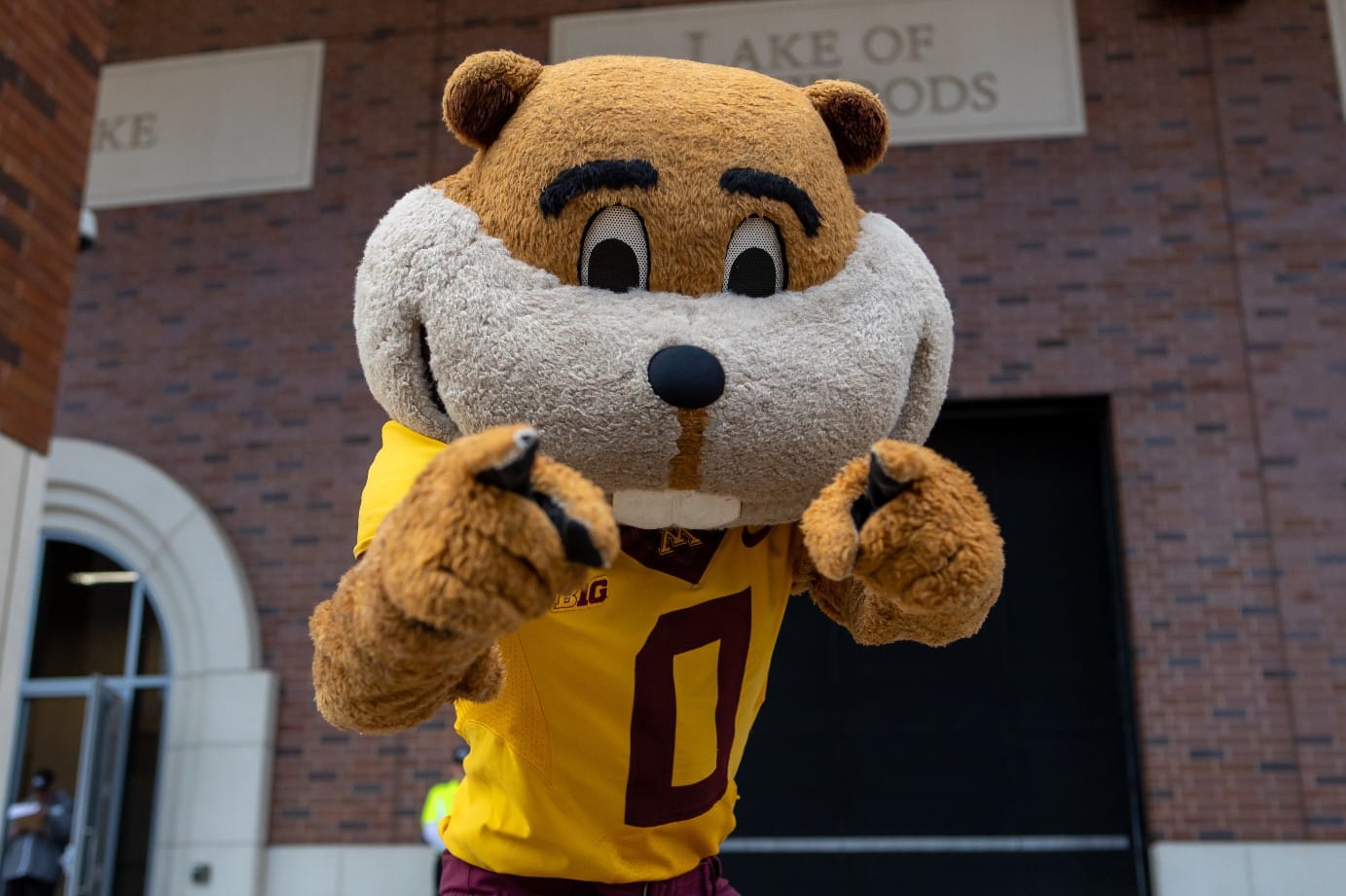 The University of Minnesota's four-time Mascot National Champion Goldy Gopher was "born" in 1952 but has never come close to growing up. He's a fun-loving child at heart – one reason he interacts so well with kids. Of his 600-plus appearances each year, nearly all involve children, from kids at the Minnesota State Fair to regular time spent with families at charities, such as Hope Day with Masonic Children's Hospital patients and families for bouncy houses, games and more. 
This 5'-13" gopher is always eager to show off his ability to spin his head 360 degrees, especially when students or children chant for him to. Goldy is all about improvising and playing with what's around, whether turning his long, bushy tail into a guitar or a hockey stick into a horse – setting an excellent example for kids to use their imaginations 24/7. His silly antics, ability to poke fun at himself and "fail" or be "scared" in a variety of circumstances – yet still be happy and eager to try again – imparts an important lesson for kids of all ages. As does his eagerness to cheer on people no matter what they're doing, whether students walking to class, adults riding a bus or children attempting an obstacle course. He celebrates snow. He celebrates sun. He celebrates rain. He's willing to try anything, from water skiing to riding a scooter with his head turned backward. 
On those rare moments Goldy takes a nap, UMN has two permanent statues of Goldy that people flock to. He maintains a Facebook page and Twitter and Instagram feeds so Gopher students, alumni and Gophers-to-be (or just Goldy fans around the world) can find cheer year-round. He not only represents the University of Minnesota but is a symbol of and inspiration for the entire state.
UCA National Champion Mascot in 2011, 2013, 2017, and 2018
Capital One All American Mascot Team: 2004, 2007, 2010
Most credits completed in UMN history
Most credits failed in UMN history
Star Tribune Best Minnesota Mascot 2016 
Wears pants in public
Voted least likely to fall asleep during nap time
300x the size of a regular, non-golden, gopher
Aspirations to be first to achieve one million head spins
Never been seen in the same room as Batman
Jaxson de Ville - Jacksonville Jaguars (NFL)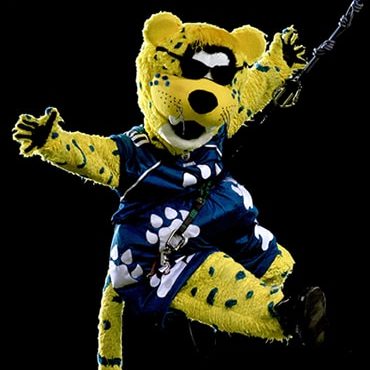 For 27 years I have held the title of self-proclaimed greatest mascot to ever breathe air…
It's science, you can't argue with it.
Jaxson is responsible for several NFL rule changes based on his on-field antics. Team owners and Presidents gathered at annual League meetings to put a stop to Jaxson's interactions with opposing team players and how disruptive he was to the game.
Jaxson is the only mascot in the world to perform an electrifying stunt from the light towers for every home game. He is also the only mascot to jump internationally at Wembley and Tottenham in London.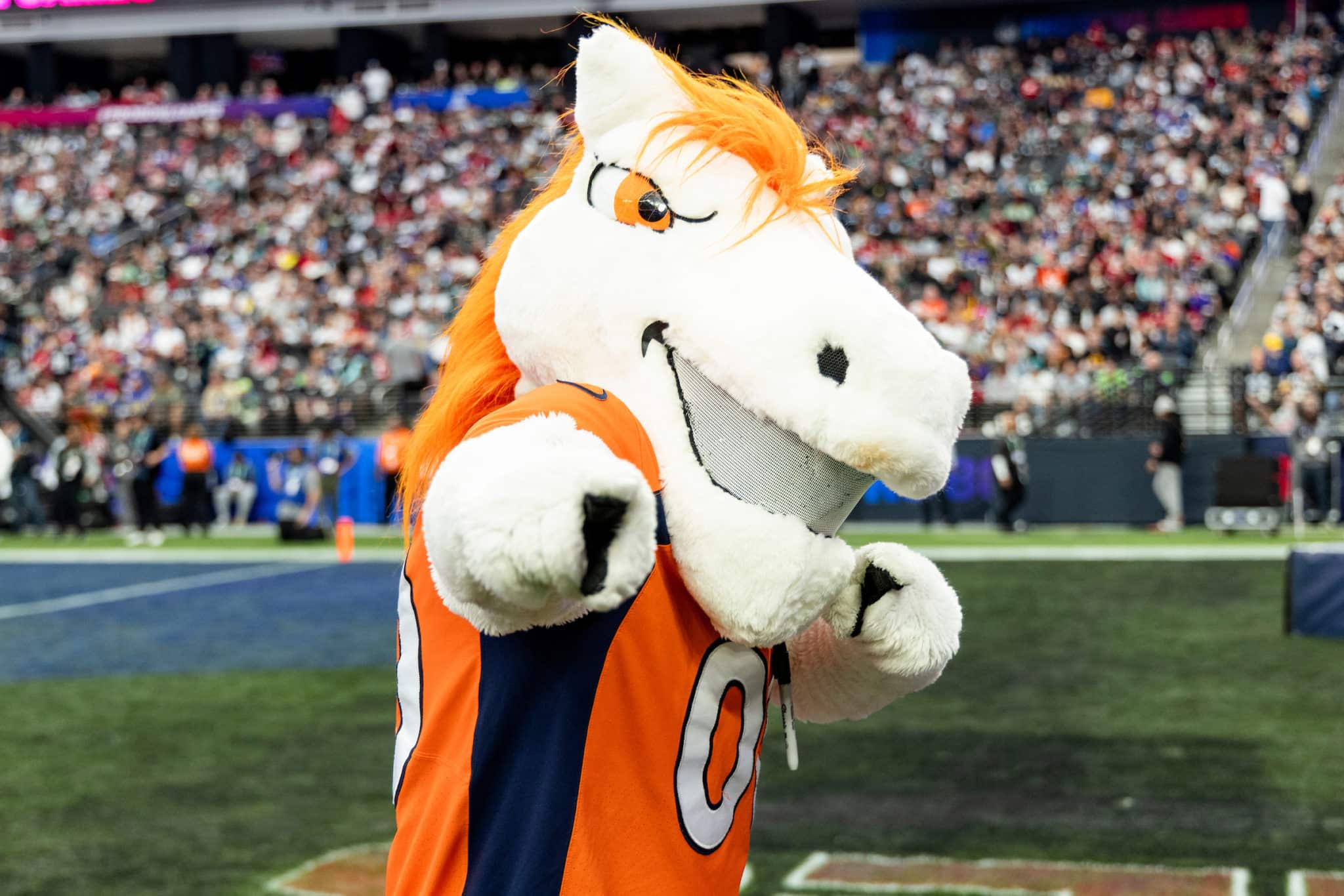 Miles can be seen roaming the sideline, crowdsurfing and on top of the massive Thundervision screen at Empower Field at Mile High. You can also catch him out in the community in Denver cutting it up with Broncos fans young and old. He's both the official Ambassador to Broncos Country in Colorado and beyond and also the Conductor of Rocky Mountain Thunder at the stadium. Miles is the link between the fans and the team. He helps transfer the energy and enthusiasm of our fanbase to the team, and shows our fans the love from our organization. He's the court jester and the biggest Broncos Super Fan.
Miles has been serving the Rocky Mountain Region for 22 years. Always connected to the community through over 15 years of Fuel Up to Play 60 School shows teaching kids the importance of eating right and staying active, monthly hospital visits to St. Luke's, UC Health Medical Centers, and Children's Hospital of Colorado. Miles continually supports the Broncos Community partners every Tuesday during the season with visits to places like The Denver Rescue Mission, The Food Bank of the Rockies and The Boys and Girls Clubs and many more.
Miles has also performed for American troops at bases overseas in Countries like Spain, Italy, Portugal, South Korea, Germany as well as Guam, Hawaii, and Alaska. He has had the privilege of representing the Broncos in support of the team in Canada, Mexico and England as well.
The Macy's Thanksgiving Day Parade, The Hong Kong Chinese New Year Parade and of course the Super Bowl 50 Victory Parade all are highlights in Miles' long career. Averaging over 325 appearances each year, Miles has become a staple not just in the local sports community, but in the entire state of Colorado and Broncos fans everywhere.
Otto the Orange - Syracuse University (NCAA)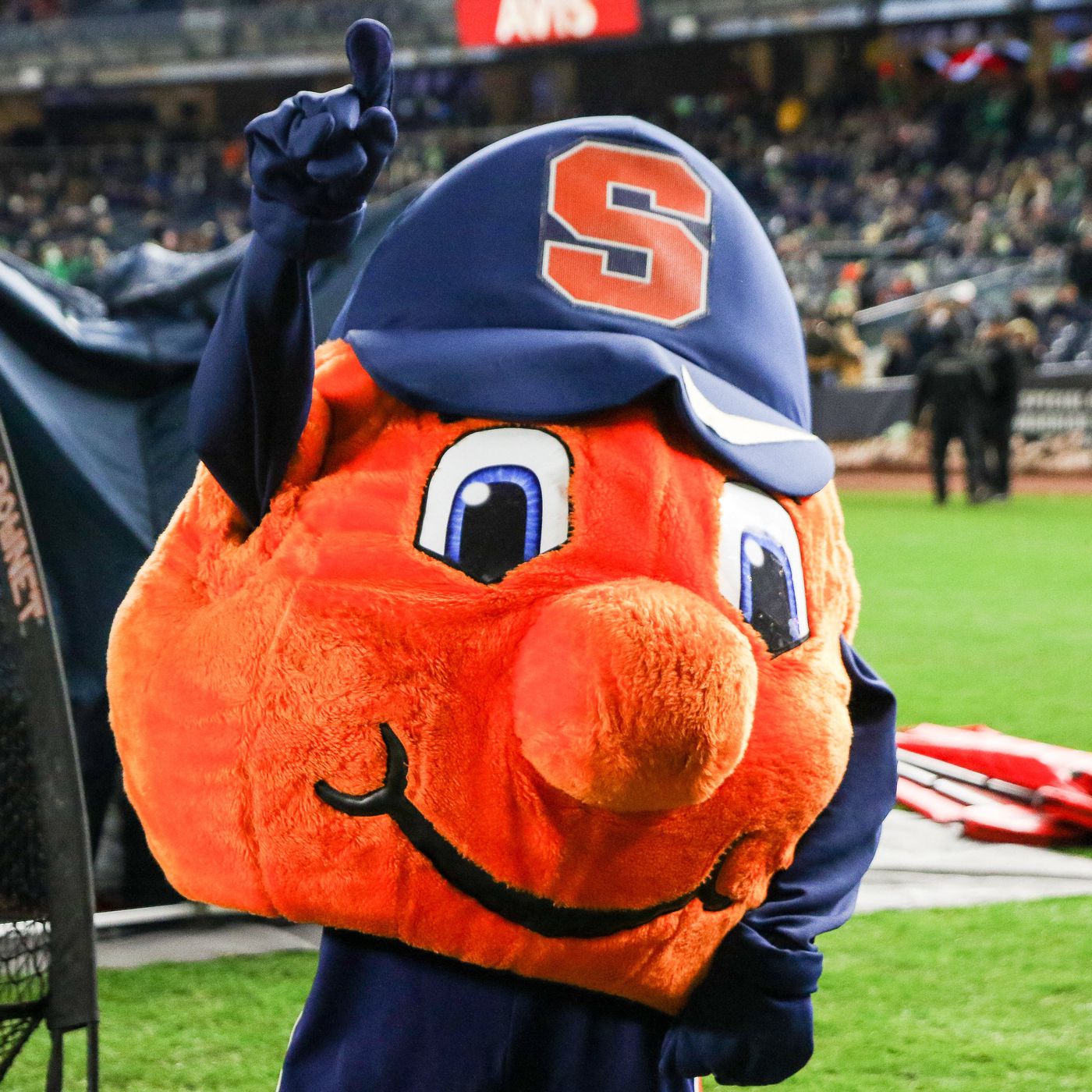 Meet Otto the Orange, the beloved mascot of Syracuse University. With their bright orange exterior and contagious energy, Otto has been the pride and joy of Syracuse fans since the early 1980s. Since Otto's debut, more than 100 team members have taken on the role of Otto, with the goal of "bringing joy to the orange community every day."
Here are a few key aspects of Otto's character:
Energetic and enthusiastic - Otto is a ball of energy, always bouncing around and getting fans fired up. Whether doing their signature dance moves, leading the crowd in chants, or just generally being silly, Otto's enthusiasm is infectious and helps create an electric atmosphere at Syracuse games and events.
Friendly and approachable - Otto is always happy to interact with fans, whether it's taking photos, signing autographs, or just giving high-fives. Otto's known for being particularly popular with kids, who love their playful personality and goofy antics.
Mischievous and curious - Otto has a mischievous streak and loves to play practical jokes and pull silly stunts. Whether they're sneaking up on unsuspecting fans or goofing around with fellow mascots, Otto's playful side adds an element of fun and unpredictability to interactions.
Passionate and dedicated - Behind all the fun and games, Otto is a dedicated and passionate representative of Syracuse University. Otto takes their role as ambassador seriously, and is always eager to promote the university, connect with fans, and support the community in every interaction.
Overall, Otto's character is a perfect reflection of Syracuse University's spirit - zesty, zany, and full of heart.
In recent years, Otto has even become a social media sensation, with fans across the country tuning in to his hilarious videos and witty tweets, always striving to bring a smile and draw a connection virtually or in person.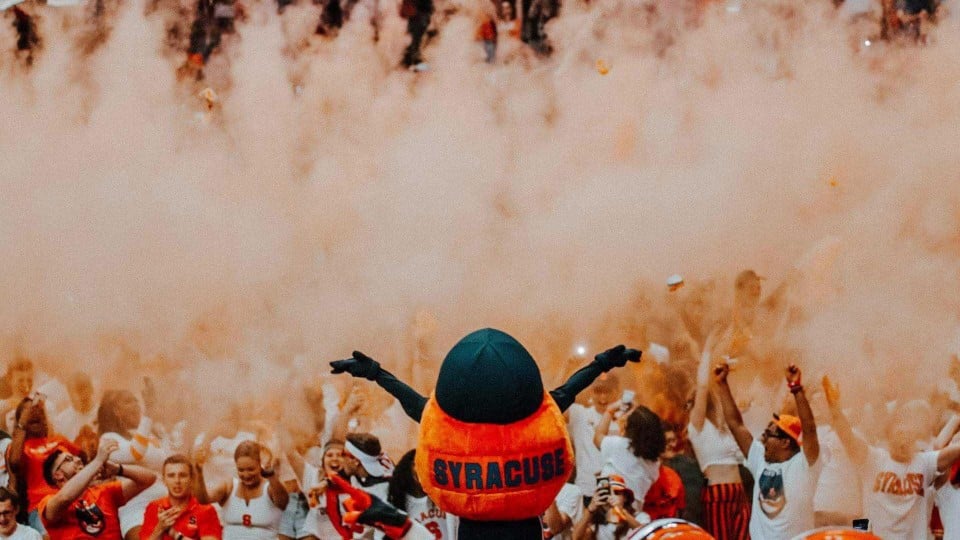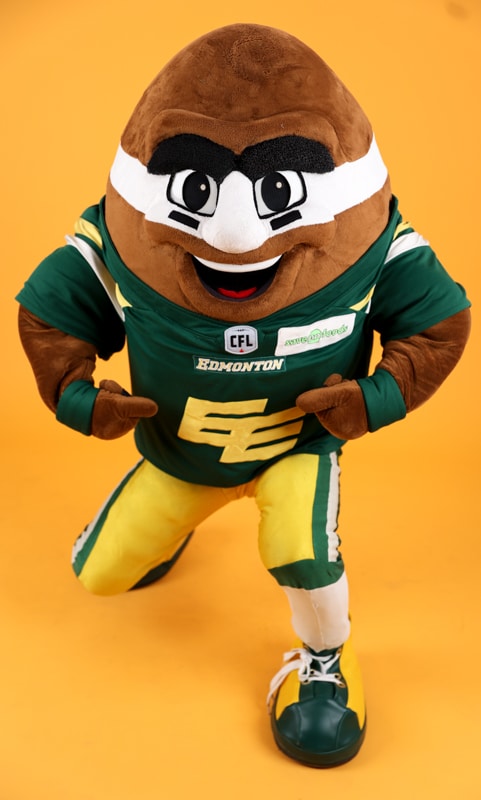 Punter was born in May 2004 as a result of a manufacturer's error at the Wilson football factory in Ada, Ohio. The workers skipped a decimal point and a giant football was created! Punter knew his dreams of becoming the biggest ball in town were oversized for the small town of Ada and the tiny fields of American football. He needed a gridiron and stadium that fit his inflated size. The CFL was the perfect fit, so he decided to ride the rails to the biggest and best stadium in the league, Commonwealth Stadium. Ever since he stepped onto the turf for the first time, Punter knew he was at home.
Since becoming mascot of the Edmonton Elks, Punter has cheered the team on to Grey Cup championships in 2005 and 2015. He has attended Grey Cup festivals across Canada, and welcomed football fans from around the world to Commonwealth Stadium for the 2010 and 2018 Grey Cup games.
Heading into his 20th season, Punter is the longest-tenured professional sports mascot in Edmonton. Since his introduction in 2004, he has been an energetic and entertaining presence on the sidelines for more than 180 Elks home games.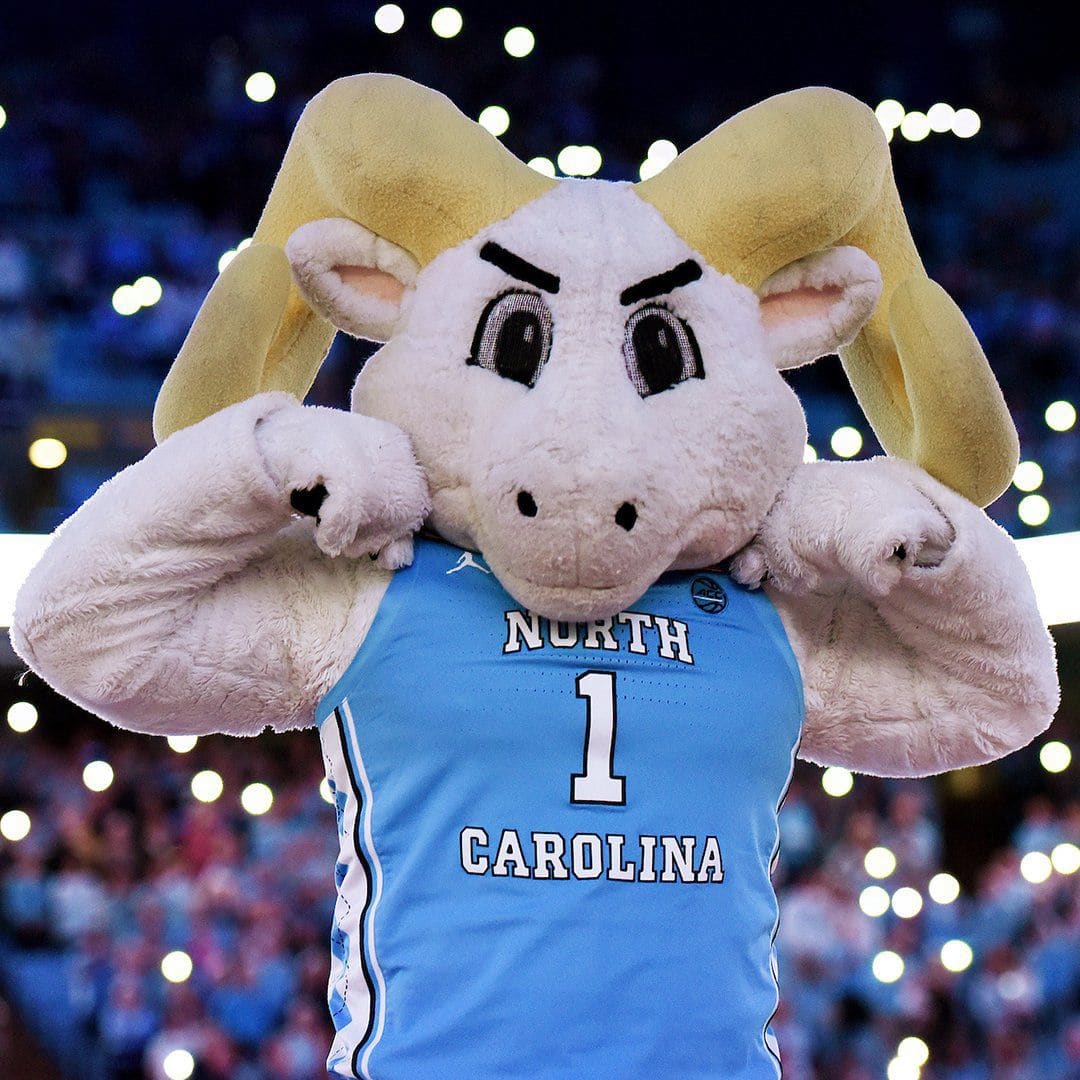 Our main man, the leading ram, Rameses came to Carolina to cheer on the Tar Heels over 35 years ago and never left! He supports the Carolina Family, across a whopping 28 varsity teams by exemplifying strong character, sportsmanship, and care for those in his community. He is a buff, overconfident ram, that primarily focuses on 2 things; cheering on the Heels and working out. Rameses values fair competition and success on and off the court. He is involved with a number of continuous service opportunities and is always enthusiastic to give back, especially to his home state of North Carolina! Each year he attends hundreds of sporting, charity, school, university, community, and private events to spread Carolina cheer and goodwill. It is a North Carolina tradition for Rameses to lead the basketball teams out of the tunnel, as well as open every football game with his guitar solo, playing the alma mater in front of a packed crowd in Kenan Stadium. Fans always look forward to his collaborations with the Marching Tar Heels band and Carolina Girls dance team.
Rameses is the BIGGEST advocate for the Jason Ray Foundation—an organization dedicated to education, community service, and raising awareness for organ donation. The Jason Ray Foundation is named in honor of a former Rameses performer, who sadly passed away while attending the NCAA basketball tournament in 2007. Rameses partakes in foundation charity dinners and golf tournaments, as well as wears a commemorative "JR" patch on his uniforms to raise awareness. Rameses is proud that he is one of the only mascots in the country that donate 100% of his charity and school appearances. Two of Rameses' other favorite organizations to cheer on are the Carolina Red Cross and UNC Children's Hospital.
Rameses is the first and one of only 3 mascots nationally to wear Jordan-brand sneakers (Rameses Jr., Hugo the Hornet). Rameses can most easily be recognized in one of his many annual national commercials. He has been a featured guest on The Tonight Show, twice (2017 and 2022). He is consistently regarded as one of the most iconic college mascots in the country (USA Today, 2021). Rameses has traveled to 12 Men's Final Fours with the UNC Basketball team, most of any mascot in that time, and has been a part of the National Championship Celebration 4 times. Rameses works nearly 400 appearances each year, the most in the state.
Slugger - Portland Sea Dogs (MiLB)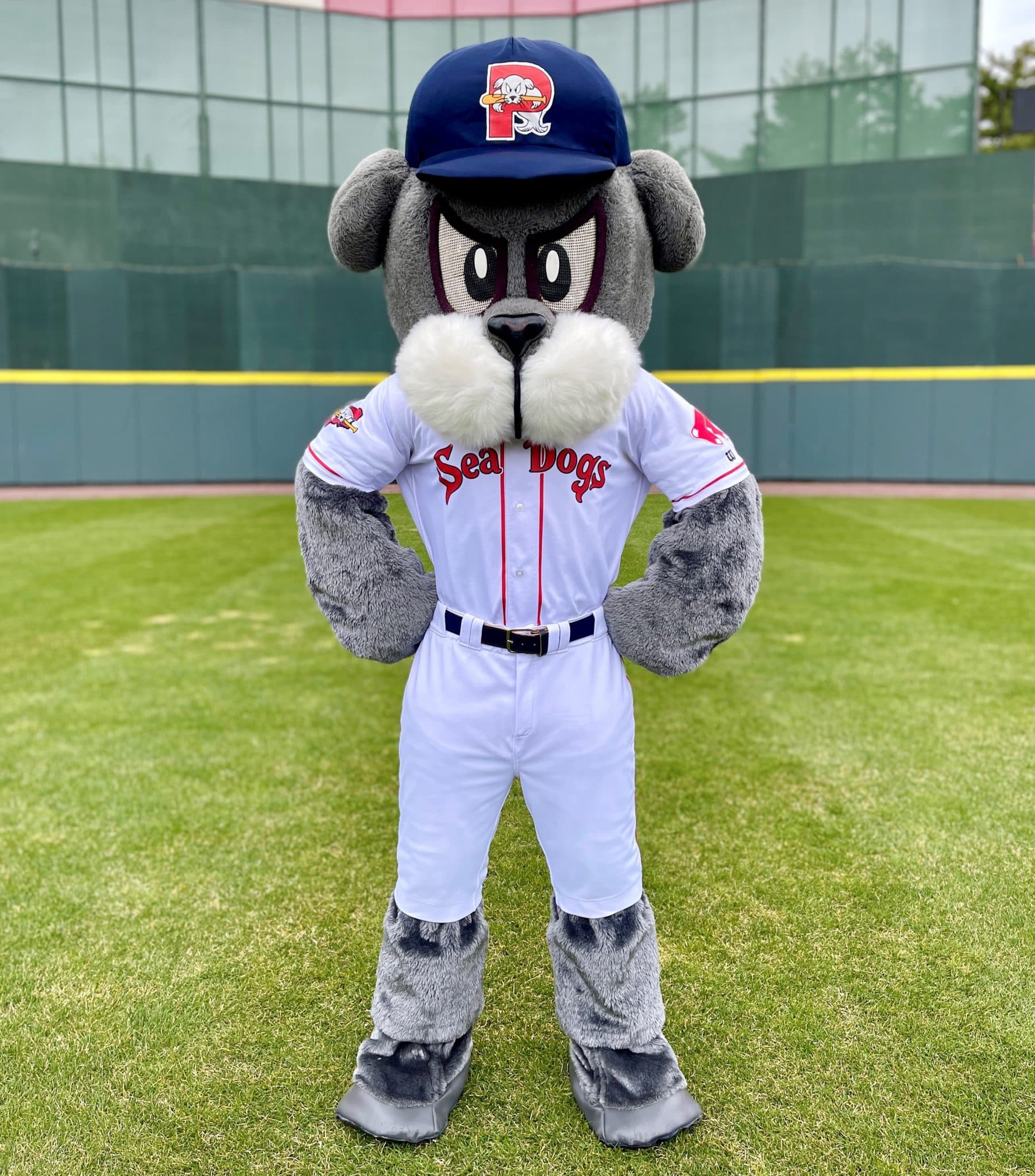 Slugger the Sea Dog was introduced as the Portland Sea Dogs' mascot on May 7th, 1994. Slugger, a grey harbor
seal, hails from the cold waters of Casco Bay. He loves baseball and the Boston Red Sox. As the Sea Dogs' Director
of Entertainment, Slugger has entertained more than 10.5 million fans, has gained national attention for his on-field
antics, and is one of the most followed MiLB mascots on social media. He adds a special element to every Portland
Sea Dogs game with skits that include dancing, flips, stunts, interactions with the fans, and general tom-foolery.
When he's not busy entertaining the crowd, Slugger can be found parading around the cities and towns of Maine,
visiting his friends at the Barbara Bush Children's Hospital, local schools, and being the "Life of the Party" at over
200 community appearances each year. Slugger loves giving back to his community and leads several programs
including Strike Out Cancer in Kids, Slugger's Reading Challenge, the Slugger Open, and the Mini Slugger Open.
Favorite Movies: "The Sandlot", "The Natural", "Field of Dreams", "Fever Pitch", and "Andre".
Favorite Food: Sea Dog Biscuits
Favorite Song: YMCA
Weight: "Healthy"
Born: May 7th, 1994, in Casco Bay, Maine
Resides: Hadlock Field
Race Around the Bases Record: 0-1928*
* Was robbed of the win on at least two occasions. Ran under protest.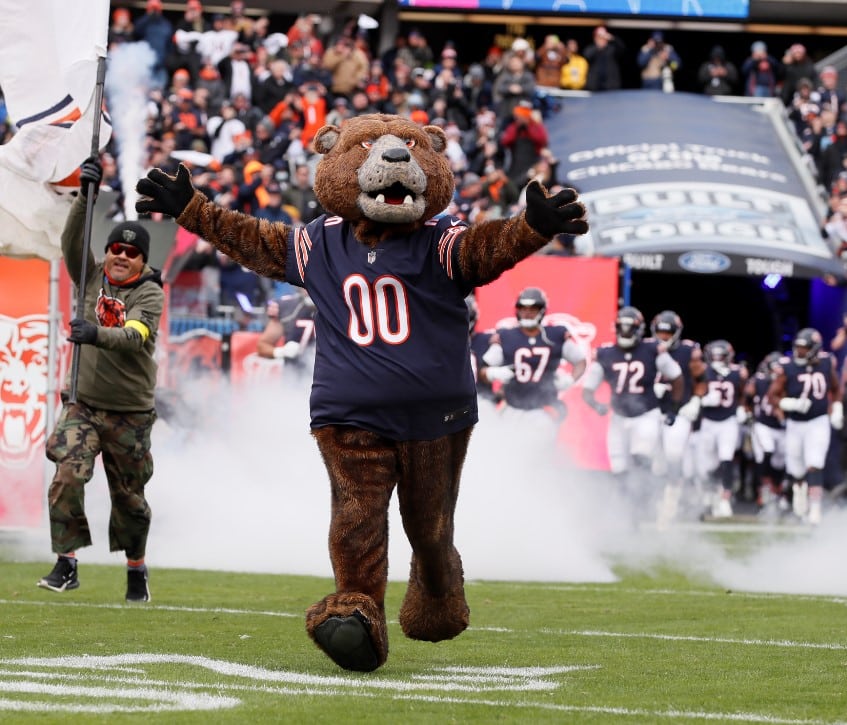 Staley ranks as the all-time funniest, friendliest, fuzziest, funkiest bear in the history of the NFL! He currently leads the Bears in most high-fives, most t-shirts shot into the crowd, most costume changes in a single season, and longest butt bounce. In addition to being named a ten-time Pro-Bowl mascot, Staley has won a gold medal for rock-paper-scissors and a silver in the staring contest at the Celebrity Mascot Olympics
Before Staley became a professional mascot, he attended Bearsley Academy where he met his "bear ff's" Pooh, Smokey, and Yogi. Staley held all-time school records for most thumb wrestling championships, largest desk, largest Trapper-Keeper, and longest kickball homerun. He was also voted by his class "most likely to become a mascot" and "best hair". Staley has yet to attend college. Unfortunately, most universities prohibit the admission of bears. Staley did however "attend" the circus.
While his tickets were excellent, Staley was not impressed with the Lions. When asked what his favorite thing to do on a Sunday was, Staley answered: "Inviting 60,000 of my closest friends over to watch a Bears game." In his downtime Staley enjoys exercising, playing the drums, and is highly skilled with a fishing pole. His former bear friends include Bearyonce, Britney Sbears, Katy Beary, Meagan Bear Trainer, and Christina AguBeara.
Born: Near a lake, in a forest
Drafted: 1st Round, 8/6/03
Favorite TV show: Grizzly Adams
Jersey #: Double Zero
Favorite Movie: Bad News Bears
Favorite Foods: Teddy Grams, Polish Sausages, deep-dish pizza, and cheese heads.
Favorite Pirate: Black Bear-d
Favorite songs: "Sweet Home Chicago" & "Bear Down Chicago Bears"
Favorite musicians: Phish, Leftover Salmon, and Chuck Berry
10-Time Pro Bowl Mascot
2016 NFL Mascot Summit Video of the Year award
2017 NFL Mascot Summit Social Media Post of the Year award
2019 NFL Mascot Summit Social Media Post of the Year award
Has performed in Alaska, Hawaii, Canada, The UK, Marshall Islands, Hong Kong, and Guam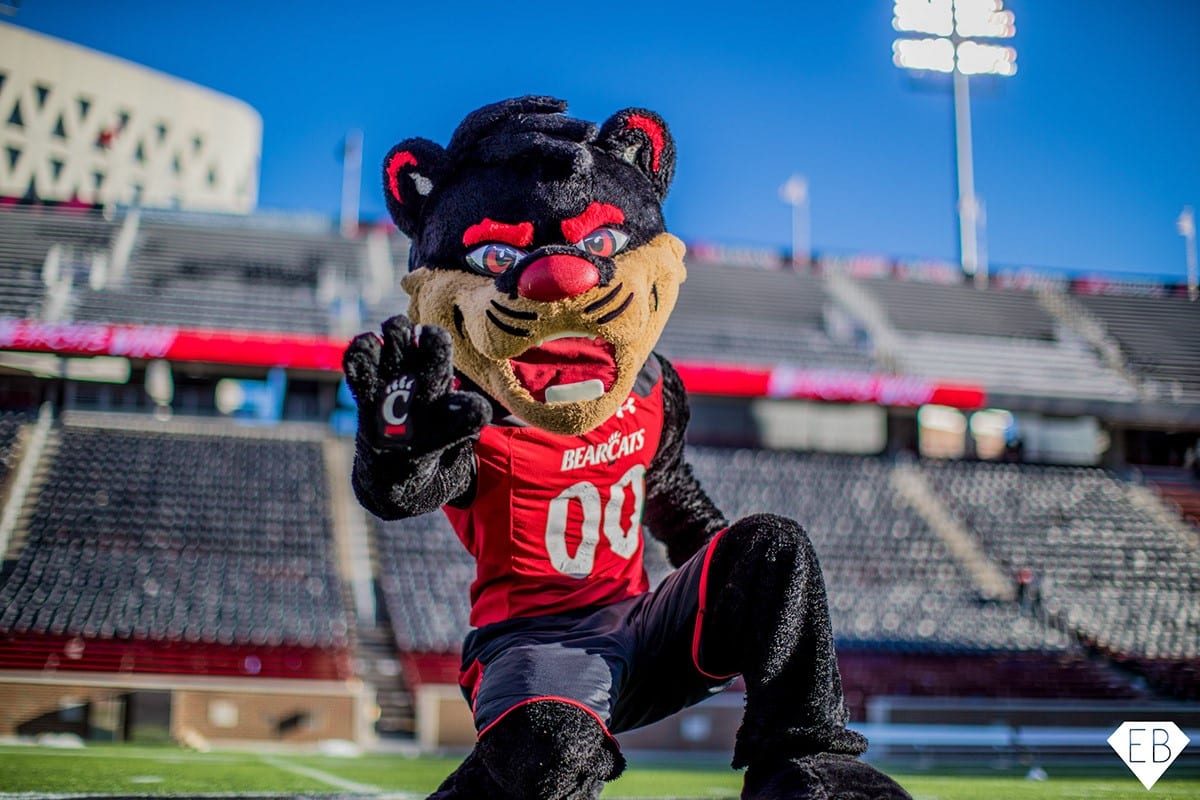 Bearcat not only represents the University of Cincinnati but a very passionate fan base all over the country. Completing over 400 appearances on a yearly basis including football games, basketball games, swim meets, volleyball games, baseball games, soccer matches, Baby Bearcats at Children's Hospital NICU, community service events, and all other university-related functions, you'll find Bearcat all over Cincinnati representing the RED & BLACK. Can't find Bearcat? No worries, follow The Cincy Bearcat on social media platforms including Twitter, Instagram, Facebook and Tik-Tok to keep up with all things Bearcat! Outside of a busy appearance schedule, Bearcat loves creating new and fun ways to get fans involved! The 1st official Bearcat Mascot Calendar was launched for 2023 and had everyone apart from #BearcatsNation smiling. Bearcat has been very dedicated to making sure everyone feels loved on Valentine's Day with Bearcats Valentine's Day Delivery Service!
Coming off remarkable back-to-back 1st place UCA National Championships the Bearcat has also won three UCA Gameday National Championships alongside the UC Cheerleading team! In 2009 Bearcat brought home the title of Capital One Mascot of the Year. It has been one hundred and eight years since the Bearcat name was introduced and our Bearcat started making regular appearances in 1950. Bearcat has certainly made some physical appearance changes over the years but that hasn't stopped him from continuing the traditions of the University of Cincinnati on a daily basis! The evolution of our Bearcat Mascot program has taken major steps, becoming one of the most recognized collegiate mascots in the country. Next stop: Big 12 Conference. With much anticipation, Bearcat is extremely excited to represent the Big 12 Conference and introduce new fanbases to what being a Bearcat is all about! Go Bearcats!
1996 – 3rd Place NCA Nationals
2009 – Capital One Mascot of the Year
2018 – UCA Game Day National Champion
2022 & 2023 – UCA Game Day National Champion
2022 &2023 – UCA Mascot National Champion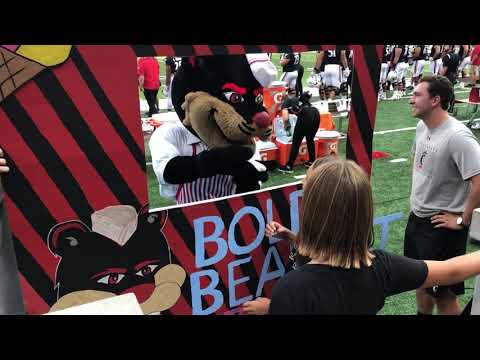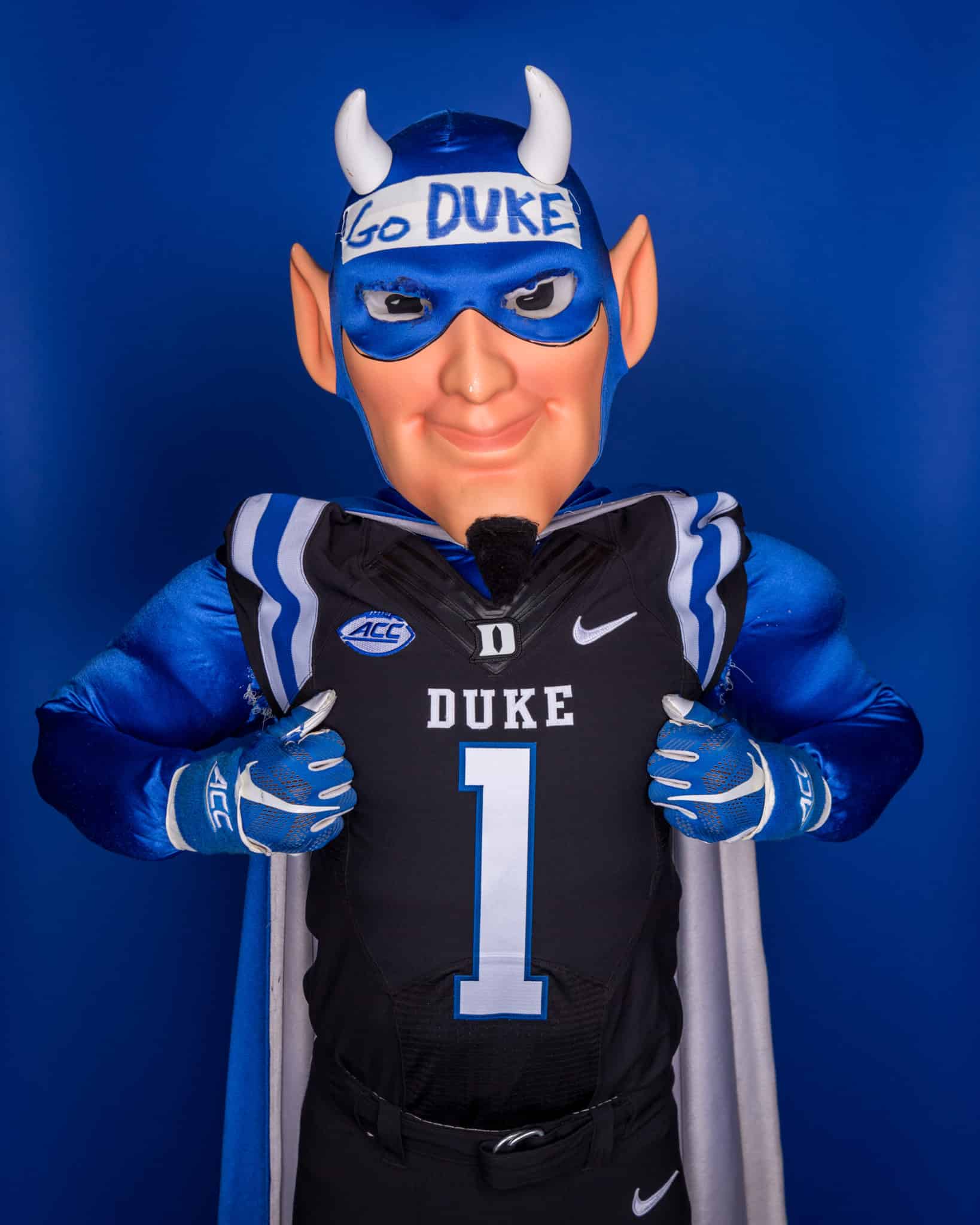 The Story of the Blue Devil
During World War I the Chasseurs Alpins, nicknamed "les Diables Bleus," were well known French soldiers. They first gained attention when their unique training and alpine knowledge was counted upon to break the stalemate of trench warfare in their native region of the French Alps. As the war was ending in Europe, the Trinity College Board of Trustees lifted its quarter-century ban of football on campus and began intercollegiate competition in 1920.
In September, 1921, the student newspaper, the Trinity Chronicle, launched a campaign for a "catchy name, one of our own possession that would be instantly recognizable nationwide in songs, yells and publicity." As the campus leaders from the Class of 1923 made plans for their senior year, they decided to select a name since the desired results by democratic nomination and vote had been inconclusive. William H. Lander, as editor-in-chief, and Mike Bradshaw, as managing editor, of the Trinity Chronicle began the academic year 1922-23 referring to the athletic teams as the Blue Devils. Their class had been the first post-war freshmen and the student body was full of returning veterans so the name needed no explanation. Acknowledging that it was somewhat unpopular, they nevertheless believed it to be the best name nominated.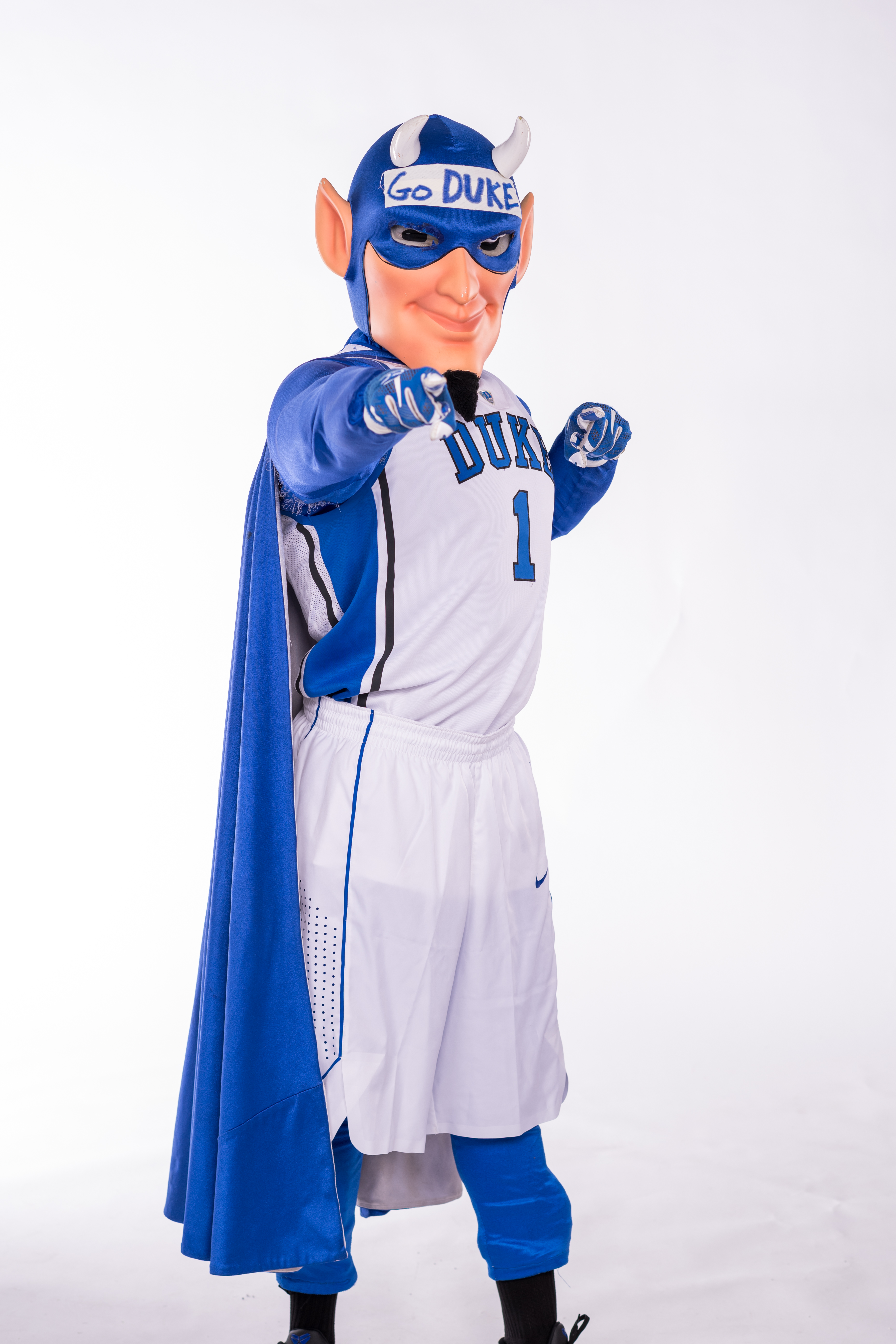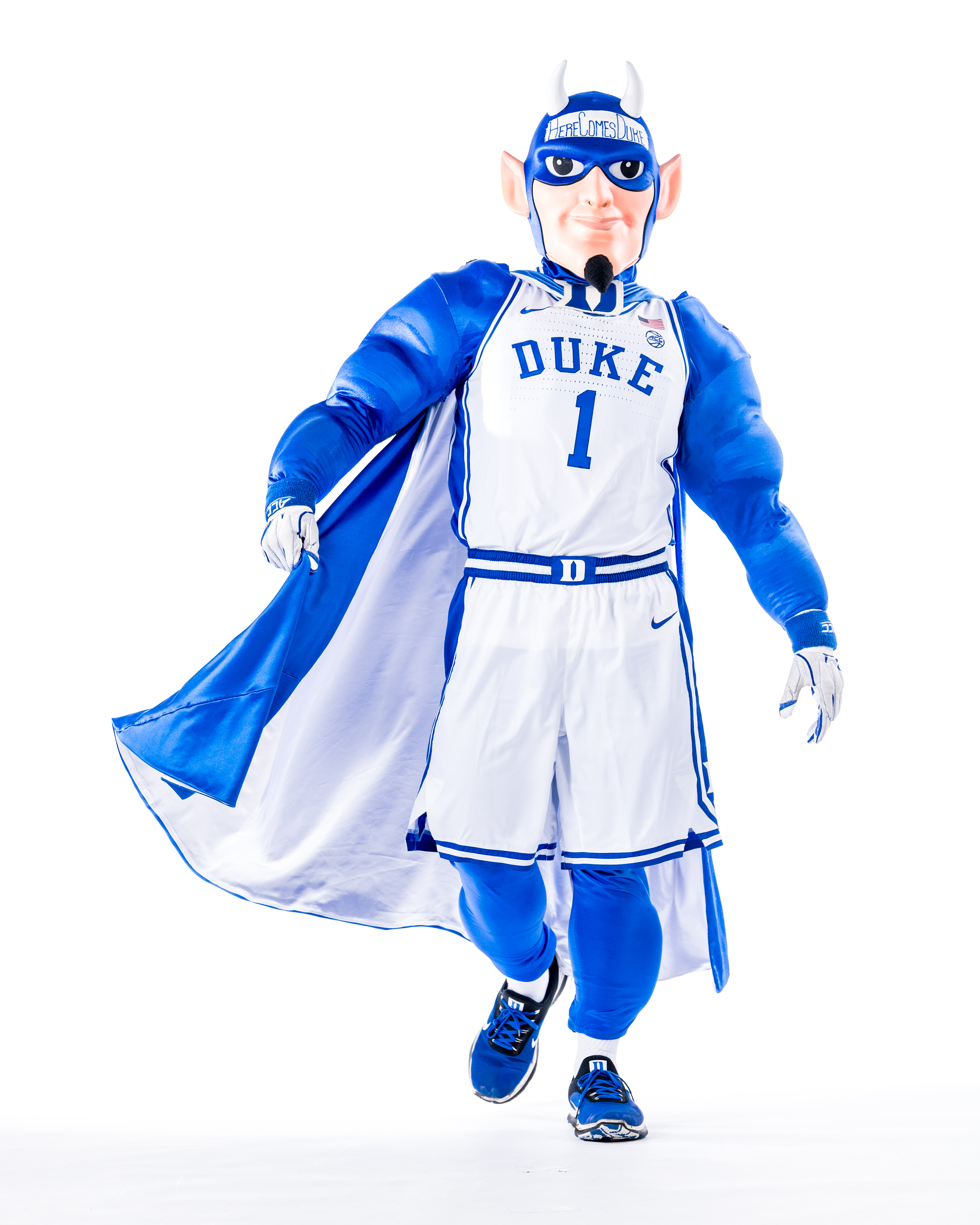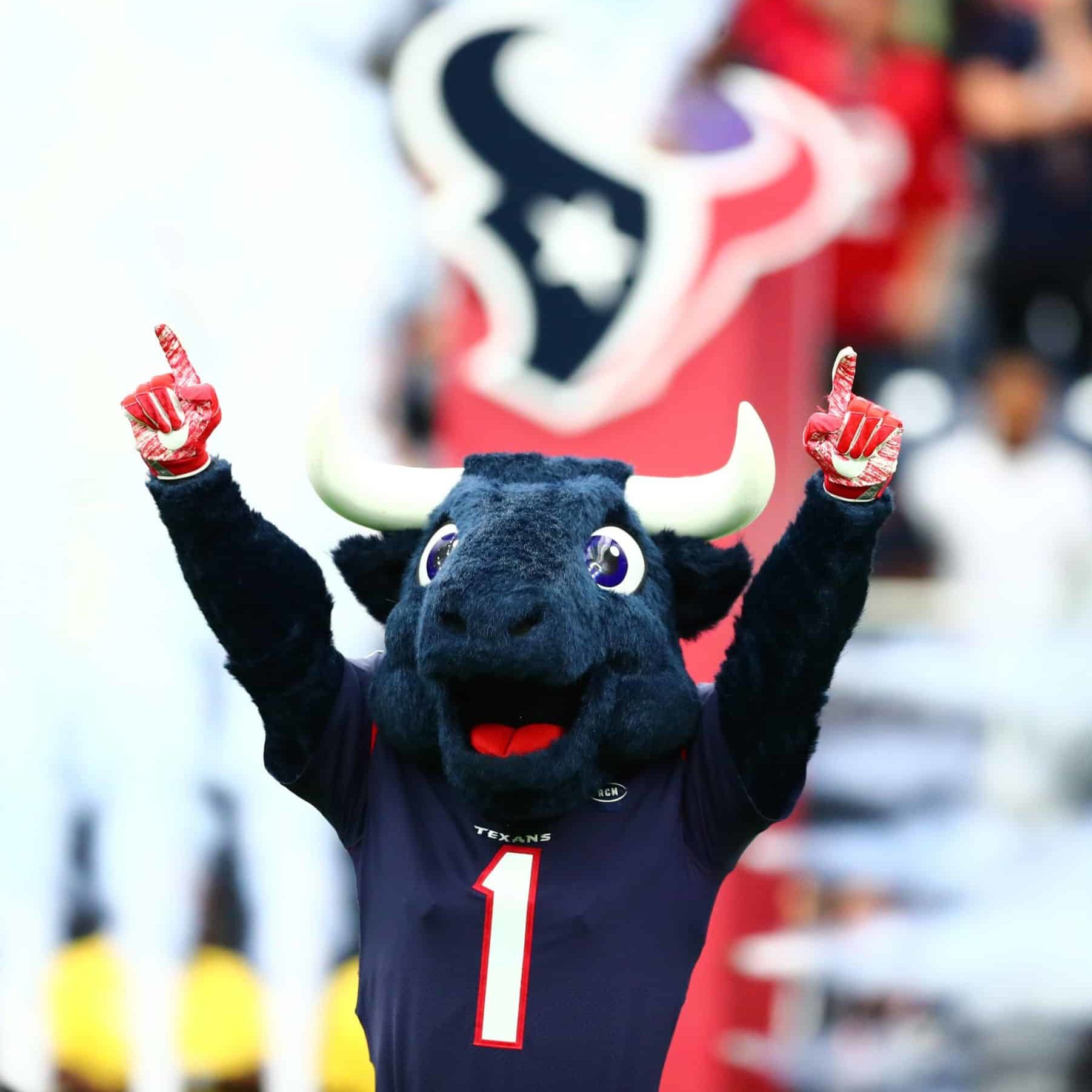 TORO has been the official mascot of the Houston Texans since his debut in 2001. Whether it's his high flying stunts, hilarious hijinks on social media or being the conductor of the crowd at Texans home games, TORO has proven to be one of the top mascots in all of professional sports. TORO has quickly become one of the most followed mascots on social media after the success of his many prank videos, which has led to a combined following of 1.5 million followers. The Texans mascot has been selected to the NFL Pro Bowl 11 times. For the 355 days a year that aren't Gameday, TORO's focus is on making a significant impact on the Houston community through his elementary school programs, visits to Texans community partners and more. TORO makes 400 appearances throughout the year all over Houston, the state of Texas, the United States and even around the world (Hong Kong, Mexico, Canada, England and more)!
NFL Mascot of the Year: 2020 (The award is voted on by all 26 NFL mascots at the NFL Mascot Summit each year and given to the NFL mascot who achieved the highest success overall. TORO was selected for these awards based on his ability to adapt and innovate during the 2020 season including a strong gameday presence, social media presence and community impact. Most notably, TORO innovated the concept of virtual classroom visits at the start of the pandemic, which impacted nearly 10,000 area students through 200 virtual classroom visits and was quickly adapted by sports mascots across the country.)
NFL Mascot Anchor in the Community: 2020
NFL Mascot Stunt of the Year: 2016 and 2022
NFL Mascot Video of the Year: 2022
11 X Pro Bowler
3rd most followed US sports mascot on social media (via Gambling.com)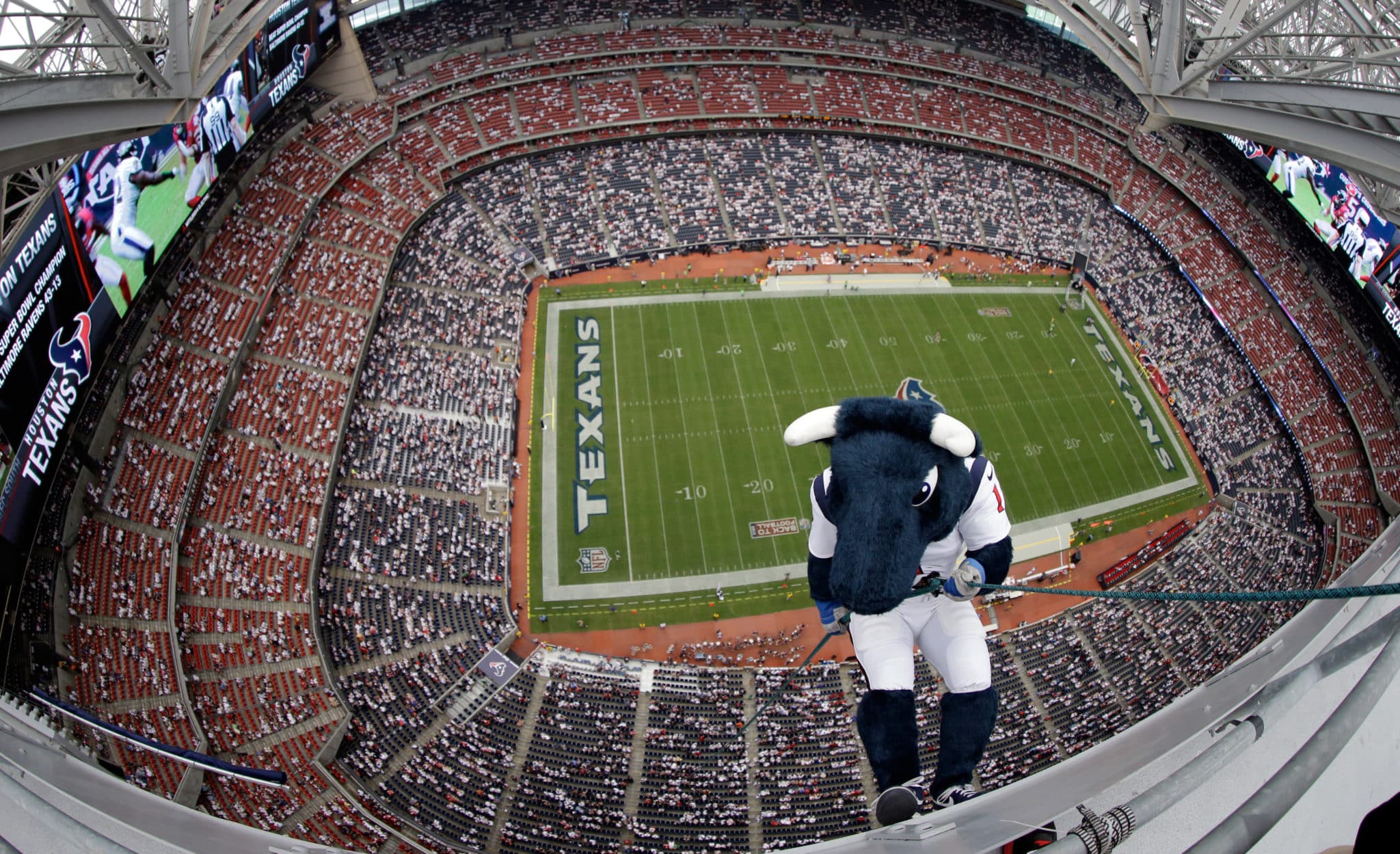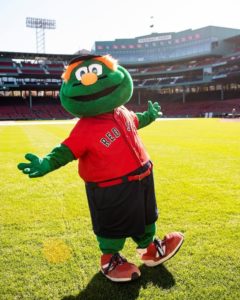 Wally the Green Monster has been the beloved mascot of the Boston Red Sox for the past 26 years. Wally came out of the Green Monster wall on April 13th, 1997 out in the left field of Fenway Park. He has spent endless hours since that time bring smiles to endless fans faces during every home and Spring Training Red Sox Game. When Wally is not at the park, he is out in the community visiting schools, hospitals and any community event he can attend in the New England area and all over the United States. Wally loves to make new friends everyday and cheer on his Boston Red Sox!
Wally was the Mascot Hall of Fame 2022 Golden Reggy recipient for Greatest Community Impact.
Wally has hundreds of school, hospital and other community related events every year. For 5+ years he has been encouraging kids to read with his Wally's Making Books Come Alive program. He also promotes STEM activities with his Wally's Math Academy program.
YoJo! - The YoJo Show (Independent Program)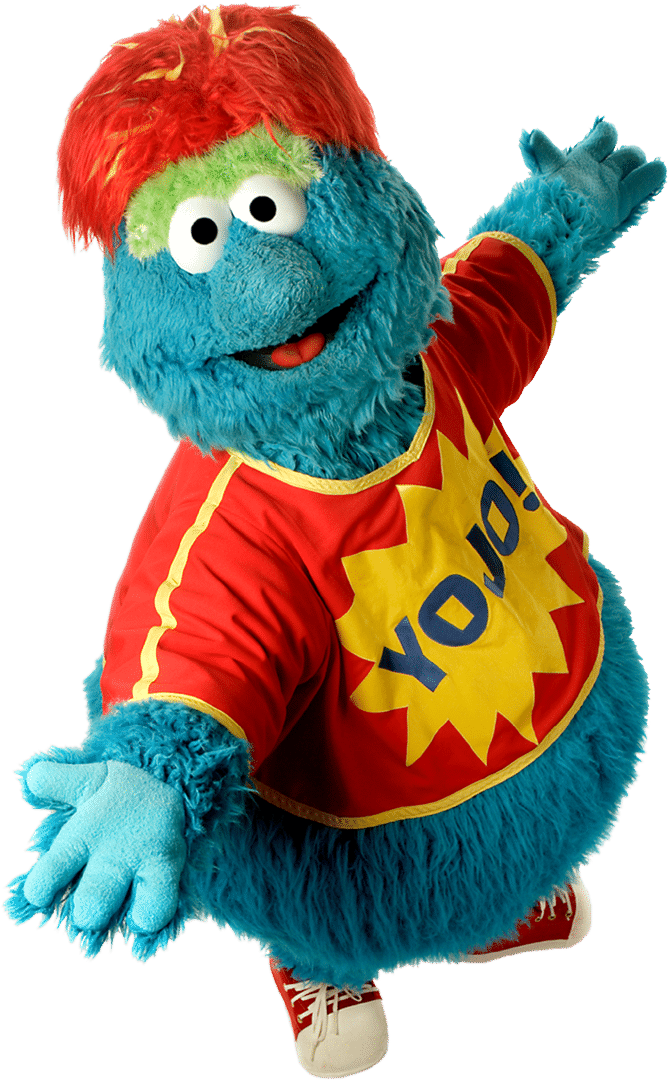 YoJo's claim to fame is that he is the star of the most successful mascot-based school assembly program – Ever! Since his world debut on March 2, 2000, YoJo has performed 4,600 "Hilariously Educational" assembly programs. YoJo's enormous popularity among elementary schools is because his programs cleverly integrate important educational lessons with top-notch mascot comedy routines. He has performed in 28 states with a travel van full of jumbo-size props, custom made show sets, professional audio and video production, and a dedicated team of on-stage talent to make every show an A+ event. If chosen for induction, YoJo has made a pledge to the Mascot Hall of Fame and to the City of Whiting to biennially perform his shows at local schools at no cost to their community. It would be his special way of expressing gratitude to the Hall and to the city that has chosen to be its home. (He's that kinda guy.) Your choice is clear: Vote Early … Vote Often … Vote YoJo!
Learn more at YoJo's Website