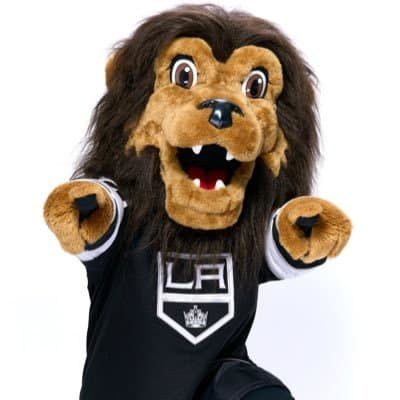 Bailey the Lion is the King of the NHL who is lively, energetic, and family friendly Mascot of the LA Kings. You can catch Bailey at all LA Kings games banging his drum starting our "Go Kings Go!" chant!
Bailey has a long history with the LA Kings, originally being introduced in 2007 and cheering the Kings on through their first two Stanley Cup championships. Bailey wears number 72, "because it's always 72 degrees in Los Angeles."
Bailey was named in honor of Garnet "Ace" Bailey, the team's Director of Pro Scouting who was aboard United Airlines Flight 175 from Boston's Logan Airport on September 11, 2001. Bailey wears an "AM" patch on the left side of his chest in honor of Ace and Mark Bavis, who were both a part of the LA Kings organization. Bailey the Lion continues to honor the legacy of "Ace" Bailey through his work with the community and the Kings Care Foundation.
Bailey participates in over 200+ community events throughout the year including visits to  Children's Hospital of Los Angeles, Ronald McDonalds House, PanCAN, YMCA, and many other community events. Bailey also attends local schools and libraries year-round in Los Angeles County reading "B is for Bailey" a LA Kings children's book.
2014 Awarded Most Awesome Mascot by Cartoon Network
2017-2018 ESPN ranked #1 Mascot of the NHL
2018-2019 ESPN ranked #1 Mascot of the NHL
On the 2023 Mascot Hall of Fame ballot