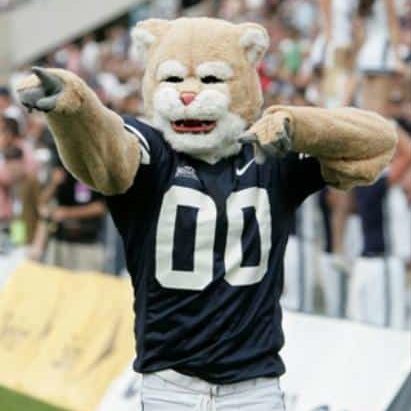 Team:
Brigham Young University
Cosmo the Cougar has been Brigham Young University's beloved mascot for over 60 years! His talents, intelligence, charisma, honor and enthusiasm symbolize BYU standards. For more than half a century, Cosmo has prowled the BYU campus, interacting with students, fans and the community. His positive reputation and strength as a role model grows with every sporting event, promotion and community service he attends and no matter where he ends up, you can always find him repping the white and blue of BYU!
Cosmo's story is remarkable to say the least! Over the years, influenced by extreme events and popularity, he has changed drastically. The more you learn about Cosmo the Cougar, the more you come to know what an amazing mascot he is and why he is recognized as "the mascot in a league of his own".
Some accolades include: Cosmo holds 6 world records, his videos have billions of views, a live performance on ESPN's College Football Awards show and the Red Carpet and compelled NBC Sports to dub 2017 to 2018 the "Year of the Mascot" in honor of Cosmo's viral influence.
Cosmo's own homepage.