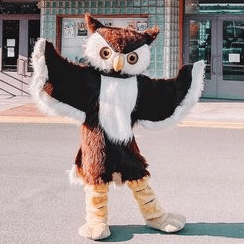 Team:
Oregon Institute of Technology
Hootie the Hustlin' Owl is a high-flying, beloved student at Oregon Tech. Hootie is a combination of the curious scholar and fun frat pledge, always striving to make fellow students feel welcome— and perhaps even pieing the school president in the face! Most recently, Hootie was asked by a representative of Disney+ to participate in his own segment of AFV Animals all about unique mascots.
Skill sets include push-ups, jump rope, cheer stunting, gym workouts, basketball tricks, sledding, ice skating, and just about anything Hootie can think of!
This last year he appeared at local community events, soccer, volleyball, basketball, awards ceremonies, various school activities, and events such as Hootie's Birthday Bash.