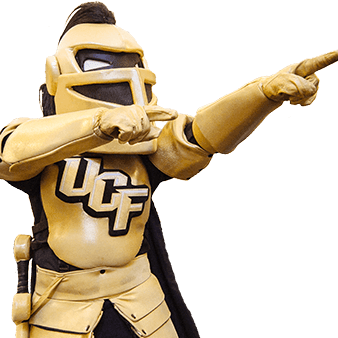 Team:
University of Central Florida
In November 1994, an unnamed, towering knight clad in golden armor started making on-campus appearances. Trey Gordon, '96, a cheerleader and member of the Student Government Association, helped to create the mascot and filled the role himself that season, showing up at UCF basketball games and public gatherings. In Fall 1995, the golden mascot was officially dubbed Knightro.
A year later, a local Disney character developer created a new version of Knightro as well as a female version, Glycerin, but after two years, Glycerin was phased out. The following years brought further tweaks to Knightro's look, and in 2005, a group of engineering students created a motorized car for him.
Today, the ever-popular Knightro is operated by the Team Knightro Mascot Squad, which consists of three to five students who don the mascot armor for sports events and special appearances.
As UCF and its athletics program continue to reach higher, Knightro charges forward.
2019 UCA gameday national champion, very active in the community and has won several Mascot games online social media competitions. Very active social media following.