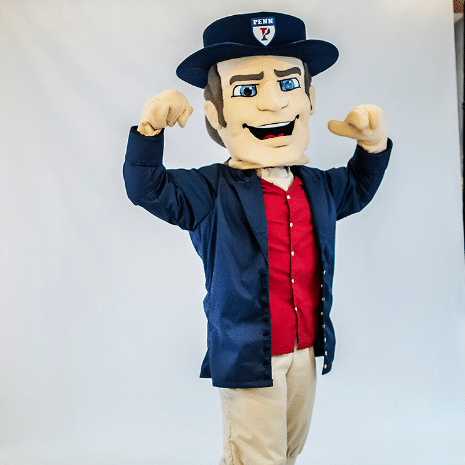 Team:
University of Pennsylvania
The University of Pennsylvania's mascot, Quaker, is a nod to the religion adopted by William Penn who established Pennsylvania as a Quaker Province.
Red and Blue through and through, Quaker lives to support his teams and act as an ambassador for the University.
He leads the football team onto Franklin Field on gameday and is the sixth man in the stands at the Palestra.
Although intimidating to visiting teams, Quaker loves meeting fellow Penn fans and making new friends, giving out high-fives and hugs, and posing for selfies.
As one of the few Ivy League mascots, Quaker has kept up with times, morphing from a colonial-dressed male undergrad to the fun-loving, fan favorite you see today.
To show your love for Quaker, follow him on Instagram @Penn_Quaker.