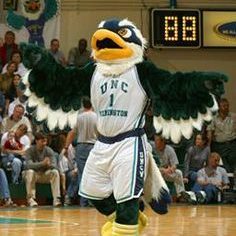 The origin of The University of North Carolina at Wilmington's mascot is an interesting one.
According to brothers Gene and James Warren, who were members of the first student council at Wilmington College, the nickname was selected in 1947. A five-man student council was convened to secure a nickname and school colors for the college's first athletic teams.
As a result, the nickname "Seahawks" was chosen because of the popularity of the Iowa Seahawks, a pre flight service team coached by former University of Minnesota head coach Bernie Berman. Iowa was known for its excellent athletic teams at the time, and the moniker fit Wilmington College well because of its proximity to the water.
With a mascot chosen, attention was then directed to the colors. At the suggestion of art instructor Emma Lawson, the council tabbed green and gold for the colors. Green because of the color of the ocean and gold because of the aura of the nearby sandy beaches.
In late spring of 1992, a secondary color, navy blue, was added at the recommendation of Athletic Director Paul A. Miller.