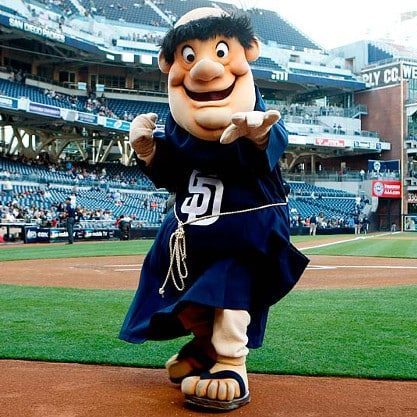 The Swinging Friar has been a mascot with the team as early as 1958, when the Padres were still a member of the Pacific Coast League, a minor league baseball organization. He was named after the Spanish Franciscan friars, who founded the Mission San Diego de Alcalá, around which the city of San Diego began to emerge in the 18th century. The Padres joined Major League Baseball in 1969 and kept the popular mascot. He was even on the team emblem until 1984. Wanting a more "professional" image, the owners introduced a more corporate logo. In 1996, he was brought back as a sleeve patch for the club's blue alternate jerseys, and though the team has changed its logo and colors since then, the Friar remains there to this day.
The Swinging Friar is a cartoon-like character, pudgy, balding, and always smiling. He is dressed as a friar with a tonsure, sandals, a dark hooded cloak, and a rope around the waist. He swings a baseball bat; but reportedly, in some years he swings left-handed, in other years he swings right-handed, he may be ambidextrous, or even a switch hitter. On home game Sundays, the Friar wears a special camouflage cloak as the team honors the military background of San Diego with similar uniforms. The Friar also rings a mission bell at home games immediately after a win.
Originally, The Swinging Friar was represented at the ballpark as a real man wearing a friar outfit. Since his return, the character has been a full mascot costume.
Some in the past have confused The San Diego Chicken as the mascot of the Padres. Although he does make appearances occasionally at San Diego sporting events, he has never been the official mascot of any San Diego sports team.